We had a wonderful overnight staycation at the Grand Hyatt hotel in Abu Dhabi. Grand Hyatt Abu Dhabi Hotels and Residences Emirates Pearl is a luxurious property that features 428 rooms, including 332 King and Twin rooms, and 36 suites (Presidential and Royal), all with private balconies that overlook fabulous views of the city.
Also Read: Dinner at Sahha Restaurant in Grand Hyatt Abu Dhabi
We chanced upon this hotel during a previous staycation experience at the InterContinental Abu Dhabi. We wondered what this building designed in a sleek, modern black color was and we found out it was the Grand Hyatt. Somehow it captivated us and we decided that this time, our staycation destination would be this luxury propety.And we were not disappointed!
Note: We're so glad that the Al Hosn Green Pass status has been scrapped already so there's no need to have a PCR test before travelling to Abu Dhabi.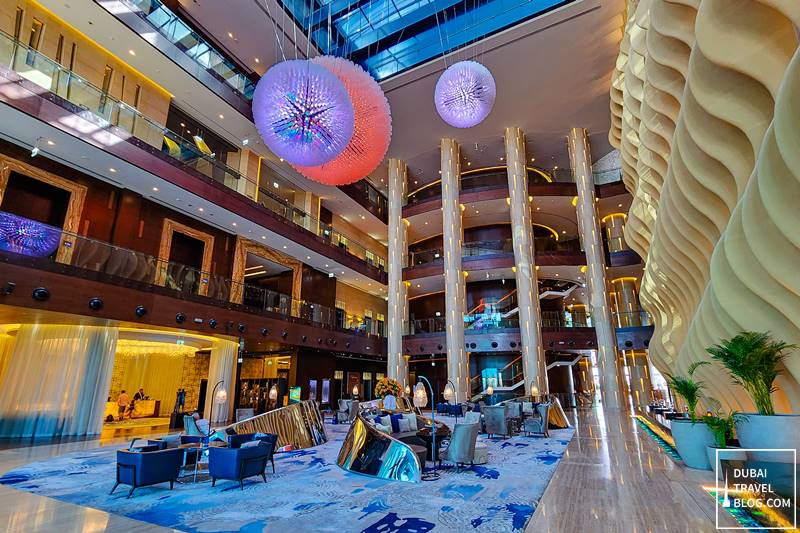 hotel lobby – the ceiling is very tall and covers 3 floors of the hotel
Staycation Experience at Grand Hyatt Abu Dhabi
We were quite mesmerized upon seeing the tall building, and even more so upon entering the lobby. The hotel lobby is so grand and spacious and the height of the ceiling spans across 3 floors! It's very elegant and luxurious and you'll feel a sense of grandeur from the get-go.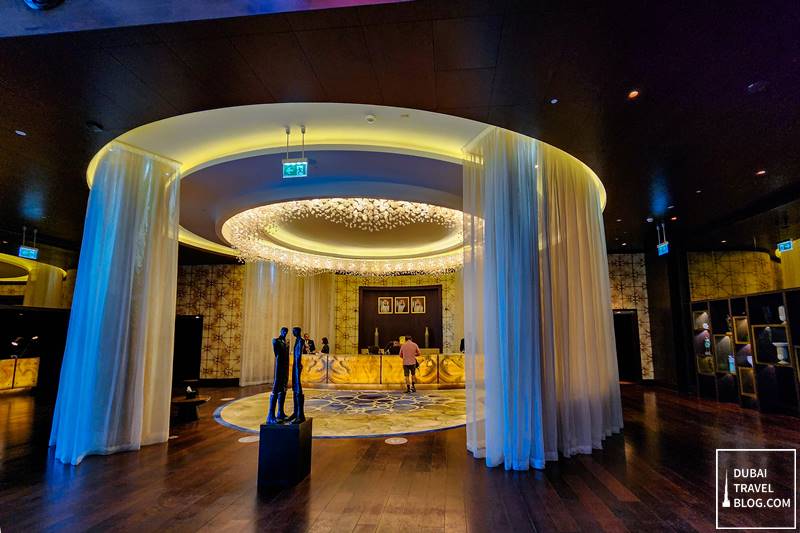 Grand Hyatt Abu Dhabi reception
checking in
King View with Balcony
The rooms are also quite impressive. We stayed in a King Room with balcony access, and it was spacious, clean, and well-equipped with all the amenities we needed.
With a plush king bed, luxurious bathroom rain shower, and floor-to-ceiling windows in 42 sqm, this guest room also features a private balcony with views of the Arabian Gulf or the Presidential Palace.
Some of the amenities of our room include a 48 " flat-screen HDTV, Individually controlled heat and air-conditioning, automatic curtain control, plush robes and slippers, water kettle with tea and coffee making facilities, minibar, iron and ironing board, and hair dryer. They also have a separate workstation table and a living area.
king-size bed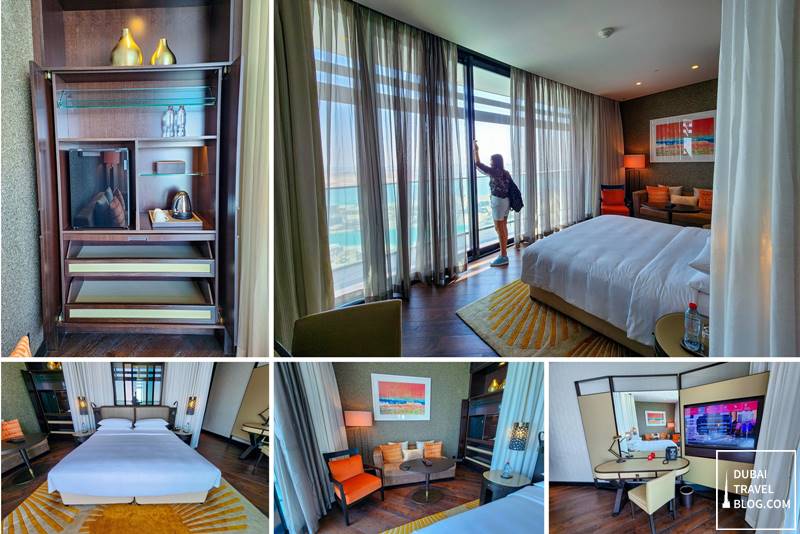 inside our room
there's also a workstation
Bathroom
The bathroom was huge and has a central bathtub as its main focal point. There's a separate walk-in shower and toilet, and there's also a walk-in closet. It felt really luxurious and a great place to take a soak after a long day of sightseeing.
the bathtub is the focal point of this room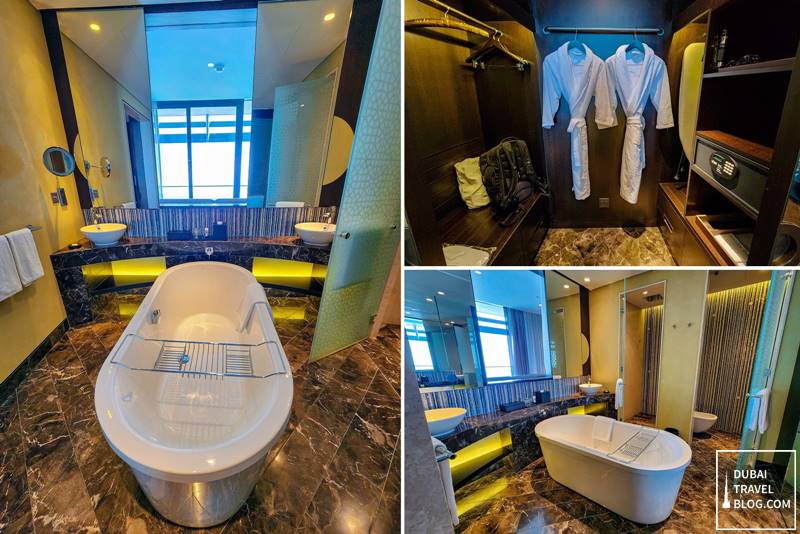 inside the bathroom with walk-in closet
WiFi Internet
The WiFi was good at 9.8 Mbps download speed and 5.6 Mbps upload speed with a strong signal throughout the room and lobby.
view from our balcony
Abu Dhabi marina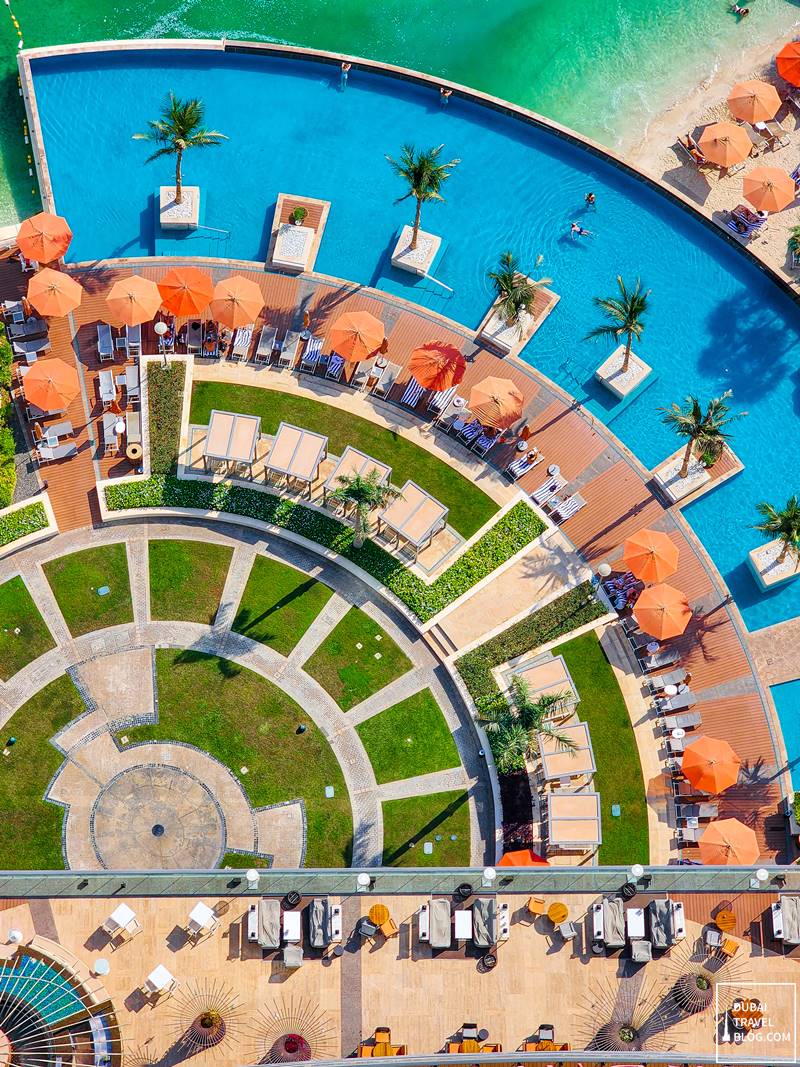 zoomed view of the pool area
Restaurants
Grand Hyatt Abu Dhabi has a number of restaurants, each offering something different.
Sahha – Sahha means "health" and is an adventurous market where every visit serves a new, exciting culinary experience. This is the all-day dining restaurant of the hotel and this is where we had our dinner during the night of our staycation and also our breakfast the next day.
Verso – Verso is an Italian restaurant that offers tasty dishes that are meant to be savored slowly with good company.
Lexx Bar – Lexx Bar is the perfect place to unwind with a glass of wine or cigar, while enjoying stunning views of the Corniche. Make unforgettable memories with friends as you sip on classic cocktails and savor delicious cheese and charcuterie.
Pearl Lounge – This is a lobby lounge and cafe. You can get some pastries, drinks, and sit back to relax in this cozy cafe.
In-Room Dining Service – The hotel also features Room Service so you can enjoy delicious food in the comfort of your room.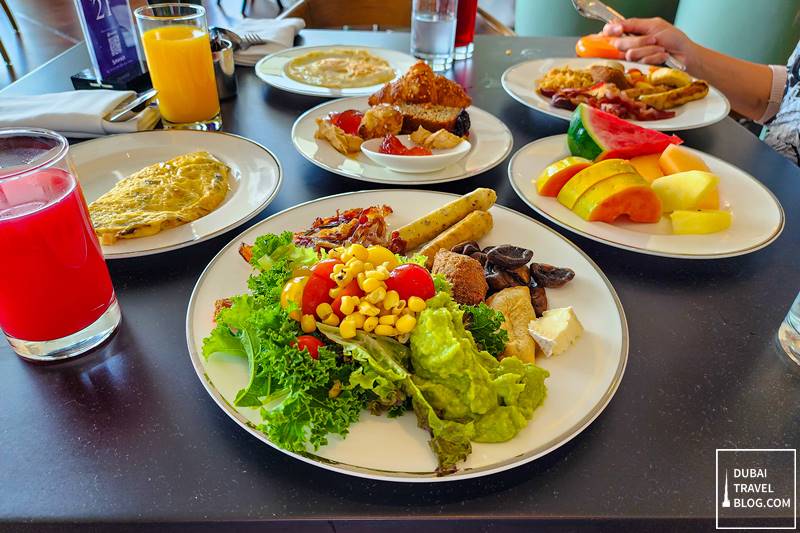 breakfast experience at Sahha Restaurant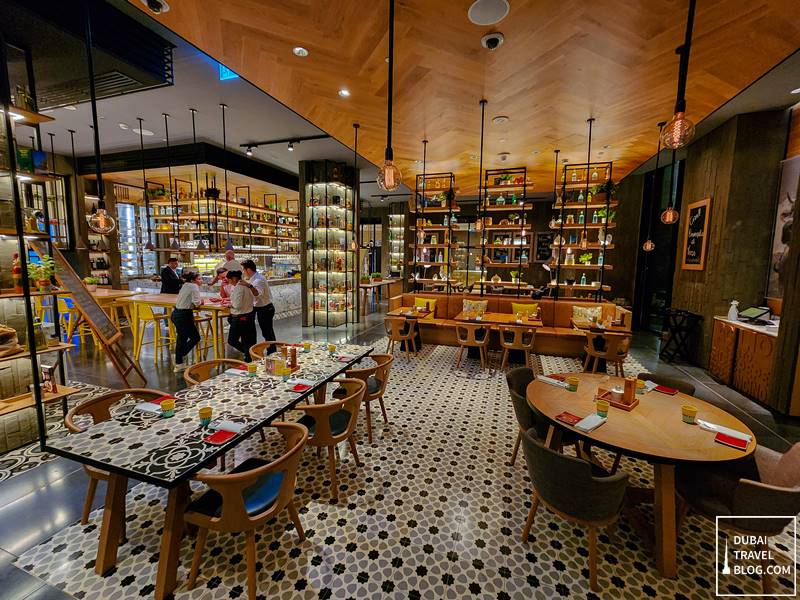 Verso Italian restaurant
pizza and pasta night plus drinks using our Entertainer App
Swimming Pool and Beach
Grand Hyatt Abu Dhabi has an infinity pool where guests can enjoy a swim. The pool is big with plenty of sunbeds for relaxing by the poolside. The beach is also in the same area where you can also relax.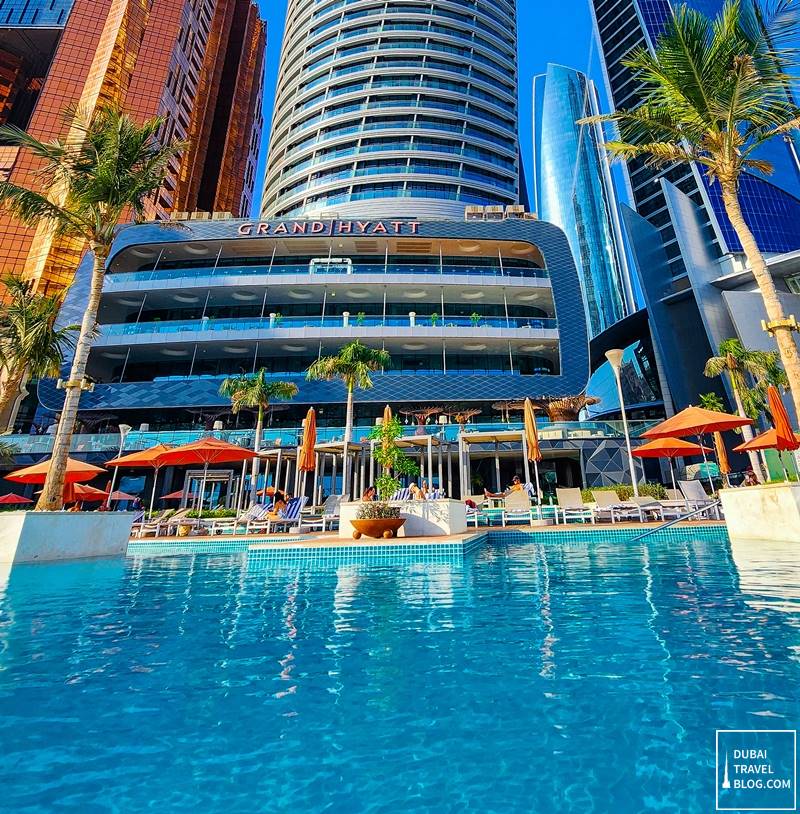 pool area
swimming pool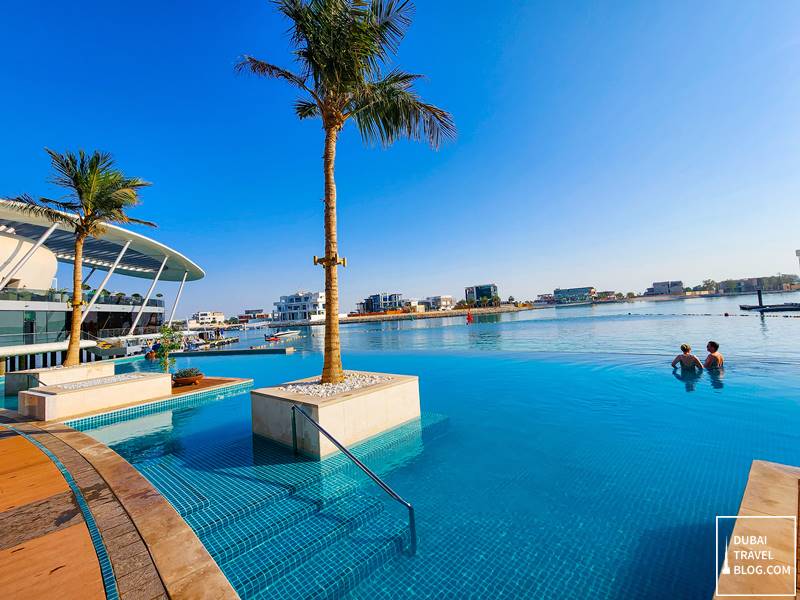 infinity pool at Grand Hyatt Abu Dhabi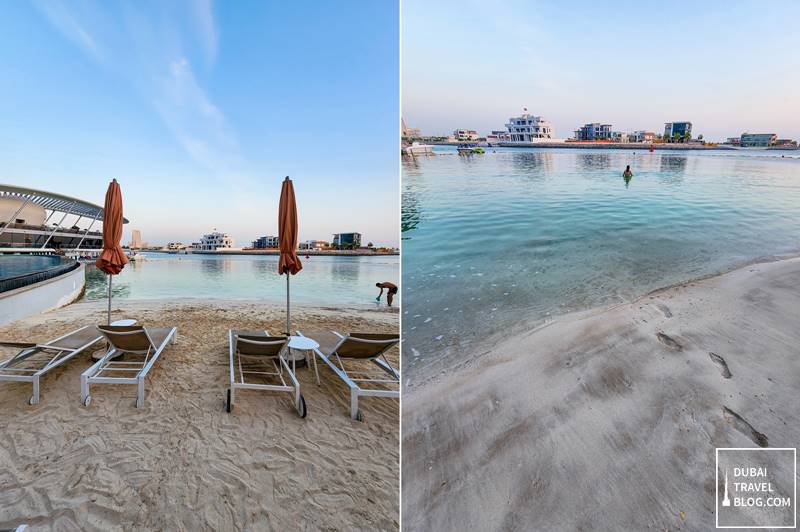 beach area
Gym & Fitness Center
The gym and fitness center is located on the P3 Level and features the latest cardio, strength and weight training equipment. It's very spacious and well-equipped with everything you need for a great workout. Let me tell you that the gym is a high-end fitness center with top-notch equipment.
spacious gym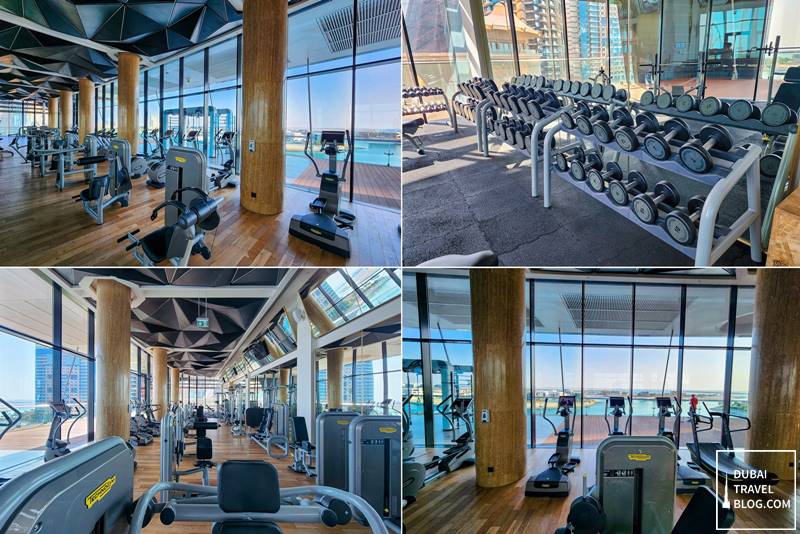 fully equipped and high-end equipment
Luma Health Club and Spa
The spa is managed by Luma Health Club & Spa and they feature a wide range of treatments and packages for their guests who want to relax and rejuvenate.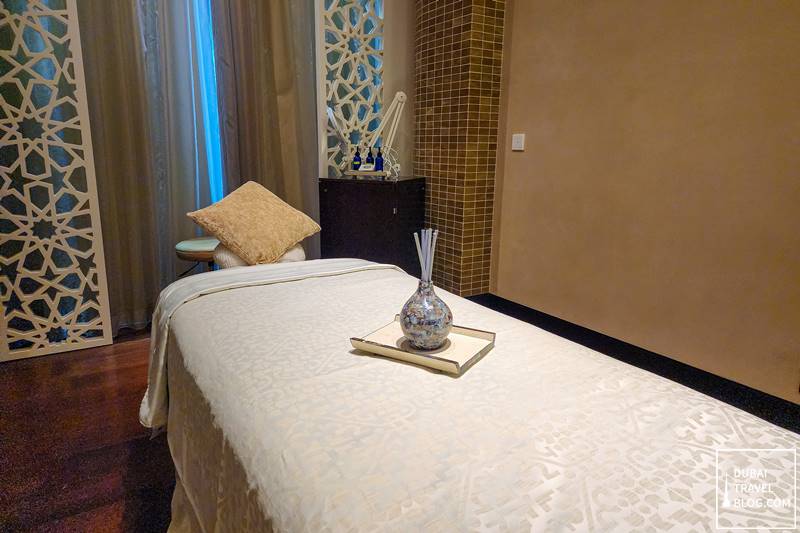 massage spa
Luma Spa Health Club
Spa Facilities: Sauna and Steam Room
Let me just say that aside from the fitness center, guests can also utilize the steam and sauna rooms. The separate male and female locker rooms have 3 steam rooms and 1 sauna room each. One of the steam rooms was quite huge!
Also Read: 17 Types of Massage Treatments to Relax Your Body
hammam? – huge steam room (they have 3 other steam rooms on top of this, plus a sauna room)
inside the male locker room

sauna room for men (they have separate sauna for women)
54 Photos of Grand Hyatt Abu Dhabi
Check out this photo album of images during our staycation at Grand Hyatt Abu Dhabi experience below:
Video: Staycation at Grand Hyatt Abu Dhabi
Check out this video clip of our staycation experience to give you an idea of what to expect when you check into this hotel:
Summary
Grand Hyatt Abu Dhabi is a luxury hotel that is equipped with modern amenities and offer spacious rooms. Guests can enjoy the infinity pool, beach access, gym and fitness center, spa treatments, sauna, and steam room.
The hotel also has various restaurants to choose from such as Sahha for all-day dining, Verso for Italian cuisine, Lexx Bar for wine and cocktails, and Pearl Lounge & Cafe for pastries. Guests can also avail of the in-room dining service if they prefer to stay in and relax.
Our staycation experience was really great and we highly recommend visiting this hotel. The amenities were top-notch and the staff was very friendly and accommodating. Grand Hyatt Abu Dhabi is a great place to experience luxury and comfort.
Emirates Palace view from Grand Hyatt Abu Dhabi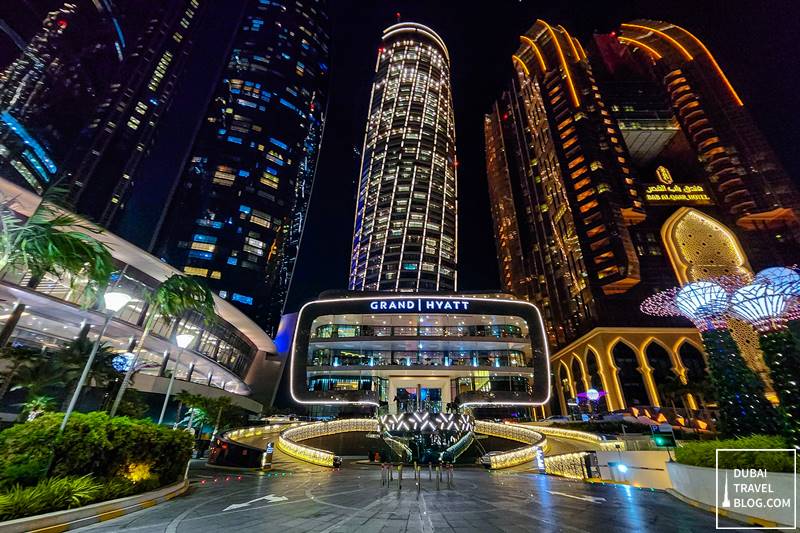 Grand Hyatt Abu Dhabi at night
Contact Information
Grand Hyatt Abu Dhabi
Address: West Corniche Rd – Al Bateen – Abu Dhabi, United Arab Emirates
Phone: +971 2 510 1234
Website: https://www.hyatt.com/en-US/hotel/united-arab-emirates/grand-hyatt-abu-dhabi-hotel-and-residences-emirates-pearl/
Facebook: @GrandHyattAbuDhabi/
Instagram: @grandhyattabudhabi/
Google Map Location
Here's a map guide to the location of Grand Hyatt Abu Dhabi for your reference. Valet parking is available when you arrive at the hotel: