So my wife and I got married in Seychelles. It was a carefully crafted decision given our busy schedules at the time. It was the most convenient option and also something that we both preferred. The next procedure to make our marriage legal in Dubai was to register or attest it in UAE.
If you're wondering why you need to attest your documents in UAE, you will need it in order to make it a valid document accepted by the UAE government. To prove they are original and true documents. Once attested, the marriage certificate can then be used when you apply for residence visas, get a tenancy contract, etc.
Disclaimer: This procedure is only applicable for expats who got married in Seychelles. Also, please note that the information posted here is based on our experience. UAE rules and policies may change in time and it's good to check with authorities on updated guidelines.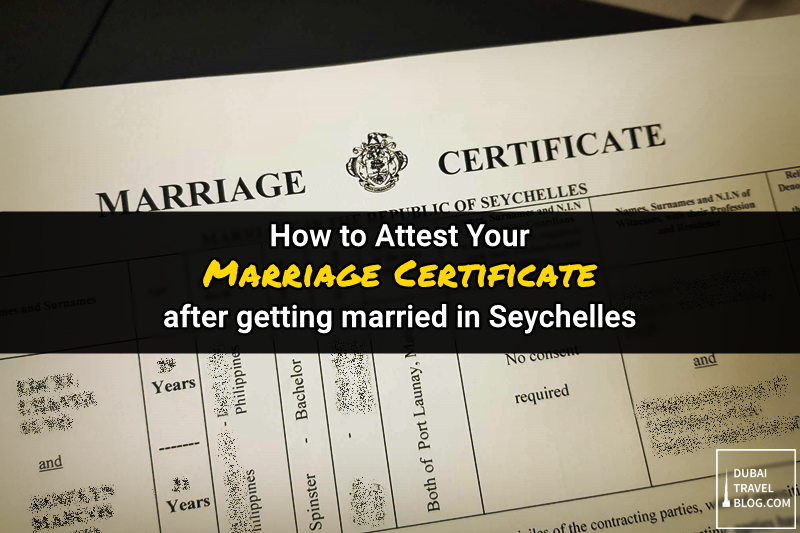 Guide to Legalizing Your Seychelles Marriage in UAE
A couple of weeks after getting married in Seychelles, our wedding organizer sent us the following documents:
Official Wedding Certificate by Government of Seychelles with stamp
Apostille by Supreme Court
Letter of Attestation from Ministry of Foreign Affairs
These were the papers that we needed to present to UAE authorities for them to stamp it.
Below are the steps for UAE attestation:
1. Go to the Embassy of Seychelles in Abu Dhabi (near Mushrif Mall) and attest the wedding certificate. 
UPDATE: 2018. Based on the wedding agency website, they have advised that all wedding certificates must be attested by UAE Embassy in Seychelles. Please check with your wedding organizer for this particular process.
Be advised that this option is only applicable to wedding certificates that DO NOT have the stamp by the Government of Seychelles. In our case, because we picked and we inquired about the attestation service ahead of time, our organizers were able to get a package that already had the Seychelles government stamp. 🙂
Stamping Fee – 200 AED
Seychelles Embassy in Abu Dhabi
Address: Villa no. 15, Murror Area, 23rd Street (Close to the Mushrif Mall) P.O.Box 43107, Abu Dhabi, United Arab Emirates
Phone: +971 2 491-7755
Email: seychellesembuae@gmail.com
Office Hours:
Monday to Saturday: 9AM – 4PM
Sunday: 9AM – 3PM
Google Map: Embassy of Seychelles in Abu Dhabi


2. Go to the Ministry of Foreign Affairs (MOFA) in Bur Dubai to have the marriage certificates attested.
Pass through security check when entering the building and go to the cashier. You will be given an electronic card after you make a payment. You will then need to get a token number and once you're number is called, you will be asked to pay using the electronic card. Present your documents to have them stamped with UAE seal.
Stamping Fee – 150 AED. (Fees may vary depending on the document.  There will be a separate fee per stamp. In our case since we had 4 papers stamped, we paid 600 AED).
Ministry of Foreign Affairs (MOFA)
Address: Khalid Bin Al Waleed Rd, Bur Dubai, United Arab Emirates
Phone: (04) 404 0000
Website: www.mofa.gov.ae/
Office Hours: Sunday to Thursday: 8AM – 3PM
Google Map: Ministry of Foreign Affairs in Dubai (Bur Dubai)

So the above two steps are actually the things that we needed to do to have our certificate legalized in UAE. Only one step in our case as we had the first step handled by our wedding organizer.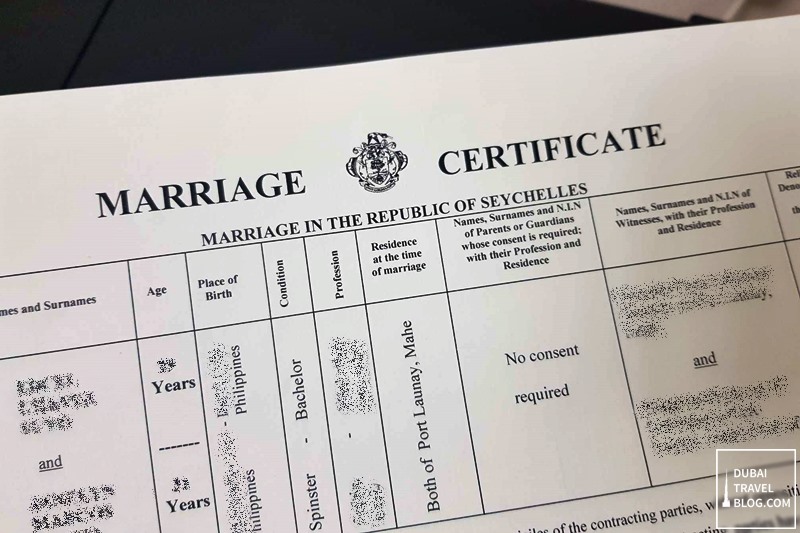 Marriage Certificate from Mahe, Seychelles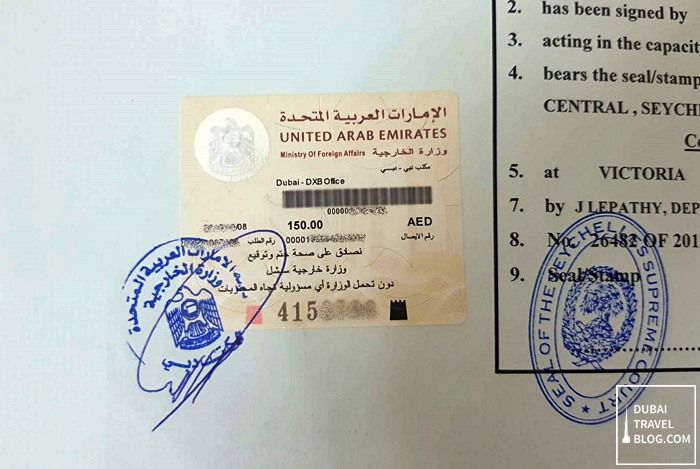 MOFA stamp at the back of our wedding certificate
once you have this, your document is now legally recognized in UAE
Ohter Notes:
The seals are stamped at the back of your wedding certificate so it will not affect the printed texts on your certificate.
When visiting government offices, please dress conservatively and respect the local dress code.
Once the wedding certificates are stamped, you can now use this as a legal document when you apply for a family visa or you will need to present a marriage certificate for other purposes
MOFA also attests other documents such as transcript of records, diplomas, birth certificates, etc.
After having our marriage certificate attested, we needed to report this to our own country's embassy (Philippine embassy in Kenya). Our Seychelles wedding needed to be reported to the nearest Philippine embassy where we got married in order to make it also valid in our home country. This process was very convenient (although time-consuming) as it was our Wedding organizers who did it for us as part of our wedding package.