We were fortunate enough to join a "Chef's Table" dining experience at Zaitoun restaurant in Danat Jebel Dhanna Resort one Thursday evening. This event included a specially crafted five-course set menu by Chef Peeush Chawla and he accompanied us at every course to describe every dish.
Zaitoun is a fine dining signature restaurant which offers a diverse menu of Italian cuisine as well as specialty beverages. This Chef's Table dinner is one of their offerings as they spice up the resort's evenings and provide a unique experience for their guests.
Trivia: Zaitoun in English means "Olives"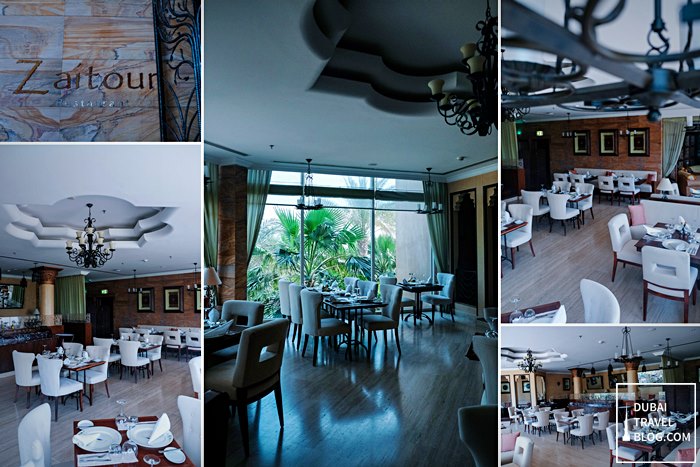 Zaitoun restaurant (photo taken during the day when we dropped by during another time)
Chef's Table menu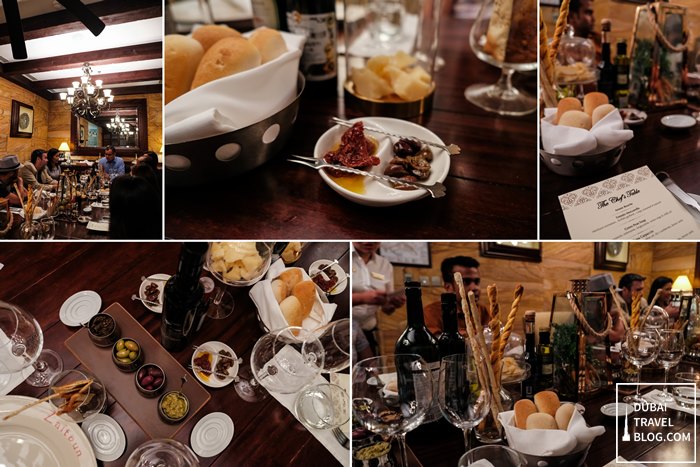 on the table
Restaurant Review: Zaitoun  at Danat Jebel Dhanna Resort, Abu Dhabi
It was a lovely table set-up with olive oil & balsamic vinegar bottles of different kinds, cheese, crackers, sun-dried tomatoes, olives, etc. With a generous serving of wine & beverages, it became a wonderful layout to start the evening affair. It was helpful that there's a printed menu of the dishes that were to be served so we would know what to expect.
We started off with the Amuse Bouche, followed by Tomato Mozzarella, then Green Peas Soup, Tuna Carpaccio, Raspberry sorbet, Wagyu Beef Cut, and a Sweet Surprise panna cotta dessert.
Amuse Bouche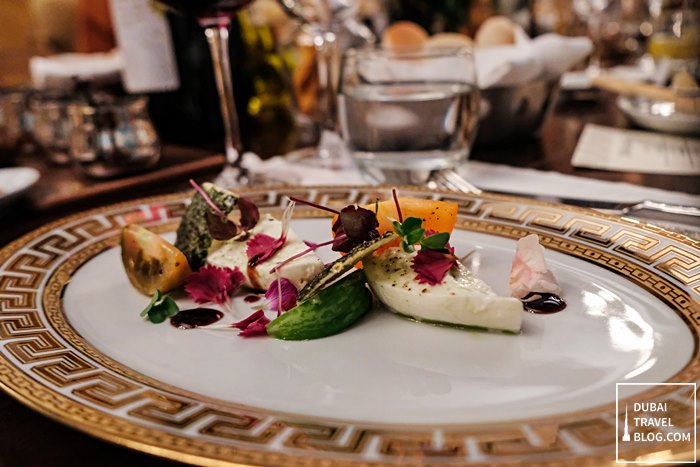 Tomato Mozzarella – Heirloom tomatoes, buffalo guffanti, crispy seaweed  & naturals
My wife loves watching the Chef's Table show on Netflix and we have had a couple of food experiences like this in Dubai. It was interesting to hear that some ingredients have been sourced from different parts of the globe. It was my first time to try a black garlic.
Chef Peeush was very detailed in explaining each dish. He made the food even more delectable as he described each one before serving. If it's not already obvious, the presentation is also classy.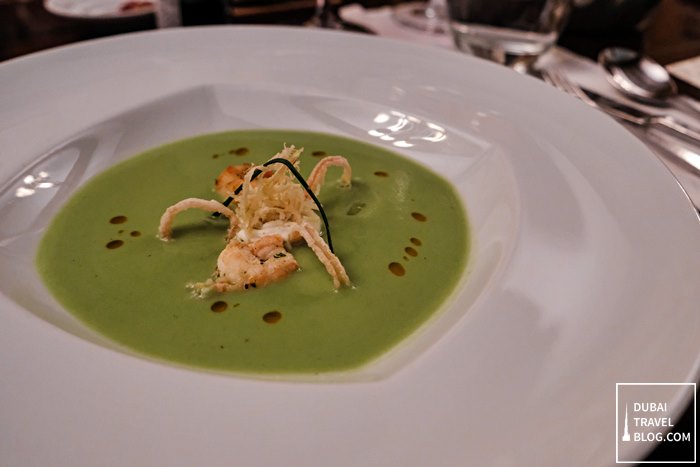 Green Peas Soup
minted mascarpone, edamame, langoustine, onion rings and chilly oil
Tuna Carpaccio
Tuscan kale, fresh berry, cold press olive oil, dry cranberries, lemon aiolo
Sorbet
chef selection (raspberry)
For the main course, we had the option to choose either chicken or beef. I chose the beef wagyu while my wife ordered chicken. This is good as this gives guests freedom according to their preference.
Vegetarians should not worry as they have a veg options too.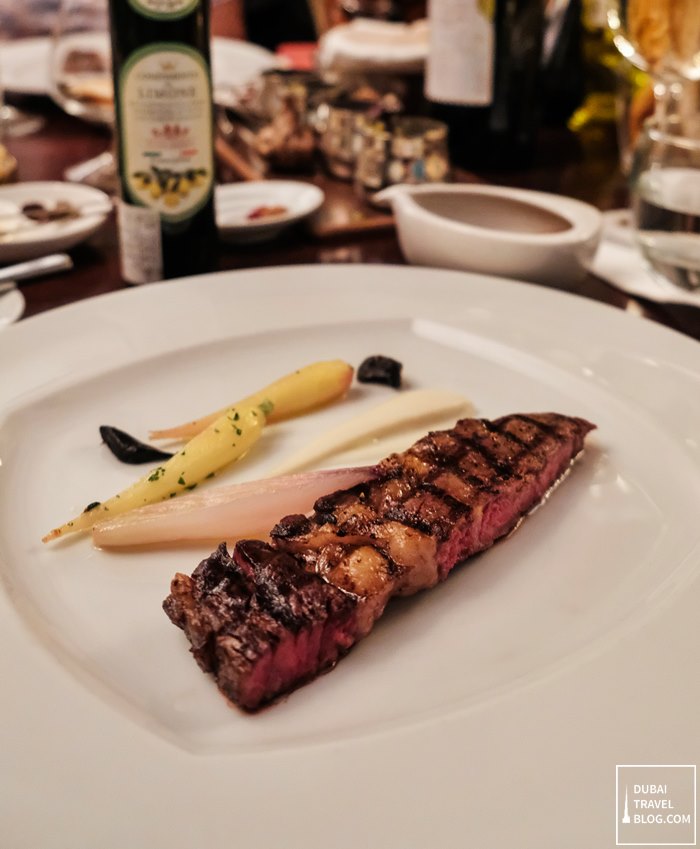 Wagyu Beef Cut
Roast black garlic, cauliflower, young carrots, banana shallots, barolo reduction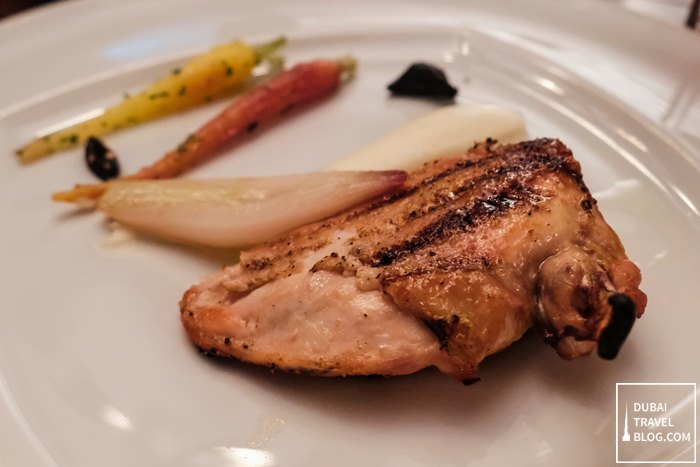 Baby Chicken
Roast black garlic, cauliflower, young carrots, banana shallots, reduction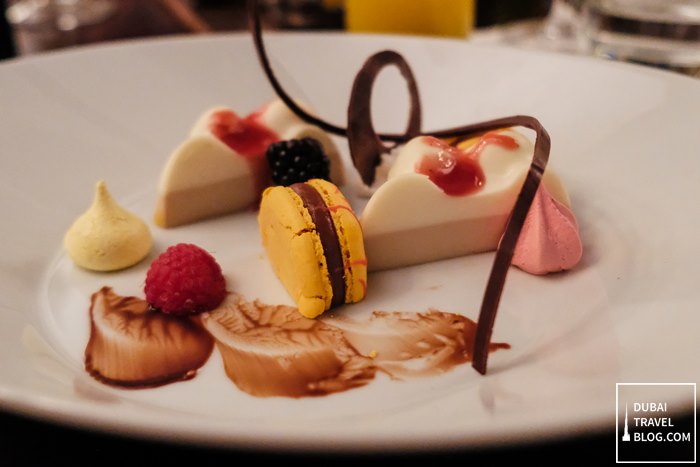 Sweet Surprise
Panna cota with macaroon
The dishes are sufficient in serving, just enough for you to sample and indulge. The items that stood out the most for me were the crab sticks in the Amuse Bouche, Green Peas Soup, Wagyu Beef Cut, and Raspberry Sorbet.
It was fun evening over good food. We capped off the night with drinks and conversations. For those who are looking for a unique foodie event, this Chef's Table in Zaitoun might be something you'd be interested to experience.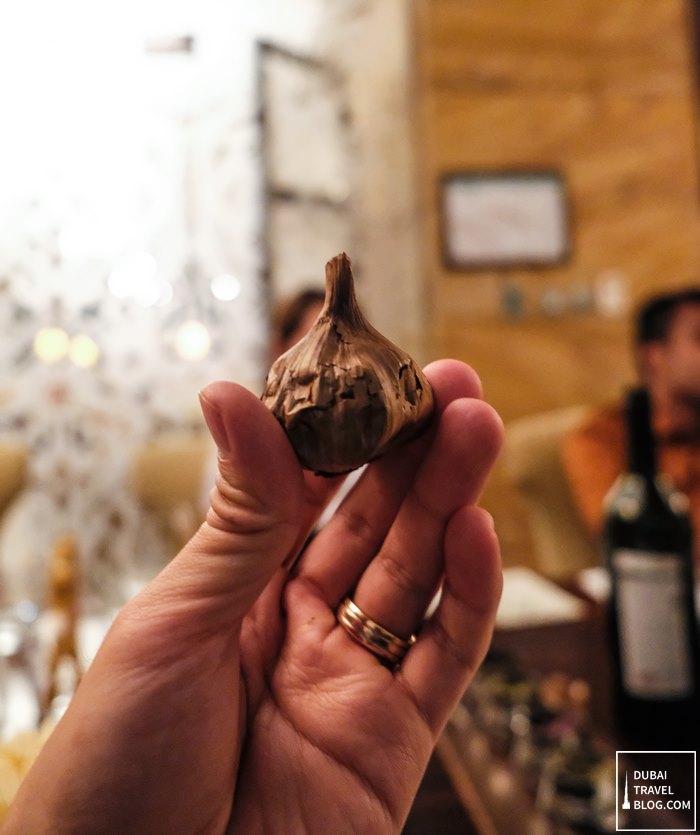 black garlic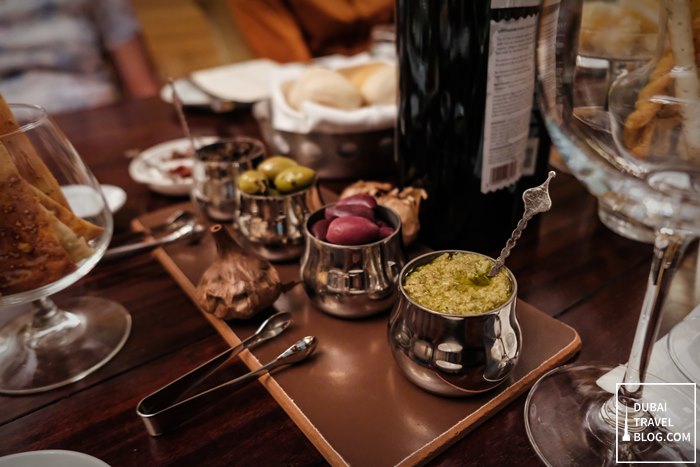 olives
Video: Zaitoun Restaurant Chef's Table
Check out this short video clip I uploaded of our experience at Zaitoun restaurant with other UAE media, bloggers, and guests:
Chef's Table
Be wowed by the culinary craftmanship of our master chef as he discusses his reations and explains the concept behind each course as wel as answer any of your questions. AED 199 with 2 glasses of house grape
Contact Information
Zaitoun Restaurant, Danat Jebel Dhanna Resort
Address: Danat Jebel, Near Ruwais – Abu Dhabi – United Arab Emirates
Phone: +971 2 801 2222
Website: http://jebeldhanna.danathotels.com/en/contact.html
Facebook: https://www.facebook.com/DanatJebelDhannaResort/
Instagram: https://www.instagram.com/danat_hotels_and_resorts/
Google Map Location:
Below is a map location to Danat Jenel Dhanna Resort. We drove and mainly took the E11 highway. The restaurant is located at the lobby of the hotel.