While we had a Chef's Table dinner during our first night at Danat Jebel Dhanna Resort, we went to the property's club and bar called L'atitude for a night of food and entertainment. Located at the lobby of the hotel, L'atitude offers a stylish lounge which is great for evening drinks and a vibrant hangout for guests.
A band headed by talented Filipina singers entertained the audience and belted out music requests. It was a lively evening especially with how the band interacted with the audience.
Alcohol: YES

bar area

inside the club
L'atitude Restaurant and Night Club Danat Jebel Dhanna Resort
Even if there was a band, the scene inside is still relaxed and laid-back. It's a nice option if you want to chill out while in the resort. My wife and I were mainly there for dinner but we also enjoyed the songs played during that night.
For starters, we ordered the dynamite prawns and also had some bar drinks. While they have a set menu for their drinks, you can request from their knowledgeable staff to come up with a cocktail that they can mix up for you.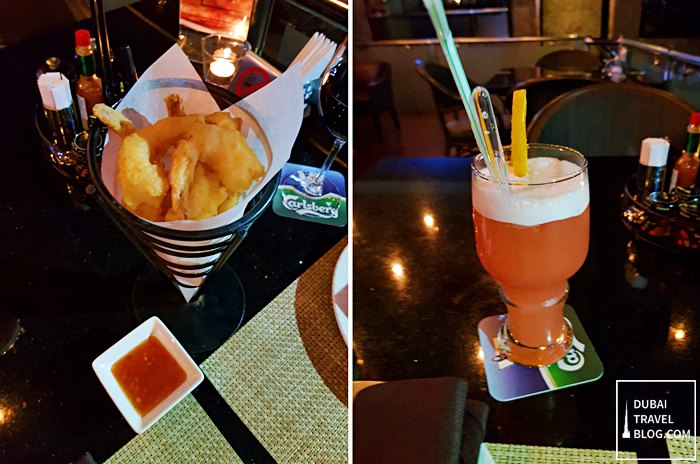 dynamite prawns
For our main course, my wife ordered the lamb chops while I ordered grilled omani lobster. The quality of the food was great and we could taste the freshness of the meat, especially of the lobster.

lamb chops
omani lobster
We already had a wonderful time at the resort, and our last night was capped off with this lively ambiance. Service was good and staff were friendly.
L'attitude is surely a nice place to relax and enjoy the live entertainment with good and satisfying food.

nightlife entertainment at Danat Jebel Dhanna
Contact Information
Danat Jebel Dhanna Resort
Address: Danat Jebel, Near Ruwais – Abu Dhabi – United Arab Emirates
Contact Number: 971 2 801 2222
Email Reservations: reservations.jebeldhanna@danathotels.com
Website: http://jebeldhanna.danathotels.com/en/contact.html
Facebook: https://www.facebook.com/DanatJebelDhannaResort/
Instagram: https://www.instagram.com/danat_hotels_and_resorts/
Google Map Location:
Below is a map location to Danat Jenel Dhanna Resort. We drove and mainly took the E11 highway. L'atitude bar is located at the lobby of the hotel.