We visited Yum! Noodle Bar Restaurant to sample their newest offer which is a Seafood Wok feast. Located in Radisson Blu Dubai Deira Creek, Yum! is an Asian-inspired restaurant offering a la carte dishes from Thailand, Vietnam, Indonesia, Malaysia, and Singapore! They have a live open kitchen where you can catch a glimpse of your food while they are cooked.
This is not our first time dining in the first 5-star hotel in Dubai. In fact, we've dined at Sumibiya, Minato, Aseelah, and the Fish Market. We've always had a great time tasting the delicious quality food available in these Radisson Blu Deira Creek's restaurants.
Alcohol: YES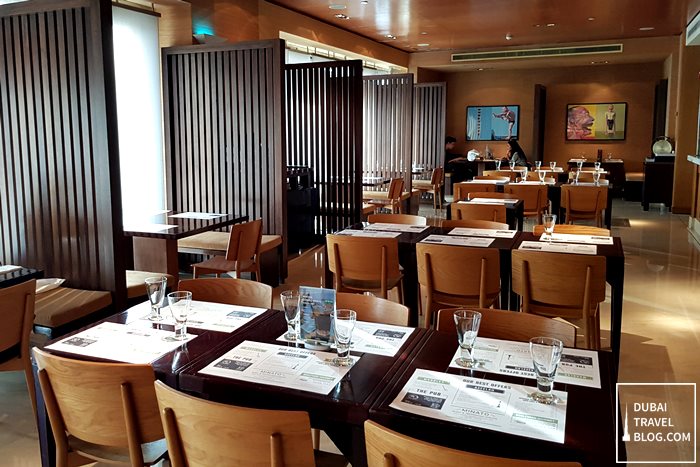 Yum! Noodle Bar Restaurant Dubai Creek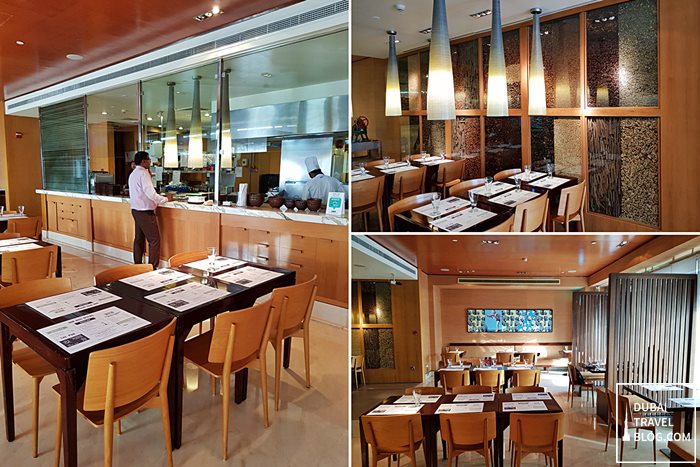 inside the restaurant
Yum! Noodle Bar Restaurant Review in Radisson Blu Dubai Deira Creek
The Seafood Wok feast is a new offering of the Asian restaurant. They prepare a Wok filled with fresh crabs, mussels, shrimps, squid, clams, corn, and vegetables. These seafood items are drenched in your preferred sauce (you can choose among five sauces – our favourite is the Red Thai Curry).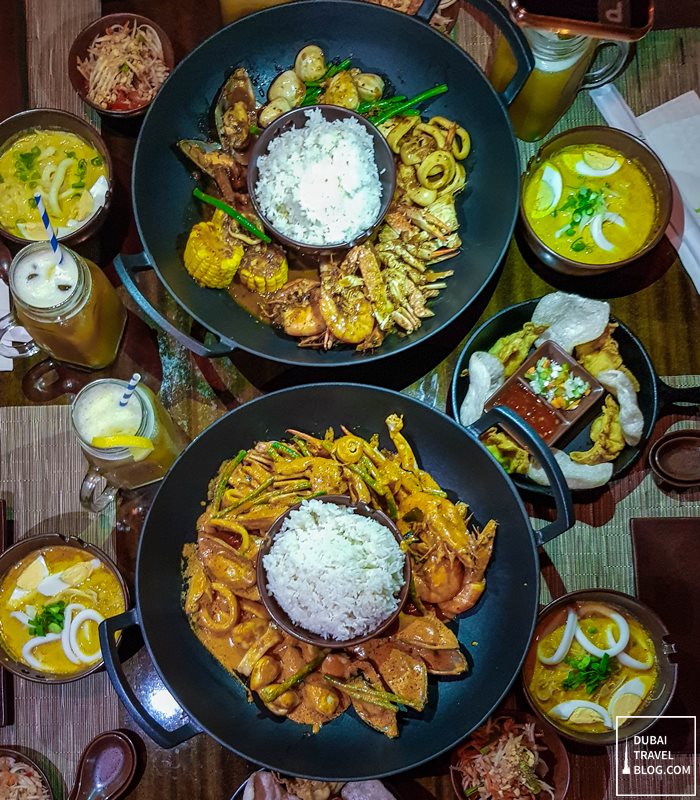 Seafood Wok at Yum!
Priced at AED 149 for the basic wok set, it's quite a sweet deal given that this is good for 2-3 persons. What's more is that you get unlimited rice and unlimited iced tea.
If you upgrade to an unlimited package at AED 189 per person, you can get unlimited servings of the wok plus unlimited add-ons including Green Papaya Salad, rich Seafood Laksa, Mango Sticky Rice, Prawn Crackers and Fried Wantons.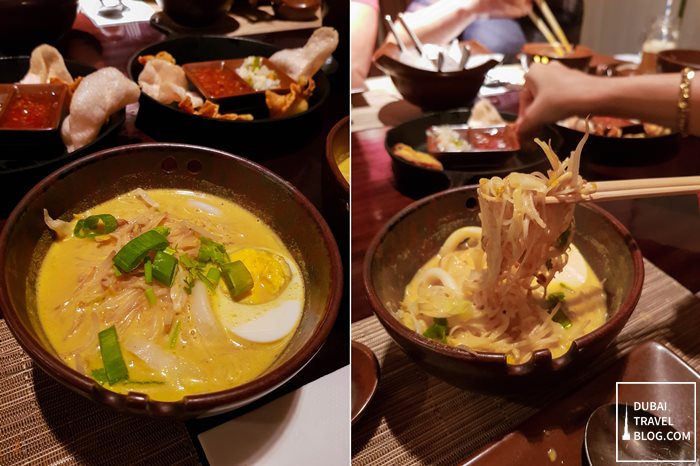 Singapore Laksa
seafood feast with unlimited rice and iced tea and others!
Mango Sticky Rice, Papaya Salad, Prawn Crackers and Fried Wantons
Choose among the following sauces for the seafood wok:
1. Cajun Sauce
2. Krapao-Basil Sauce
3. Authentic Thai Red Curry
4. Egg-Yellow Curry
5. Singaporean-Style
Among the sauces offered, we've tried the Cajun Sauce and the Authentic Thai Red Curry. We preferred the Thai red curry.
Guests will have a great seafood meal and you can enjoy this feast by eating using your hands for a more authentic experience. They have gloves already placed on your table as you make a reservation.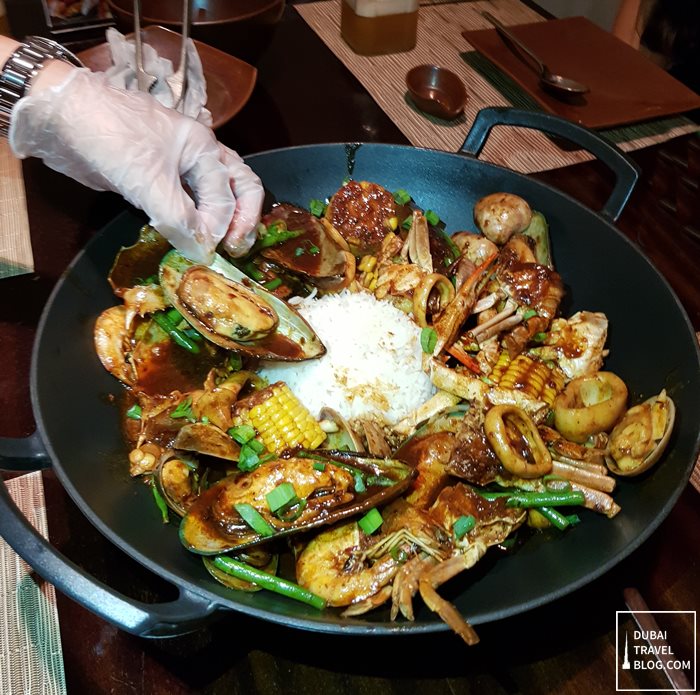 dig in using your hands!
Thank you so Yamuna and Maribel for the attentive service!
Yum! Restaurant is currently running an offer Treat for OFWs (Overseas Filipino Workers) and hotleiers in the UAE. You can get a Buy One Get One offer for your meal, just make a reservation via 04 205 7033. Terms & conditions apply.
For non-OFWs, you can get a Buy One Get One deal via Entertainer App. 🙂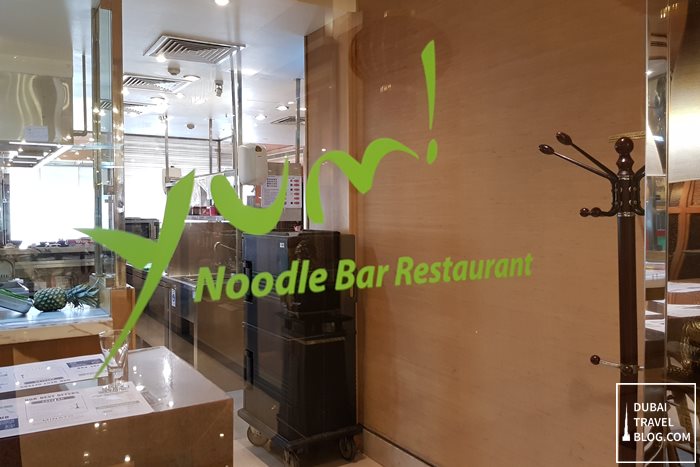 Yum! Noodle Bar Restaurant
Contact Information
Address: Level 1, Radisson Blu Hotel Dubai Deira Creek, Baniyas, Dubai
Telephone Number: +971 4 205 7033
Website: https://www.radissonhotels.com/en-us/hotels/radisson-blu-dubai-deira-creek
Google Map Location
Below is a map guide to the location of Radisson Blu Hotel Dubai Deira Creek. The restaurant is located on the ground floor Plaza area.