My wife and I had a very relaxing stay at Villa Rotana Dubai, an elegant five-storey hotel apartment with an ornate stone and glass facade and is strategically located on Sheikh Zayed Road. You may have chanced upon the hotel when you commute via metro or drive by SZR. The hotel has been around more than ten years yet the place is very clean and well-maintained.
This is the first hotel review where we stayed along Sheikh Zayed Road and I was excited to experience how it's like to "live" right next to the famous Dubai highway. We really had a "staycation" as we spent the two days either in our room or at the rooftop pool.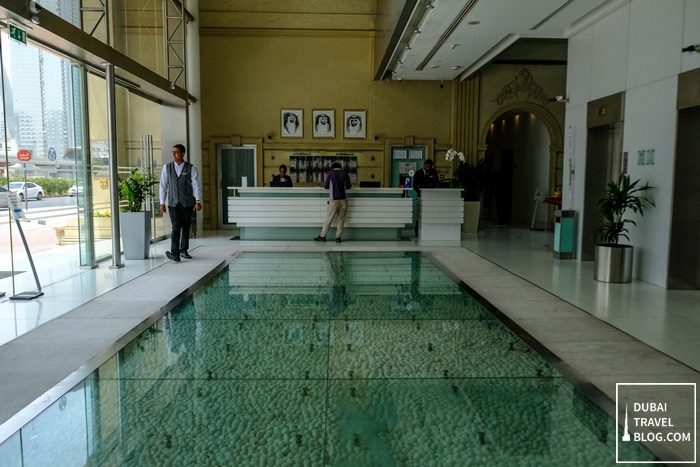 lobby reception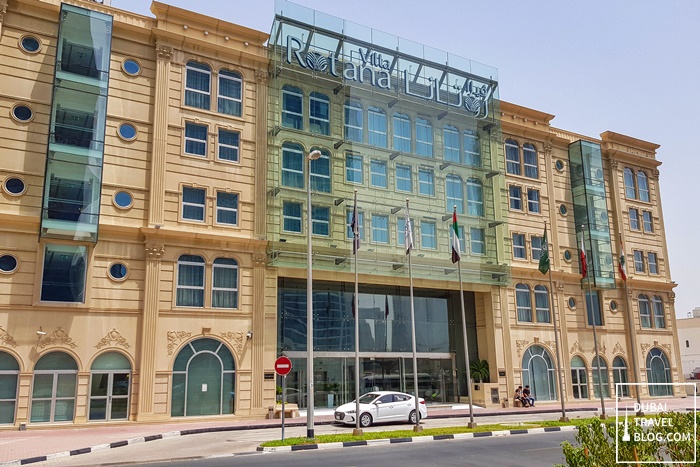 Villa Rotana – beautiful building (much more when you see it at night)
Staycation at Villa Rotana Hotel Apartment on Sheikh Zayed Road
Villa Rotana offers easy access to the Dubai Mall and Business Bay area. This is a convenient option for tourists and business travellers who want to stay in a central location of the city.
We checked in about 3pm and were assisted by the courteous staff. We got into our room and settled in quickly.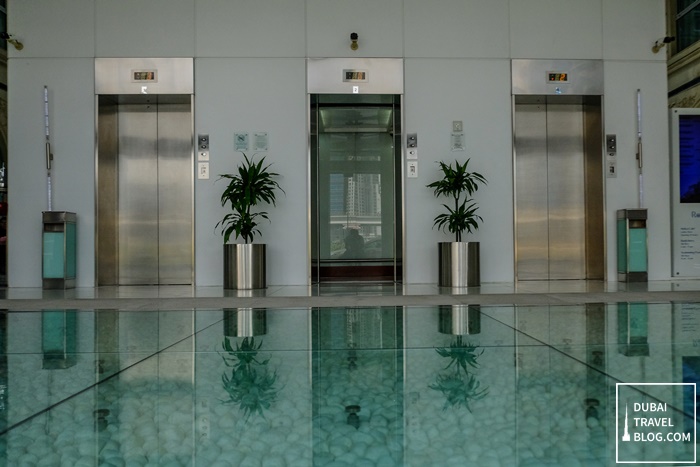 elevator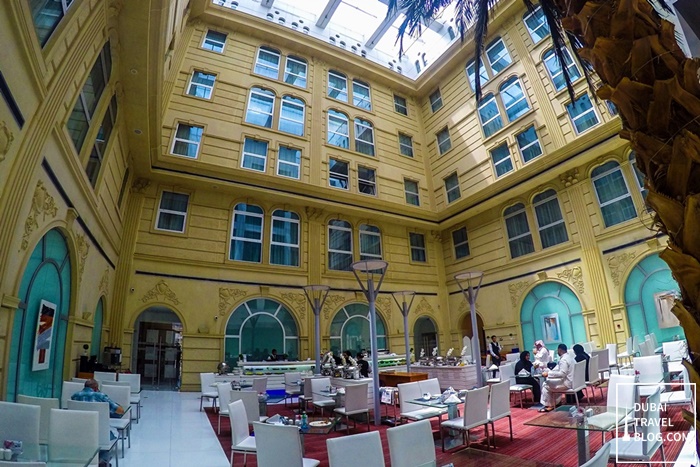 Moka Cafe restaurant
Premium Studio Room
We had a Premium Studio room which is quite spacious at 36 square meters. It comes with a King-size bed, office desk, and a kitchenette.
Villa Rotana has 118 luxurious studios and suites with a fully equipped kitchenette and complimentary tea and coffee making facilities. Linens and pillows were fresh, crisp and soft, a standard from Rotana hotels.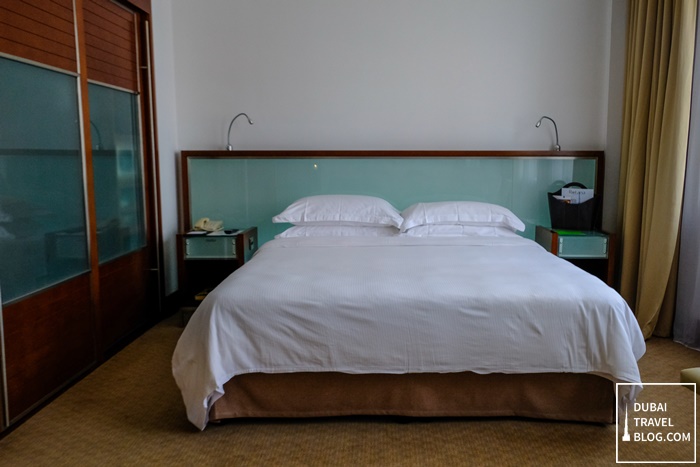 king bed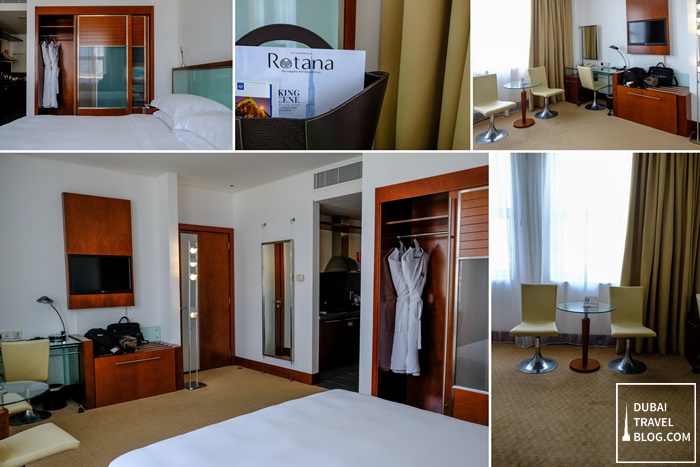 spacious bedroom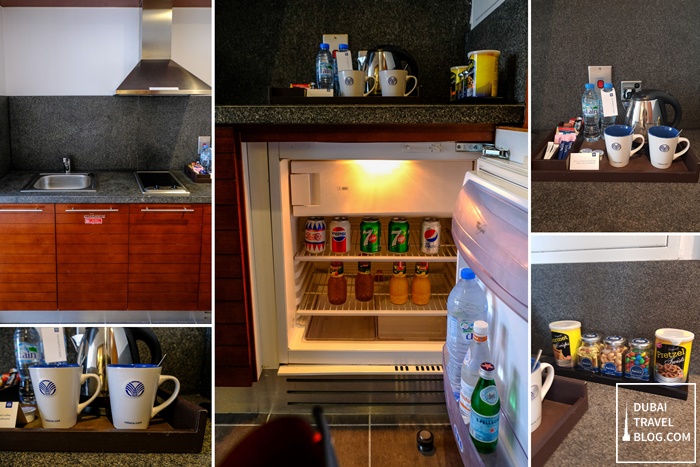 kitchen counter
Bathroom
The bathroom includes a bathtub and shower, toilet and a standalone bidet. There are also complete toiletries as well as thick and fluffy Rotana towels. I liked the simple grey and white accent designs which made the bathroom modern and elegant.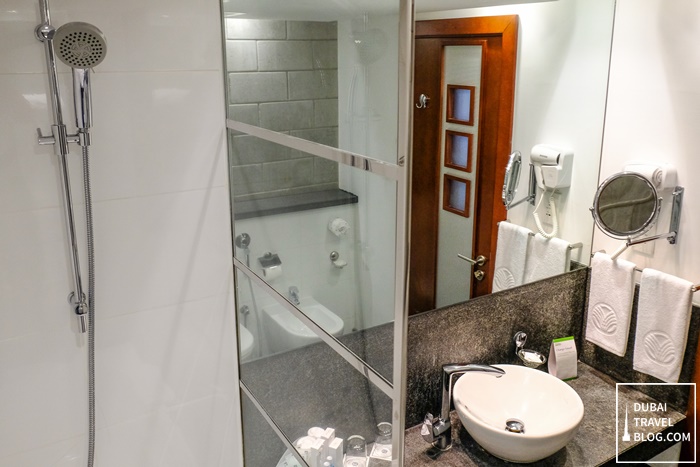 grey and white accents inside the bathroom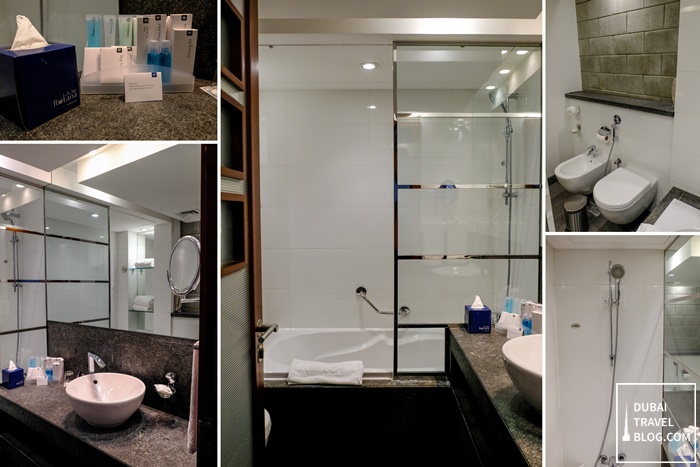 inside the bathroom
View of Burj Khalifa
Our Premium Studio room came with a view of Burj Khalifa, something we were really happy about. It was nice to feel like we lived in the city even if only for two days.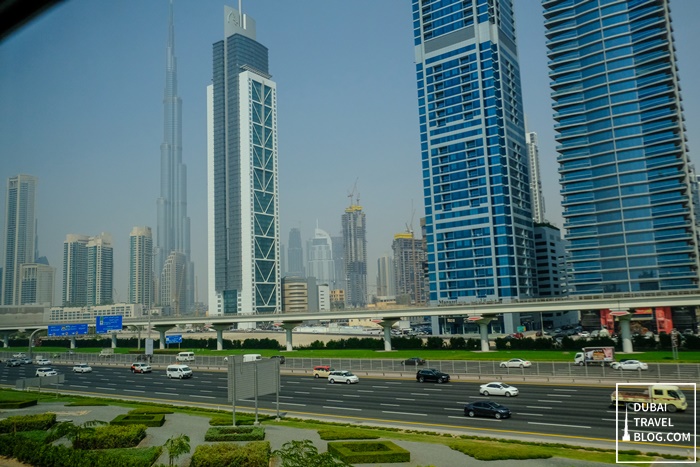 Sheikh Zayed Road view from our room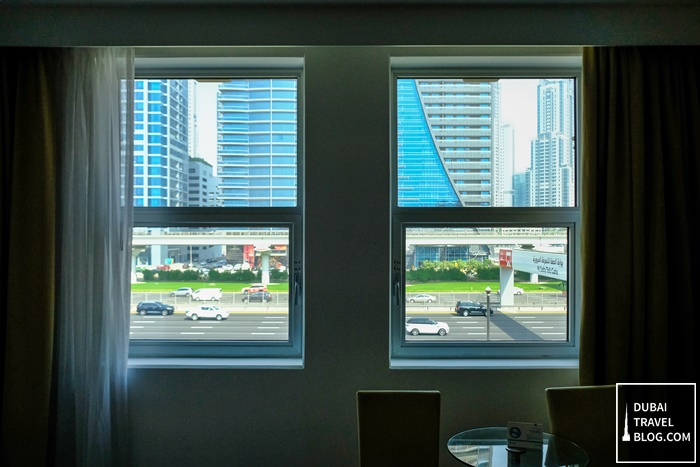 windows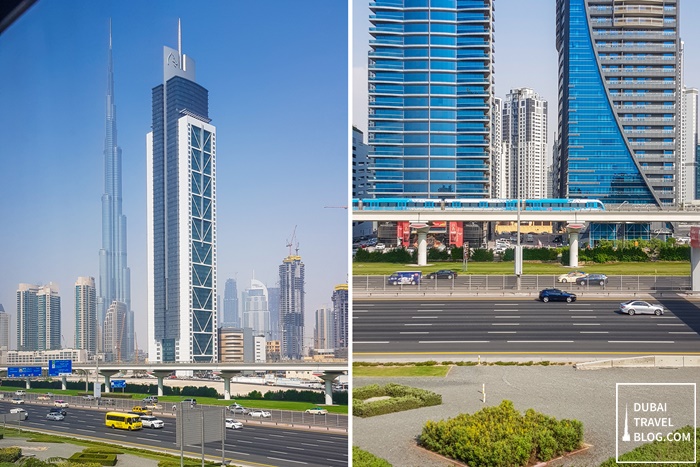 view of Burj Khalifa and SZR
Rooftop Swimming Pool
It's summer season and we couldn't wait to just take a swim in their pool. They would close the pool about 11pm which gave us more time to hang around and cool down from the heat at night.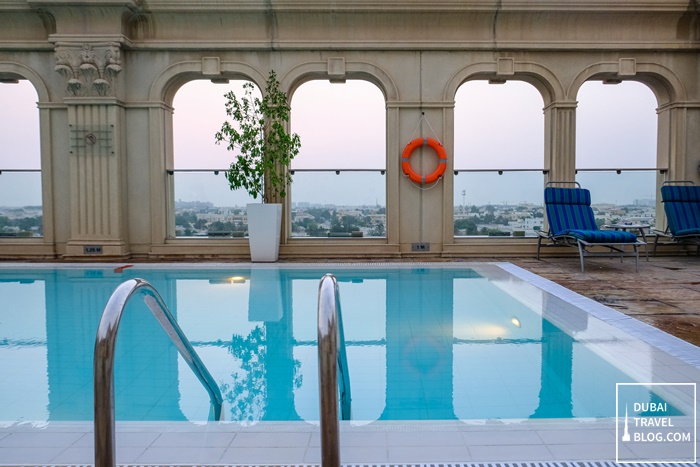 swimming pool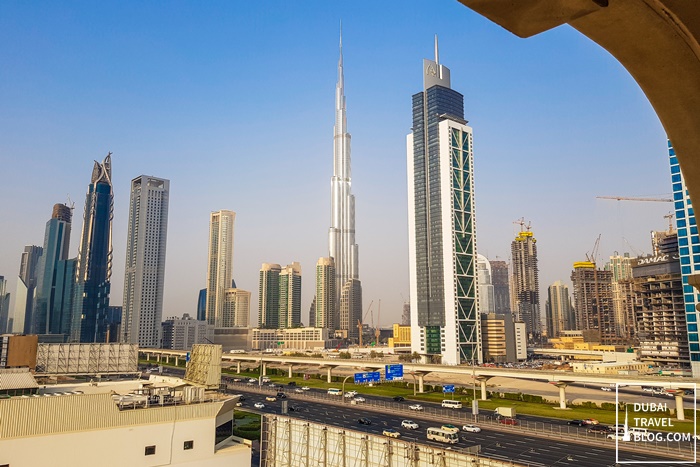 taken from the rooftop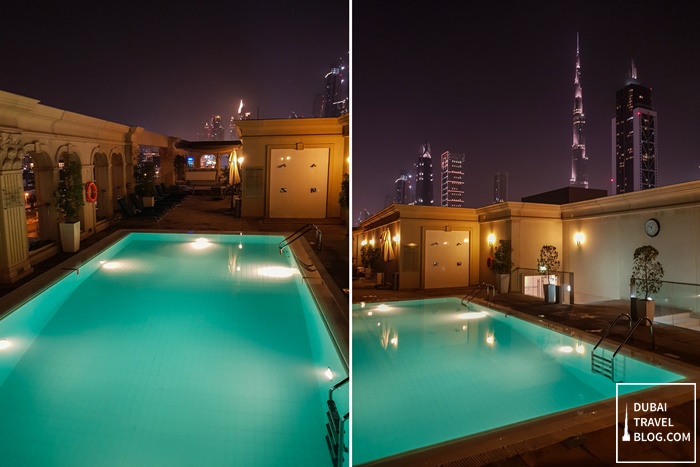 night time at the pool
Bodylines Fitness & Wellness Club
If you are looking to get some exercise done, you can head to Bodylines, their fitness & wellness club located at the 5th floor, with state-of-the-art equipment for cardio and weight training.
They also have separate locker room facilities for men and women. Each has their own steam, sauna and jacuzzi. Hotel guests can use the facilities while walk-ins can sign up for a membership fee.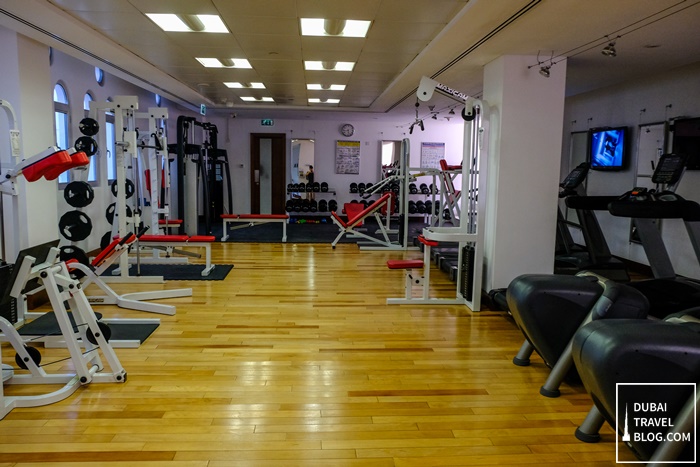 Gym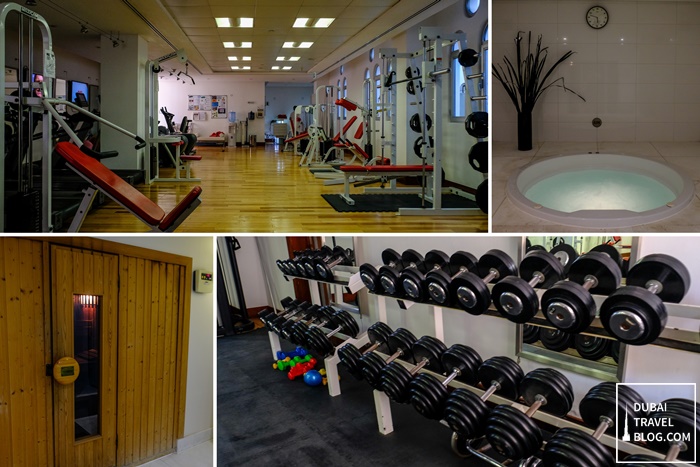 Bodyline Fitness gym
Moka Cafe All Day Dining Restaurant
Moka Cafe is the main and only restaurant in the hotel. We've dined here before during an iftar night buffet event. This restaurant, designed like an indoor courtyard with high ceiling, makes it even more spacious and inviting to dine in. However, we only got to eat here once before checking out.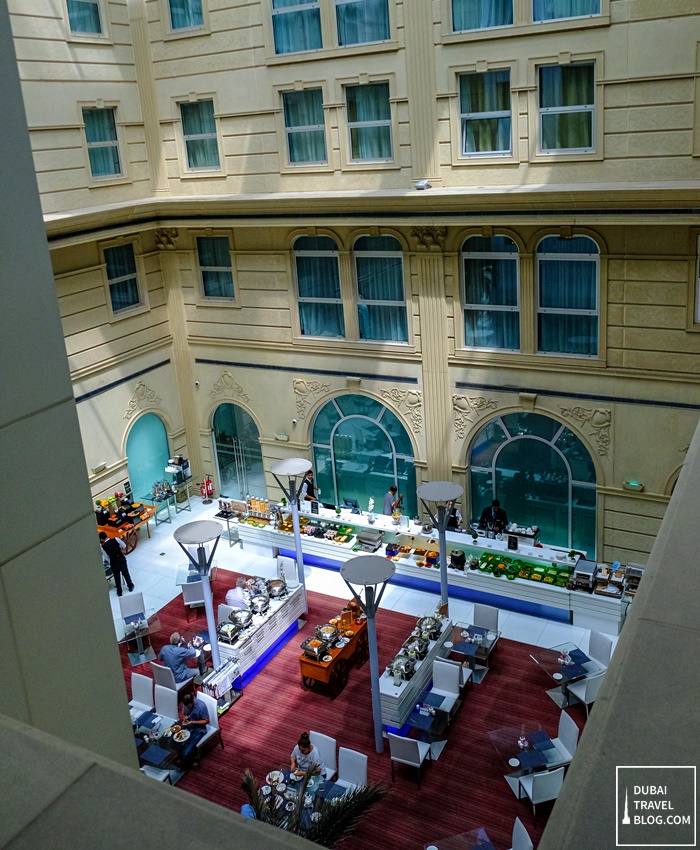 view of the restaurant from the 2nd floor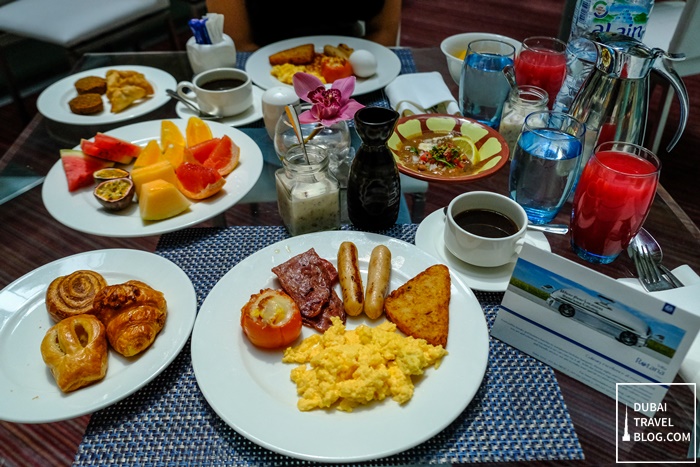 our breakfast before checking out
In Room Dining Service
The reason why we ate at Moka Cafe only once is because we took pleasure in the 24-hour in-room dining service of the hotel. Food is great and service was excellent. We really enjoyed dining in our room and we looked forward to having late lunch and dinner in both days.
Note: The hotel does not serve alcohol, but they have some fresh juices available.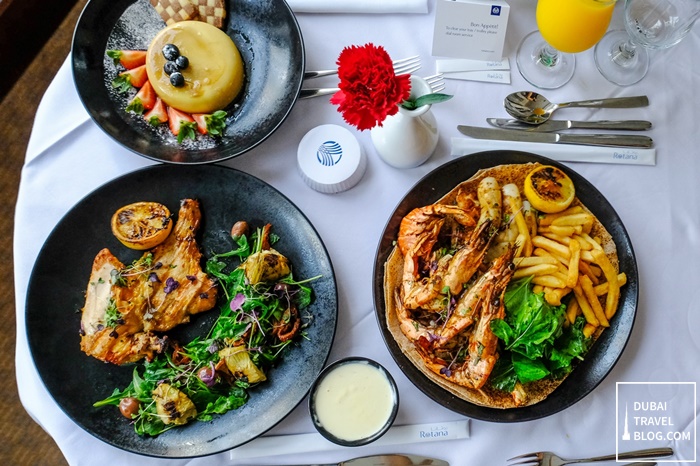 lovely food presentation and the quality & taste is splendid!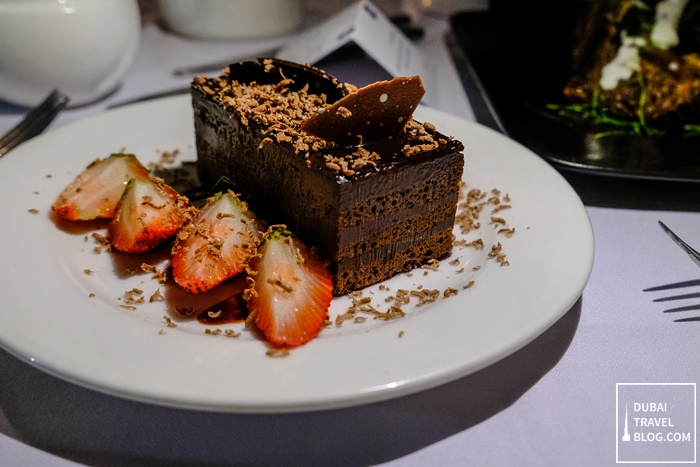 in room dining service at Villa Rotana
Enjoying the Staycation
I initially thought of going out for an event in the city, but my wife and I ultimately decided to just stay in so we could maximize the time of doing nothing. We enjoyed the staycation as we lounged in the pool and just remained in our room.
This was surely a break I was looking for. A lazy break in the comfort of the hotel. The staff also made sure to make our stay a very pleasant one.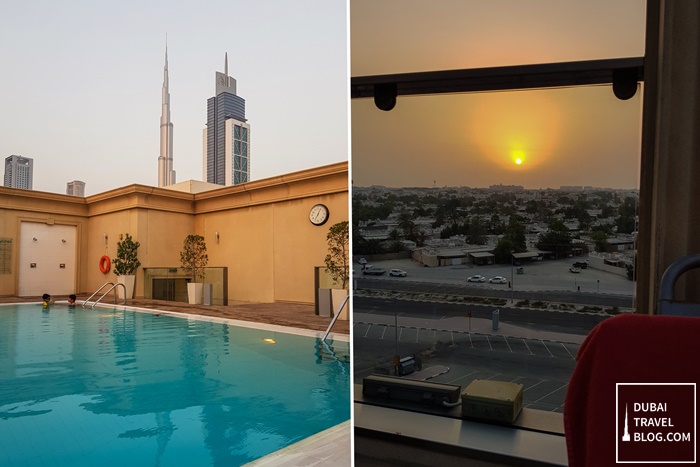 afternoon at the pool area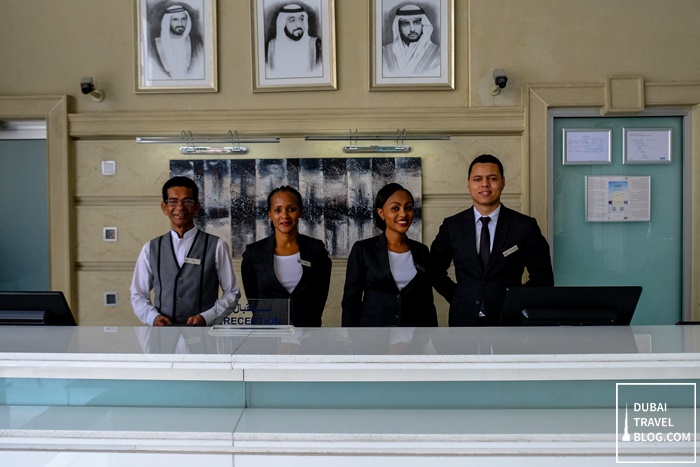 friendly and professional staff
Video: Villa Rotana
Here's a quick video tour of our experience in the hotel:
Note: We were invited to a complimentary stay at Villa Rotana. All opinions in this post are my own.
Contact Information: Villa Rotana Hotel Apartment
Address: Sheikh Zayed Rd – Dubai
Phone: +971 4 321 6111
Website: https://www.rotana.com/rotanahotelandresorts/unitedarabemirates/dubai/villarotana
Instagram: @villarotana
Facebook: fb.com/VillaRotana
Google Map Location
Below is a map guide how you can get to Villa Rotana. Coming from Sharjah on E11 highway, we took Exit 49. The nearest metro station is Business Bay metro (Red Line).