During our stay at Villa Rotana hotel apartment, probably the one activity we looked forward to doing was ordering from the In Room Dining service. While there is the spacious and tastefully decorated Moka Cafe at the lobby, we took pleasure in the 24-hour in-room dining experience at the comfort of our room.
We initially didn't think much of this experience until we had a taste of it during our first day of check-in. Room service came with complimentary snacks and we were surprised by the gesture of the hotel. Much more when the food that we ordered arrived and we were impressed by both quality and the presentation.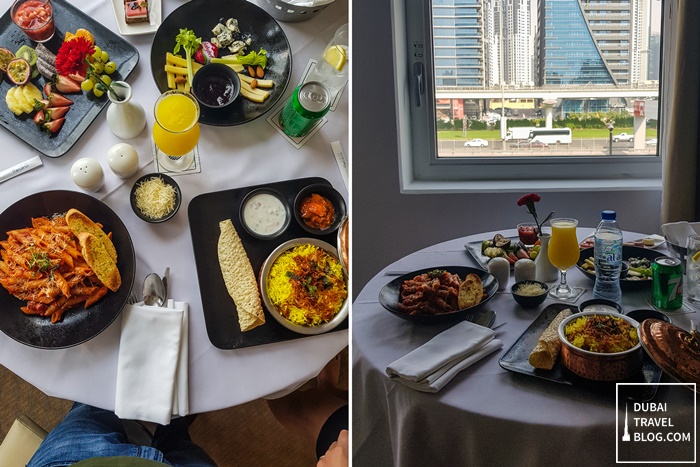 in room service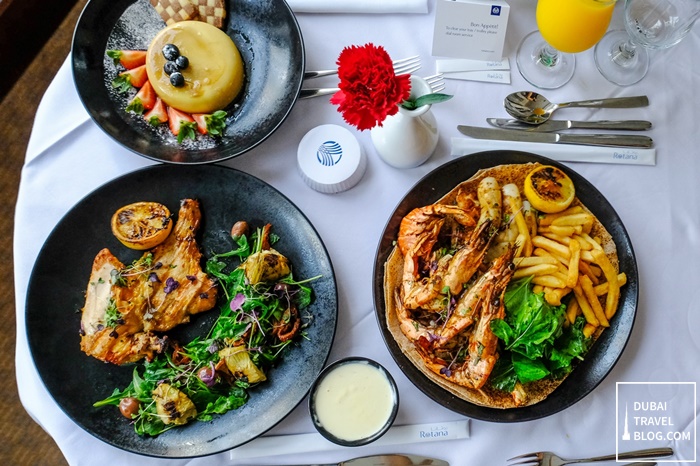 our late lunch, food taste and presentation were splendid
Dining inside our Premium Studio Room at Villa Rotana
We thoroughly enjoyed waking up late and ordering from a variety of Arabic and international menu. The friendly staff would bring in a tray table that could be converted into a full dining set-up. We would then have a feast while watching movies from their TV or catch up on a few episodes of "Suits" from Netflix on my laptop.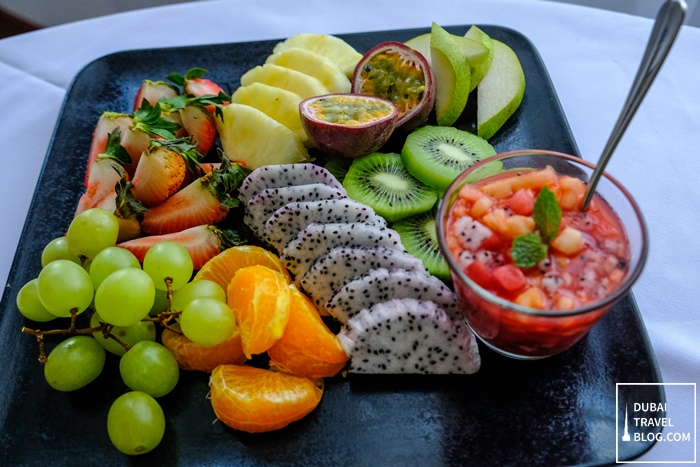 delectable fruit platter
Late Lunch
My wife and I aren't morning people and on a normal day, we would wake up around 1pm. So the 24-hour availability was really convenient for us. We had late lunch about 4pm. My wife ordered a Lemon and Rosemary-rubbed Chicken while I ordered a Seafood Mixed Grill. Both meals were quite delicious and appetizing.
For dessert, we had a Vanilla Caramel Flan which looked appealing but, for my taste buds, lacked some sweetness.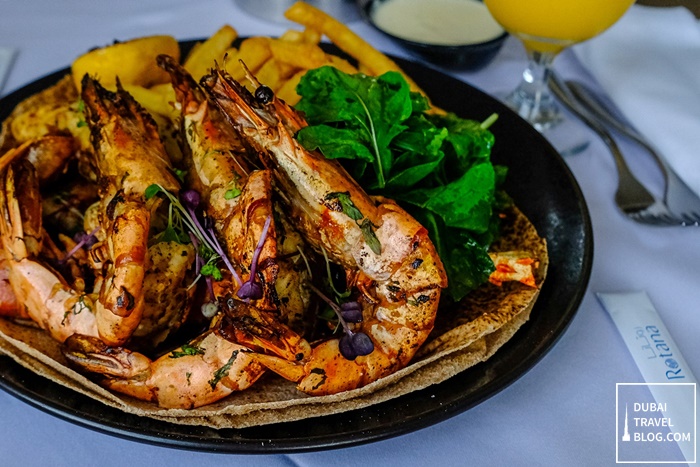 Seafood mixed grill
jumbo shrimp, lobster, hammour and squid with garlic-parsley butter, lemon and potato makli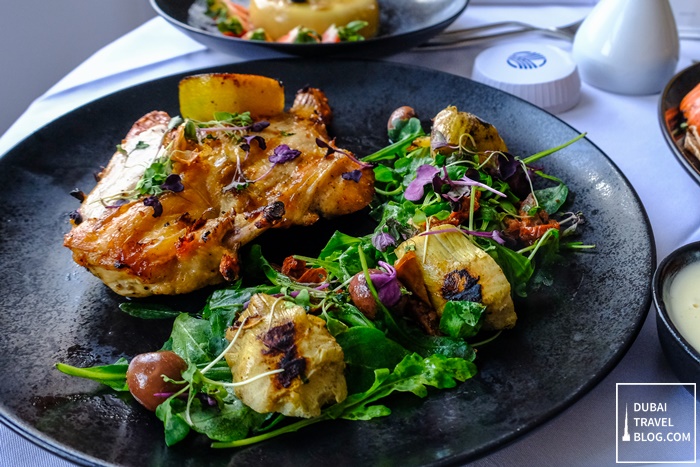 Lemon and rosemary rubbed chicken
oven dried tomatoes, artichoke, and tuscan olives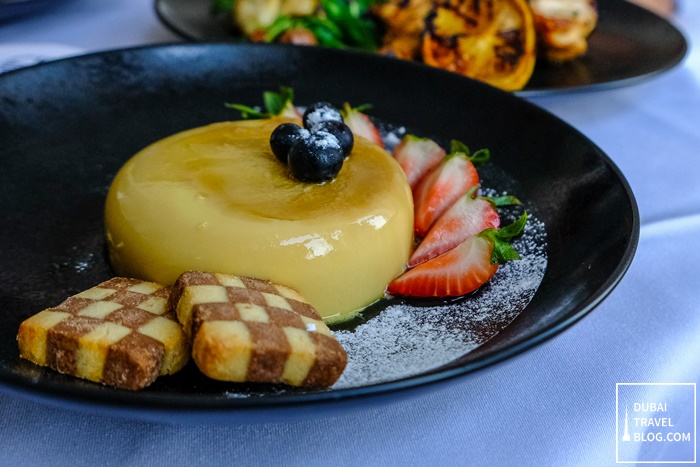 Vanilla caramel flan
chantilly cookie 'sablee'
Late Night Dinner
After taking a dip from their rooftop pool, we headed to our room and ordered dinner at 11pm. The staff were more than happy to accept our orders and we ended up with an Herb crusted fillet of salmon and Za'atar crusted lamb chops. We could sense how meticulous they crafted the food because of the taste and quality.
For dessert, we had the chocolate cake which was something I was really fond of – moist yet firm, and deliciously sweet.

Herb crusted fillet of salmon
grilled asparagus and crushed garlic potatoes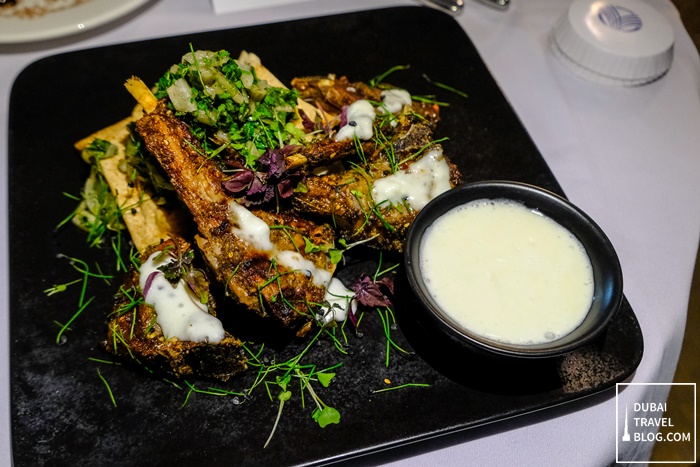 Za'atar crusted lamb chops
sumac and multigrain tabbouleh with cucumber-mint yogurt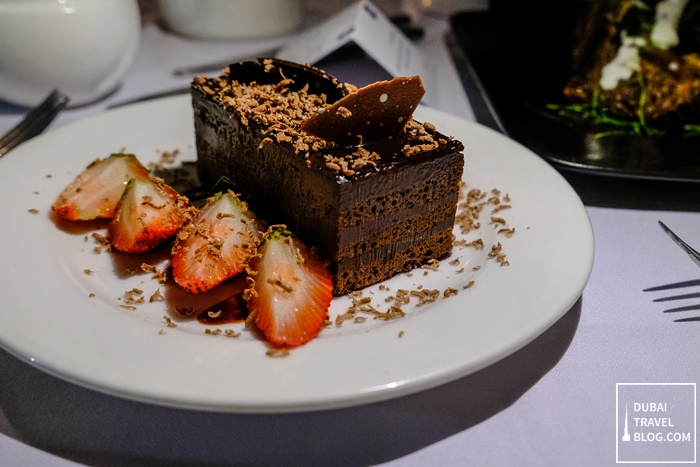 Chocolate Cake
Late Breakfast
As we were so full from the previous meals, we had some light snack bites for breakfast the next day. I had a Bircher Muesli while my wife had some French toast. We also had some pineapple juice and coffee. Great way to start the late morning. 😉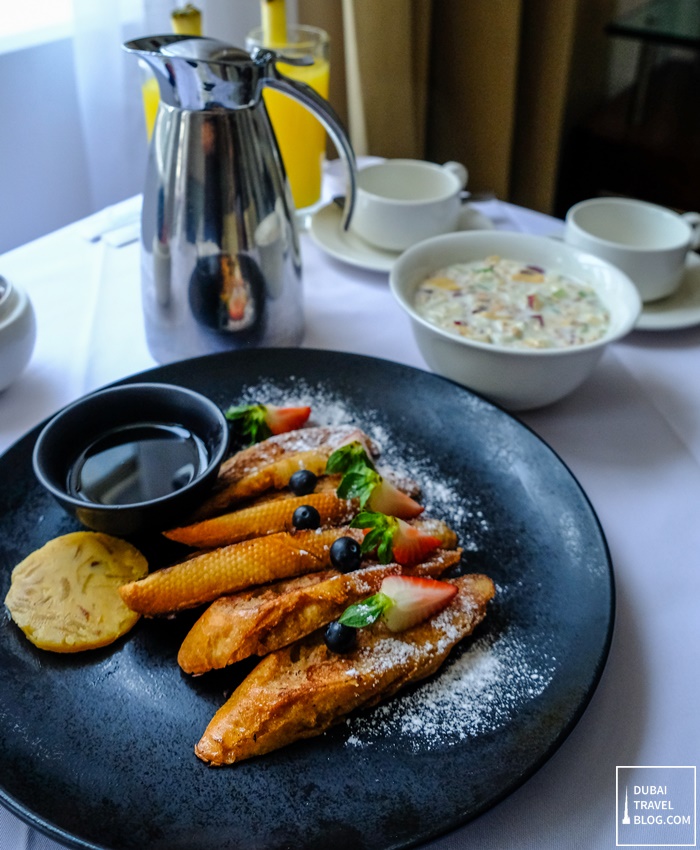 French Toast and Bircher Muesli
View of Sheikh Zayed Road
Aside from the food, we also enjoyed the view from our window while dining. We could see skyscrapers and the cars on Sheikh Zayed Road. It made the dining experience much more interesting especially for us because this is our first time to stay in a building just along Dubai's busiest highway.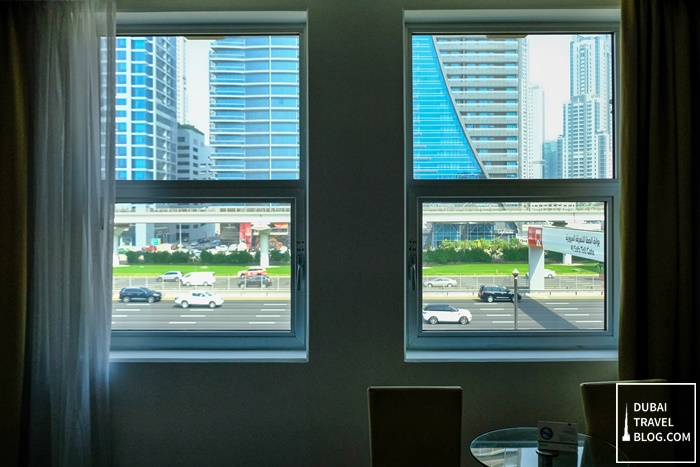 by the window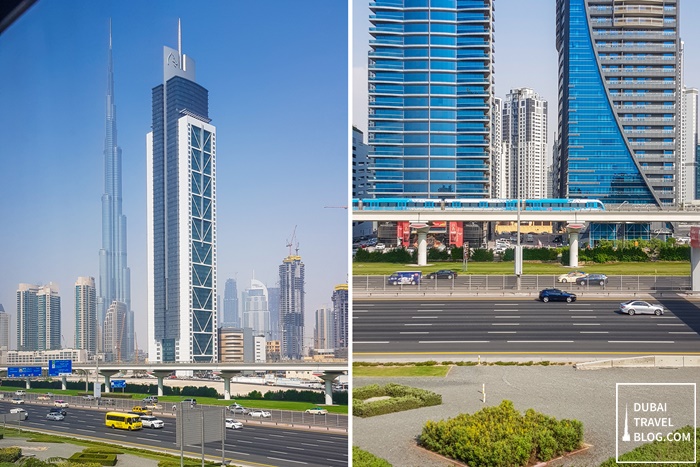 Sheikh Zayed Road, view from Villa Rotana
I initially thought that room service isn't really something that the hotel staff would take seriously, but we grew fond of it when we experienced it in Villa Rotana. We appreciated how they prepared the dishes and it really impressed us beyond our expectations.
Maybe next time we try checking in a hotel, we may try their in-room dining option so we can also compare how it's like in other places.
Note: We were invited to a complimentary stay at Villa Rotana. All opinions in this post are my own.
Contact Information: Villa Rotana Hotel Apartment
Address: Sheikh Zayed Rd – Dubai
Phone: +971 4 321 6111
Website: https://www.rotana.com/rotanahotelandresorts/unitedarabemirates/dubai/villarotana
Instagram: @villarotana
Facebook: fb.com/VillaRotana
Google Map Location
Below is a map guide how you can get to Villa Rotana. Coming from Sharjah on E11 highway, we took Exit 49.