After having dinner at the Sofitel Abu Dhabi Corniche All-Day Dining Restaurant, we stepped outside for awhile to take a break and hang out at the Corniche. Even if it was a little hot at night due to the UAE summer, we wanted to check out the surrounding area of this city hotel. Besides, it greatly helped us especially when we had a reservation set up for a late night snack (albeit a heavy one) at Grills @ Chill'O.
Located at the 8th Floor (P8 -Pool Level), Grills @ Chill'O is one of the nine dining options available for guests staying in the luxury hotel. Arriving at the restaurant, I immediately requested for a refreshing drink. The walk and the heat left me thirsty that the lemon-mint mocktail they served was such a satisfying thirst quencher.
Alcohol: YES
Shisha: YES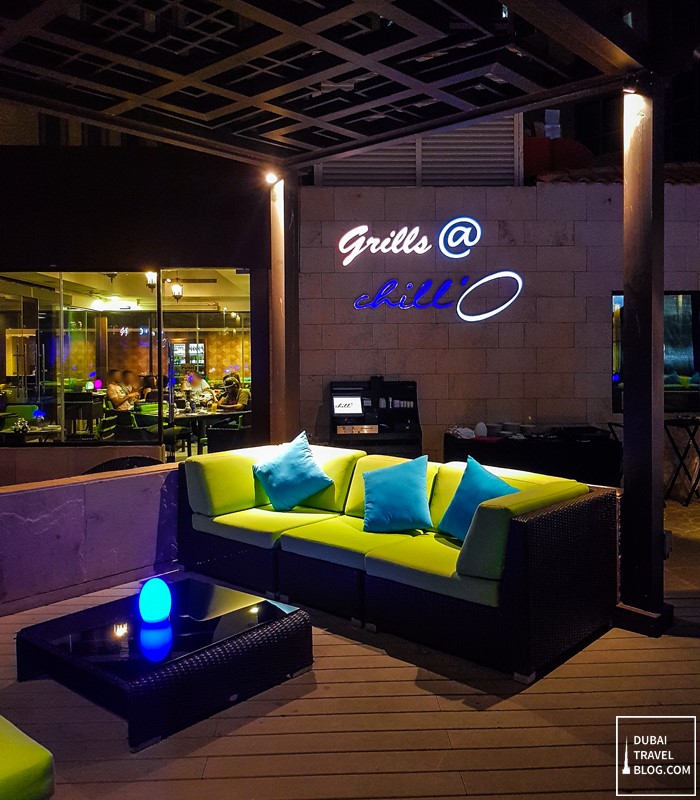 Grills @ chill'O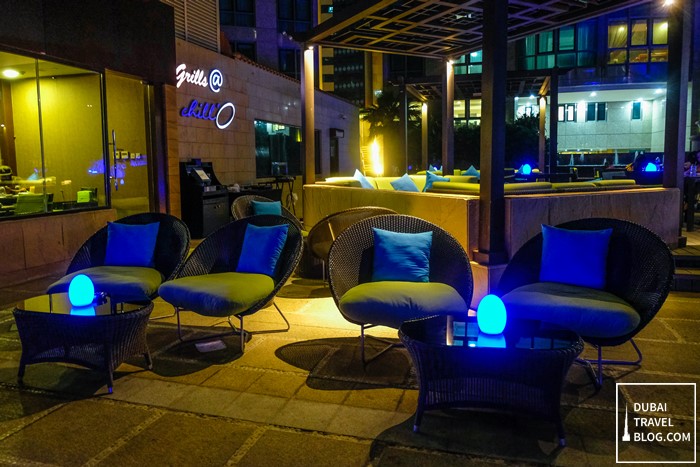 dining tables/chairs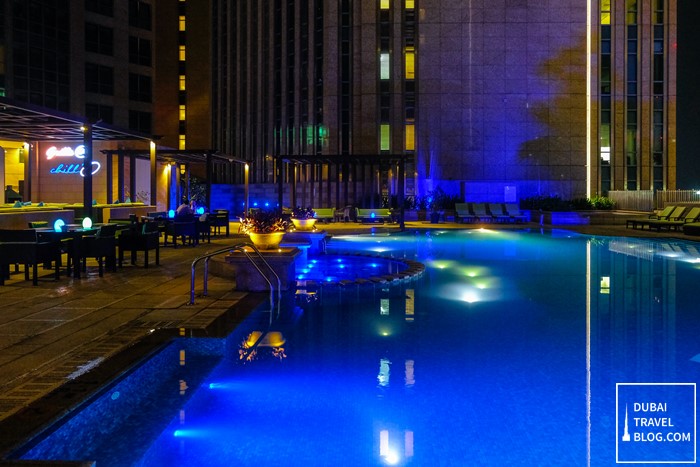 lovely setting with the pool lights
Review: Grills @ Chill'O Restaurant & Pool Bar
We had a pleasantly good time hanging out by the pool side area during the day. So seeing the view of the illuminated pool and the backdrop of the towering buildings made for an intimate and casual experience.
Their menu includes Arabic and Mediterranean cuisines. They offer mezze and tapas and at night time, usually hang out to some cool music. Shisha is available and there's an indoor aera where you can watch live sports on a big screen.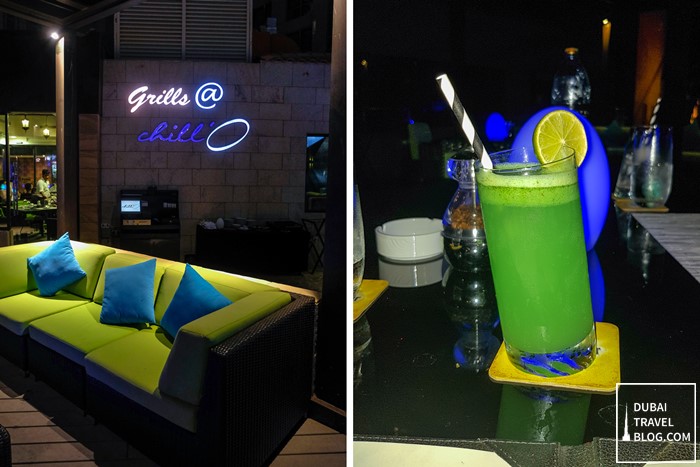 started the night with a lemon & mint cooler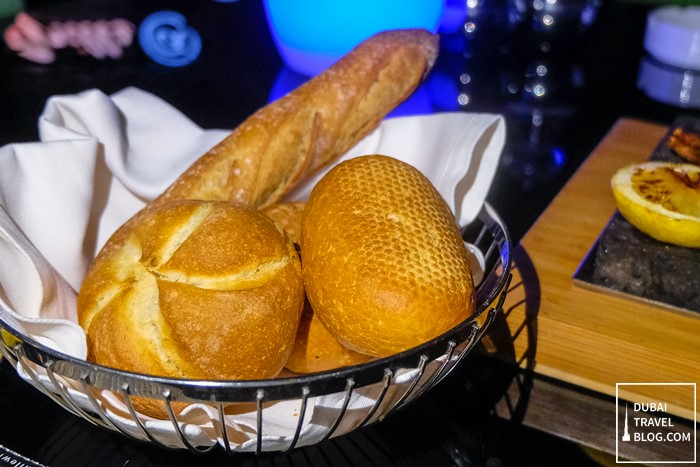 complimentary bread
As we still just had dinner earlier, we skipped the appetizers and desserts and ordered main course items only. We ordered the Grilled Seafood platter which included an Omani Lobster, Gulf Prawns, Hamour and Calamari served with a selection of sauces and BBQ Mulwara Lamb Chops.
The food took some time to prepare, but when they arrived, both items were very appetizing that my wife and I enjoyed devouring them. Food presentation were also a plus.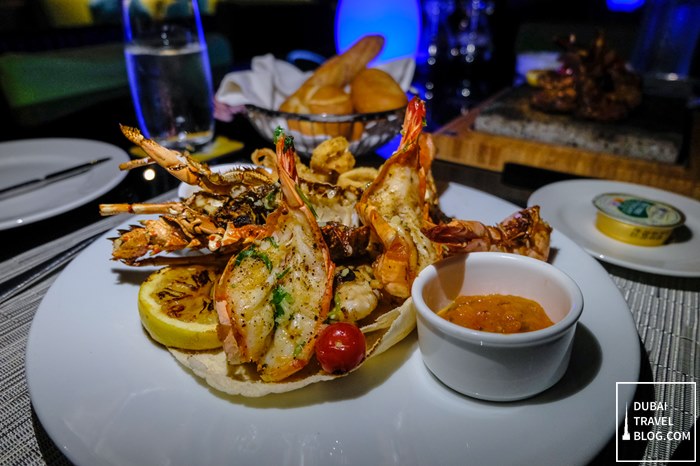 Grilled Seafood Platter – AED 155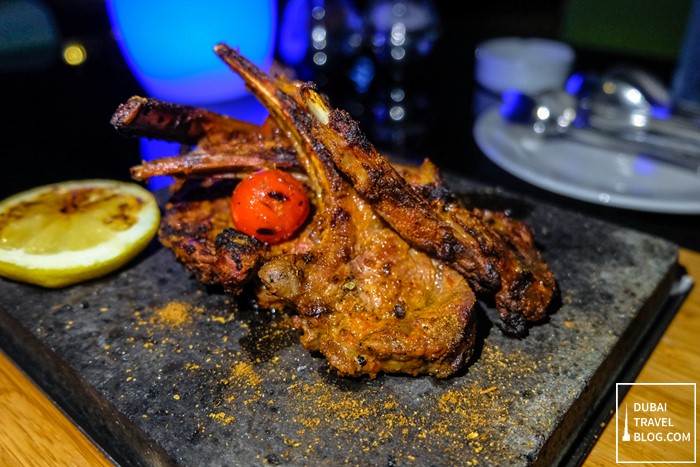 BBQ Mulwara Lamb Chops – AED 95
Barbecue Marinade Grilled Lamb Chops with onion and tomato
While we didn't expect much from the restaurant, the atmosphere at Grills @ Chill'O is quite relaxed. The outdoor seating area's view of the pool as well as lights from the remaining rooms turned on from the adjacent residence buildings made for a great night of food, drinks, and shisha.
Staff and crew were very friendly and took great care of us. Thank you to Sandun for making our dinner a wonderful experience!
Grills @ Chill'O also have an air-conditioned room available for those who are looking for a cooler setting especially this summer.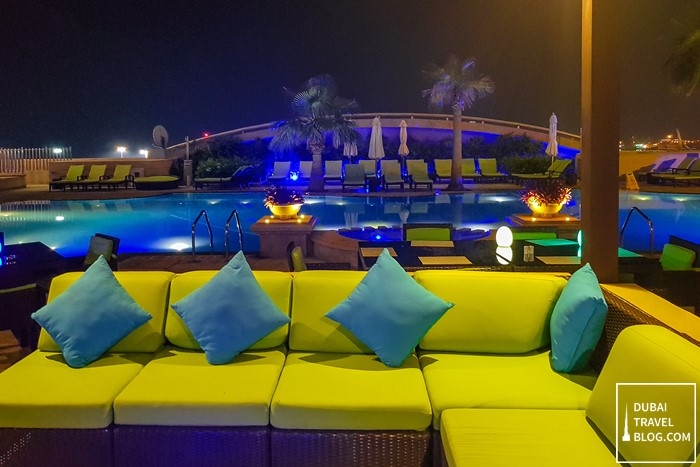 green and blue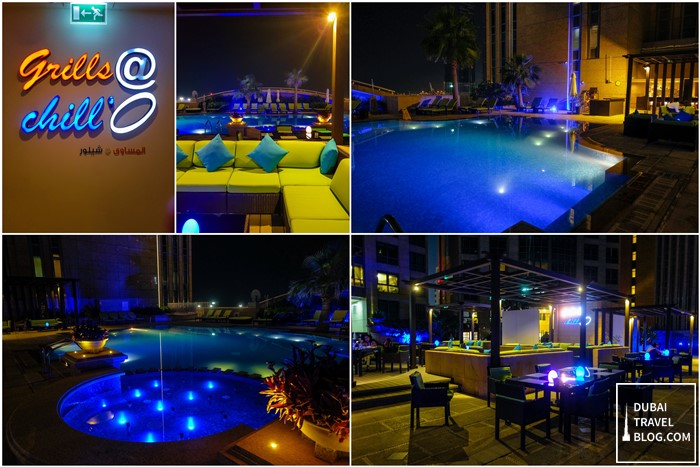 setting at the hotel's pool area – cabanas, tables and lounges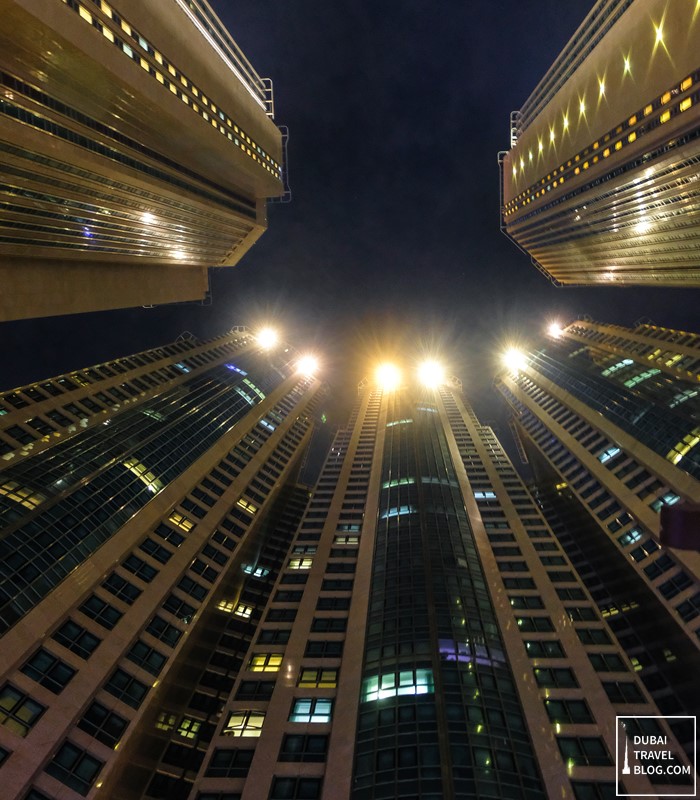 towering skyscrapers (residence buildings)
Opening hours of the restaurant: 9am to 12mn – Daily
Contact Information
Grills @ Chill'O
Address: Sofitel Abu Dhabi Corniche, Corniche Road East, Capital Plaza Complex, Al Markaziya, Abu Dhabi
Phone: 02 813 7777
Website: https://www.sofitelabudhabicorniche.com
Instagram: @sofitelabudhabicorniche
Facebook:@SofitelAbuDhabiCorniche
Twitter: @sofitelabudhabi
Google Map Location
Below is a map guide to get to Sofitel Abu Dhabi Corniche for your reference.