We went to Trader Vic's in Souk Madinat Jumeirah and had a nice dinner with drinks on a Monday evening. This is a Polynesian-inspired restaurant and bar which is well-known for its world-famous tropical cocktails such as Mai Tai and Tiki Puka Puka.
My wife and I are still exploring the Dubai nightlife scene and we've been only to a couple of bars. We enjoyed this place as they also serve a proper dinner apart from the alcoholic beverages. The beverages are quite strong so this is something worthy to highlight.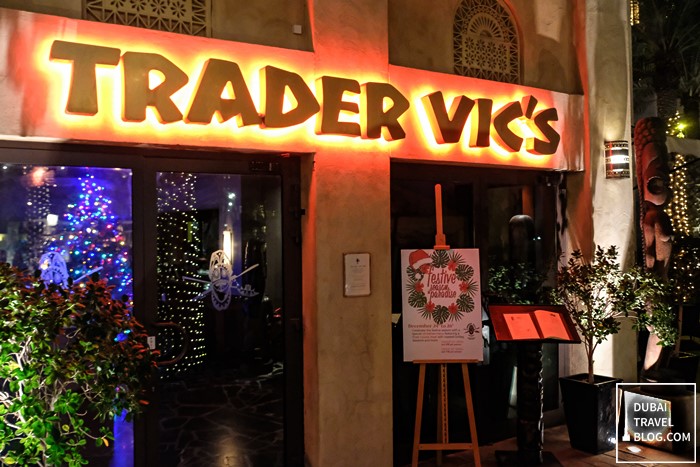 Trader Vic's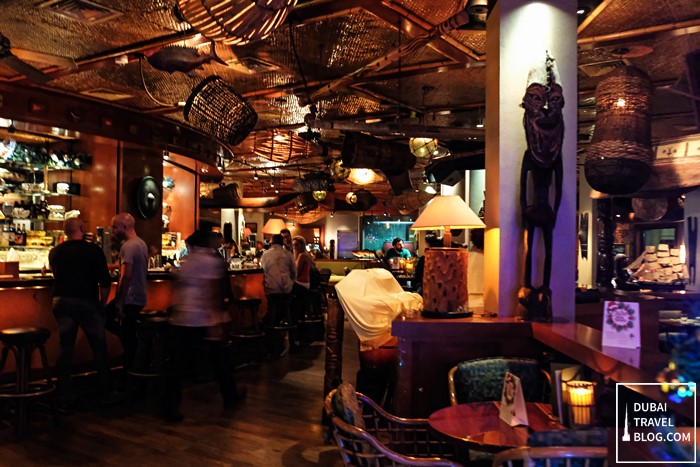 bar area
Dinner and Drinks at Trader Vic's Souk Madinat Jumeirah
Trader Vic's is an international brand and has been present in Dubai for more than 20 years. We initially opted to stay outside to dine al fresco, but upon learning that there was a live band playing in a few minutes, we decided to just dine inside.
The bar has a lively ambiance with tiki statues prominent and exotic interiors that make you feel like you're not inside a 'city'. The place is quite spacious and they offer a relaxing place to unwind.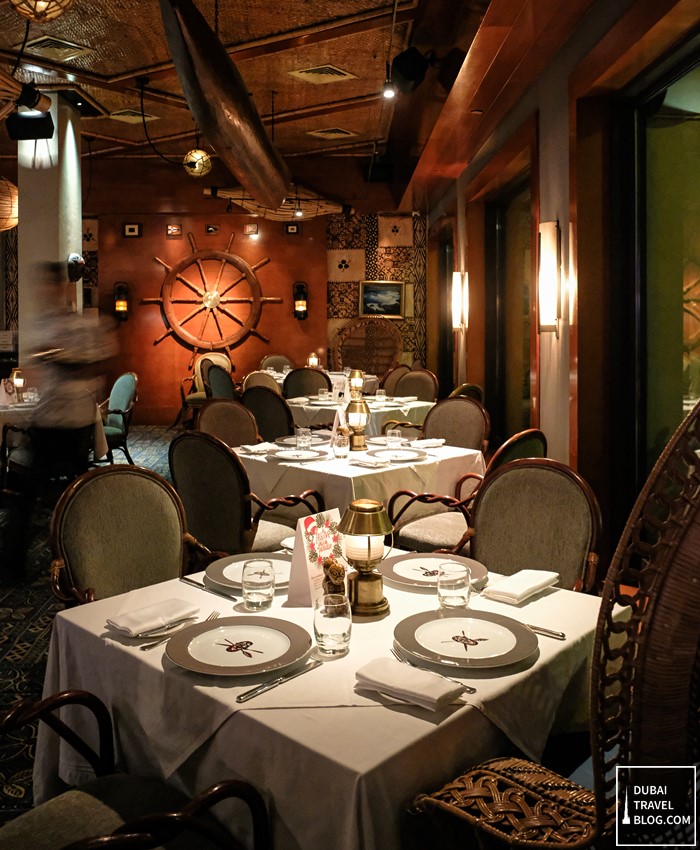 dining tables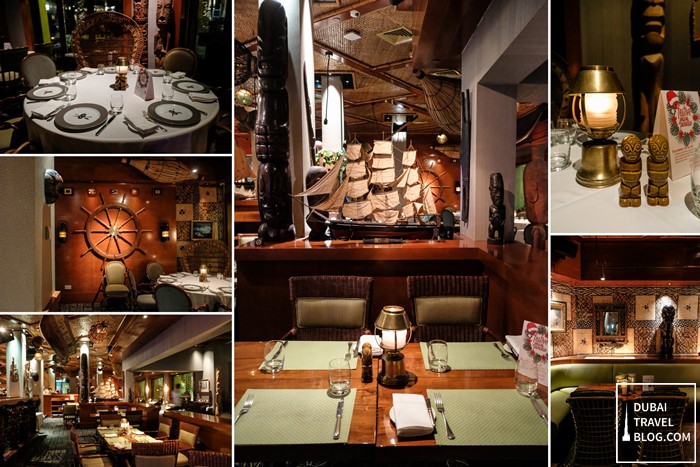 inside the Polynesian-inspired restaurant and bar
Appetizers / Starters
As this was our first time to dine at Trader Vic's, we asked one of the crew what are the best sellers and he did not hesitate in recommending the all-time favourites.
For appetizers, we had the Cosmo Tidbits which is a platter of their famous pupu (bite-size) starters. The cheeseballs were delicious, so were the lamb ribs.
We also tried beef cho cho wherein you get to place beef skewers above a blue-colored fire gel and cook it according to your desired doneness. In 10 seconds the beef would be medium-rare.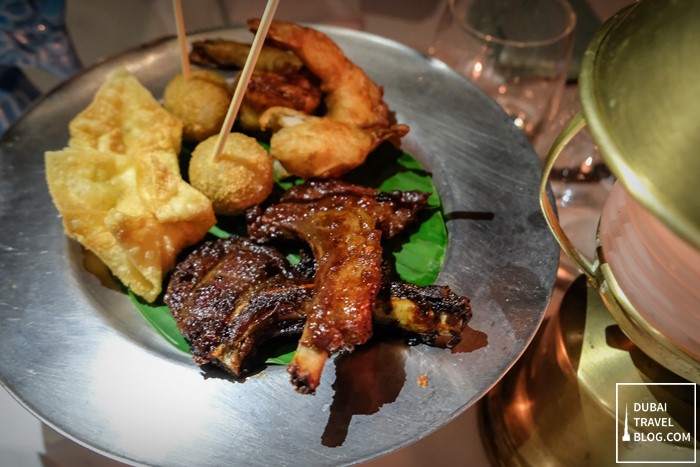 Cosmo Tidbits – 84 AED
Trader Vic Bergeron's original pupu platter which include Crispy Prawns, Crab Rangoon, Cheese Balls, BBQ Lamb Ribs for two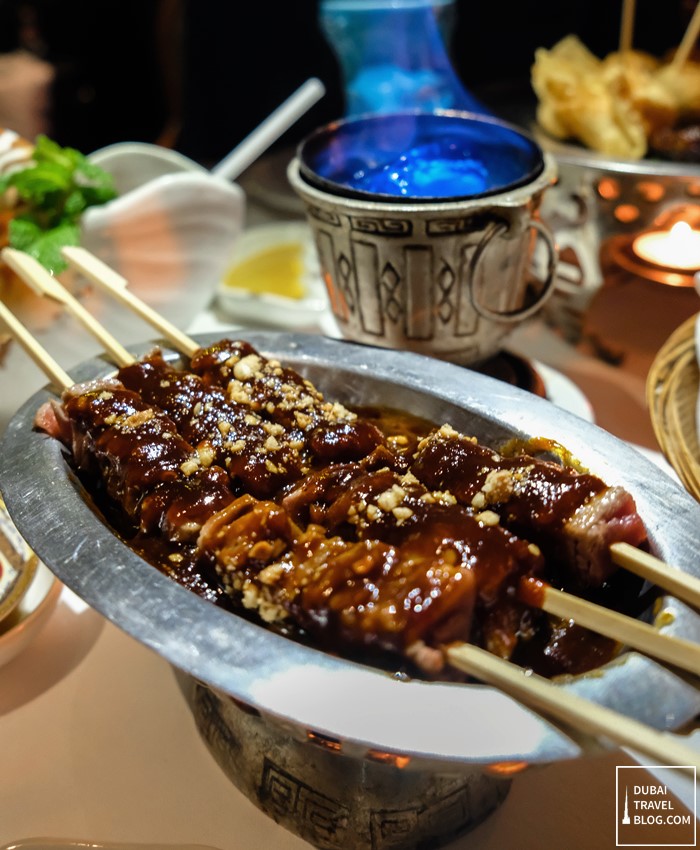 Beef Cho Cho – 54 AED
Rare beef skewers, shallot and spice marinade, spicy peanut sauce
Main Course
The restaurant tends to bring in a new menu every season just to spice things up a bit and have something to offer especially to returning patrons.
The one that stood out were the Crispy Duck and the Paper Thin Filet (Beef) Flambe. The sauce from the beef flambe was really creamy with a nice tangy kick. These two items were prepared by the table so be prepared for a nice presentation. 😉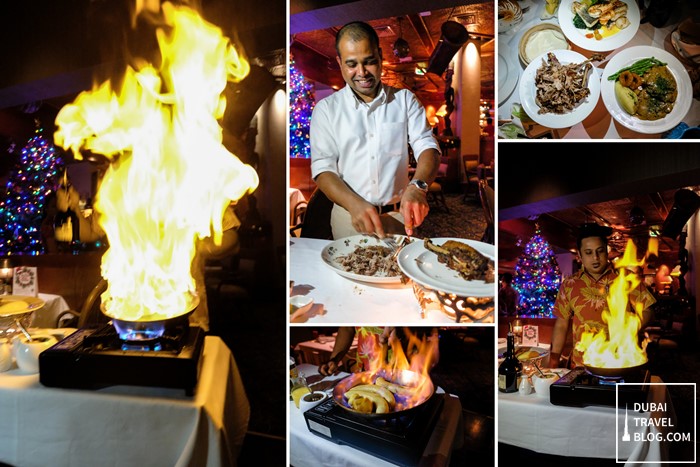 some dishes in Trader Vic's are prepared beside your table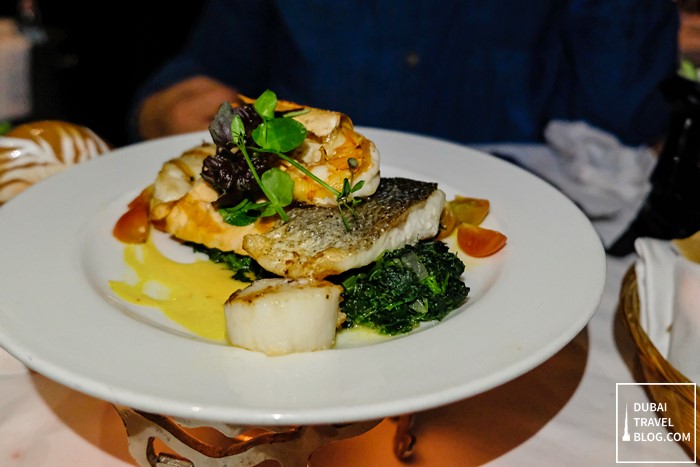 Seafood Parrillada – 145 AED
Scallop, sea bass, salmon, sea bream, and prawn with spinach saffron sauce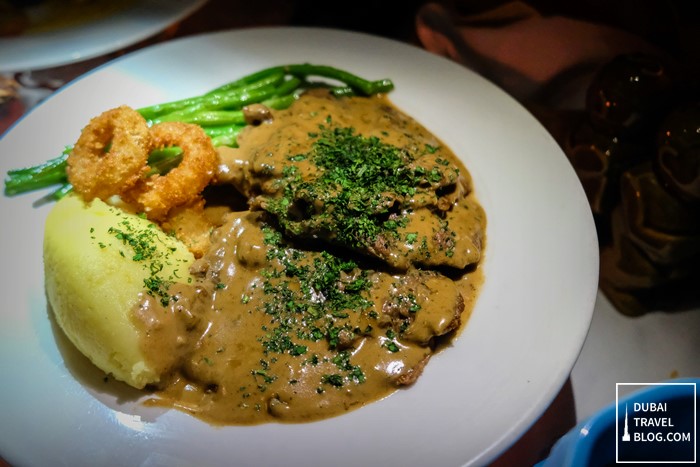 Paper Thin Fillet Flambé – 145 AED
Thin sliced filet beef, demi-glace mustard, brandy and cream prepared tableside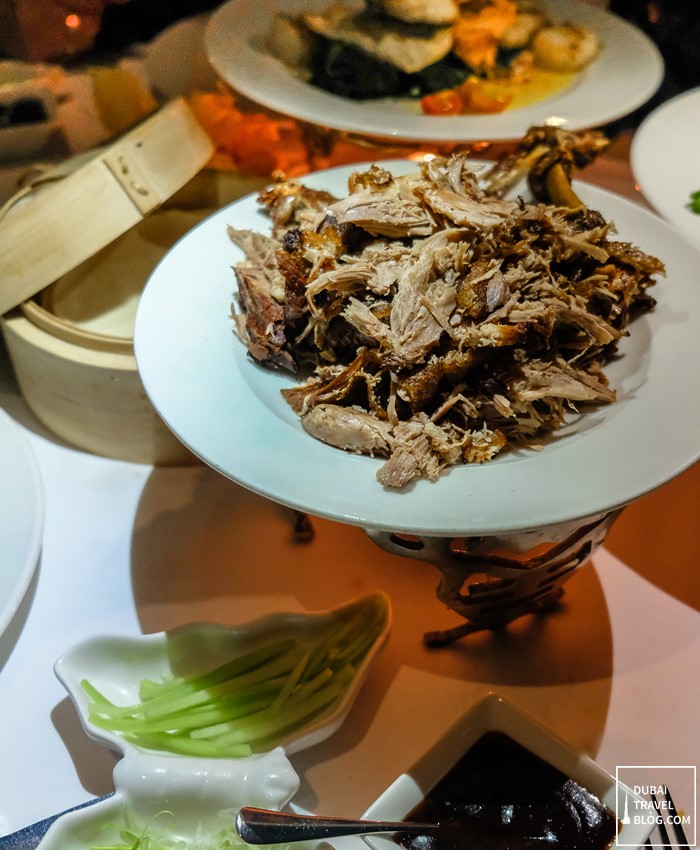 Crispy Duck – 120 AED
Give spice duck, mu shu pancakes, Chinese hoisin sauce
Desserts
For the desserts, we had the dessert sampler which is a 4-piece dessert set so we could try a bit of most of the dessert items, but out of the 4 items, the chocolate paradise was I preferred. We also ordered a banana flambe which is also prepared by the table and is composed of a banana covered with caramelized sugar and served with ice cream. The banana flambe was really good.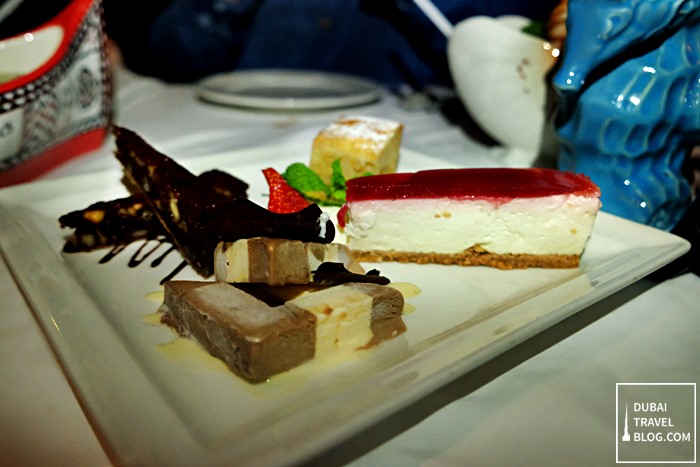 Trader Vic's Dessert Sampler – 52 AED
Coconut Crème Brule, Strawberry Cheesecake, Chocolate Macadamia Nut Tiki with Vanilla ice cream, Chocolate paradise with chocolate sauce and Crème Anglaise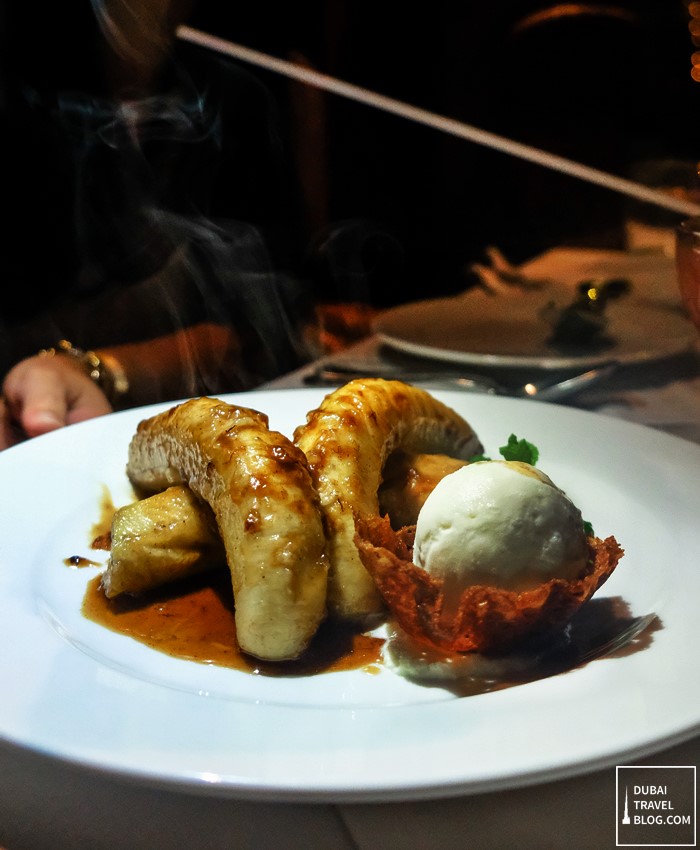 Banana Flambé – 38 AED
Alcoholic Beverages / Cocktails
The main highlight of the night are the alcoholic beverages that Trader Vic's offers as they have a wide selection to choose from. These drinks are served in uniquely shaped cups and vessels and can serve up to 4 people (depending on the drink).
The beverages were quite strong so this was really something we were happy with. While I'm not an avid drinker, I'm developing a taste for rum-based drinks The Seyhorse was one of the drinks that I enjoyed.

Guava Mai Tai – 62 AED
Light and gold rums and guava mixed with a secret formula
Nautilus – 58 AED
Tequila, cassis, sloe gin and lime with a splash of ginger ale and cranberries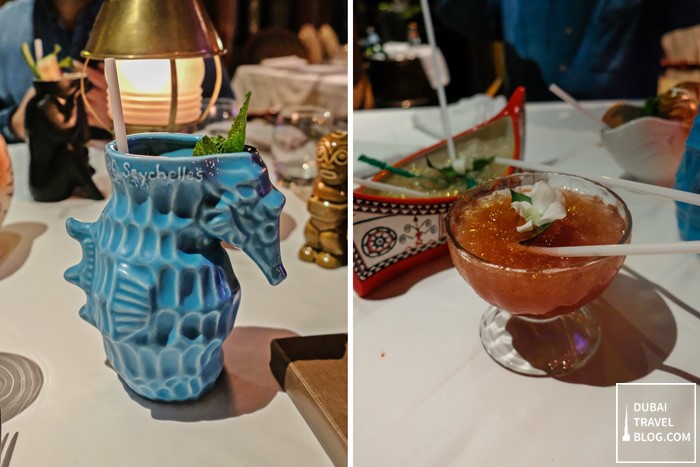 Seyhorse – 62 AED
A cocktail made for the opening of Trader Vic's Seychelles. Rum, melon liquor and passion fruit. "Paradise in a glass"
Tiki Puka Puka – 68 AED
Three style of rums, orange juice, grenadine and spices will take you to the islands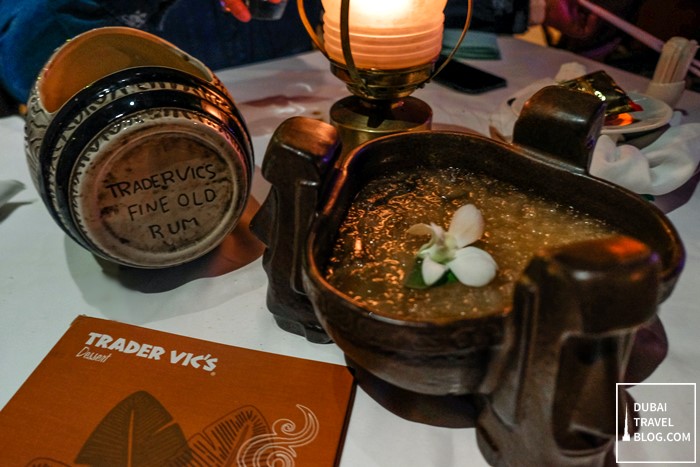 Rum Keg – 165 AED
Pineapple light and dark rums with apricot and passion fruit flavors
Tiki Bowl – 96 AED
A delightful punch of light and dark rums, brandy and almond mixed with orange juice in an earthen bowl supported by three Tikis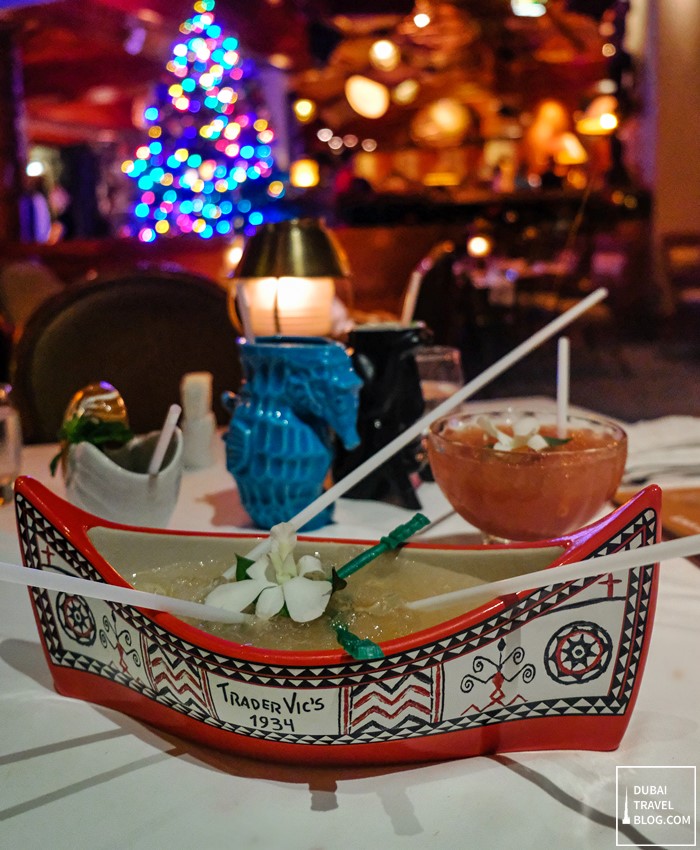 Lanyu Punch Bowl – 98 AED
A combination of light and gold rums, guava, apricot, and topped with sparkling wine.
Trader Vic's Madinat provides a true escape with its tropical décor, Cuban band and waterfront terrace located at the Madinat Jumeirah. Trader Vic's offers an exotic ambiance with international specialties and world famous tropical cocktails from noon to late evening. The Home of the Original Mai Tai® and pioneer of Fusion cooking, the Chinese wood fired oven specialties promise a treat for all tastes and occasions.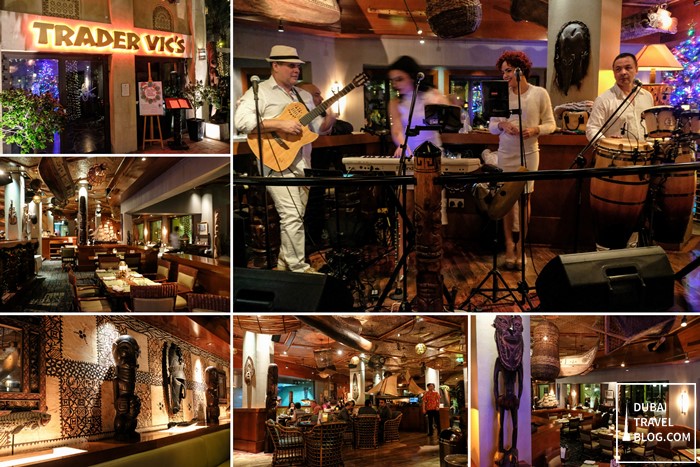 live Cuban band adds to the theme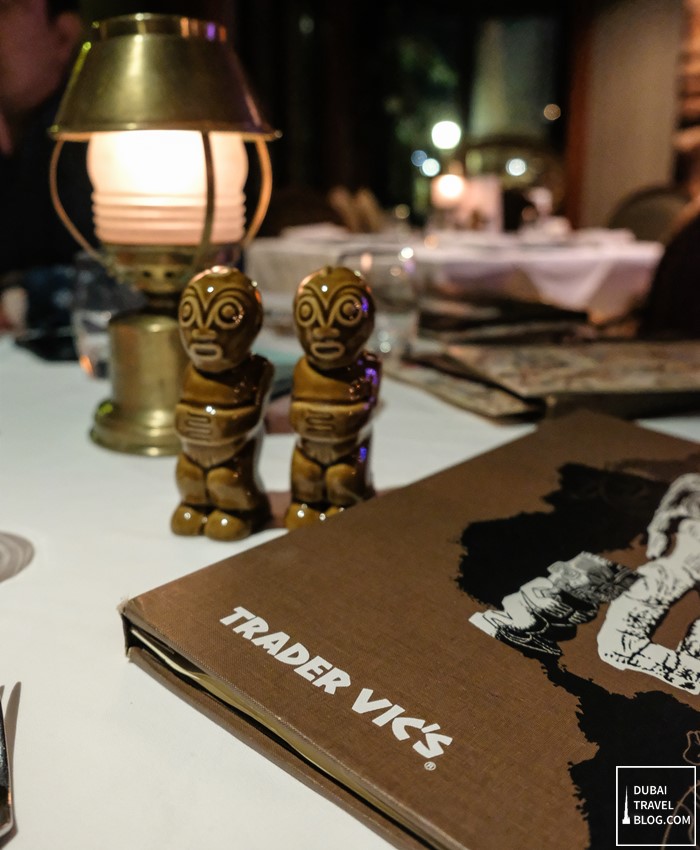 salt and pepper condiments little statue shakers
Trader Vic's also has a branch located in Sheikh Zayed Road in Crowne Plaza Dubai.
Contact Information
Address: Store 143, Souk Madinat Jumeirah, Jumeirah District
Contact Number: (4) 368-6559
Website: tradervicsmadinat.com
Facebook: https://www.facebook.com/tradervicsdubai
Instagram: https://www.instagram.com/tradervicsdubai/
Google Map Location: Trader Vics Madinat Jumeirah
Below is a google map guide to help you as drive towards Trader Vic's in Madinat Jumeirah. Be advised that the restaurant is in Souk Madinat, not in Madinat Jumeirah (hotel). We got a bit confused at the beginning but it wasn't a big deal as the two properties are just near each other. Just head to the Souk Madinat Jumeirah entrance as the parking for customers is also located there.