We had dinner at ILA Restaurant & Cafe one Friday evening. This restaurant specializes in Egyptian, Moroccan, Lebanese, and other Arabic specialties as well as a few other international dishes.
It is located in Al Seef area, which is a new development that was launched a few months ago. The location is something worth highlighting when you dine in ILA Cafe as you get a beautiful view of the Dubai Creek which is made perfect with the chilly winter season in Dubai.
Alcohol: NO
Shisha: YES
Opening Hours: 8am to 1am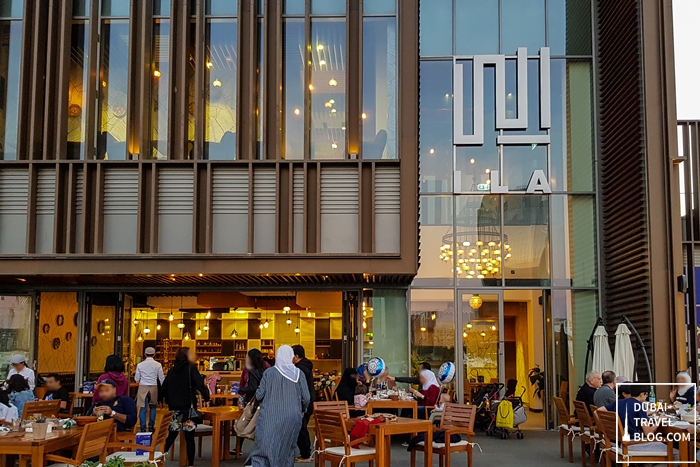 ILA Cafe Dubai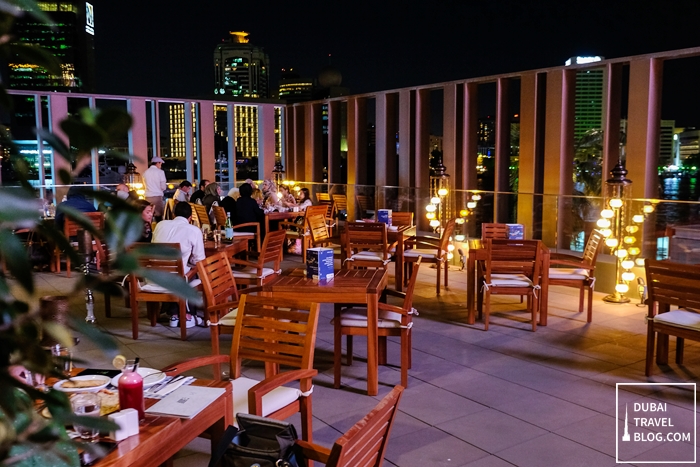 second floor
Restaurant Review: Arabic Cuisine at ILA Cafe in Al Seef (Old Dubai)
When we arrived at the restaurant, we noticed that there were plenty of people around. It was a Friday evening after all and many people preferred to dine alfresco. Fortunately, there's a second floor for those who want to smoke shisha. We opted to dine upstairs.
ILA has large wooden chairs and dining tables which is mostly joined together to accommodate a large group. Arabic lamps and Moroccan plates adorn the walls and ceiling which made for a nice accent. The huge Arabic chandelier inside the cafe is worth noting.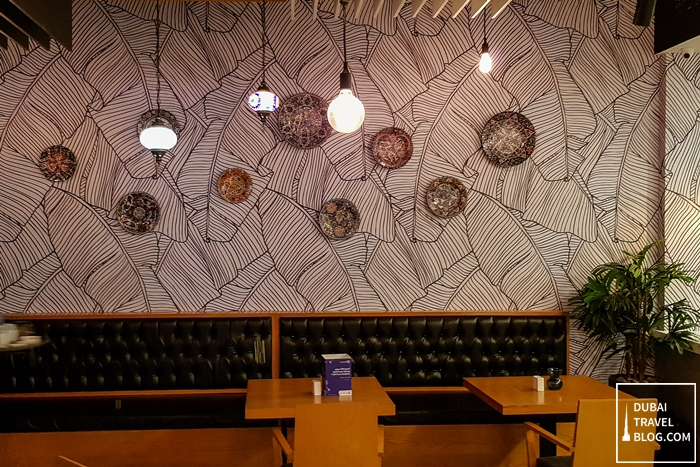 lamps and plates design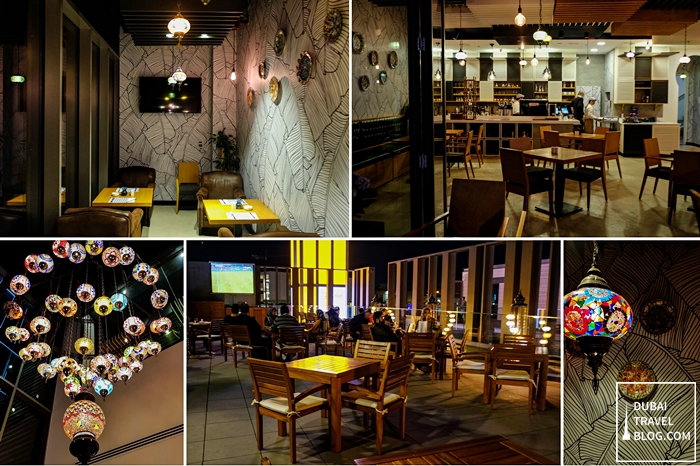 interior
We chose our table where there's a channel showing a football match. While not watching a game, music is played which features an instrumental playlist of pop songs with an Arabic tune and made for a nice ambiance as we settled in with our vanilla and coconut shisha.
Appetizers
For starters, we ordered fire crispy shrimps, cheese basterma roll, hummus with meat, and spicy pepperoni pizza. Yes I was that hungry and ordered pizza. lol. The shrimps and cheese rolls were the main highlights for the appetizers.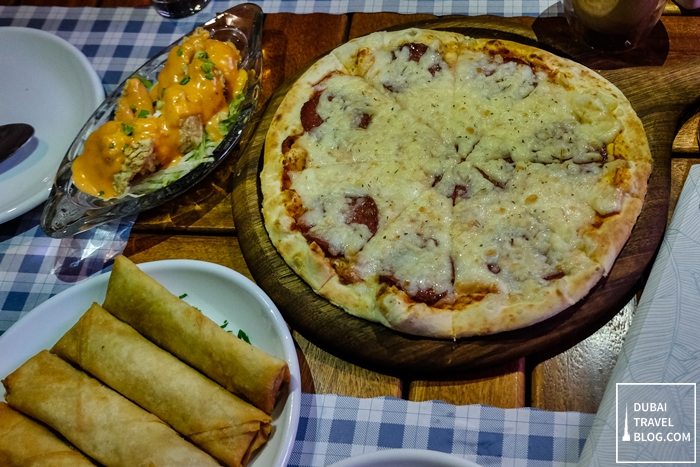 Fire Crispy Shrimps – 57 AED
Spicy Pepperoni Pizza – 45 AED
Cheese Basterma Roll – 29 AED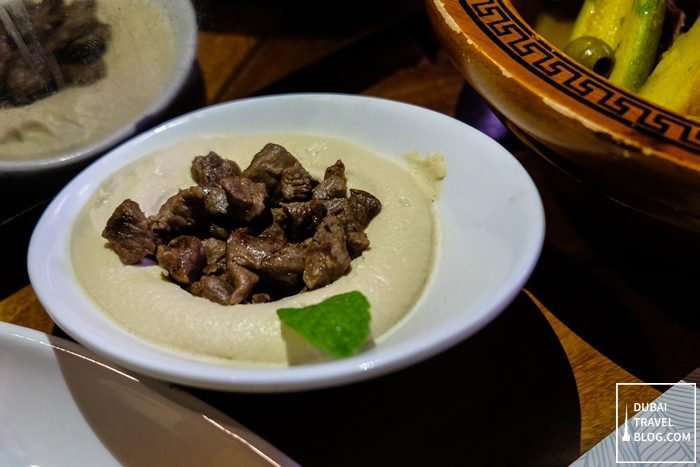 Hummus with Meat – 33 AED
Main Course
My wife ordered Chicken Tagine for the main course, our friend ordered the Arabic Mixed Grill (a definite standard when dining in an Arabic restaurant), and I had a Baked Salmon. We preferred the tagine and the Arabic grill from the main course.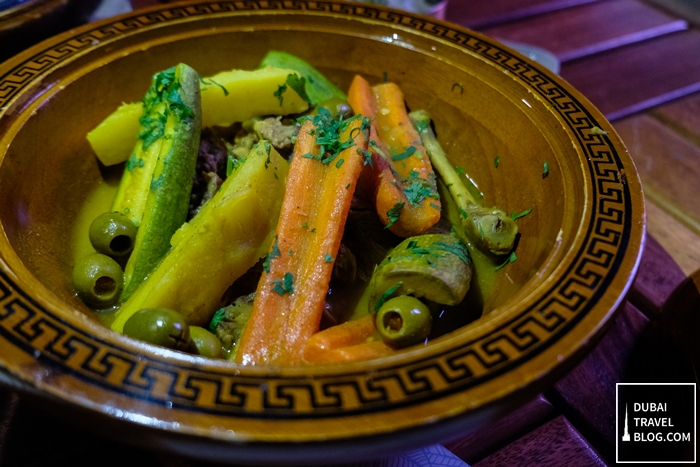 Chicken Tagine – 59 AED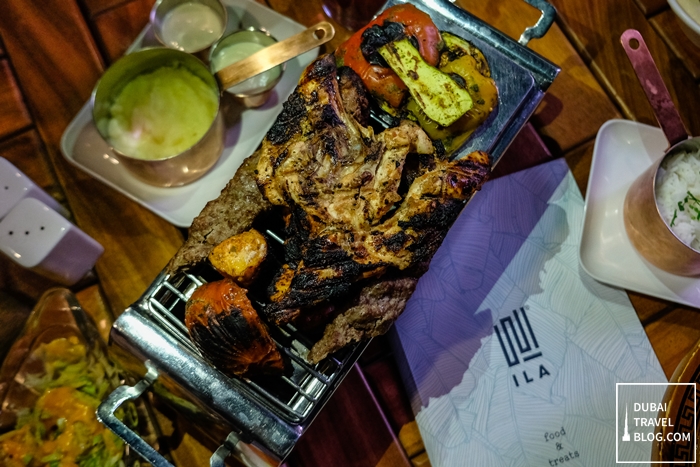 Mixed Grill – 72 AED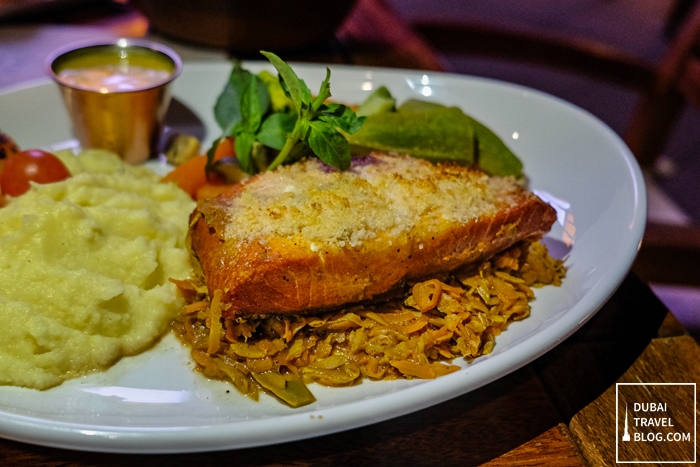 Baked Salmon – 79 AED
Desserts
Lastly for desserts, we ordered some Kunafa (paired with Arabic ice cream), chocolate fondant (with vanilla ice cream) and Lialy El Ghazl (cream wrapped in cotton candy and topped with pistachio nuts). The Lialy El Ghazl was something new to us and made for an interesting dessert. We had Moroccan tea paired with our desserts.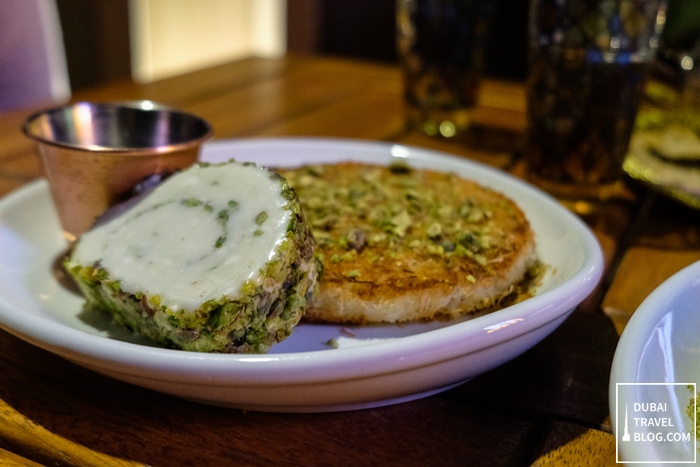 Cheese Kunafa – 33 AED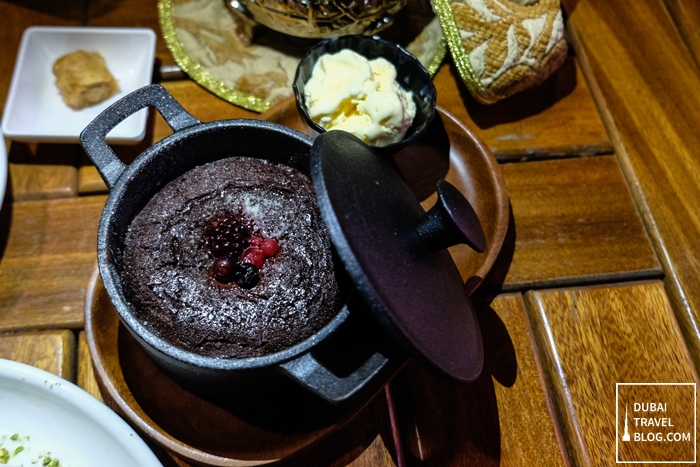 Chocolate Fondant – 39 AED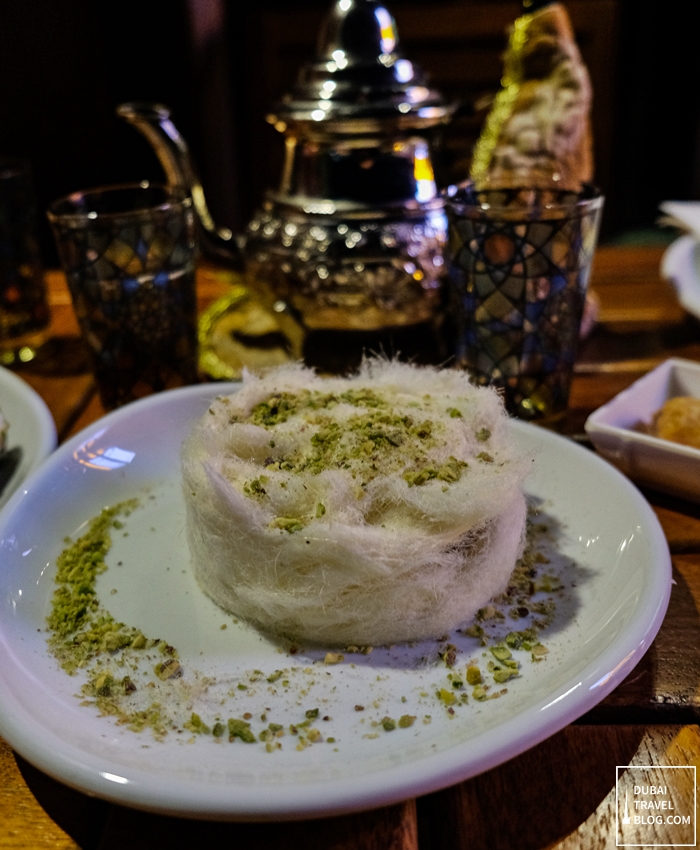 Lialy El Ghazl – 35 AED
From early on, it was clear that plenty of families were dining together and enjoying each other's company. We commend the staff for keeping the service professional despite the very busy timing.
We were very satisfied with our meal that we took our time enjoying the view and overall surroundings. As it's also Dubai Shopping Festival, it was of great timing to have seen the fireworks on the Dubai Creek.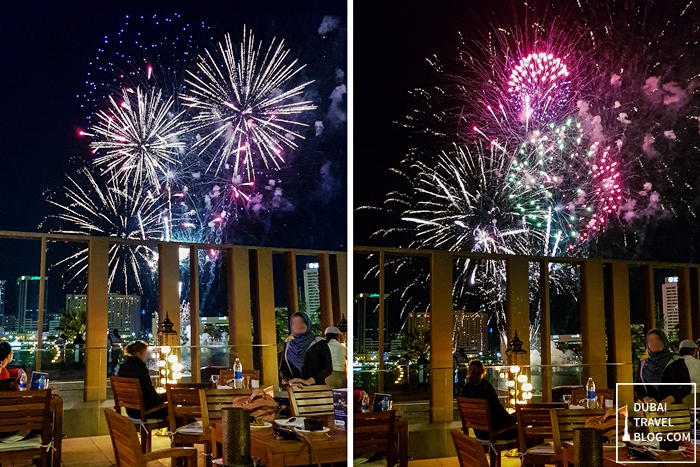 fireworks as part of the Dubai Shopping Festival celebrations
It's really nice that there have been developments made in Old Dubai as this gives a better sense of heritage and culture and made the location more welcoming to both residents and tourists, we commend Meraas for creating such a charming food, shopping and entertainment landscape. We'll talk about Al Seef in a different post as it deserves its own spotlight.
ILA Cafe serves as a great place for meeting up with families and friends while enjoying the view of the Creek. If you're a fan of shisha, this is also an added bonus.
ILA Restaurant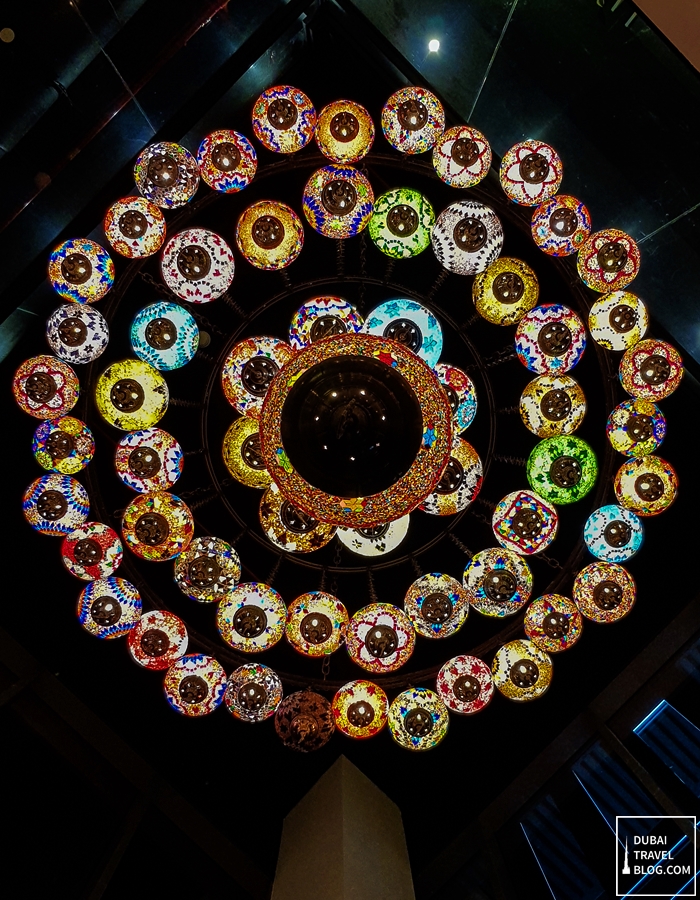 huge Arabic chandelier inside ILA Cafe
On the shores of Dubai Creek, ILA combines a variety of Arabic dishes mainly Lebanese, Moroccan and Egyptian. Each in their own contemporary, modern fashion without exempting the flavours and tradition of each dish, and pair this fine cuisine with some fantastic shisha and Egypt's first ILA branch in Dubai will fit perfectly with residents. 
ILA Cafe Dubai Video
Below is a video I made summarizing our whole experience at ILA Cafe:
Note: Valet Parking can be paid through the restaurant – 10 AED
Please be advised that you need to call the valet team 20-30 minutes before pick-up.
Contact Info: ILA Restaurant & Café
Address: Umm Hurair, Al Seef Dubai
Phone: 04 358 5822
Facebook: https://www.facebook.com/ilacafeuae/
Instagram: https://www.instagram.com/ilacafeUAE
Google Map Location: ILA Café Dubai
Below is a Google map location to guide in getting to ILA Restaurant and Cafe. The nearest metro station is Burjuman metro station.