We had a relaxing overnight staycation experience at Radisson Blu Hotel, Dubai Media City. This hotel has been operating for 16 years now and it's still one of the most popular ones in the city.
The hotel is in the center of Dubai Media City, home to the most reputable media company with offices from around the world and throughout the Middle East. It is also conveniently located near Dubai Marina, which has lively nightlife and shopping options.
Also Read: Hotel Review: Park Inn by Radisson Dubai Motor City
Radisson Blu DMC has 246 rooms and suites that exude sophistication and comfort, with smooth lines, warm décor, and amenities such as free Wi-Fi, an award-winning Italian restaurant, and a sports bar. A well-equipped gym, a spa, and an outside pool where visitors can soak up the Arabian rays are among the other amenities available.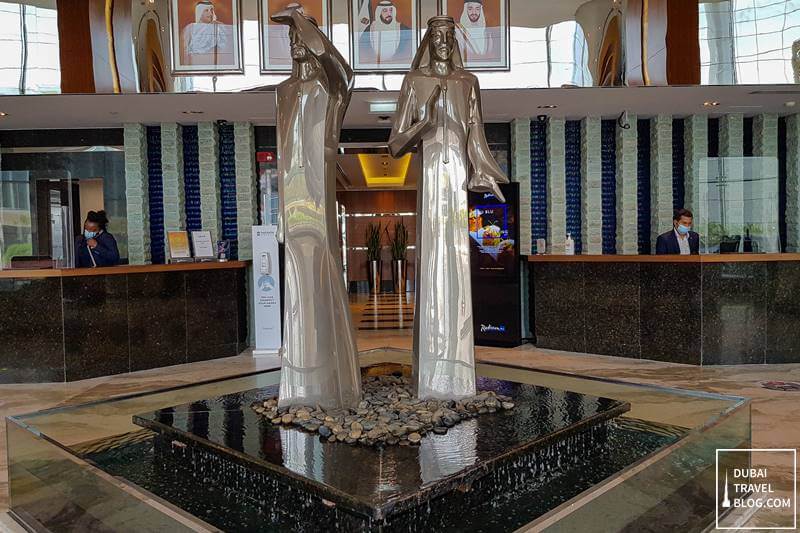 Radisson Blu Dubai Media City
welcome refreshments available
Radisson Blu Hotel Dubai Media City Staycation
It's been a while since we had a hotel experience in Dubai so it was nice to spend it in the modern side of the city. One of its best features is its location. You're in the heart of Media City, which means you're close to all the action but you're also away from the hustle and bustle of the city centre.
Radisson Blu Dubai Media City is within a short drive from Downtown Dubai, Business Bay, and the tallest building in the world; Burj Khalifa, and other famous Dubai landmarks. It is also within a 20-minute drive from the Dubai airports.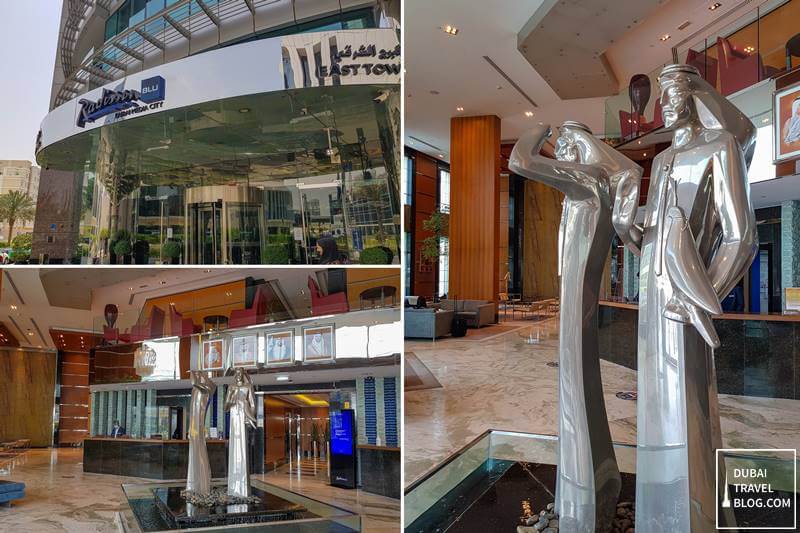 Radisson Blu DMC staycation
hallway to the rooms
Bedroom: Executive Room
Check-in was quick and the room given to us was an Executive Room. At 32 sqm, it was very spacious for the two of us. The king bed was comfortable and the room came with a seating area, office area, free Wi-Fi, and a coffee machine.
We enjoyed the movies being played on the available channels on the flat-screen TV inside our room during that evening.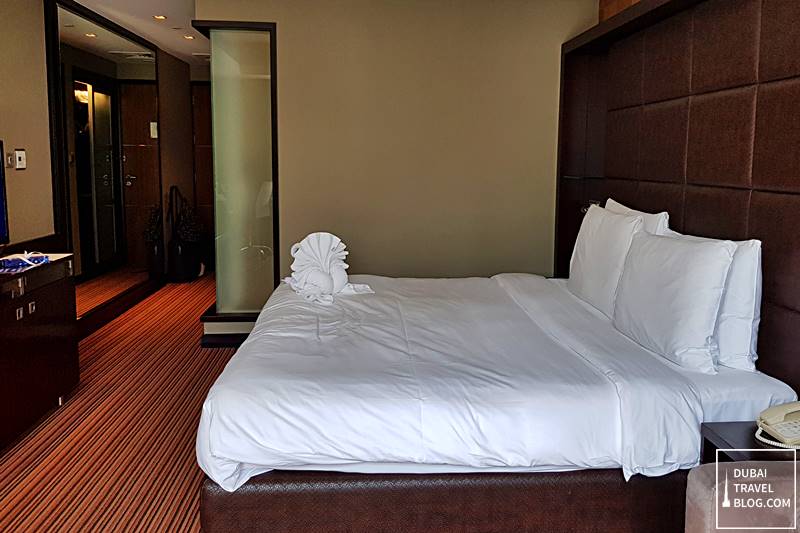 our Executive Room
lovely king-size bed
chocolate treats from Radisson Blu DMC
WiFi Internet
Upon arriving in the room, I immediately checked the internet and it registered a download speed of 10.17 Mbps. It's free and easy to access, fast, and reliable. I could also access the the free WiFi in other places of the hotel including the pool, spa, gym, and dining areas.
office desk, luggage desk, and flat screen TV
sofa and other facilities in our room
Bathroom
The bathroom has a walk-in shower, bathtub, and toilet and bidet. It features premium amenities, a hairdryer, and a vanity mirror. The towels were soft and plush.
bathroom toiletries
comes with a walk-in shower and bathtub
Restaurants
Certo – At Certo, you can enjoy the essence of classic Italian cuisine. This is where we had a memorable dinner during our staycation experience. I would really recommend you try out their wood-fire oven pizza!
Chef's House – You can begin your day on a high note with international food and neighborhood favorites for breakfast.
Tamanya Terrace – This is the rooftop bar with views of the Dubai Marina, Palm Jumeirah, and Arabian Gulf. Match one of our popular Tiki drinks with some tropical eats while enjoying breathtaking panoramic views.
Icon Lounge & Bar – Classic bar foods like fish and chips, bangers and mash, salads, and other bar nibbles are on the menu for foodies. This is a great bar to unwind and order a cold beverage or cocktail while watching your favorite team win. We dropped by for early dinner here after checking out of the hotel.
Pool Bar – Guests can also order drinks and snacks for those who wish to lounge in the pool area.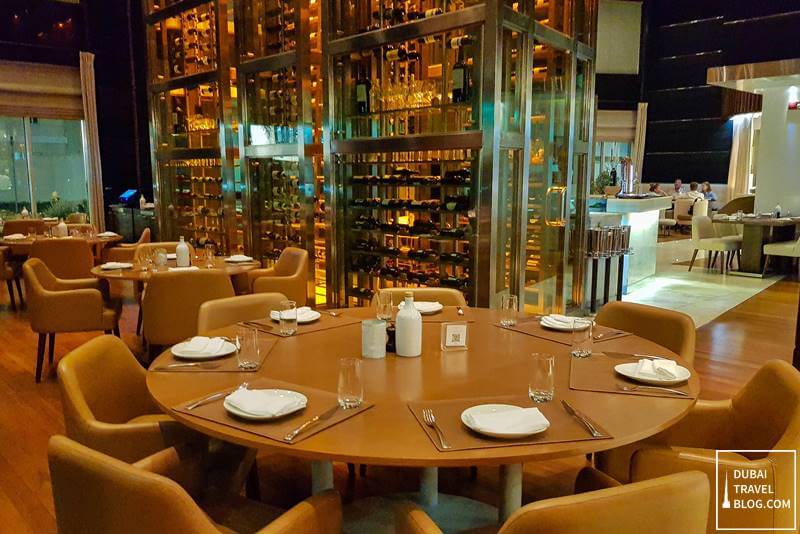 Certo Italian Restaurant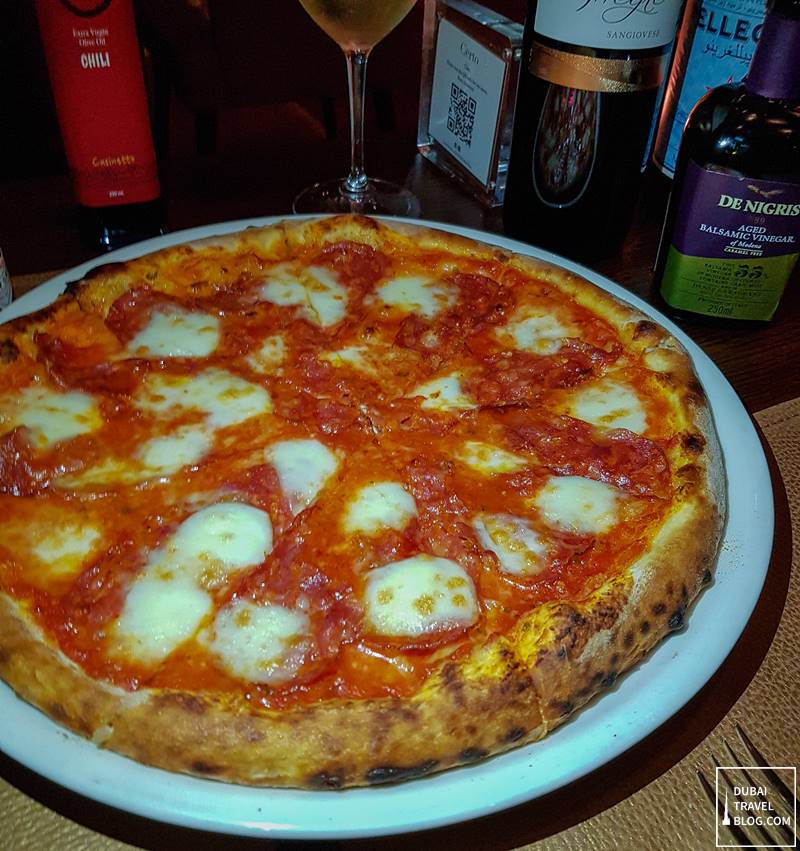 delicious Diavola pizza at Certo
Chef's House Breakfast buffet
our breakfast at Radisson Blu Dubai Media City
Swimming Pools
Radisson Blu Dubai Media City has two pools. One is located on the 8th floor, and another one is located on the 2nd floor in another tower. Both pools were beautifully designed and offered great views of the city skyline. They are also very clean, perfect for swimming laps or simply lounging on the deck chairs under a warm sun.
A stay at Radisson Blu Hotel, Dubai Media City is an experience that you'll want to repeat over and over again. With its modern design, efficient
pool at the 2nd floor – it is open from 8am to 6pm
at the 2nd floor pool (West Tower)
Olympus Pool at the 8th floor
open from 8am to 8pm
Gym & Fitness Center
The gym is fully equipped with modern machines and free weights. There is a steam room in the gym shower available.
fitness center at the East Tower
gym with separate male and female lockers with a steam room in each
Dreamworks Spa
Dreamworks Spa is the 3rd party spa of the hotel. My wife treated us to a wonderful Balinese massage that lasted for 1.5 hours. We got to use our Entertainer Dubai App for the massage session which was really good!
thoroughly loved the 90-minute Balinese massage at Dreamworks Spa
Photos of Radisson Blu Dubai Media City
Check out this photo album of images during our staycation Radisson DMC experience below:
Video: Staycation at Radisson Blu Dubai Media City
Check out this video clip of our staycation experience to give you an idea of what to expect when you check into this hotel:
Summary
Overall, we really enjoyed our staycation experience at the Radisson Blu Hotel, Dubai Media City. Despite being around for 16 years, the hotel is still well-maintained.
The staff was very welcoming and accommodating, and the restaurants offered great food options. We loved swimming in both of the pools, relaxing in the spa, and dining in their restaurants.
Whether you are traveling for business or pleasure, this is definitely a great option for your next trip to Dubai.
view of the East Tower from our room
enjoyed our stay
Contact Information
Radisson Blu Dubai Media City
Address: Box 211723, Al Sufouh, Dubai Media City, Dubai, 211723, United Arab Emirates
Telephone Number: +971 4 366 9111
Website: https://www.radissonhotels.com/en-us/hotels/radisson-blu-dubai-media-city
Instagram: @radissonbludmc
Facebook: @RadissonBluHotelDubaiMediaCity
Google Map Location
Below is the map location of Radisson Blu DMC. Valet parking is available: