We had a quick hotel staycation at Park Inn by Radisson Dubai Motor City, Dubai's only motor-themed hotel that offers guests a casual and relaxed stay, ensuring they make the most of their time in the city.
Located just beside Dubai Autodrome and Dubai Kartdrome, Park Inn by Radisson Dubai Motor City is a perfect spot that offers great experiences for automobile enthusiasts. It is also within minutes of all major highways that lead into the city center allowing easy access to fantastic dining, shopping, and entertainment options.
This was our first time to visit Dubai Motor City and we were also pleasantly surprised upon arriving in this district, especially within the hotel vicinity. The hotel is situated in First Avenue Mall and there are plenty of shops and establishments that you would want to stroll around and hang out.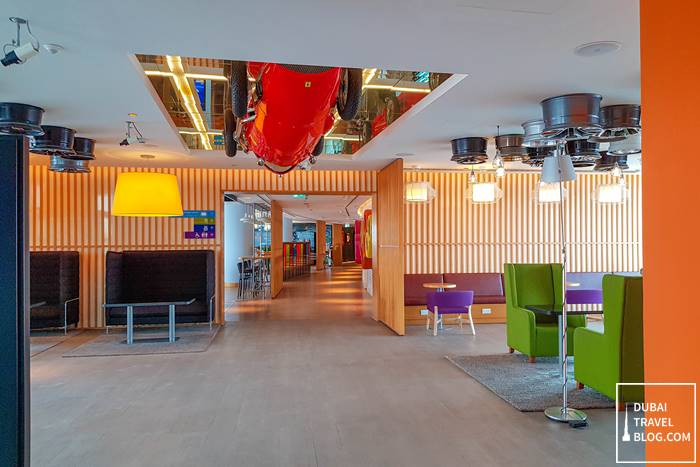 hotel lobby
Staycation at Park Inn by Radisson Dubai Motor City
I like the fact that upon entering the hotel, the mood is quite relaxed and features an unpretentious vibe. They cater to a lot of business and leisure travellers. Check-in was quick and we got into our room in no time.
In keeping up with the motor theme, you can see colorful tires on the walls and a signature vintage 1952 replica Ferrari hanging from the ceiling when you enter the hotel lobby.
vintage 1952 replica Ferrari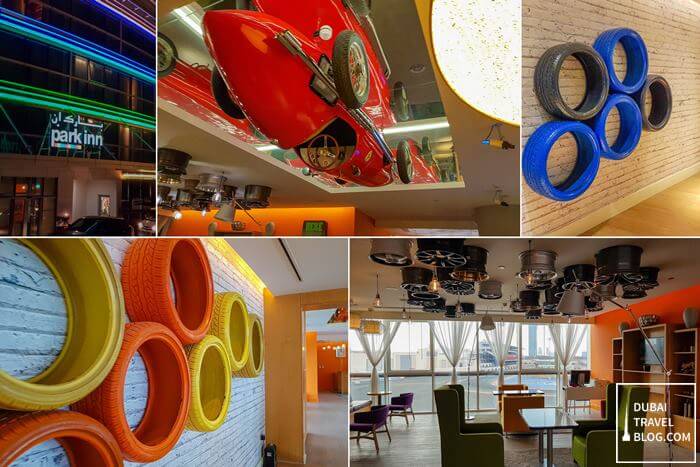 Park Inn by Radisson Dubai Motor City
Bedroom – Superior Room – Autodrome Track View
The hotel has 146 contemporary rooms and suites and we got to stay in their Superior Room. At 25 square meters, the room features a king-size bed, free Wi-Fi, coffee and tea facilities, iron and ironing board, in-room safe, professional hairdryer, and flat-screen TV. There are also nice touches of vehicle designs in keeping up with the motor theme.
The bed is extremely comfortable with high-quality bedding that we got a good night's sleep.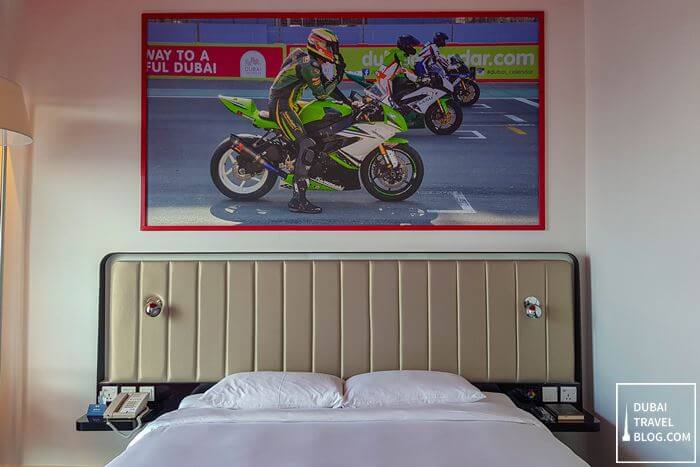 king-size bed
inside the bedroom
Park Inn DMC – feel good
Bathroom
The bathroom features a full-size bathtub, shower with rain shower, and complete amenities/toiletries.
bathroom amenities
inside the bathroom
WiFi Internet
I checked the WiFi internet speed and after signing on to their network, the hotel registered a download speed of 20.38 Mbps. This was more than enough for me to perform my online tasks as a Dubai blogger.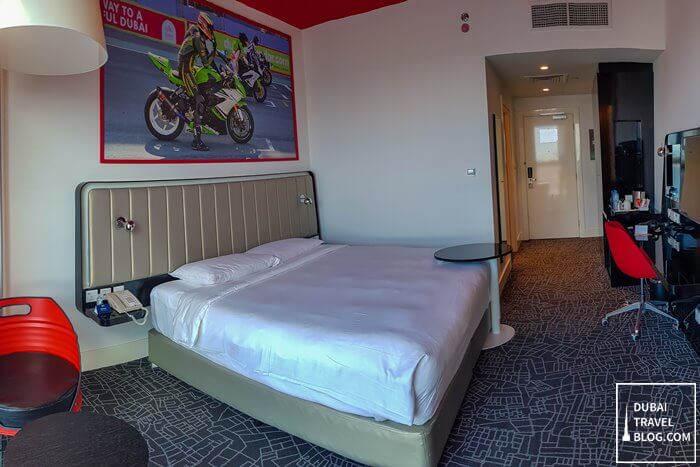 Park Inn Dubai Motor City room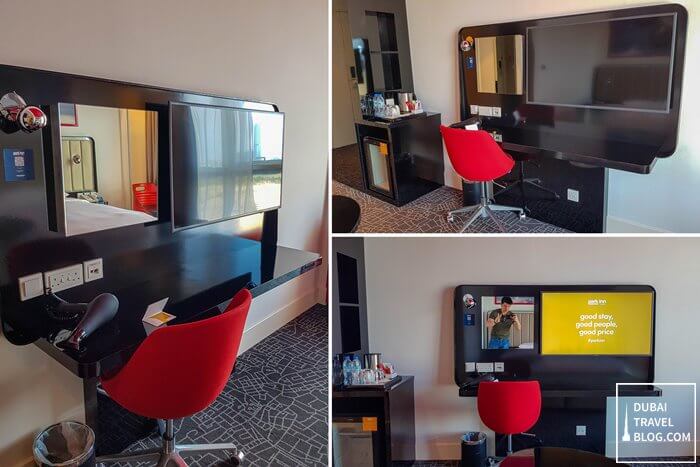 TV and work desk
View from the Room – Our Superior Room features a direct view of the Autodrome Track. It was nice to see cars practicing and we could easily watch them from our bed.
view of the autodrome race track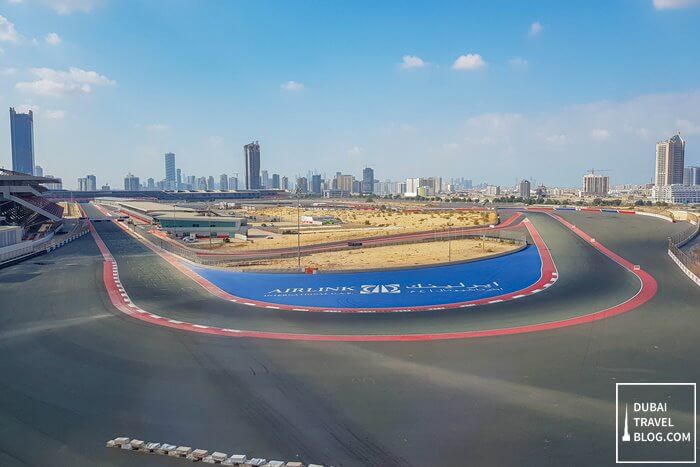 Dubai Autodrome
Restaurants
Park Inn Dubai Motor City features restaurants where guests can enjoy a quick bite or some tea/coffee. Here are their F&B offerings.
Live-Inn Room – This is the hotel's all-day dining restaurant which serves a breakfast buffet and a la carte lunch and dinner featuring international cuisine. They are open from 6:30 am to 11 pm.
Cafe Lounge – The cafe lounge serves pastries and drinks. You can enjoy a great view of the Dubai Autodrom race track.
Room Service – from 7am to 11: 30pm, guests can order food from the hotel all throughout the day. From salads to burgers and the main course, guests can have food delivered to their room.
Sushi Nation – located in the lobby area, they also feature a 3rd party restaurant featuring Japanese sushi dishes. You may want to check them out.
Note: Aside from their existing restaurants, there are plenty of food places within walking distance. There's a Chili's restaurant, Shake Shack, coffee shops, and many more so you won't run out of food options.
restaurant at the lobby
breakfast
buffet breakfast
Rooftop Pool
The hotel has an outdoor pool that overlooks the Duba skyline. It features a 15-meter lap pool that is also temperature-controlled. So even during winter season, you can still enjoy your swim. There is a Juice Bar is open during the day for food and drinks refreshments.
swimming pool
rooftop pool
Gym & Fitness Center
There is a state-of-the-art gym facility for guests who want to exercise and it is open 24 hours a day.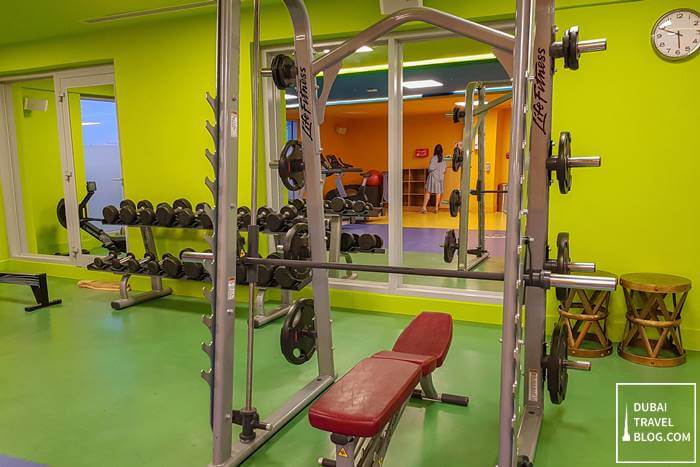 gym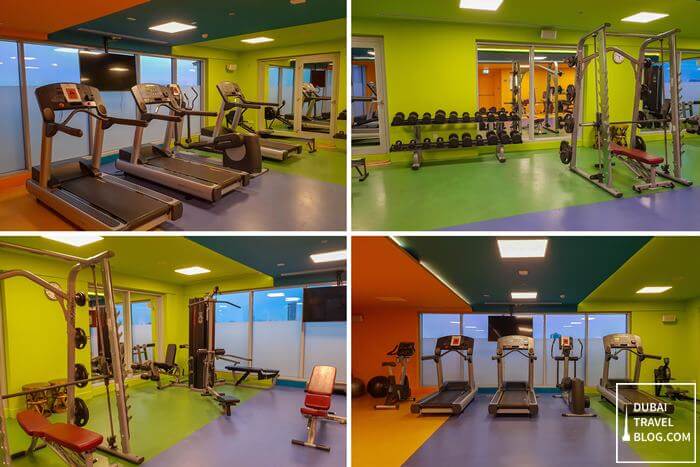 fitness center
Spa and Massage by Dreamworks Spa
The hotel features a 3rd party spa and massage services for guests looking to relax and pamper themselves. Here you can enjoy a relaxing session of aromatherapy, body wraps, massages, facial treatments, and more.
Dubai Motor City
This was our first time staying in the Dubai Motor City area and we were pleasantly surprised by how vibrant and laidback it feels. There are plenty of shops and restaurants around where you can explore the area and have a wonderful time.
The Dubai Motor City area is a great place to stay. There are lots of shops and restaurants where you can explore. The area is vibrant and laidback, which we really enjoyed.
50 Photos of Park Inn by Radisson Dubai Motor City
Check out this photo album of images during our staycation experience in this hotel:
Video: Staycation at Park Inn by Radisson Dubai Motor City
Check out this video clip of our staycation experience to give you an idea of what to expect when you check into this hotel:
Summary
Park Inn by Radisson Dubai Motor City offers a contemporary design and philosophy that mirrors Motor City's sense of adventure and fun. This hotel provides high standards of service and comfort, making your stay in the UAE a hassle-free experience.
It is great for both business and leisure travelers looking for a comfortable room with modern amenities at an affordable rate. My wife and I had a wonderful time despite it becoming just a quick staycation experience.
Park Inn Dubai Motor City
Contact Information
Park Inn by Radisson Dubai Motor City
Address: Turin Boulevard Road First Avenue Mall & Hotel – Motor City – Dubai
Telephone Number: +971 4 249 4100
Email: info.motorcity.dubai@parkinn.com
Website: https://www.radissonhotels.com/en-us/hotels/park-inn-dubai-motor-city
Instagram: @parkinndubaimotorcity
Facebook: @ParkInnbyRadissonDubaiMotorCity
Google Map Location
Below is a map guide to the location of Park Inn Dubai Motor City