Another highlight during our staycation at The H Dubai was our massage experience at Mandara Spa. Located at the 3rd level of the five-star luxury hotel, the spa prides itself as a sanctuary of wellness, serenity, and bliss.
Mandara Spa has over 10 treatment rooms as well as 2 couple suites. They also have a separate wet area for men and women, with each having a thermal and hydrotherapy chamber, as well as a whirlpool Jacuzzi and Experiential showers.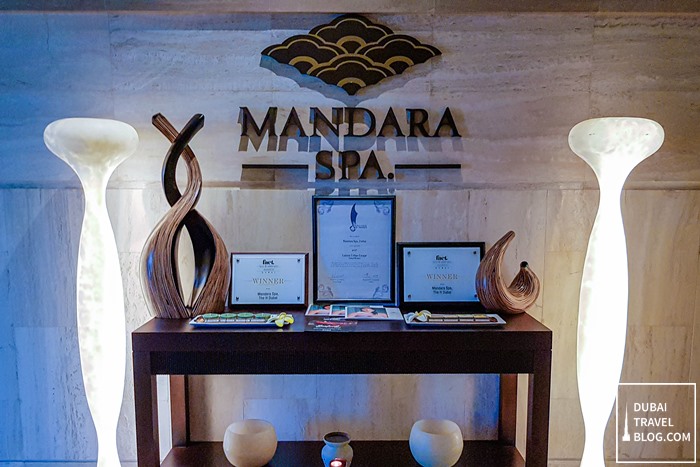 located at the 3rd floor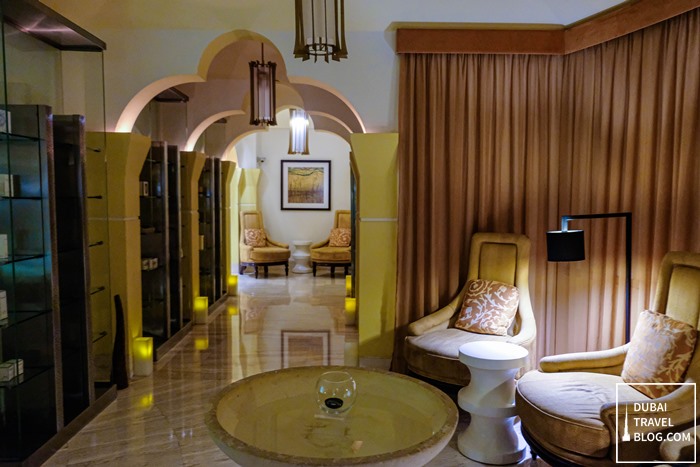 Mandara Spa Dubai
Mandara Spa Couples Massage in The H Hotel Dubai
Entering the spa, the staff immediately assisted us and served some welcome tea and hot towels.
After filling out a consent form, we were advised that our couple session includes a traditional Balinese massage and lasts for an hour and 5 minutes.
We headed to our lockers for a quick change and then proceeded to the Couple suite. My wife and I were glad to have been in the spa during that afternoon.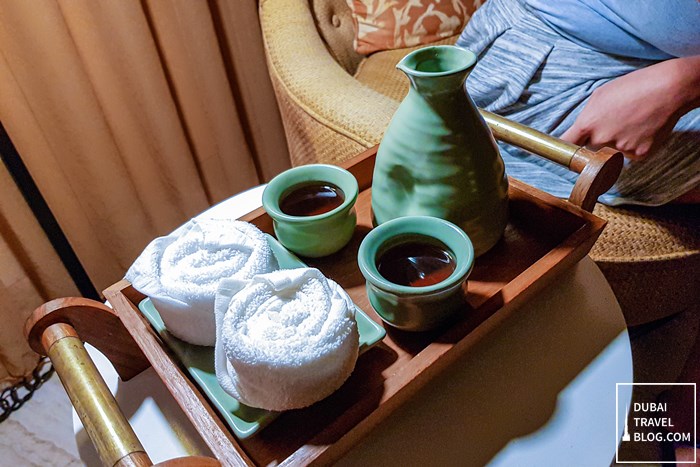 welcome tea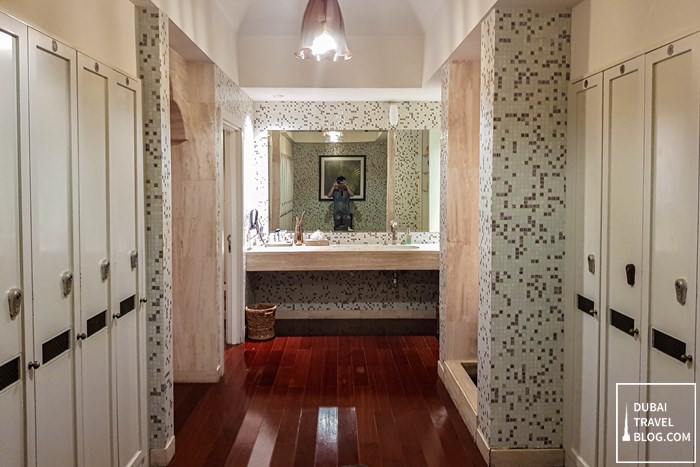 locker room for men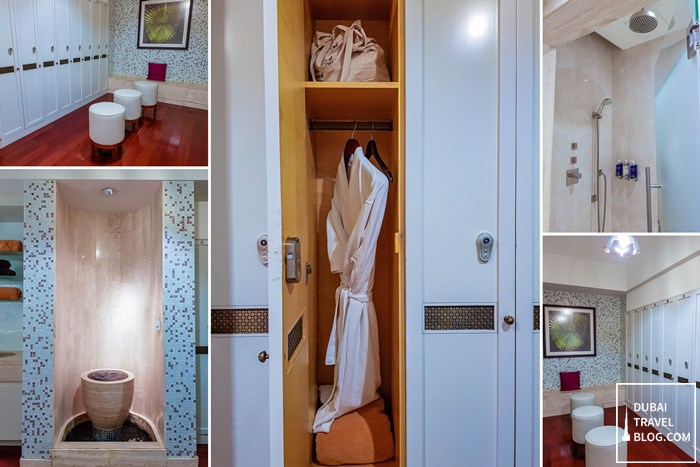 inside the locker room
Our therapists, Sunar and Rahayu, are both from Indonesia and were very professional. They would advise us of the next steps of our treatment and would keep the mood of the room as tranquil as possible.
The massage started with a 15-minute foot reflexology which included cleaning and scrubbing the feet. Afterwards, they had us lie down on the massage table so they could start the treatment.
I like the fact that they asked us which areas we wanted to have focus and I advised to concentrate on the shoulders and the back.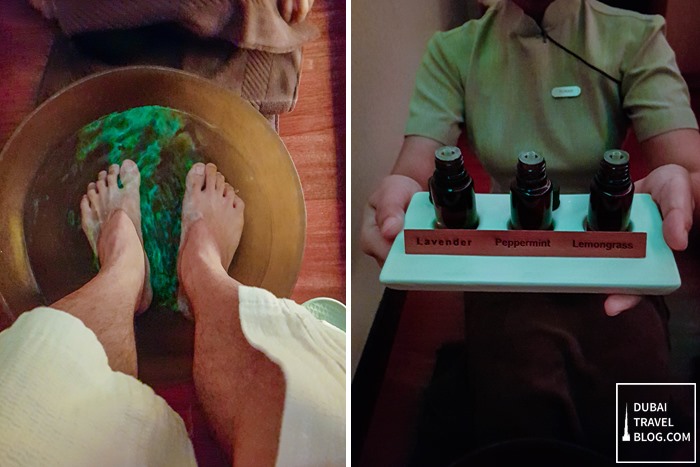 starting the massage and choosing the essential oil – Lavender, Peppermint, or Lemongrass, we chose Lemongrass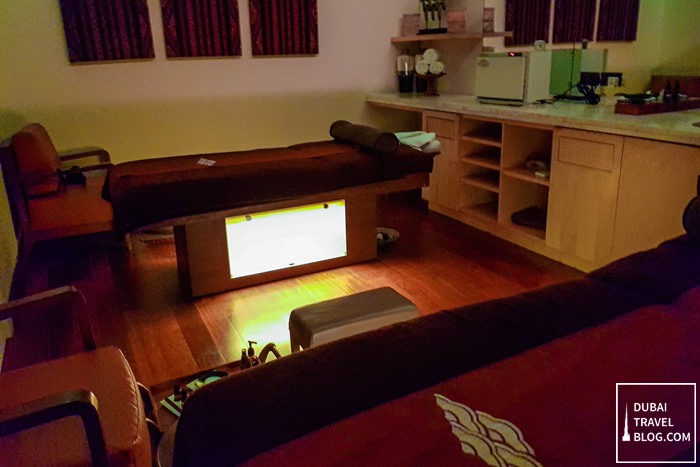 couple's suite
I've been looking forward to the spa and massage experience because it's been awhile since I last had one. My wife and I longed for some good pampering and we were able to get it in this session.
My wife says this was her best massage experience in Dubai. I wouldn't argue because we were fully relaxed and I even ended up taking a quick nap afterwards.
After the treatment, we headed to the lockers and wet area to make full use of the facilities for an afternoon of pampering.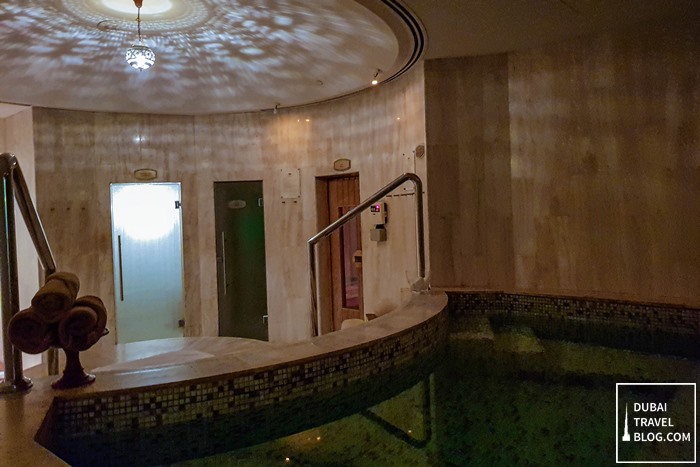 wet facility for men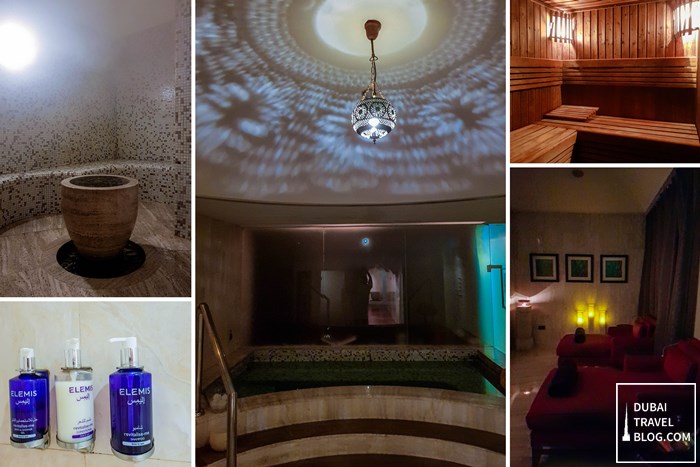 steam and sauna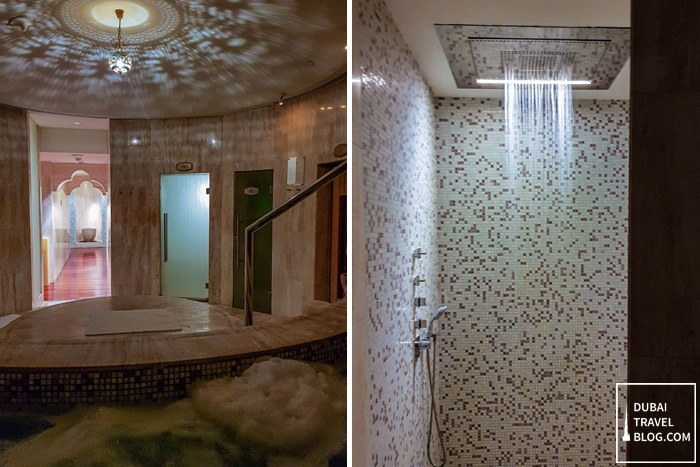 jacuzzi and experiential shower
Mandara Spa is a sanctuary of utter wellness, serenity and bliss. It has 10 treatment rooms including two couples' suites, as well as separate male and female changing facilities – each including a thermal and hydrotherapy steam chamber and sauna, a whirlpool and experiential showers. Its relaxation lounges are a study in well being luxury, pampering you with a selection of complimentary fresh fruit, flavoured waters and exotic herbal teas.
A carefully selected team of Balinese therapists, each trained to the highest spa standards, perform an assortment of results orientated therapies including facials, body treatments, massages and a signature foot ritual – all using a premium selection of product. Adjacent to Mandara Spa is HADI SALON – a beauty institution offering professional hair and nail care.
Open daily 10am to 10pm (2pm – 10pm on Friday)
– Mandara Spa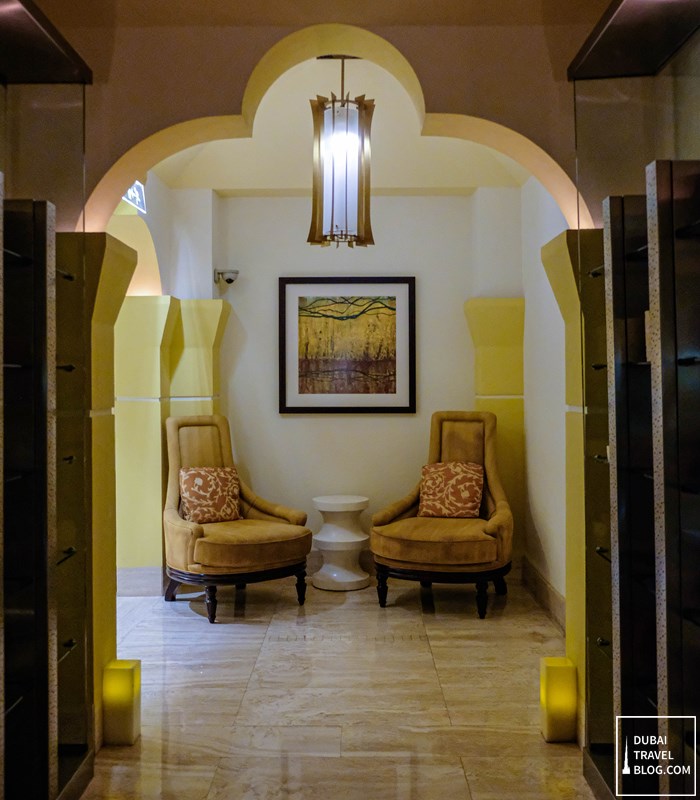 Check out our other experiences at The H Dubai:
Contact Information
Mandara Spa
Address: 3rd Level, H Hotel Dubai, 1 Sheikh Zayed Rd – Dubai
Contact Number: +971 4 501 8270
Email: eatandmeat@h-hotel.com
Website: hhoteldubai.com
Instagram: @mandaraspadubai
Google Map Location
Below is a map guide to the location of H Hotel Dubai on Sheikh Zayed Road. Be advised that if you bring your car, you have to go the back side of the hotel for valet parking.