Our dinners during our staycation at The H Dubai were spent at their all-day dining restaurant, Eat & Meat. I have been to Eat & Meat before during their seafood night brunch. This time I brought my wife and we sampled their a la carte dishes for two nights.
Located at the ground level of the five-star property along Sheikh Zayed Road, this restaurant is a Californian grill house that offers a straightforward dining experience in an elegant and sophisticated setting.
Alcohol: YES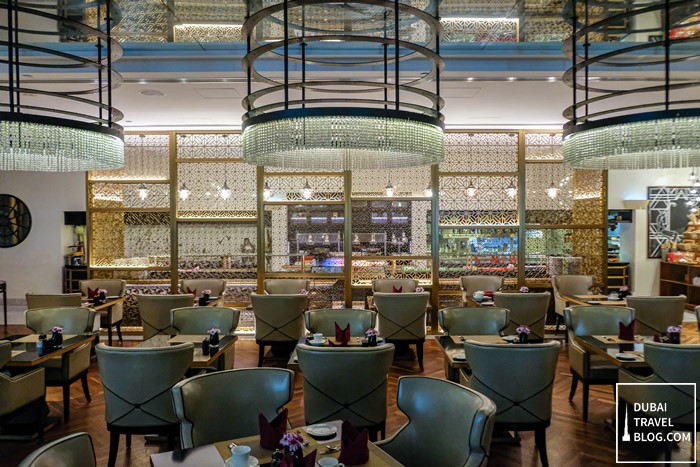 chandeliers add to the classiness of the place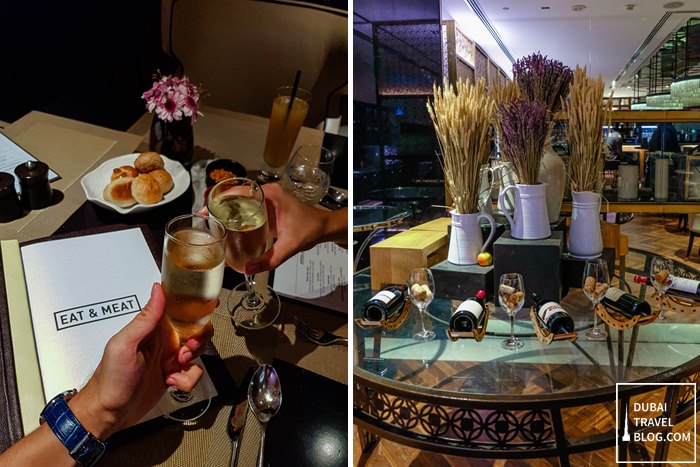 dining at Eat & Meat
Eat & Meat Dining Experience at H Hotel Dubai
Huge chandeliers adorn the center of the all-day-dining and there is an open kitchen which occupies a larger part of the restaurant. This is where their chefs are hands on creating fresh and quality selections of international specialties.
Below are the items we ordered. Take note that again, the food below is composed of dinners for TWO days. 😉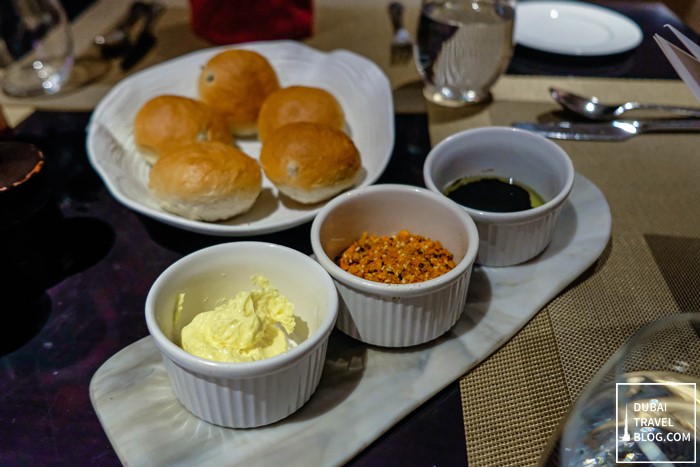 complimentary bread
Appetizers / Starters
For starters, we had a burrata, chicken croquettes, baby squid rings, and Korean meat balls. I especially enjoyed the burrata which was quite huge for an appetizer and could actually serve as a main course already. I would also recommend the Korean meat balls glazed in honey, soya and ginger.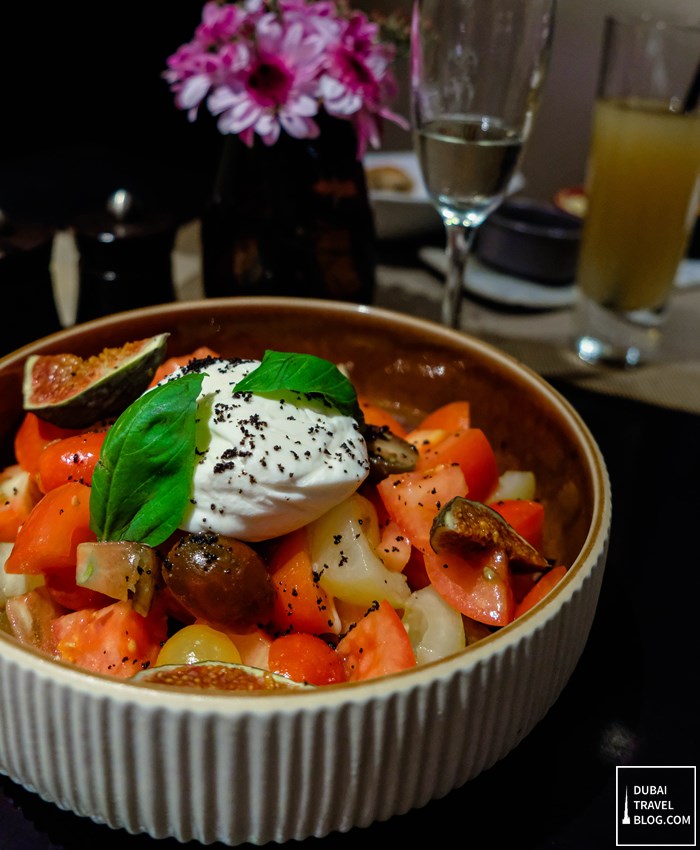 Burrata – AED 90
Heirloom tomatoes, fresh fig, basil and arebequina olive oil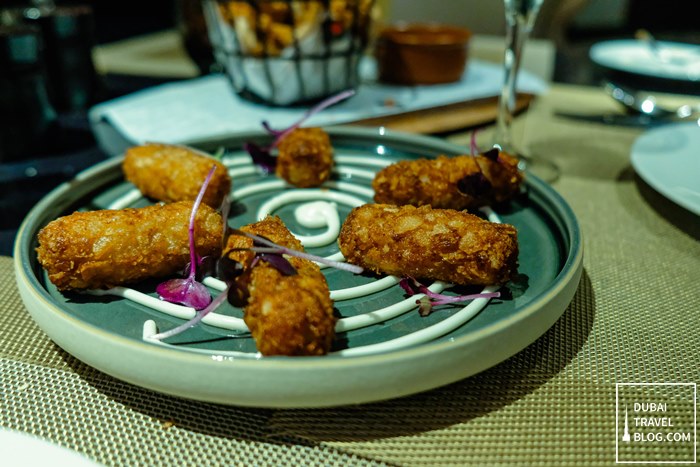 Corn Flakes crumbed Chicken Croquette
Aioli, smoked sweet paprika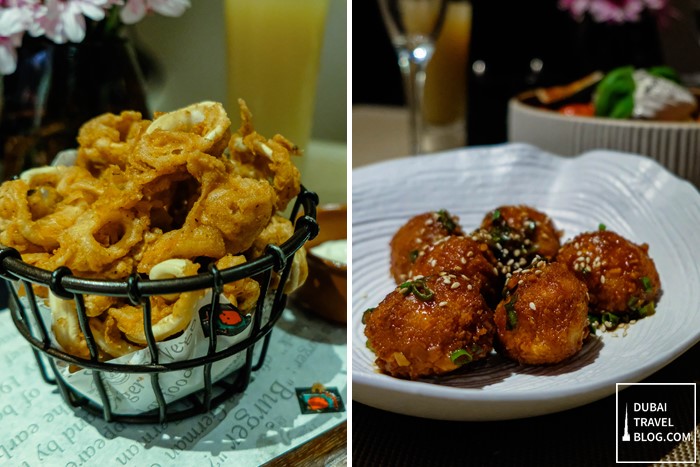 Crispy Fried baby Squid – AED 65
Old bay seasoning, garlic mayo
Korean Meat balls
Honey soya ginger glaze, cilantro
Main Course
For our main courses, we had a risotto, braised beef ribs, lamb spare ribs and beef tenderloin. All were good, but would highlight how deliciously tender the Smoked Lamb Spare Ribs was.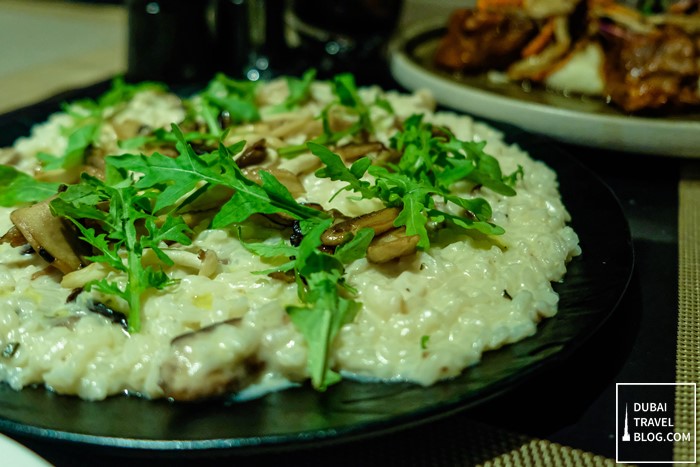 Rissotto Carnaroli – AED 80
Pumpkin puree, roasted pumpkin, pumpkin seed oil, pine nuts, blue cheese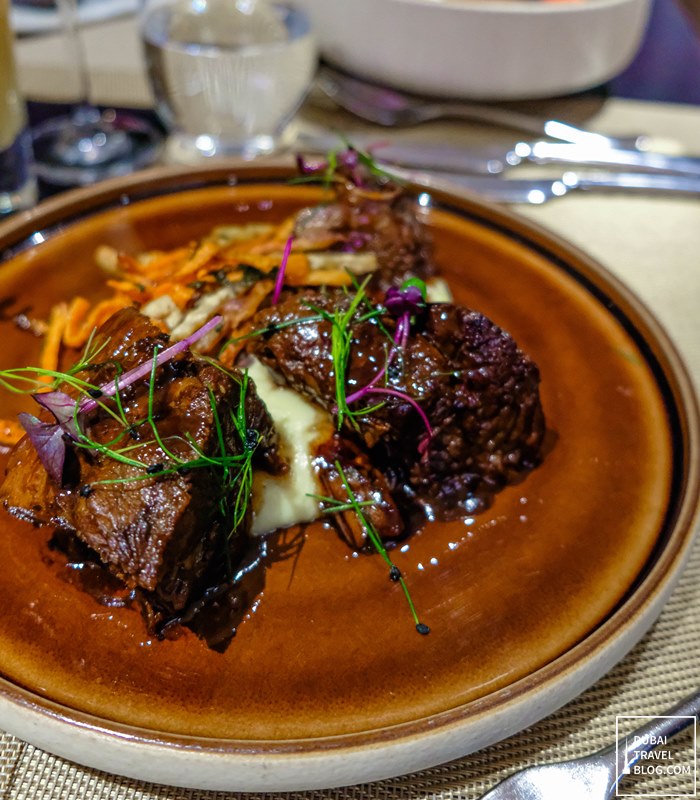 Braised beef Ribs – AED 135
Mash potato, heirloom root vegetables and red wine jus
In-house Smoked Lamb Spare Ribs – AED 130
BBQ sauce, mashed potatoes, root vegetables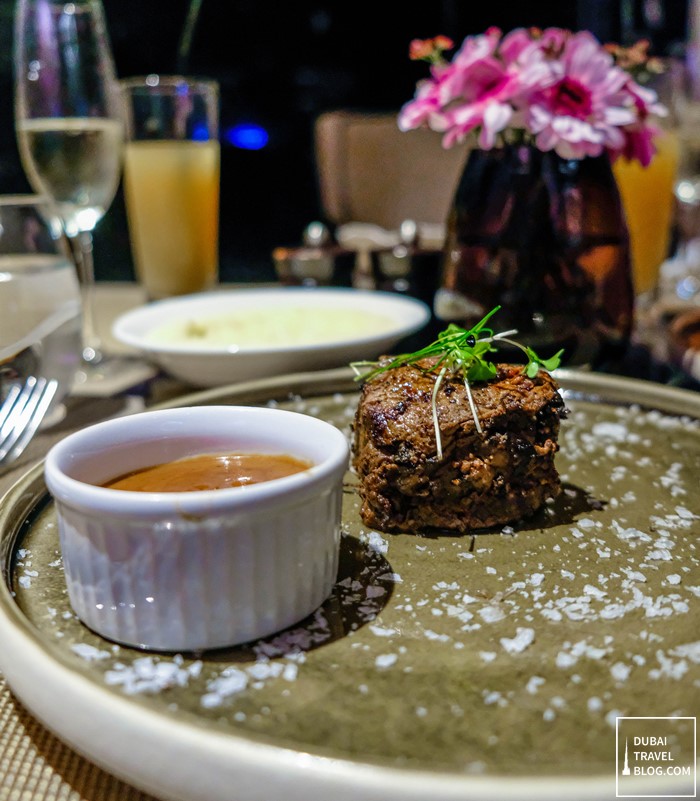 Angus Beef Tenderloin – AED 225
with Garlic Mashed potato and mushroom sauce
Desserts
For desserts, we had the Hazelnut Praline, Dulce Chocolate Tart, and Lime Cheesecake. All of them were sinfully good. I would recommend the dulce chocolate tart if you're more into chocolates.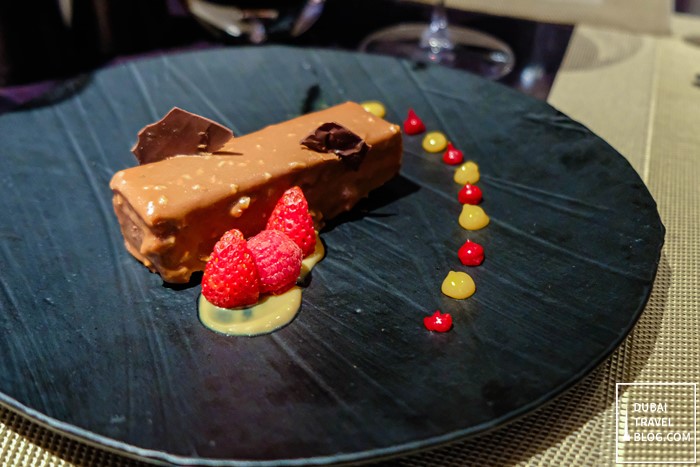 Hazelnut Praline – AED 45
Hazelnut paste, chocolate cream, milk chocolate glaze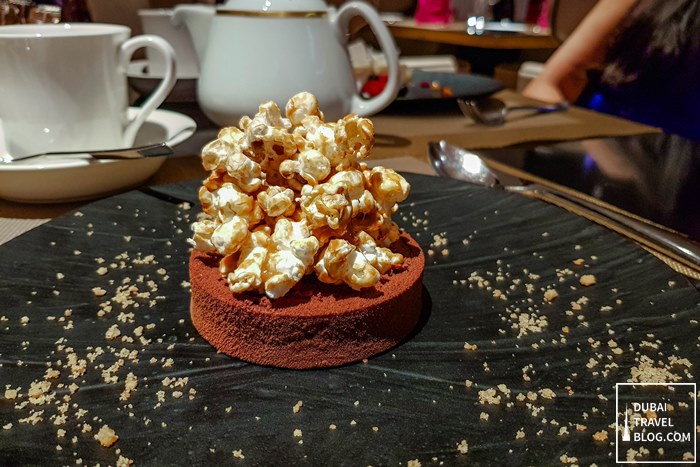 Dulce Chocolate Tart – AED 45
Dulce de Leche, baked chocolate, chocolate spray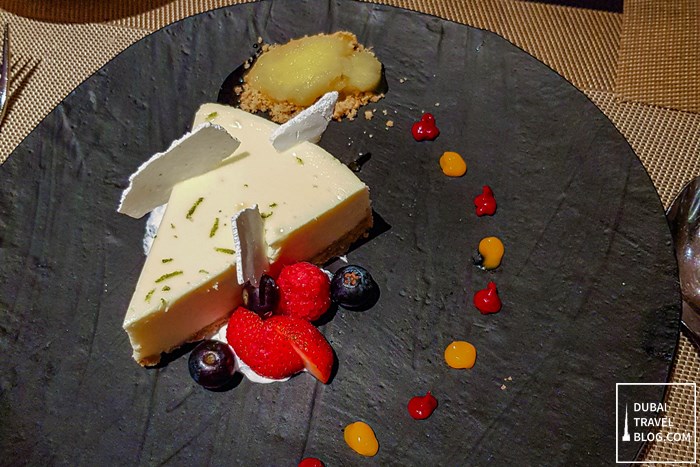 Lime Cheesecake – AED 45
Citrus meringue, berries compote, orange sorbet
We paired our drinks with wine and beverages. It was an exciting and fun night over good and quality food.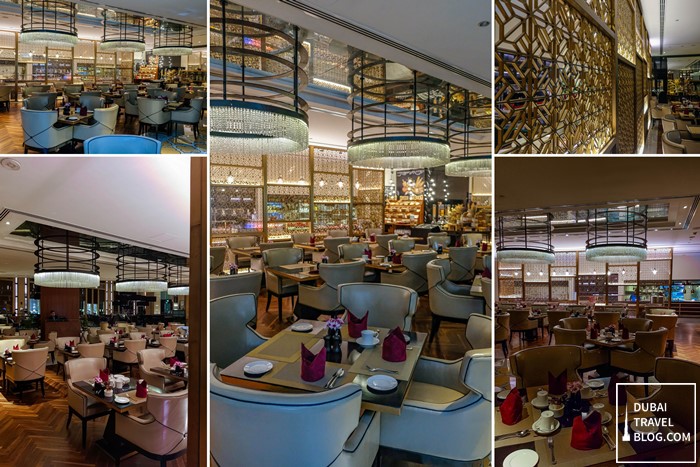 inside the restaurant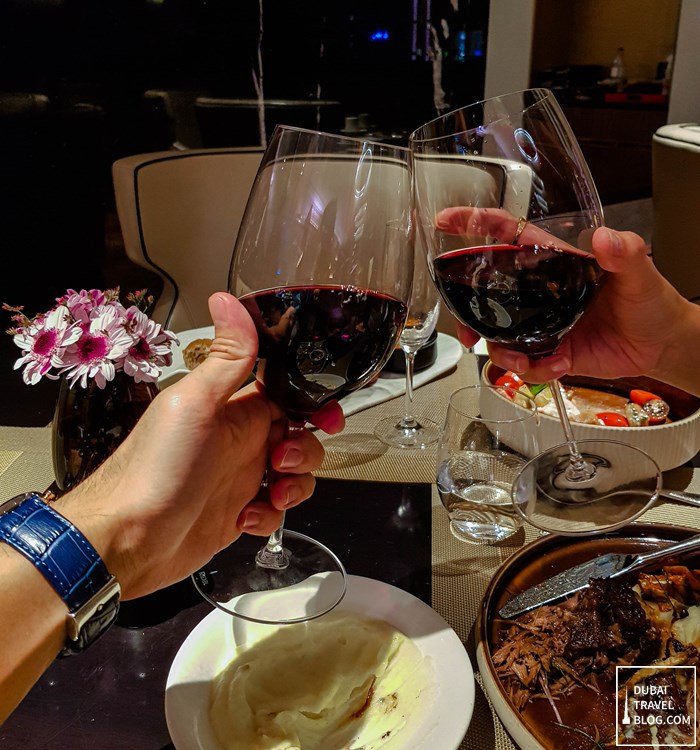 Eat & Meat at The H Dubai
Thank you for the wonderful service Maricon and Ajay!
Dress Code: Smart Casual
Opening Hours: 6:30am – 10:30 am / 12pm – 3pm / 7pm -11pm
Check out our other experiences at The H Dubai:
Contact Information
Eat and Meat
Address: Ground Level, H Dubai Hotel, 1 Sheikh Zayed Rd – Dubai
Contact Number: +971 4 501 8623
Email: eatandmeat@h-hotel.com
Website: hhoteldubai.com
Instagram: @thehdubai
Facebook: @TheHDubai
Twitter: @TheHDubai
Google Map Location
Below is a map guide to the location of H Hotel Dubai on Sheikh Zayed Road. Be advised that if you bring your car, you have to go the back side of the hotel for valet parking.