We toured Wadi Rum in on pick-up truck and had a great time seeing various rock formations on the desert. Covering an expanse of 720 square kilometers, Wadi Rum is the largest valley in the country. Here, you can find narrow canyons, dunes, and mountains of granite and sandstone. With a landscape such as this, it is not surprising that people call it "The Valley of the Moon."
When a person hears about Jordan, the first thing that often comes to mind is Petra. As awesome and spectacular this ancient city is, there are other places of interest in Jordan. One of these is Wadi Rum, a majestic wilderness near the southern city of Aqaba.
Discovering the Wonders of Wadi Rum in Jordan
A visit to Wadi Rum is not just a trip; it is an adventure! Without a guide by your side, it is almost impossible to navigate across the desert wilderness. Here are just some of the amazing sights and wonders of the valley:
Anfashieh Mountain. This mountain is known for its rock inscriptions and formations. Here, you can find ancient Nabataean and Thamudic inscriptions, along with drawings of humans, camels, and other animals.
Khazali Canyon. This is a deep and narrow crevice along the side of a mountain. It is known for its numerous rock inscriptions.
Lawrence's Spring. This is the place where the famous British military officer, Thomas Edward Lawrence (a.k.a "Lawrence of Arabia"), is believed to have washed during the Arab Revolt. Notably, the rocks near the spring reveal some interesting rock inscriptions.
Nabataean Temple. This temple was built during the reign of King Aretas IV (4 BC to 27 AD). The Nabataeans came here to worship their goddess, Allat.
Rock Bridge. This "bridge" is actually an arch that has been carved out of natural rock over thousands of years. Any way you look at it, the rock bridge is a magnificent sight!
Seven Pillars of Wisdom. This is a popular rock formation that features seven turrets or towers. A famous landmark, you can easily see these "pillars" from the road. The rock formation is named after the autobiographical account of — you guessed it — T.E. Lawrence.
Wadi Rum Sunset. Wadi Rum has plenty of rocky hills and dunes where you can watch the sun go down the horizon. After all, it is not everyday that one can see a magical sunset in the desert!
Photos of our Jordan Wadi Rum Adventure
Here are some pictures during our safari adventure in Jordan's Wadi Rum: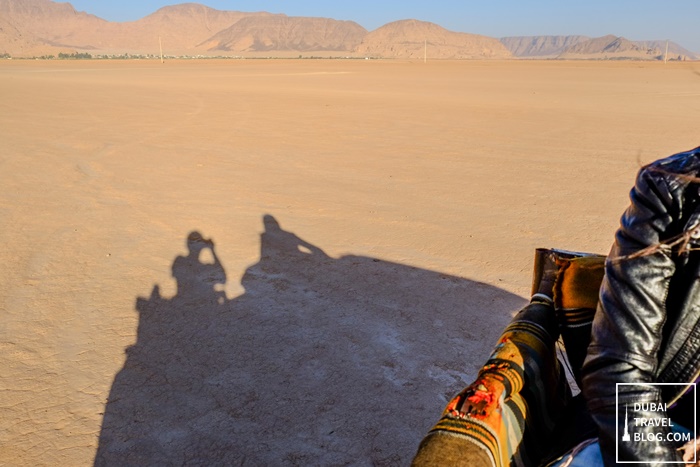 our shadows, the best way to explore this part of Jordan – back of our truck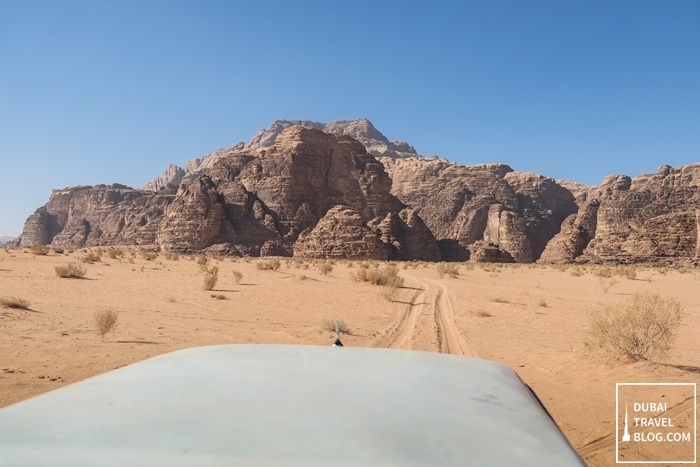 Jordan adventure in Wadi Rum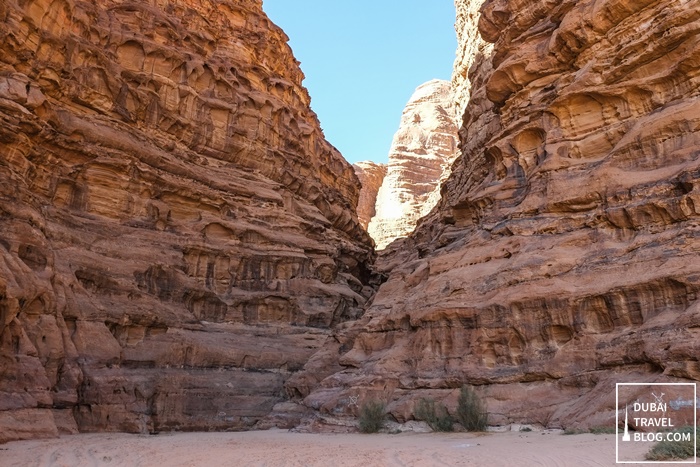 Wadi Rum Jordan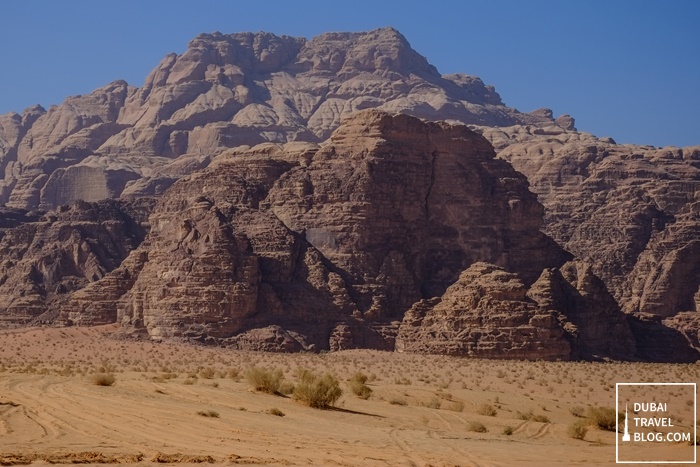 Wadi Rum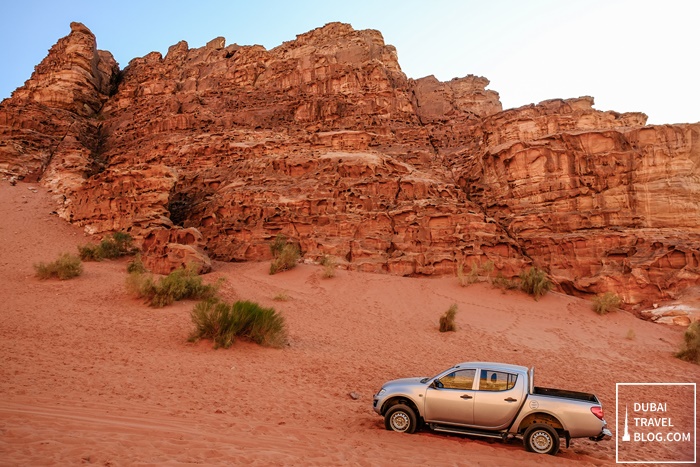 cake-like rock formations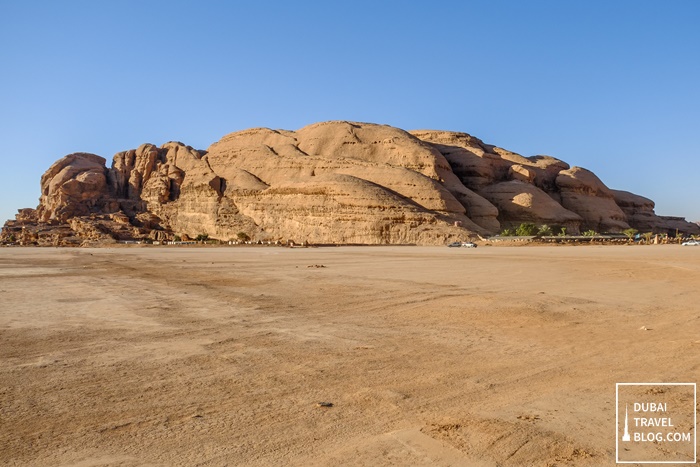 huge rocks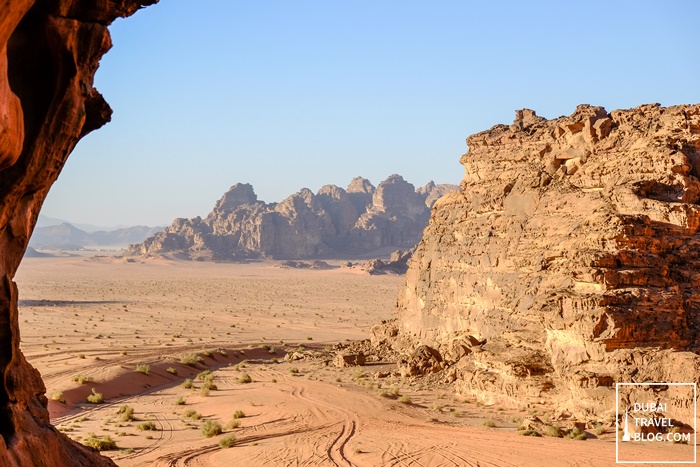 the view after I climbed a sand hill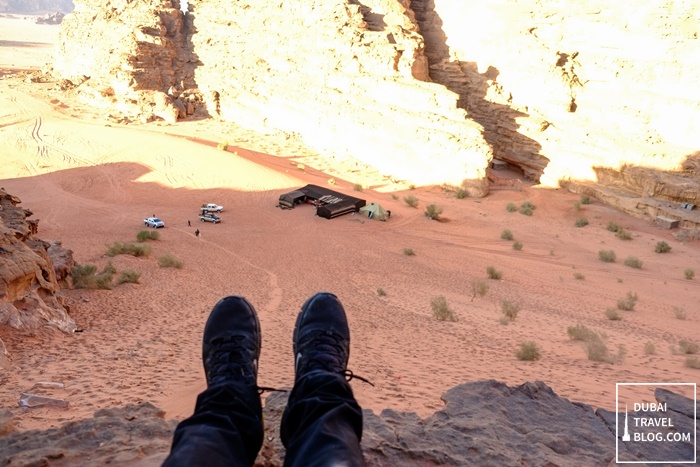 my feet. I was exhausted after climbing the hill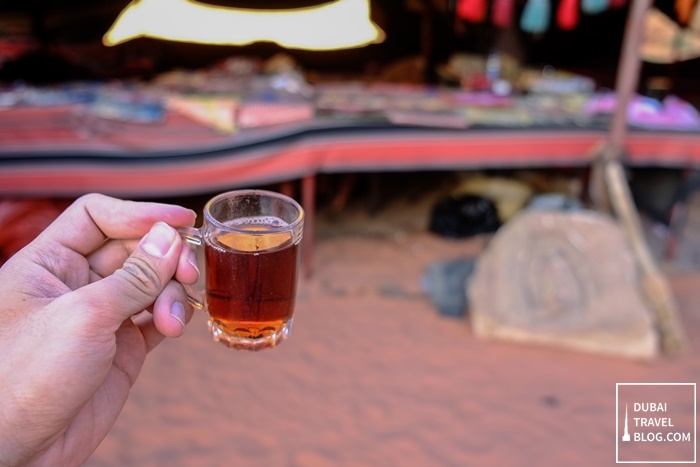 Arabic tea – took a short break from the driving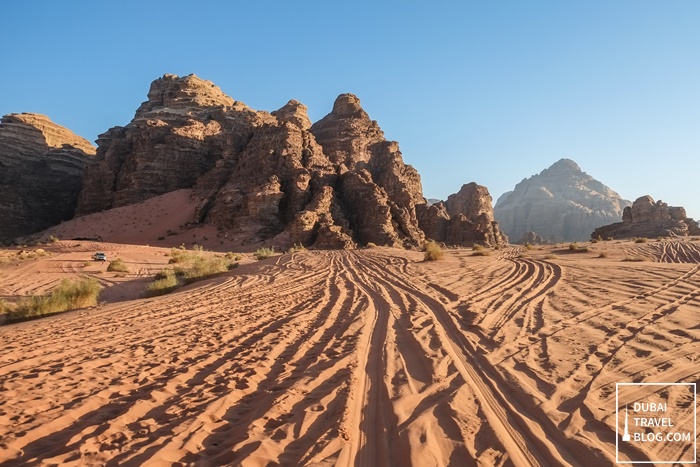 rock formations and the desert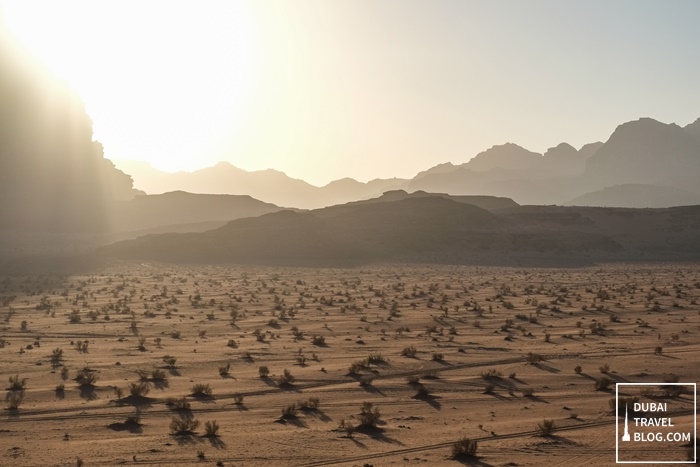 Wadi Rum sunset view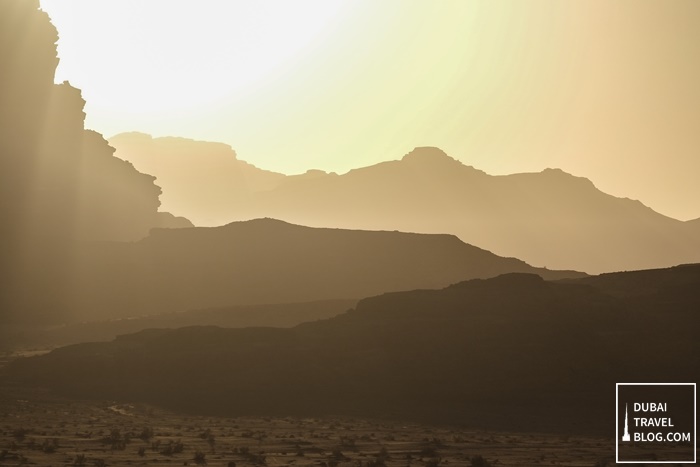 watching the sunset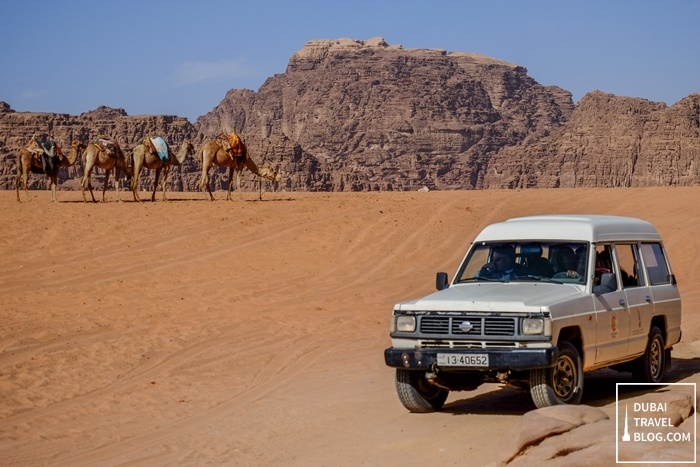 visiting the area with plenty of camels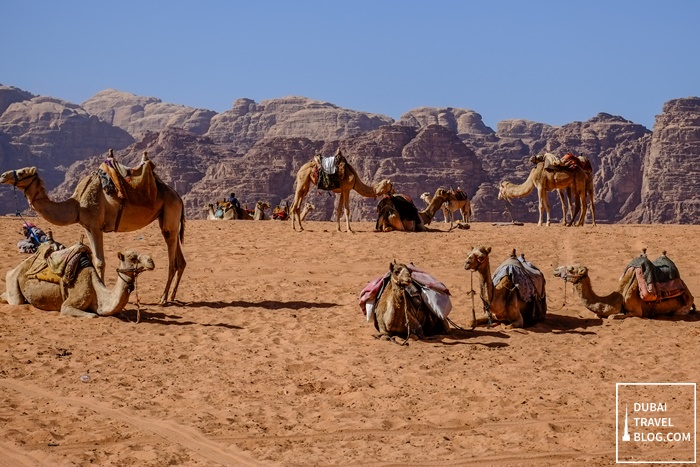 camels in the desert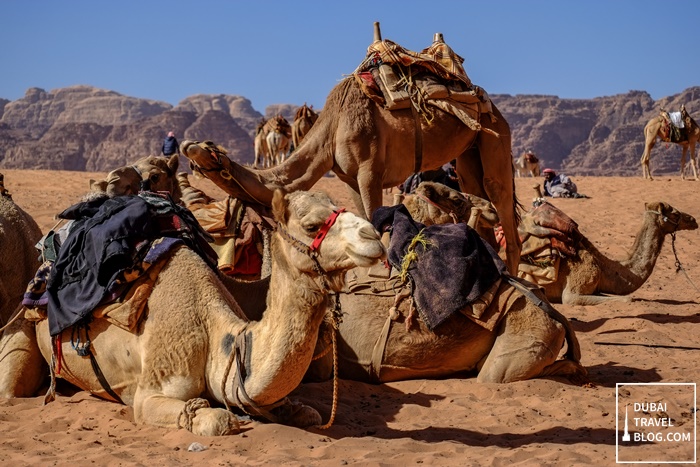 close-up shot of the camels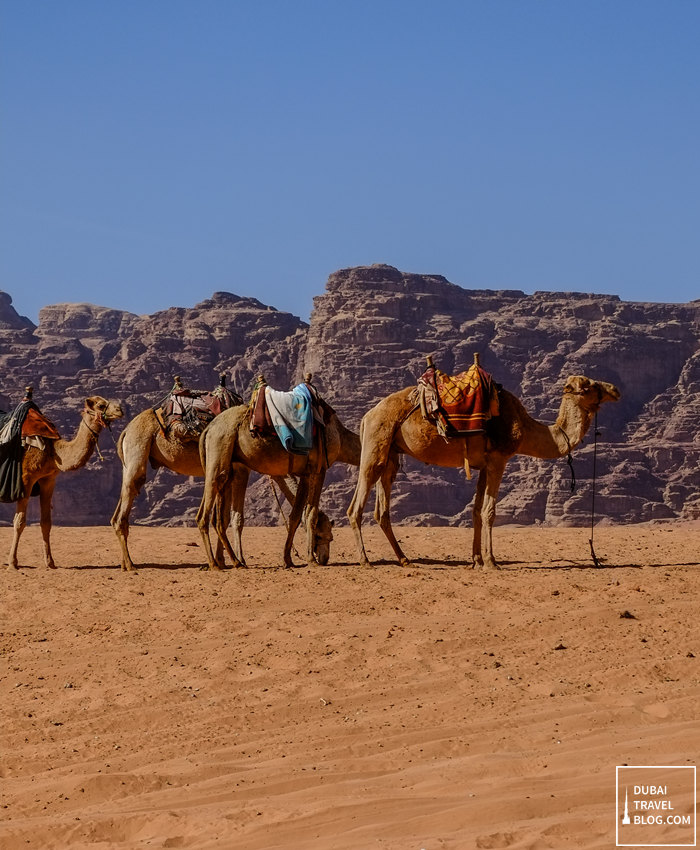 camels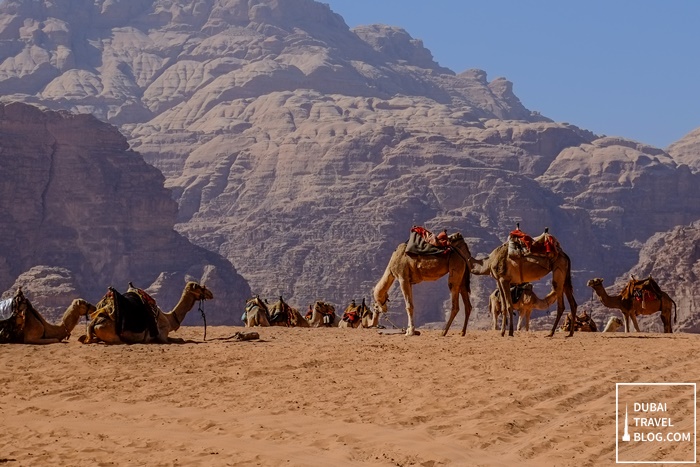 camels and the rock formations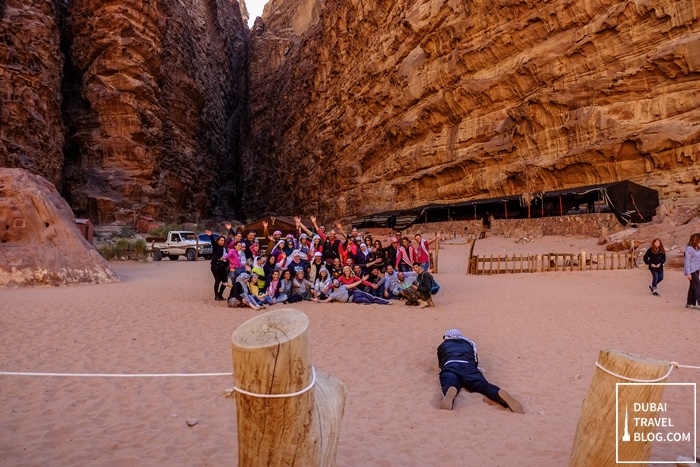 group tour – photo in Barrah Siq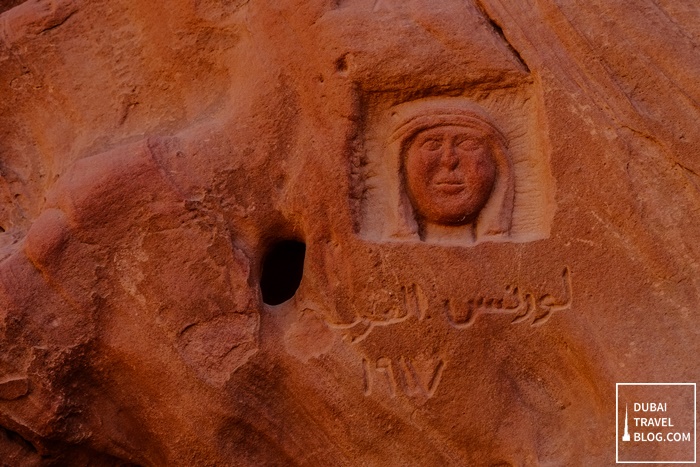 carving of Lawrence Spring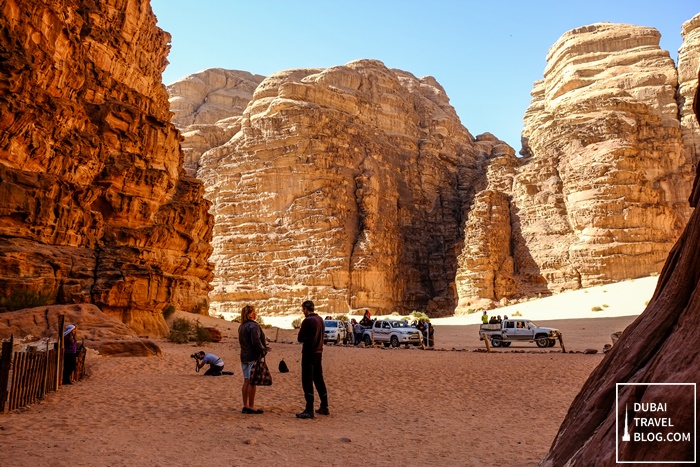 Barrah Siq with a rock carving of Lawrence of Arabia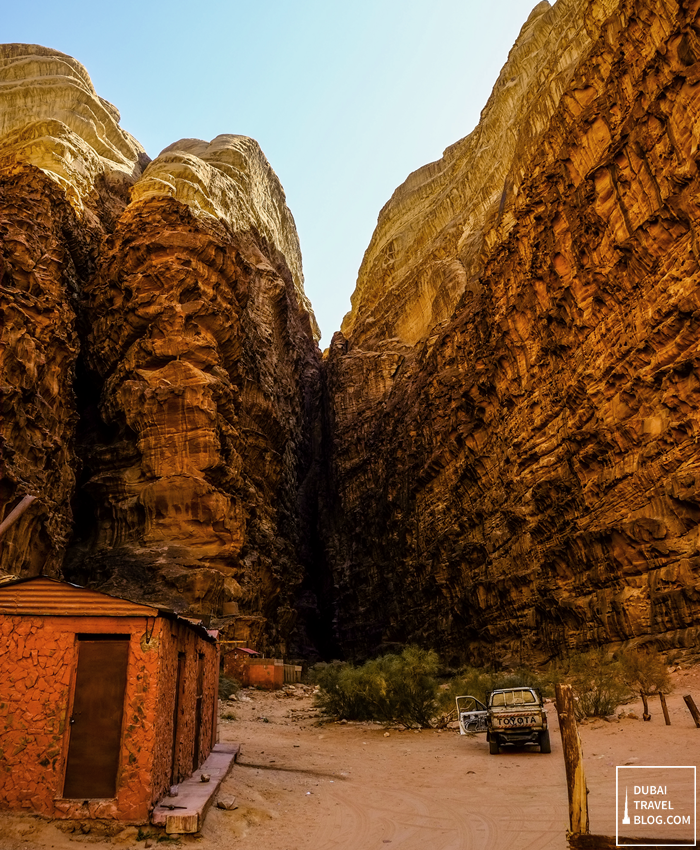 Barrah Siq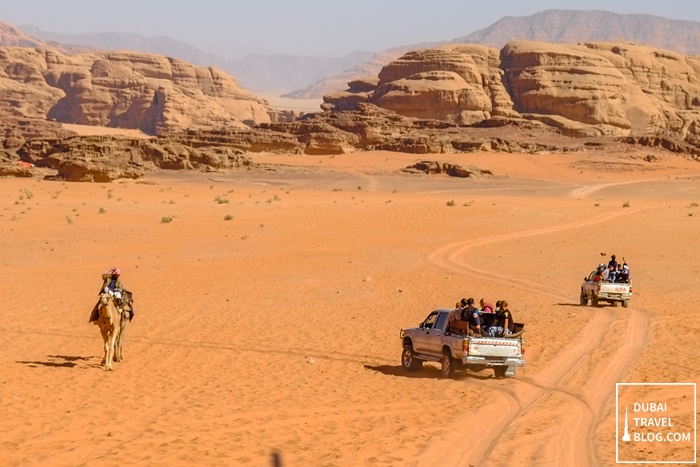 desert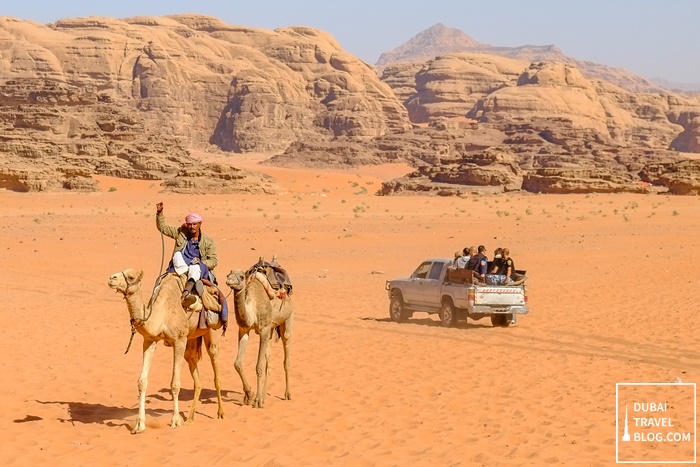 Wadi Rum
FYI: Fees and Transportation
Since Wadi Rum is a protected area, you will be charged a standard fee when you arrive at the visitors' center. This fee is used to protect the valley as well as to support the local Bedouin tribes in the area.
For foreigners, the standard fee is 5 Jordanian Dinars (JD). Locals and residents of Jordan are charged 1JD each, whereas Jordanian students pay 0.5JD. Meanwhile, the entrance is free for children who are 12 years old and below.
Transportation costs, on the other hand, will depend on your preferred mode of travel. You can rent a jeep to take you around the desert. Still, if you are feeling adventurous, you can opt to ride a horse or a camel!
Most tourists spend only one day trekking around Wadi Rum. But if you have two or three days to spare, you can stay overnight at one of the local Bedouin camps. There, you can expect a lot of singing, dancing, and delicious native dishes!
A "Surreal" Adventure
Being at Wadi Rum is almost like being in another world. In fact, quite a number of space films, including "Red Planet" and "Prometheus," have been filmed here. If it is a "surreal" adventure that you seek, then this place should be on the top of your list.
Our other experiences in this trip from Dubai to Jordan: