My wife and I dropped by last Friday at Marriott Al Jaddaf for a seafood evening buffet at The Market Place. Located at the hotel lobby level of the 5-star property, The Market Place is a family-friendly restaurant that is open for breakfast, lunch, and dinner, specializing in favourite dishes from all over Asia.
Also Read: Sky High Brunch at Observatory Bar & Grill in Dubai Marriott Harbour Hotel & Suites
They have some themed-buffet options during the week and Friday was the seafood night from 7pm to 11pm. The buffet offering was really extensive and included a myriad of starters and salads, plus soups, various seafood dishes such as lobster, prawns, mussels, prime cuts of meats, live cooking stations, and desserts.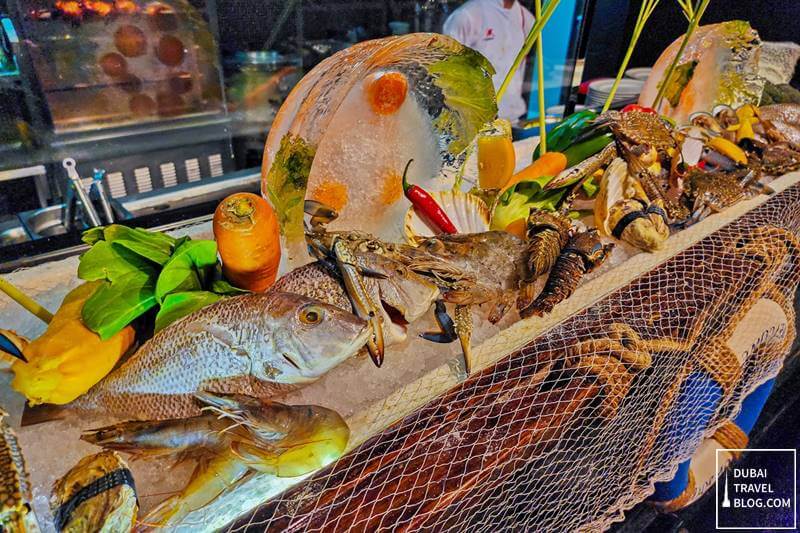 Restaurant Review: Seafood Friday Buffet at The Market Place in Marriott Al Jaddaf Hotel
Are you ready to experience a seafood feast like no other? Head over to The Market Place in Marriott Al Jaddaf for an unforgettable Seafood Night! Enjoy the freshest and most succulent seafood dishes including lobsters, oysters, crabs, mussels, clams, fish, and more. With live cooking stations featuring Cajun-spiced wok seafood, main course items, steamy dumplings, sushi selections, and desserts galore.
Fresh Seafood Bar
There's also a station for fresh seafood where you can pick from the daily selection of oysters, crab legs, octopus, and mussels.
Salad and Sushi Station
We were led to the salad bar where guests can pick and choose from a variety of fresh salads and cold mezze. Their sushi station also had a great selection of fresh sushis and nigiri as well.
Cajun Seafood Station
During our visit, we were glad that they have this Cajun Seafood Station where you can ask the chef to prepare you a Cajun-sauce dish with your chosen ingredients. From clams, mussels and shrimps to squid and crab, you can make the perfect Cajun seafood dish.
Live Grill Station
At The Marketplace in Marriott Al Jaddaf, you have the option of freshly grilled seafood at their live grill station. At the time, we were able to choose among fresh lobsters, sherry fish, and shrimp.
Dumplings, Soups, and other Main Courses
Aside from the seafood items, they also feature other menu options like dumplings, roasted chicken, biryani, beef stew, Tom Yum Soup, bread, and other main course dishes.
Desserts
We were also impressed with their Dessert Station where they served various types of desserts that are sure to satisfy guests' sweet tooth. From ice cream and mixed fruits to cakes, there was something for everyone.
Video: The Market Place Restaurant Seafood Night
Here's a quick video featuring our dinner buffet experience:
40 Photos of The Market Place Seafood Night – Marriott Al Jaddaf
Check out these photos of our experience below:
Summary
Overall, it was a great experience spending the evening at The Marketplace in Marriott Al Jaddaf. With its wide selection of seafood, salads, sushis, and desserts, there's something for everyone to enjoy. Whether it's a family dinner or a special occasion, The Market Place is an excellent destination for an enjoyable seafood feast.
Better book a table ahead of time to make sure you get a spot!
Contact Information
The Market Place in Marriott Al Jaddaf
Address: Lobby Level, Marriott Hotel Al Jaddaf – Dubai
Telephone Number: +971 4 317 7777
Website: https://www.marriott.com/en-us/hotels/dxbmh-marriott-hotel-al-jaddaf-dubai/overview/
Instagram: @marriottaljaddaf
Facebook: https://www.facebook.com/dubaimarriottaljaddaf/
Google Map Location
Please check out the map guide to the location of Marriott Al Jaddad hotel. The Market Place is located at the lobby level of the hotel. Valet parking is available.