A newly-opened Mexican taqueria has arrived in Dubai. Lila is an authentic, wood-fired taqueria that celebrates traditional Mexican cuisine and flavors. We were able to drop by on a Tuesday evening to sample some of their delicious creations. Be advised that the restaurant can get packed even on a weekday so book a reservation if you plan to visit.
Running the kitchen is American chef, Shaw Lash, whose passion for Mexican food has inspired her to bring its unique flavors to Dubai. The menu is anchored on ingredients cooked in time-honored techniques so that the dishes maintain their authentic taste.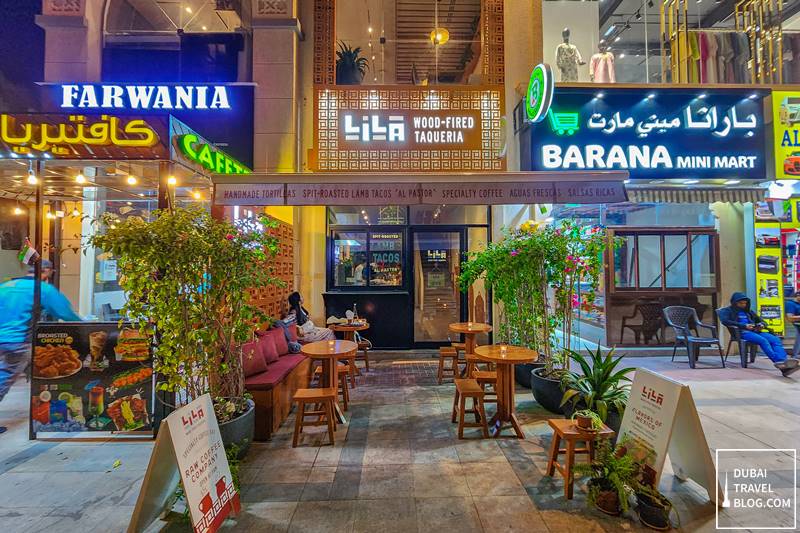 homegrown Mexican Taqueria in Dubai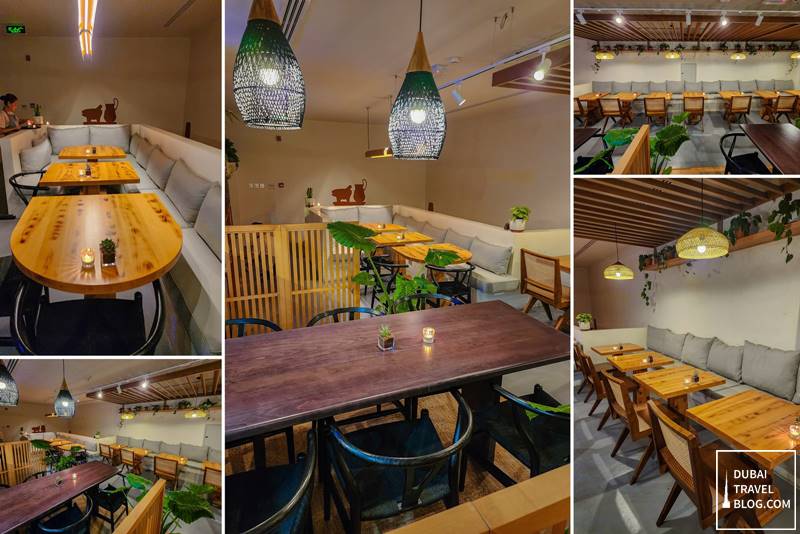 inside the restaurant
Freshly Made, Handpressed Tortillas
Heirloom corn is brought from small farms in Mexico, which the restaurant grinds and nixtamalizes every morning to create the freshest and the best quality hand-pressed tortillas and tostadas around.
This process is done carefully in order to retain all the nutrients and benefits that are normally lost when using industrial processes. The result is a distinct flavor profile that's unique to Lila Taqueria.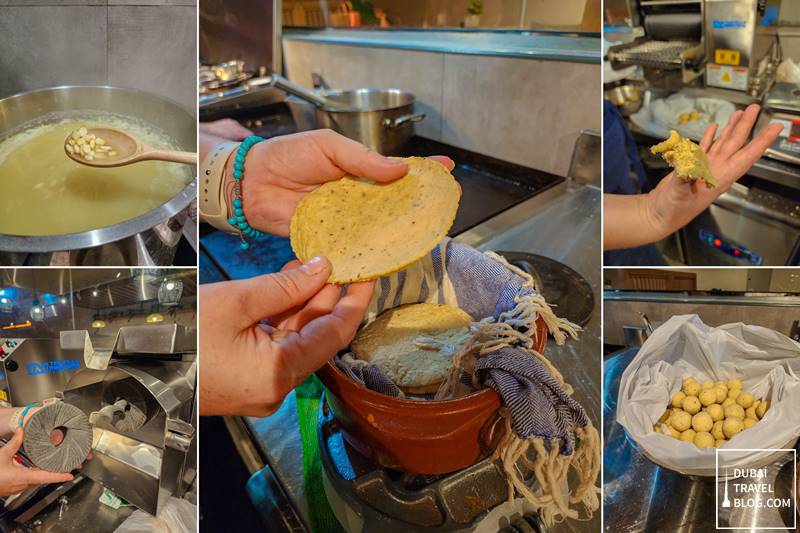 how they make their tortillas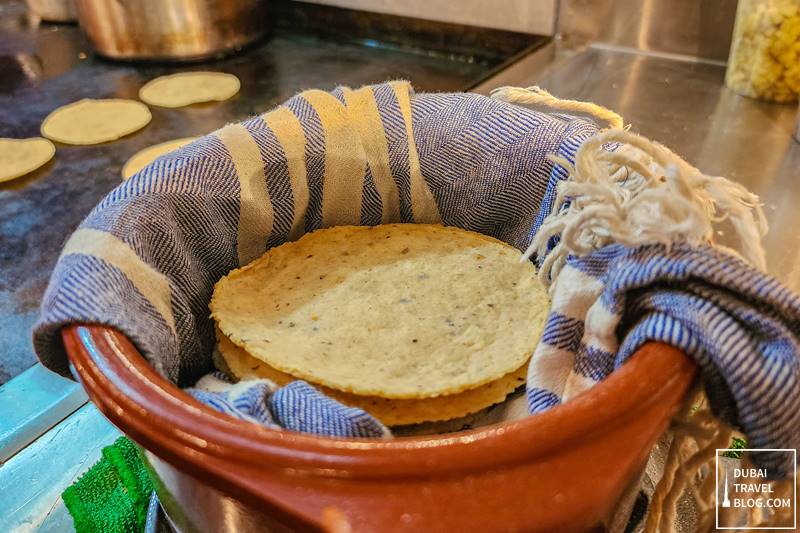 freshly-made, everyday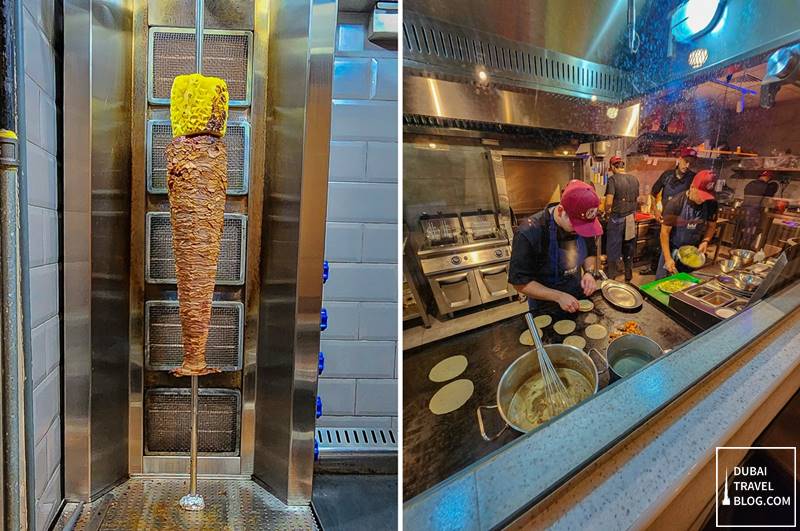 Spit-Roasted Lamb "Al Pastor" cooked from 3pm until sold out
Food at Lila Taqueria
The restaurant has a simple design with an open space, yet the food items are the stars. There are not many decorations adorning the place because the food speaks for itself.
Their tortilla chips are not the usual triangle-shape with their long and uneven look, yet irresistibly crunchy texture.
We had the Mixed Seafood Tostadas "Verde" (deep-fried pancake tortillas) which is a mix of local wild-caught seafood, creamy green salsa, citrus, pickled onions, and cucumber. We also had a serving of their "Al Pastor" lamb tacos with grilled pineapple, onion, and cilantro.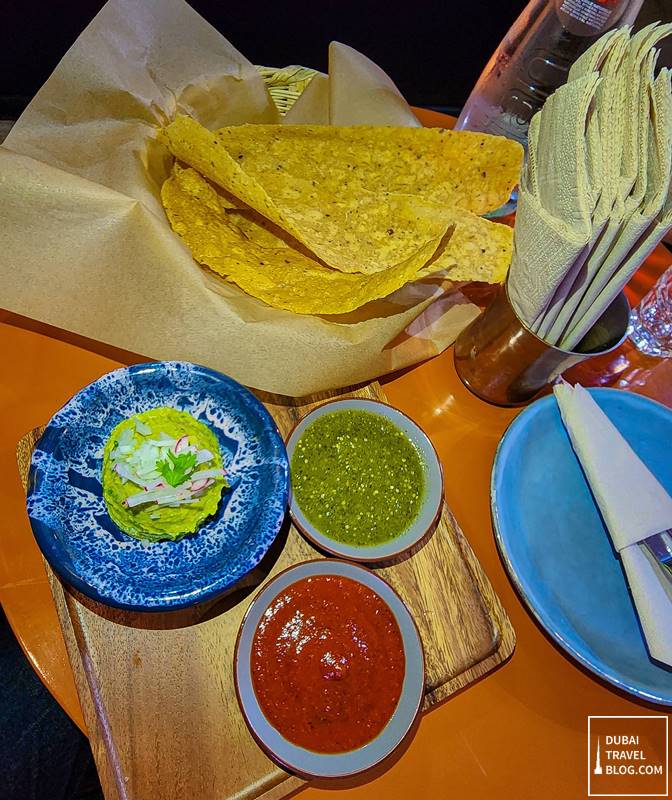 Chips & Housemade Salsa – AED 38
Fresh-pressed tortilla chips, housemade three-chile salsa & tomatillo jalapeno salsa
with Guacamole – AED 22
Fresh Mexican avocados, crunchy toppings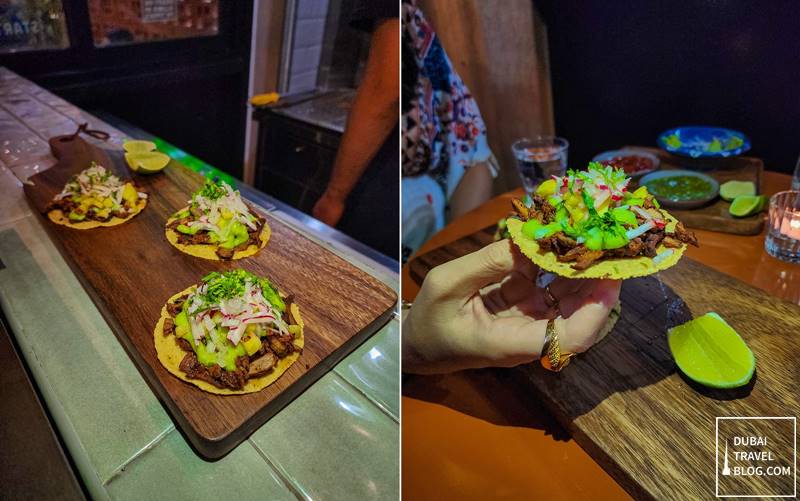 Spit-Roasted Lamb Tacos "Al Pastor" – AED 68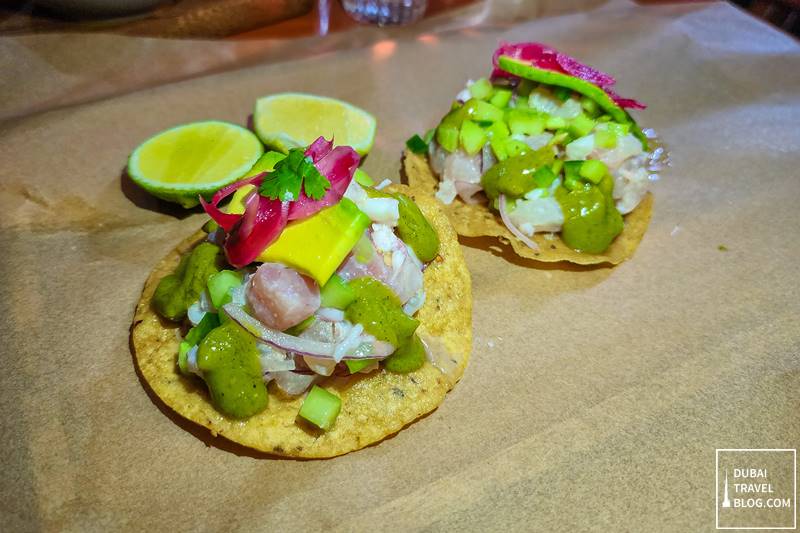 Mixed Seafood Tostadas "Verde" – AED 60
Housemade tostadas, mixed local wild-caught seafood, creamy green salsa, citrus, pickled onions, cucumber
Main Course
For main course, my wife and I shared the 800g whole grilled red snapper 'a la talla' served. I could feel the freshness and quality of the fish and the seasoning was spot-on. Shaw mentions that they source the fish from the Waterfront market four times a week to ensure that they get the very best. It is also cooked on oak wood to give it that smoky flavor.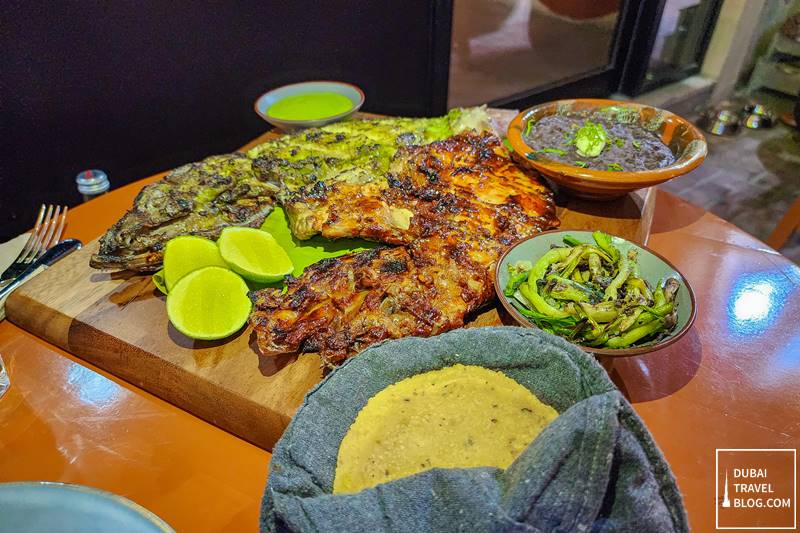 Pescado "A la Talla" – AED 190
Locally caught whole red snapper (800g)m butterflied with guajillo marinade & herby green chile marinade, grilled over oak. Served with grilled knob onions and avocado tomatillo salsa
Dessert
To finish up our meal we had their signature churros with Mexican chocolate sauce. We had churros in another restaurant before which was just so-so.
The churros at Lila Taqueria were simply remarkable as we could taste the cinnamon and sugar in every bite. We could taste the difference in quality and it was definitely a great way to end our meal.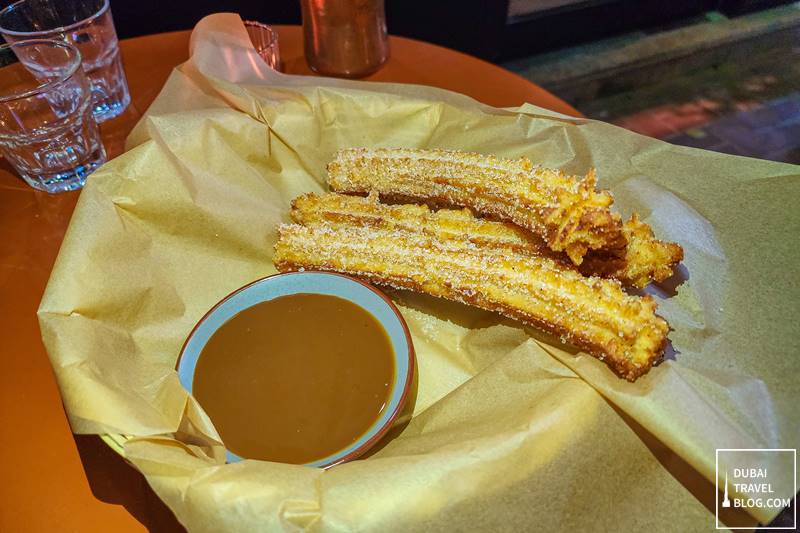 Churros – AED 40
Served as an order of 3, dusted with cinnamon sugar, served with housemade sea salt caramel for dipping
Video: Lila Wood-Fired Taqueria
Here's a quick video featuring our dinner experience at Lila Taqueria:
23 Photos of Lila Wood-Fired Taqueria on Jumeirah Beach Road
Check out these photos of our Lila Taqueria experience below:
Summary
If you plan to dine in this restaurant, please call ahead and make a reservation. The place was fully booked during our visit (on a Tuesday) so it's important to book ahead.
Overall, Lila Taqueria is an absolute must-visit for anyone looking for quality Mexican fare made with traditional methods. The tacos are packed with flavor, the ingredients are fresh and while the menu options are compact, this homegrown restaurant has carefully chosen to feature quality dishes.
They are planning to put up a second branch soon (a licensed one is in the works) so this is something to look forward to for those looking for alcohol with their Mexican feast.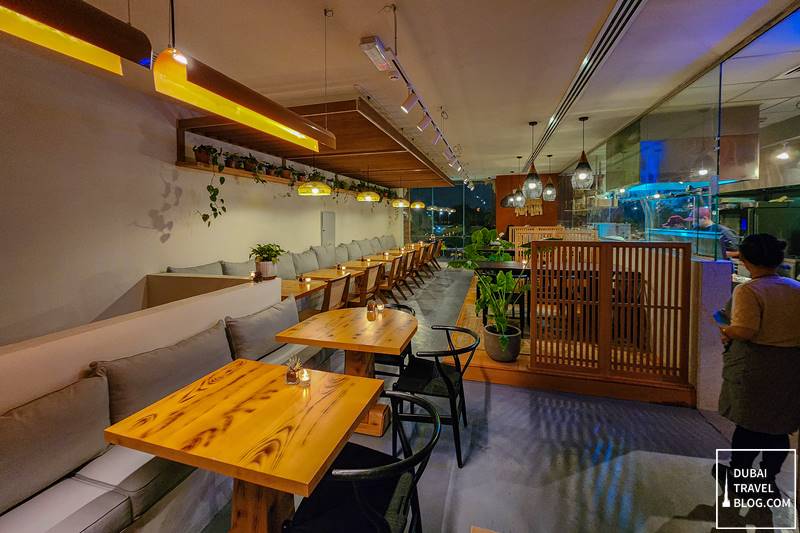 2nd floor
Contact Information
Lila Taqueria
Address: 786 Jumeirah Beach Road, Umm Suqeim Road, Jumeirah 3, Dubai
Telephone Number: +971 55 5601778
Email: hello@lilataqueria.com
Website: https://www.lilataqueria.com/
Instagram: @lilataqueria
Google Map Location
Here's a map guide to the location of Lila Taqueria: