A night under the stars inside a luxurious beach bubble tent. This is glamorous camping taken to the next level by Finolhu Resort in Maldives. A groovy way to spend the night away from the crowd and definitely in an intimate set-up, this romantic glamping getaway is the first of its kind in this archipelago and something you might consider since Maldives is only about four hours flight time from Dubai via Emirates airlines.
Also Read: 5 Amazing Destinations Under Five Hours From Dubai
Just check at the photo below to see how it looks like. While this may be something more adventurous vacationers might thoroughly enjoy, the resort strategically placed the beach tent bubble in an isolated spot.
Finolhu Resort Unveils a Beach Bubble Tent in Maldives
This beach bubble concept was created and designed by the team behind Bubble Eye in the Sky which aims to have guests feel a closer-to-nature experience while still maintaining comfort and luxury through its amenities and design.
in a secluded spot along Finolhu's 1.5km sandpit stretch, away from their beach club and operating exclusively as part of a 'Dream Eclipse" romantic package under the stars.
What to Expect
The getaway package includes a lovely lunch at the Fish & Crab Shack, which will then lead to a short stroll towards the Bubble Beach hideaway during sunset hour. There will be an enjoyable beach barbecue and the couple can then retreat to their beach bubble for an unforgettable evening under the constellation.
Guests will sleep under the stars and will wake up with the sun climbing the horizon. Breakfast will then be available near the water.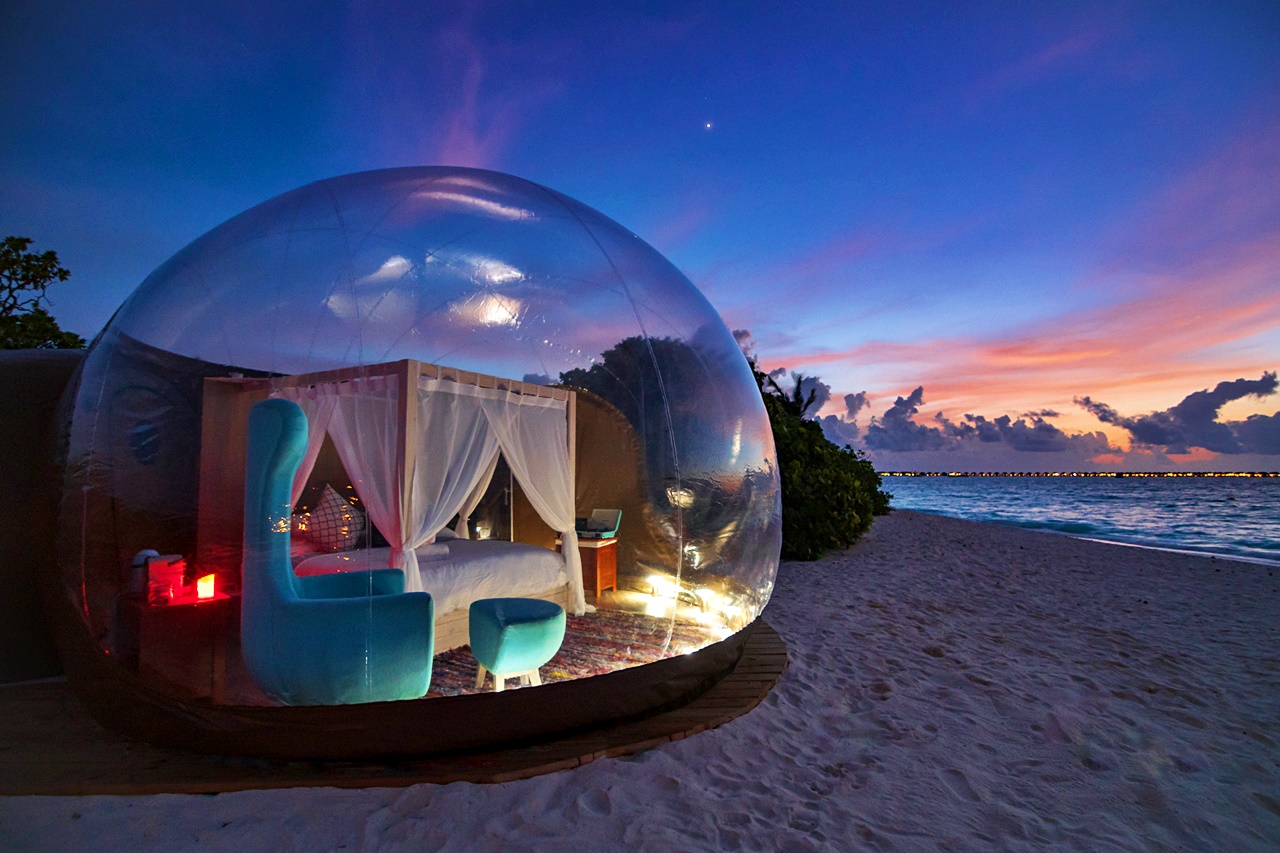 This is something definitely worth thinking about for those who are looking for something different in the Maldives.
Finolhu's exclusive 'Dream Eclipse' experience costs US$600++ per couple, including one night in the Beach Bubble (sunset to sunrise, from 7pm to 9am), a private Beach BBQ, and private waterside breakfast at Bubble Beach.
For more info, you may visit the resort's official website: www.finolhu.com