After our tour of the Jetex private terminal, my wife and I stopped over at the Last Exit E11 food truck park to grab some quick dinner bites. Aside from the need to have dinner, we wanted to stay longer elsewhere so to avoid battling the rush hour traffic from Dubai to Sharjah.
Last Exit is a street food truck park that has become a pit-stop for people who are travelling in the Dubai and Abu Dhabi highway (E11 highway). There are various trucks that offer different cuisines. You can choose among burgers, pizzas, seafood, coffee & ice cream, etc.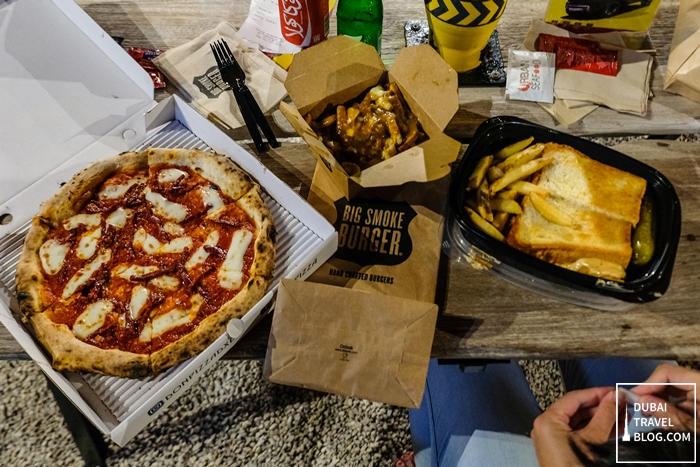 pizza from DON Pizza, fries from Big Smoke Burger, Lobster & Cheese from Urban Seafood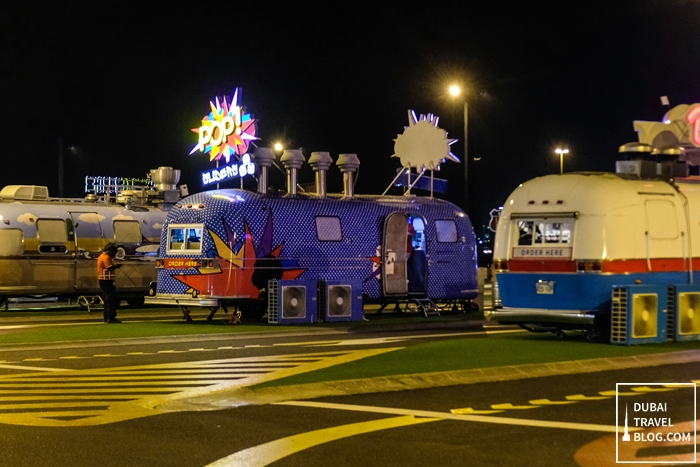 other food truck shops in Last Exit
Stopover at Last Exit E11 Jebel Ali – Sheikh Zayed Road
It was good to finally have dropped by Last Exit. This street food truck park opened a year ago but it's only now that we got to dine and see it firsthand. I didn't realize how spacious it was until we arrived.
It was also good to visit there during a weekday evening as not many people were around, although some of the food trucks were closed at the time. Still, this winter season, drivers coming from Abu Dhabi to Dubai can definitely use this as a stopover and have a quick break from the drive.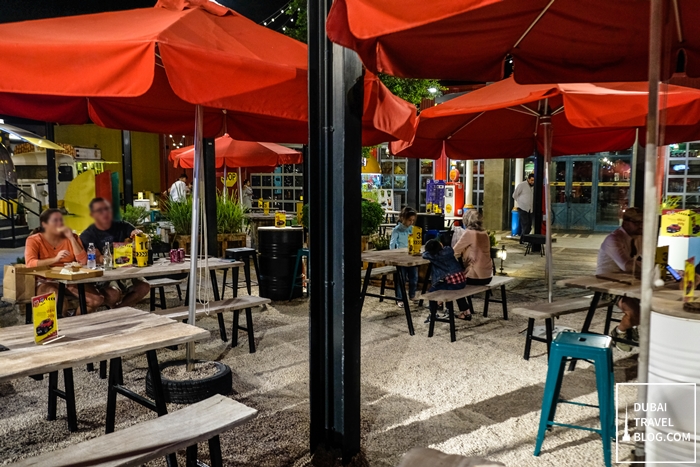 outdoor dining area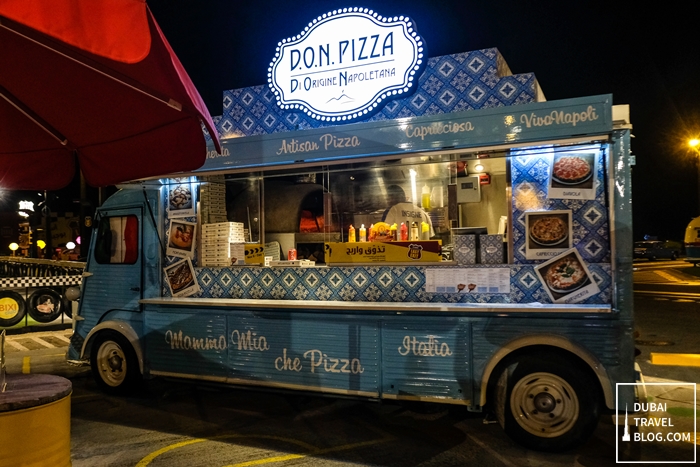 D.O.N. Pizza – Di Origine Napoletana food truck
I remember when we had a camping adventure with friends, we stopped over a gasoline station to freshen up and have a break. It's good because now this park is another great option to plenty of drivers and their passengers.
After a few minutes of choosing what food to order, my wife settled for a Lobster Grilled cheese from Urban Seafood while I ordered a Diavolo pizza from DON Pizza. We also bought some french fries from Big Smoke Burger.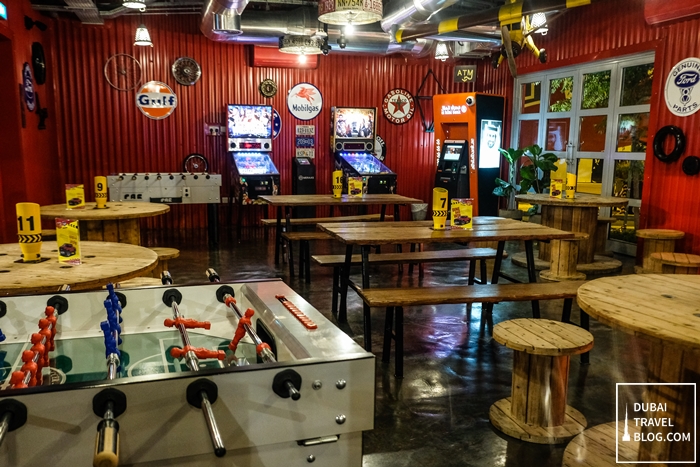 indoor dining area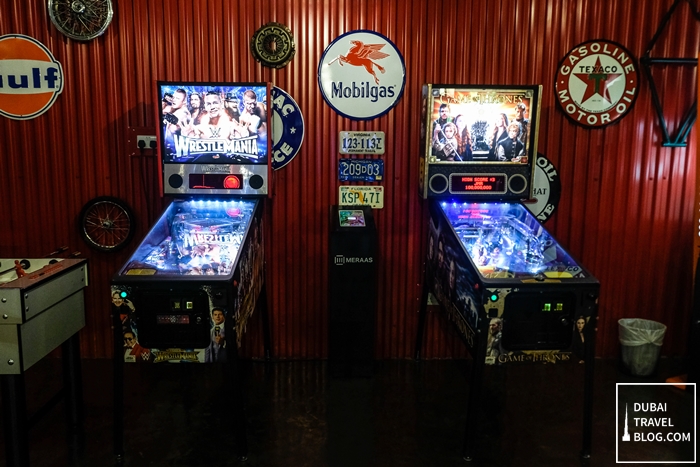 pinball machines
If you're new to Last Exit, you will be welcomed by an Old American diner theme. Upon using the restroom, you might be surprised by the design and the concept. I was when I tried to use the sink.
But you don't have to worry as there's an attendant that is readily available to assist you should you have any questions.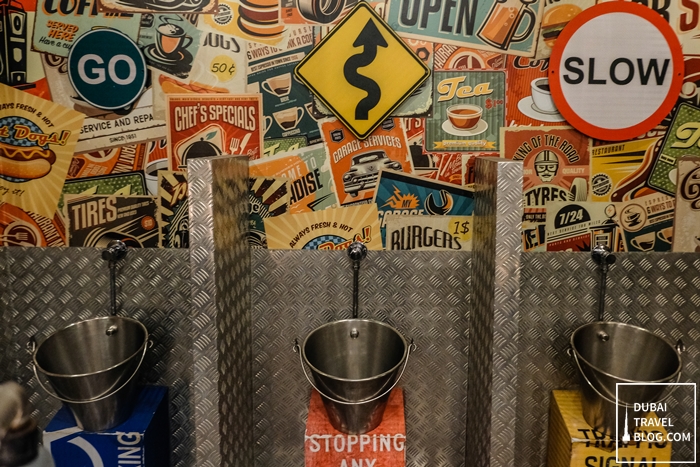 these 'pails' are urinals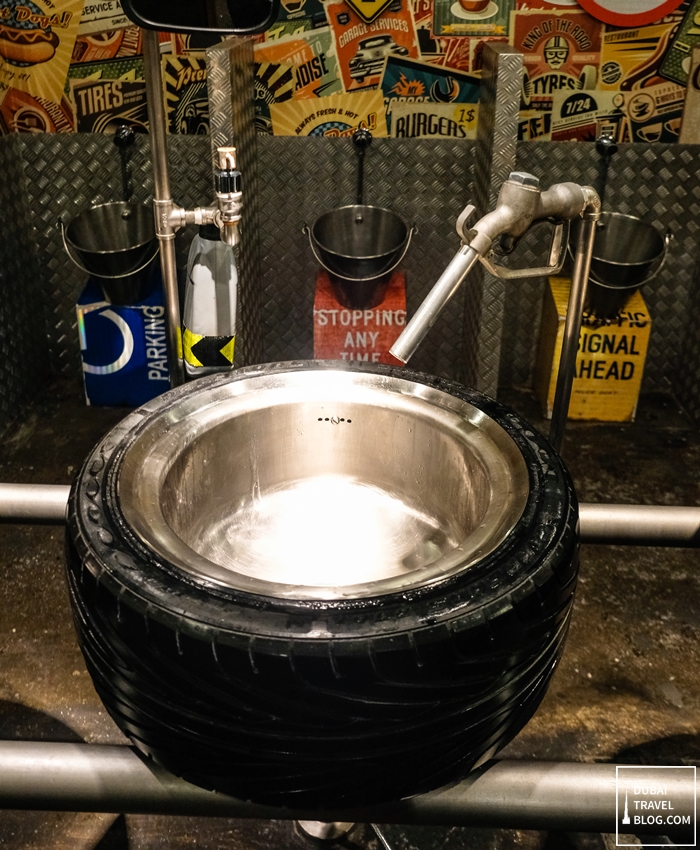 washing your hands in these sinks made of tires
Aside from the food and the unique outdoor dining concept, Last Exit offers parking spaces, prayer rooms, attended washroom, kids playground, ATMs, mobile charging stations, 24-hour security, baby-changing rooms, etc.
We devoured our dinner that night and enjoyed the overall ambiance that the park brought. It made us happy to have gotten our driving license so we could explore other areas in Dubai accessible by private vehicles.

enjoying my DON Pizza
Last Exit food truck park has other branches and are located at Al Khawaneej D69, Al Qudra D63 and Last Exit Mad X E11.
Last Exit E11 Contact Information
Address: Sheik Zayed Road – Dubai
Hours: Open today · Open 24 hours
Phone: 04 317 3999
Website: http://www.lastexit.ae/
Google Map Location
Here's a map guide to guide you in driving towards Last Exit E11 food truck park.