We had the pleasure of visiting Courtyard by Marriott hotel in Tbilisi, Georgia which is located at the Freedom Square area of the city centre. We were already checked in at the Tbilisi Marriott Hotel but it was good to have a tour of this other Marriott hotel which is just a few minutes of walking distance.
Also Read: 13 Reasons to Visit the Beautiful Country of Georgia
Courtyard by Marriott offers the traveller a modern and comfortable accommodation after touring the city. It offers a strategic area so you can discover various Old Tbilisi landmarks. Across the hotel is the Georgian National Museum and as this is located in the central district, it is also close to other famous tourist attractions in Tbilisi for you to explore.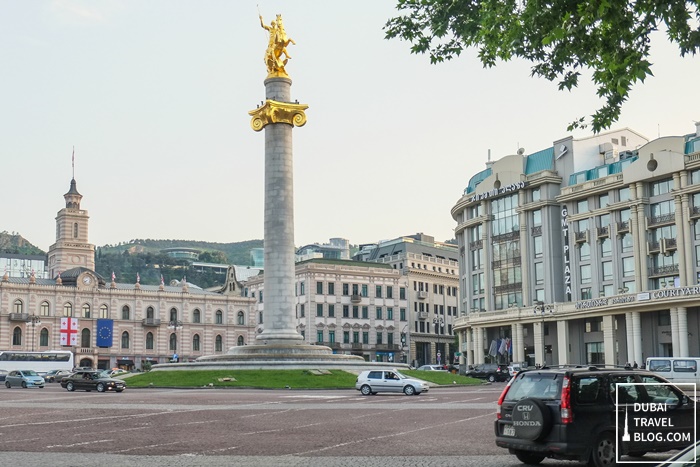 Freedom Square area (Marriott hotel is on the right)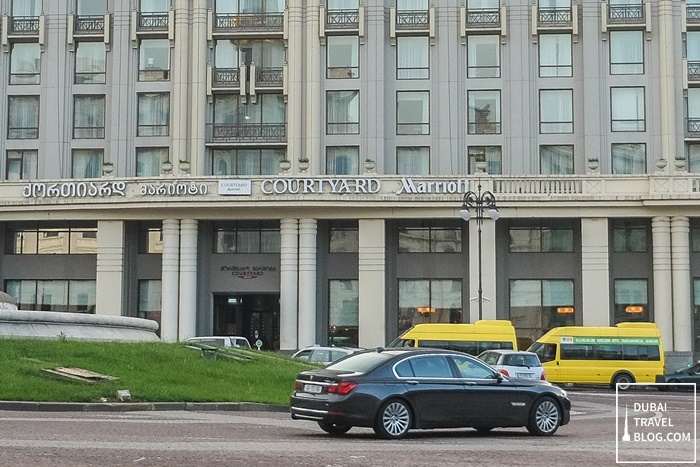 Courtyard by Marriott
Courtyard by Marriott Tbilisi Hotel Review in Georgia
The hotel is place of modern and comfortable hotel accommodations with plush bedding, high-speed Internet access, climate control and other superb amenities; many offer beautiful views of Tbilisi city centre as well.
Bedroom
The bedding and pillows from Marriott really make for a great sleep experience so after a long day trip of sights in Georgia, you can look forward to a comfortable sleep.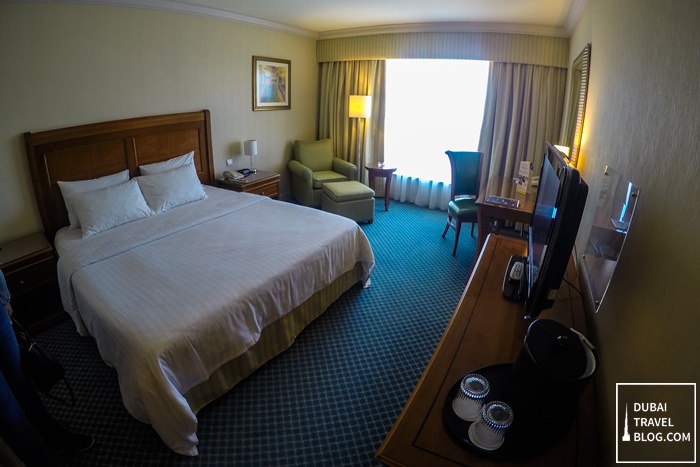 inside the deluxe bedroom
inside the suite
view from the bedroom window
Brasserie Freedom Restaurant & Bar
Their all-day dining restaurant is called Brasserie. You can enjoy breakfast, lunch and dinner. They also have a bar area. Even if you just drop by, why not order a cup of cappuccino and enjoy the view from the window? You can surely have a good of the square.
Aside from the restaurant, the hotel also has a 24-hour market where you can purchase a snack or drink any time at your convenience.
inside Brasserie restaurant and bar in Tbilisi, Georgia
bar counter
cappuccino from theirbar
Fitness Center and Swimming Pool
One of the things I like from the hotel is the fitness center and swimming pool area. The indoor swimming pool's water temperature is controlled so during winter time, you can still opt for a swim even if it's cold outside.
fitness center with latest machines
they have an indoor temperature-controlled swimming pool!
Courtyard by Marriott Tbilisi has a venue space that can cater up to 400 guests and given that it is in the heart of the city centre. There was a event going on at the time so I wasn't able to take some photos. It was a packed afternoon which showed that this is a really good choice for many conventions.
Courtyard by Marriott at night time
Based on our tour, the things that stood out were the view of the Freedom Square area from rooms and the indoor swimming pool which guests can enjoy all-year-round. I'm sure the signature bedding and linens are also a highlight after a tiring trip which Marriott is well-known for. Next time, maybe we can try and check in this lovely hotel in Tbilisi.
Contact Information
Address: 4 Freedom Square, T'bilisi 0105, Georgia
Phone: +995 322 77 91 00
Website: http://www.marriott.com/hotels/travel/tbscy-courtyard-tbilisi/
Google Map Location
Below is a Google map location of Courtyard by Marriott Hotel in Tblisi.