If you're planning on making a trip from Dubai to Turkey for a holiday, you may need to apply for a visa beforehand depending on your nationality. This post will guide you how to get a Turkey tourist visa from Dubai.
Direct flights from Dubai to Istanbul can be taken via Emirates, Turkish Airlines, flydubai, and Pegasus and flying time runs about 5 hours. Some of the famous attractions in Turkey include Hagia Sophia museum in Instanbul, Pamukkale thermal spa terraces, and hot air balloon in Cappadocia. Given that this is only a short distance away from the UAE, this is a great destination for a short break from Dubai.
There are two options that can be taken when applying for a Visa to Turkey, the e-appointment and acquiring an e-Visa. Read further to see a guideline that can help you apply for either of the two choices.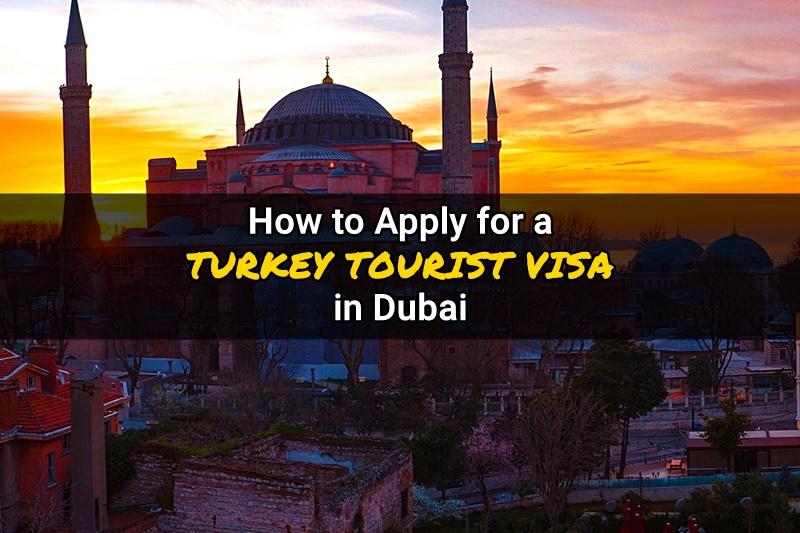 How to Apply for a Turkey Tourist Visa in Dubai – Step by Step Guide
The e-appointment system requires you to schedule an appointment at the Consulate General office of Turkey located in the Dubai World Trade Centre. The other option (which is much easier) is getting the eVisa and basically just print it after making the payment and getting approved. Below are each step outline according to process.
E-Appointment System
1. Apply at their e-appointment system through this link and fill out the online form with your details. – https://www.konsolosluk.gov.tr/Visa
2. Once approved, schedule an interview appointment. Make sure to bring all the needed documents to the Consulate General. The following are the requirements for applying for a Turkey tourist visa.
– Biometric Photo
– Salary Certificate – documents attesting to the income status of the applicant and inviting person
– Flight Reservation
– Hotel Booking or Invitation
– NOC Letter – Supporting document on the applicant's commitment to return such as (Land registry, business certificate, salary table, bank account statement)
– Bank statement for last three months
– Medical Insurance valid for Turkey
– Original Passport and Passport copy
3. During the Date of Appointment, head to the Turkey's Consulate General in Dubai.
4. Make sure to pass all the requirements, and practice your answers for you will be asked regarding your travel.
5. Once, you're accepted for getting a Visa. Proceed on settling the fees, to claim the stamp that will indicate the Visa's release.
6. Lastly, claim your Visa as per according to the date indicated on the stamp.
Reminders
– Have a medical insurance ready for your trip
– Allot at least a month before your flight when you apply for your Visa
– It's also important to remember that it takes 4-7 working days before your Visa is released.
– In case of unemployment, send your benefactor's passport
– If you have a host in Turkey, must provide some information regarding your Turkish host, who will also need to have an approval coming from the benefactor that they'll answer all of the tourist's expenses.
– Visa Fee: The Visa can be around 220-330 AED, Credit cards are strictly not accepted, all fees must be paid in UAE Dirhams.
Applying for an E-Visa for Turkey
Depending on the country of your passport, you may have an option of applying an E-Visa, and the process takes shorter than the traditional option of acquiring through an appointment.
1. To apply, you can click this link – https://www.evisa.gov.tr/en/apply/. You will be redirected towards the website. Accomplish the application filling up the required information.
2. Make the payment (current Turkey eVisa fee is 20 USD) online.
3. Once completed, a link will be sent to you to see your E-Visa and possibly print it to ensure that you have a physical copy if they look for one. Also save a copy for yourself in your email or smartphone for back-up.
Reminders:
For further inquiries, you can use the contact information below to get in touch with the Turkish Consulate General to answer your questions.
Website: http://dubai.cg.mfa.gov.tr
Phone: +971 4 331 47 88
Email: consulate.dubai@mfa.gov.tr
Address: Dubai World Trade Center Building 29th Floor P.O.Box:9221 Dubai-U.A.E.
Location Map: Consulate-General of Turkey
Below is a map guide to the Consulate General of Turkey office in Dubai World Trade Centre. The nearest metro station is World Trade Centre Station (Red Line)