We visited Sharjah's newest attraction, Rain Room, an art project by Sharjah Art Foundation which allows you to walk through rain without getting wet. Through the use of sensors, water will stop dropping from where you are positioned. It's quite interesting to have this installation especially in this region when the sun is up most times during the year.
We dropped by during a weekday afternoon but we weren't able to get inside as the attraction requires you to purchase a ticket beforehand. They said that they allow walk-ins only if there's an available slot. But it was fully booked so we had to visit at another time. Fortunately, it is only 5-minute drive from our place.
So for those who are planning to go to this place, buy tickets online! You can buy tickets to the Rain Room here –  https://rainroom.sharjahart.org/home.htm
Also Read: Hotel Review: Centro Sharjah by Rotana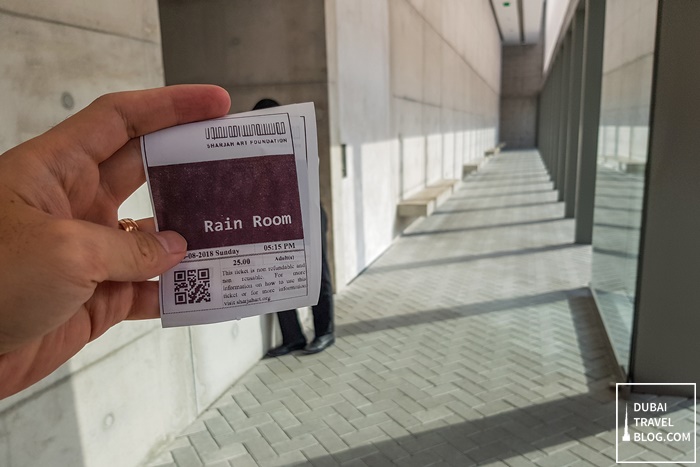 tickets to the Rain Room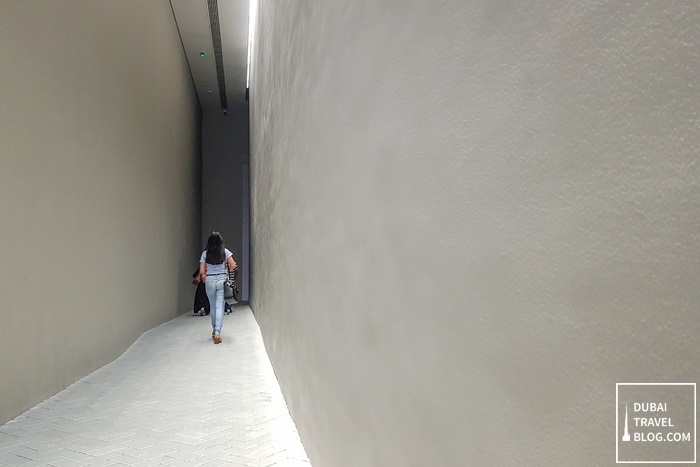 going inside
Visiting the Sharjah Rain Room by Sharjah Art Foundation
They advise you to come 20 minutes before your schedule. There's a cafe on the site which serves light bites and drinks. We recommend you try the purple ube-flavoured cupcake and the ube latte. Make sure to order a bottle of water as the two might prove to be too sweet.
From the outside, it looks like an unfinished warehouse with its gray colors and box-type design. But I guess this is part of its minimalist design.
As soon as it was our turn, we were led to a dark room and see the it for ourselves. The site-specific sound and light installation uses 2,500 litres of self-cleaning recycled water. There is one source of light which creates the shadow effect when you take pictures.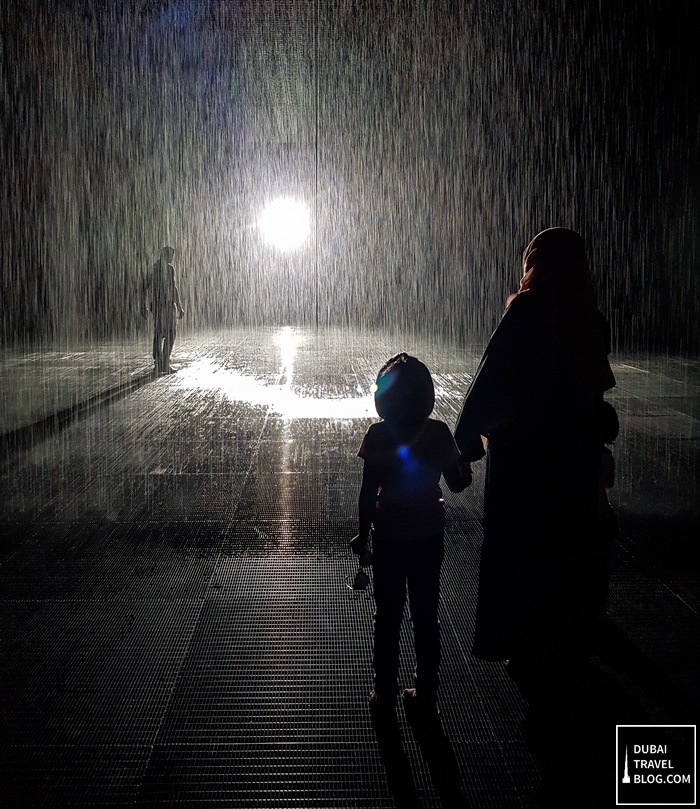 shadow play
We were joined by a family of four and the children were curious if they were going to get wet. The father had to show it to them first and make sure that it's alright to go inside. Soon enough they went in and got comfortable. We also enjoyed the rain.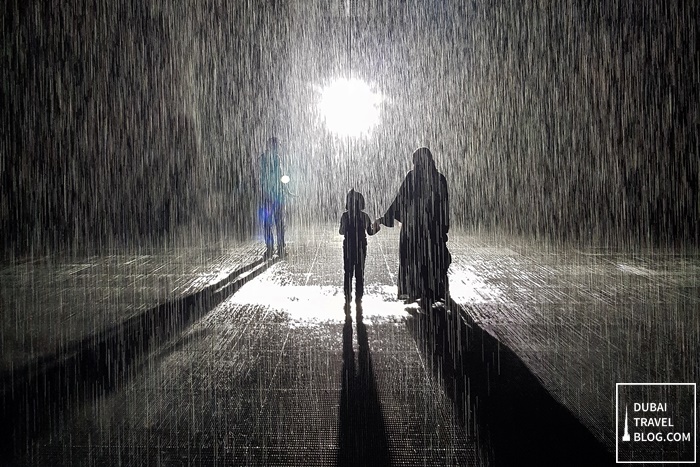 enjoying the artificial rain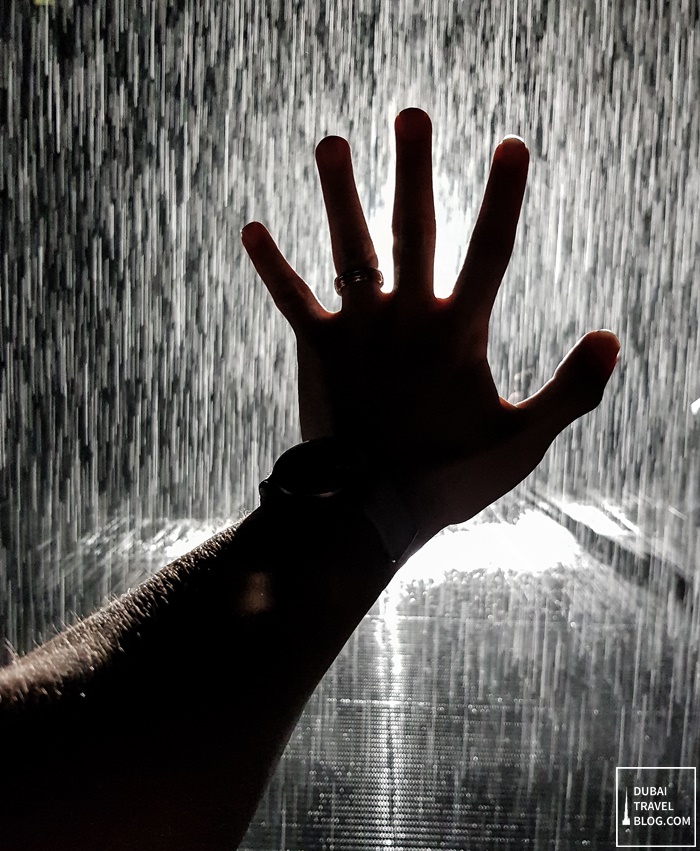 rain room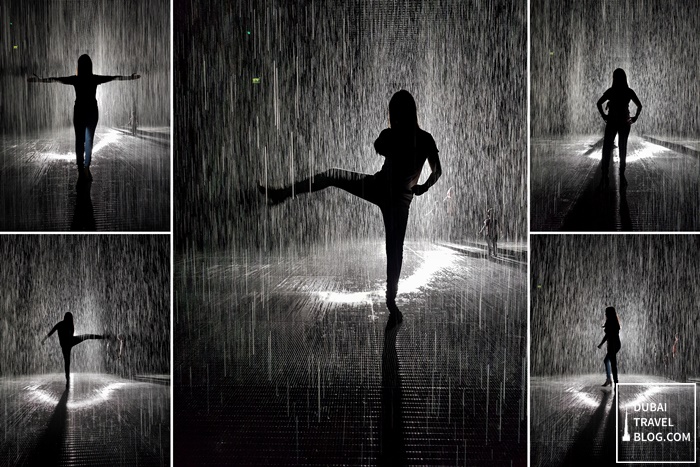 playing in the rain
The rain room requires you to have slow movements as the sensors will adjust to your position. If you move quickly, expect that you'll get wet, as what I experienced. I'm not sure if children will have control over themselves so it's good to bring extra clothes for them to change afterwards.
After a few snapshots, our 15 minutes was up. It was a good experience altogether and a nice attraction for the emirate of Sharjah.
Observations from our Experience
Here are some observations and thoughts after visiting the place:
Is this a must visit spot? It depends. I would recommend it for families as it's really an enjoyable place for kids. But we enjoyed the experience. 🙂
Make sure to book your tickets in advance. Rain Room is limited to 6 persons per session at 15 minutes per session.
We initially dropped by thinking we could walk in and just buy the tickets from the counter. But all the slots were booked for the day. They will try to squeeze you in if somebody will not show up, but that would be a gamble not worth your time especially if you live in other emirates. So book your tickets ahead of time!
Will you get wet? Slightly. Depending on how quick you move. Getting wet is part of the fun though.
We wished we had more time to spend inside. The 15-minute duration was a bit short, at least for me who likes to document and take pictures of the location so I could blog about it. But even my wife who doesn't take selfies found the duration a bit quick. Maybe 25 minutes per session would be much better (at least it would justify a 1 dirham per minute cost equivalent to the ticket price).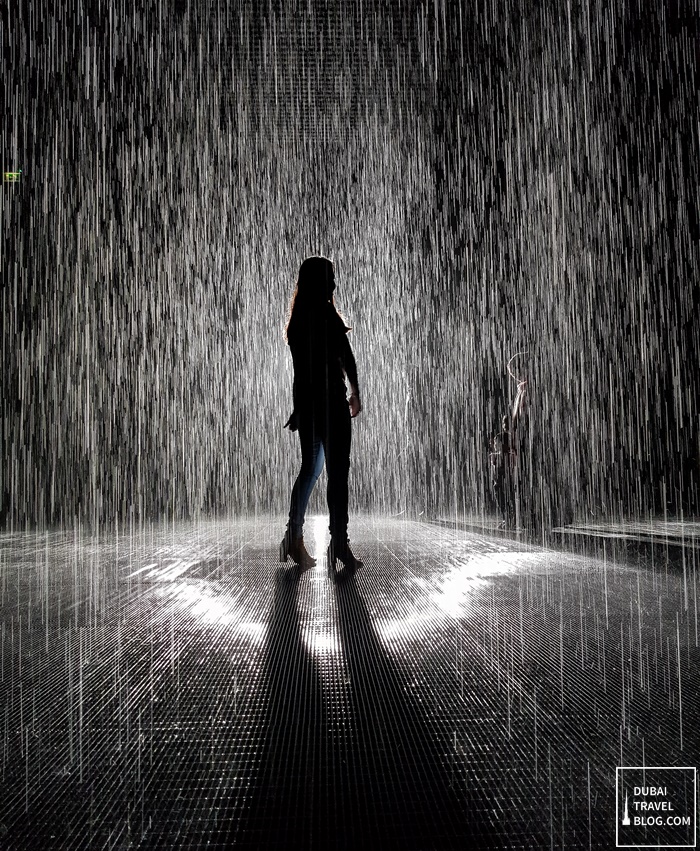 Fen Cafe at Rain Room
On another note, there's a cafe onsite where you can order some delectable ube-flavoured cupcakes, crinkle cookies, and even an ube latte. Fen Cafe offers some light bites, shakes, and other snacks so while you wait for your turn, you can relax and have a coffee or frappe.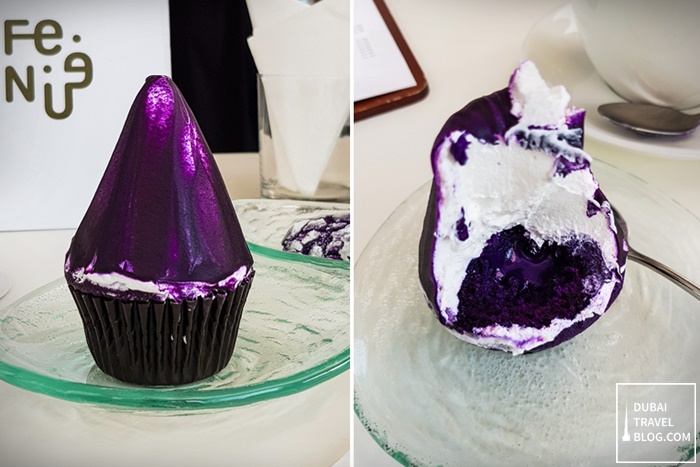 ube cupcake, there's even ube fudge inside!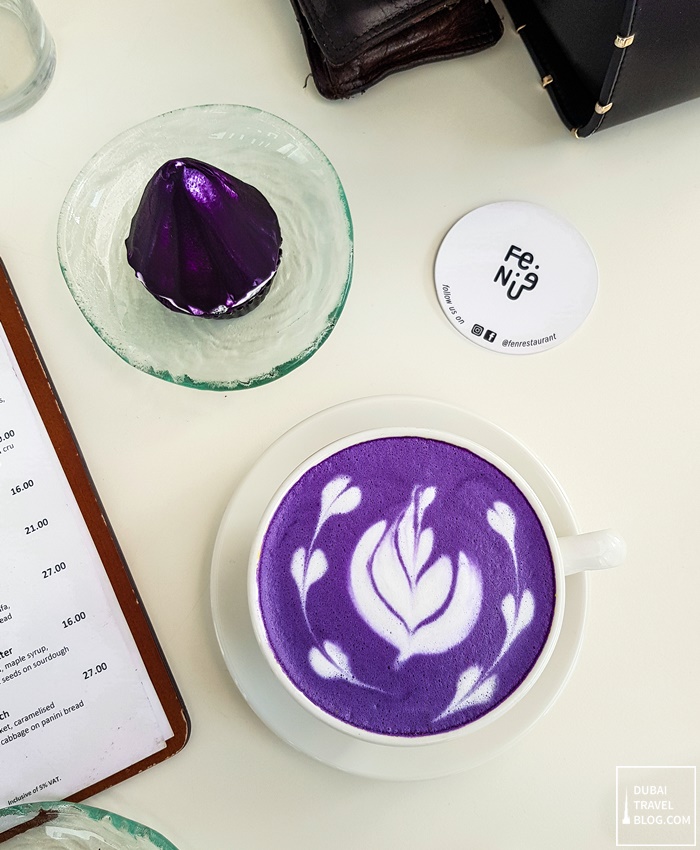 paired it with ube latte (the latte was very sweet, had to purchase a bottle of water)
Tips and Things to Know Before Visiting the Rain Room
Here are some rules and reminders from Sharjah Art Foundation if you plan to visit this attraction. The points below are based on the website.
No food or beverage is allowed inside the installation.
Children should be supervised at all times.
The use of umbrellas or other rain gear is not permitted.
For safety reasons, visitors are prohibited from wearing shoes with thin high heels.
Dark, shiny, reflective or impermeable clothing may affect the functioning of the sensors.
If visitors move impulsively within the installation, slight contact with water is possible.
The installation requires regular maintenance and is subject to temporary closure during the day.
Use of photographic equipment and mobile phones is entirely at the risk of the owner.
No professional photography is allowed without explicit prior permission from Sharjah Art Foundation.
Visitors are asked to abstain from taking photographs for any other purpose than documenting their visit to Rain Room. Performance and music videos, product photography or fashion shoots are not permitted.
Visitors are encouraged to photograph and share on social media with the hashtag #RainRoomSharjah.
Video of our Visit to the Rain Room in Al Majarrah, Sharjah
Here's a short video clip of our experience visiting the rain room project:

Contact Information
Address: Al Majarrah, Al Sharq, Sharjah
Phone: +971 6 561 0095
Website: http://sharjahart.org/
Email: rainroom@sharjahart.org
Location Map
Below is a Google map guide to the Rain Room Sharjah.