I'm happy that Dubai is open for us to go out and explore under strict precautionary measures. We can still dine in restaurants, check in hotels for a quick staycation, or explore tourist spots. One of the things my wife and I are looking forward to doing these days is getting some sun by heading to the nearest beach. This has been of perfect timing as the other day, I received a package which contained an oversized beach towel from Tesalate Australia. Now this is no ordinary beach towel as it features a sand-free fabric.
Going to the beach is always a great way to relax after a busy work week. At the end of the day, however, let's face it… we'll be going home with soggy, heavy, and sand-filled beach towels. It's an inevitable part of a trip to the beach… or is it?
Tesalate, an Australian beach brand, has come up with an innovation that is changing the way we use towels. Gone are the days of wet, heavy, and sand-filled towels! Now, we can grab a towel that's light, fast-drying, and sand-free: the Tesalate beach towel.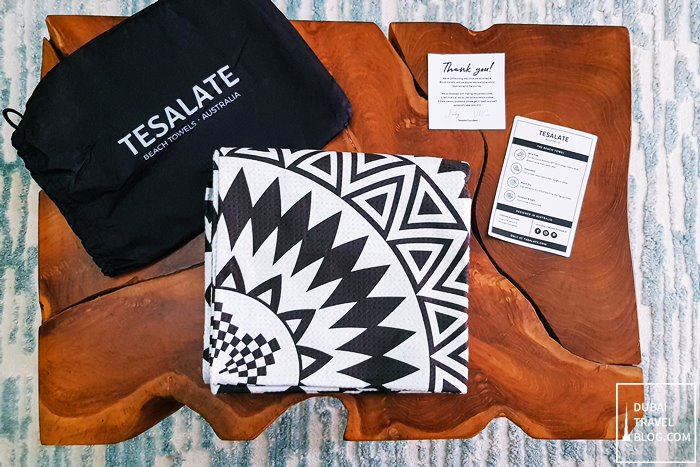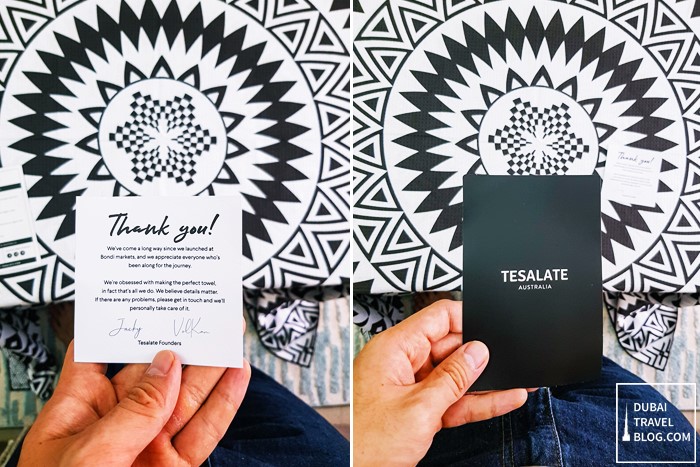 Brief History
According to Tesalate founders, Jacky Lam and Volkan Ozbek, the idea came up while they were hiking to a beach at the Royal National Park in Sydney, Australia. When it was time for them to head back, their towels had gotten soggy, heavy, and sandy. They thought about making a towel that's lighter, dries faster, and most of all… sand-free!
Eighteen months later, after months of research and design, Tesalate was launched at Bondi Beach Markets, a local community market in Sydney. Word spread and the brand grew quickly. Within a year, Tesalate had sold beach towels to more than 70 countries!
The delivery from DHL was quick as it only took 3-4 days from the online order to arrive in Dubai.
Features
Phoenix Sand-Free Towel for Two
XL size: 160cm x 160cm
Fast-drying, half the time of a regular towel
Double sided Design
Handy hook, hang it anywhere
Free pouch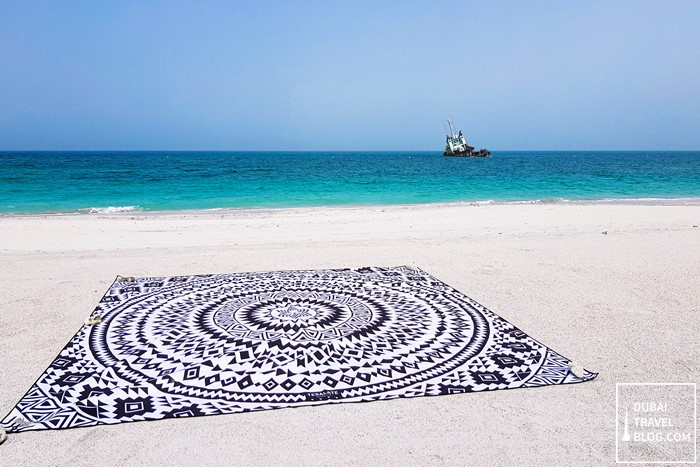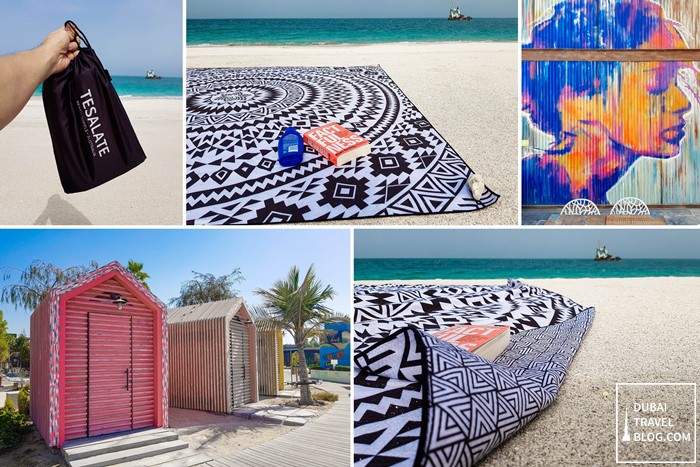 Tesalate Beach Towel: A Sand-Free, Compact, and Lightweight Beach Towel
I was looking forward to using the Tesalate towel mainly because of its sand-free feature. After all, if you frequent the beach, it's quite tedious to remove sand from your clothes and from your beach mat. Even if I dust it off. there are still some particles left in the fabric especially if it's wet.
What I normally do when sand gets stuck in the fabric is soak the cloth in the tub. I try to remove as much sand as possible to rid it off from soil before throwing it in the washer. With the Tesalate beach towel, you won't have to worry cause it repels sand!
Currently, Tesalate offers two types of towels: beach towels and workout towels. Both types come in a variety of colours and designs, with unique features and benefits.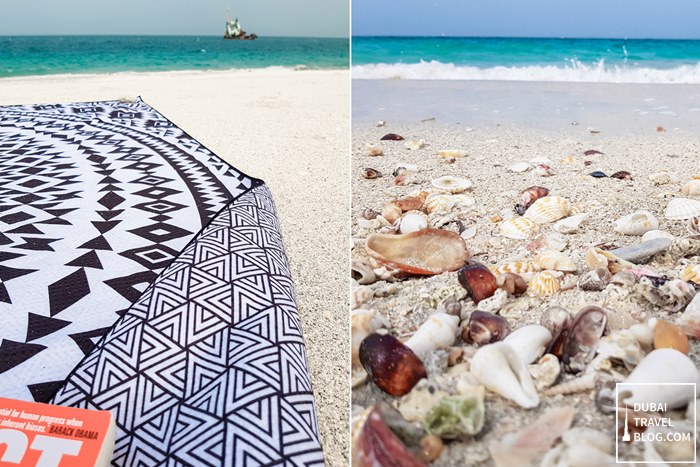 Tesalate Beach Towel
Each Tesalate beach towel is designed to feature:
Sand-free technology. The towel is made of AbsorbLite™ fabric, a bespoke microfibre blend that is specifically designed for sand to slip off easily. Just shake it off and you're done!
Rapid-drying. Tesalate beach towels are made to dry in half the time of regular beach towels. So you can say goodbye to soggy, heavy towels!
Ultra-absorbent. AbsorbLite™ fabric is 200 times thinner than human hair. This means that a Tesalate beach towel can absorb water in much higher quantities than a regular beach towel — up to 1 litre, actually!
Compact & lightweight. Tesalate beach towels are light, compact, and easy to store in your backpack, tote, or travel bag.
Tesalate Workout Towel
The Tesalate Workout Towel is great for fitness buffs who should have their personal towel in the gym or when working out. Below are some of its features:
Antimicrobial. After a heavy (and sweaty) workout, your moist towel could become a breeding ground for bacteria. Fortunately, Tesalate workout towels have a safe, antimicrobial additive that is effective against bacteria and the growth of fungi.
Fast-drying. Tesalate workout towels are not just antimicrobial, but fast-drying, too. So now, there's no need to worry about having smelly towels in your bag!
Double-sided. One side of the towel features a unique, colourful design, while the other side has Tesalate's signature black-and-white pattern. You can dedicate one side to putting on the floor, and the other for wiping your body after the workout!
Compact & lightweight. Measuring 100 cm x 45 cm, the Tesalate workout towel is just the right size. Simply roll it up and store in your bag after a workout!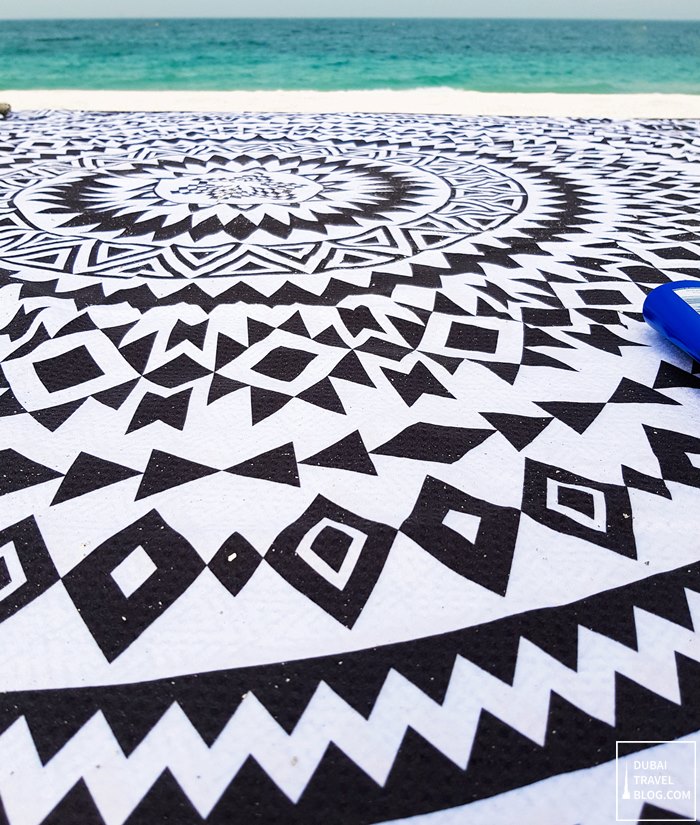 Beautiful Designs
Aside from its function, the design is also quite cool. Tesalate has a variety of gorgeous patterns available. It's very visually appealing bringing a towel that packs plenty of features. You can even use it as a decoration (throw blanket) for your sofa, or as a table mat. Check out their designs on their website as there's a lot you can choose from.
While there are definitely more colorful designs, we opted to get the striking Black & White Phoenix design.
Using it at the Beach
Taking it out on the beach, I'm amazed by how huge it actually is. It says it's good for two persons, but it can even fit four. Despite the XL size, it's not heavy or bulky as it can be folded and it fits into a pouch.
True enough, I tested it by pouring some sand onto the towel. It did not have any sand after dusting it off. I'm sure that we will be bringing this a lot especially when going out to the beach this season.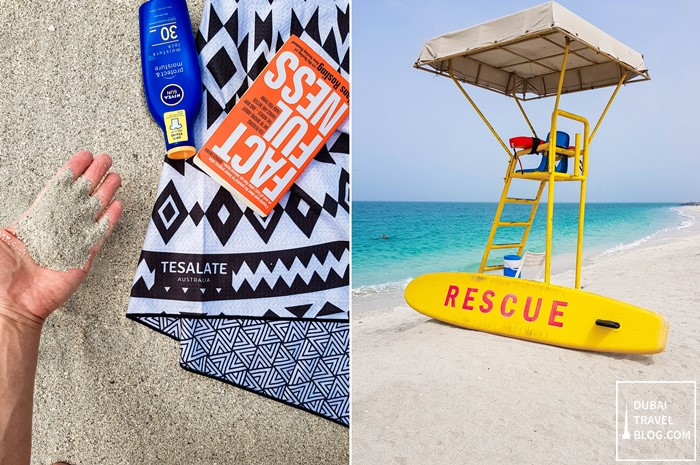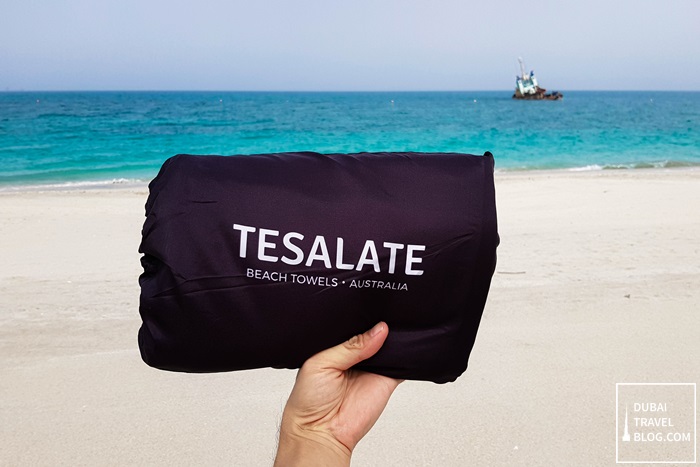 Price
The Tesalate beach towel comes in two sizes, with prices as follows:
USD 59 – Standard Size;
USD 99 – Oversized (XL) / "Towel for Two."
Meanwhile, the Tesalate workout towel comes in one size (100 cm x 45 cm), and is priced at USD 35 each.
Below is a video from Tesalate:
Buy Tesalate Beach Towel
Interested customers may visit and shop directly at their website or you can also contact them via email at support@tesalate.com.
For more information about Tesalate beach towels and workout towels, you can visit their official website, Facebook, and Instagram pages.
Note: I received the Tesalate Beach Towel. 
Check out these other Travel Gear Reviews here: