We drove for two hours from Sharjah to Abu Dhabi as we had an opportunity to stay in Grand Millennium Al Wahda hotel located at the heart of the UAE capital. This hotel is strategically located in the busy area of the city, within walking distance from the Abu Dhabi Bus Station and Al Wahda Mall. In fact, there's access to the hotel from the mall.
After getting our driving license in Dubai, it's great that we get to do road trips every now and then as this is one of the few opportunities where we get to explore other emirates at our convenience.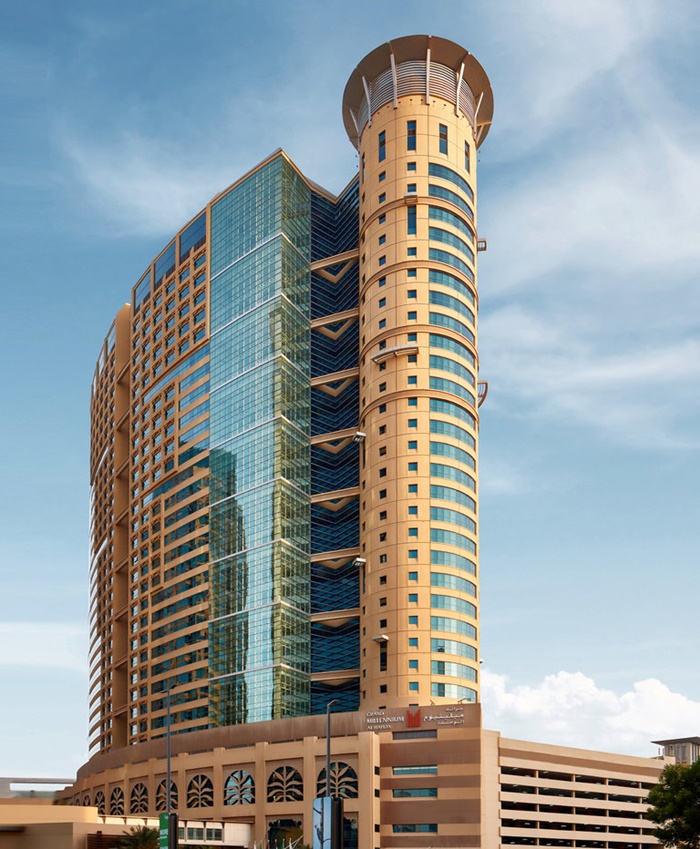 Grand Millennium Al Wahda hotel
Image Credit: Millennium Hotels
Grand Millennium Al Wahda Abu Dhabi Hotel
The 2-hour drive was smooth except for the actual arrival. Traffic piled up especially in the service road on the side of the hotel. However, valet attendants immediately assisted us so we could get inside the building. Check in was quite a breeze and the hotel lobby's high ceilings and natural lighting helped ease our stress from the noise outside. We were given our key access cards and headed to our room in no time to settle and take a quick nap.
One thing to note are the high-speed elevators which took us to our floor in a couple of seconds.
Grand Millennium Al Wahda lobby
The Grand Millennium Al Wahda is a premier hotel that caters mostly to business travellers as well as leisure travellers looking for a convenient respite with easy access to the city. Facilities include over 830 rooms, suites and apartments, as well as a spa and health club and meeting rooms.
Deluxe Bedroom
We stayed in a Deluxe Room in the 15th floor. Our room had the basic facilities. A nice touch I noticed was the personalized nametag in the phone. I was surprised to see no content inside the fridge, but it wasn't that big of a deal for us.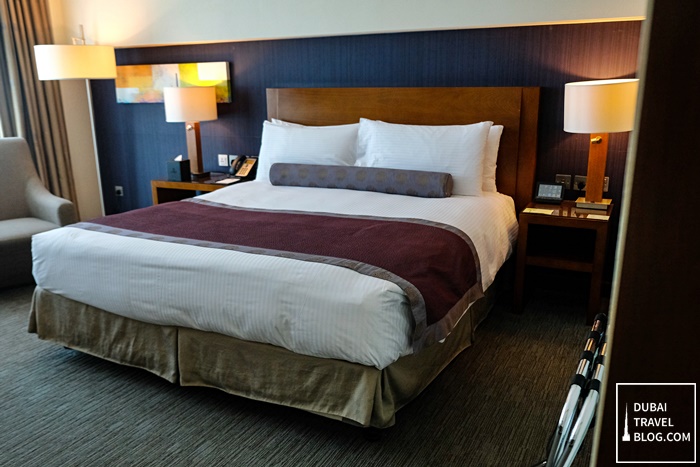 our comfortable bed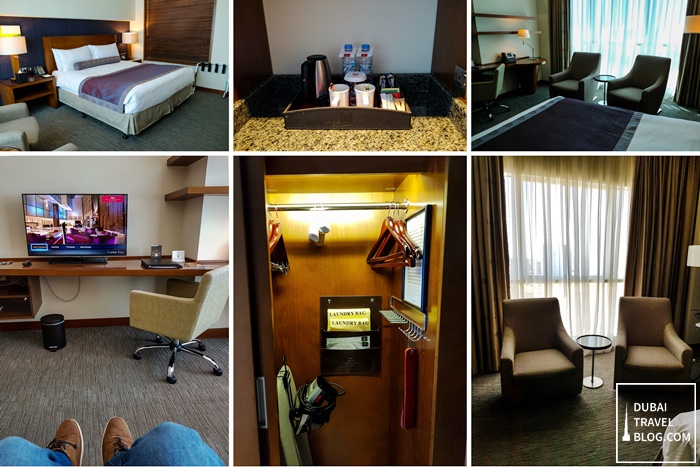 room facilities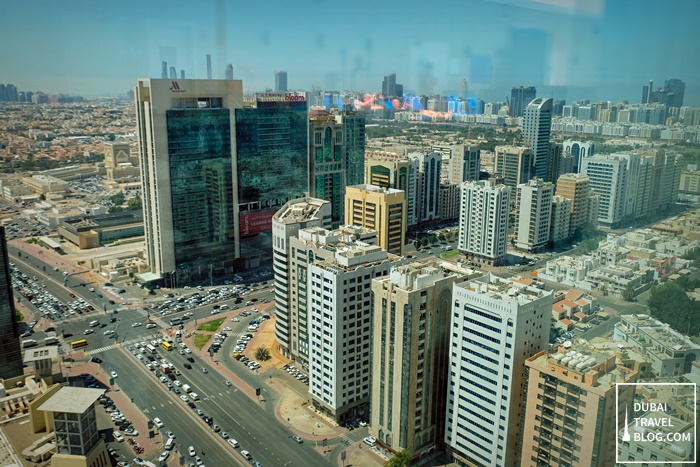 view from the bedroom window
Bathroom
Glad to see that our bathroom has a separate bathtub and a shower area. It was quite spacious too. We had a quick power nap after the long drive and prepared ourselves for a scheduled massage session in their spa.
shower – toilettries
bathroom
Zayna Spa
One of the main highlights during our stay in the hotel was our experience at Zayna Spa. We were treated to a VIP couple's massage and were surprised to see how huge our relaxation and treatment room was which even included a private sauna.
More about our experience as I write a separate post about it as it surely deserves a separate review. 🙂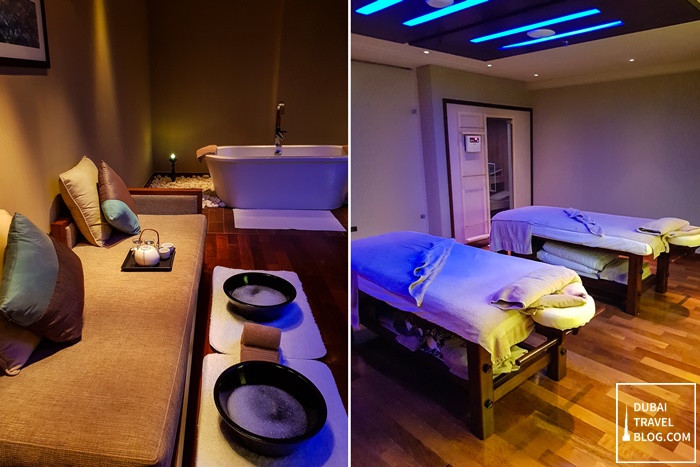 massage room in Zayna Spa Abu Dhabi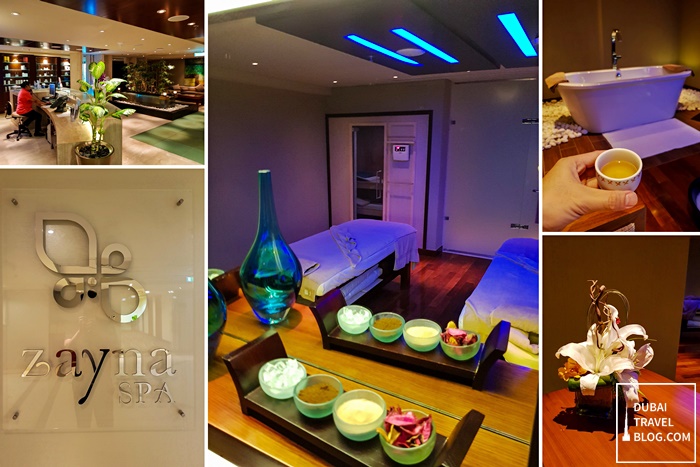 VIP couple massage
Restaurants
There's about 7 restaurants in Grand Millennium Al Wahda. We dined in 3 of them which includes the Al Wahda All Day Dining restaurant, Porter's English Pub and Sky Lounge ThirtyOne. Among the three, we would recommend a night at the Porter's Pub was made even more lively by their resident houseband, YFY (pronounced WiFi).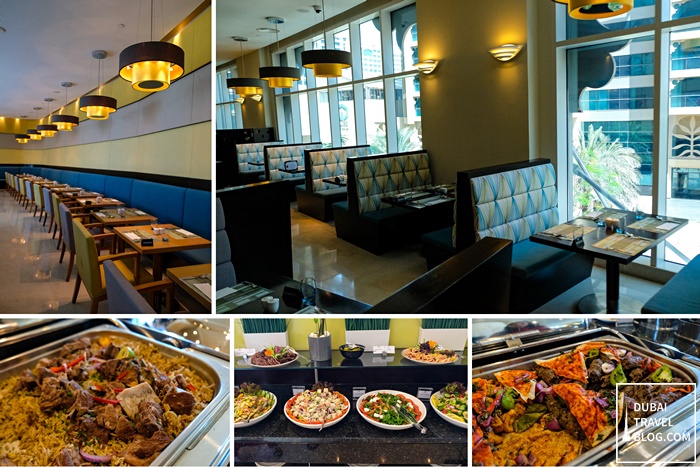 Al Wahda All Day Dining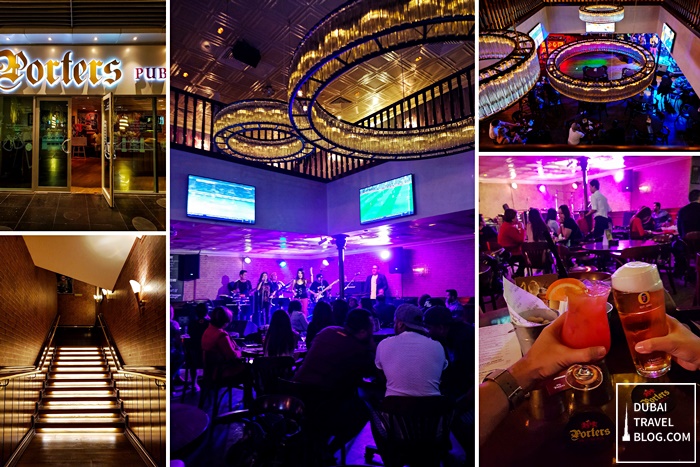 Porters English Pub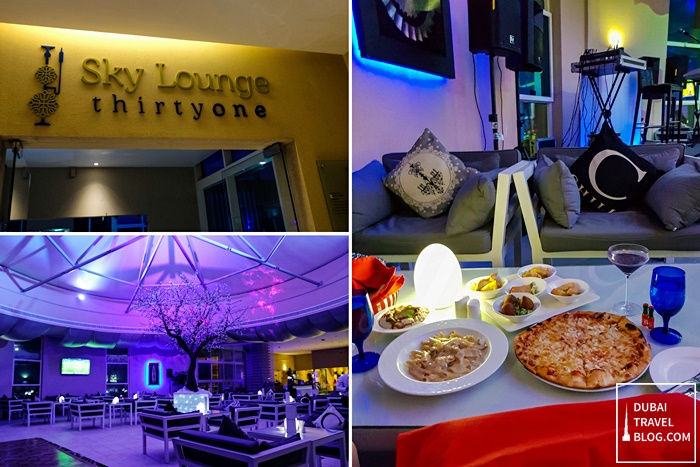 Sky Lounge Thirty One
Swimming Pool
The pool is located in the rooftop area, adjacent to the Skylounge Thirty One. It was somewhat busy when we dropped by the pool area that we opted to just check it out instead of going in for a dip.
rooftop pool in Grand Millennium Al Wahda
Health Club / Fitness Centre / Gym
Guests and residents of the hotel have access to the Fitness Centre and Health Club. The gym is quite big and has high-tech facilities and strength equipment. The health club has a sauna and steam bath, jacuzzi and lounge area for you to relax.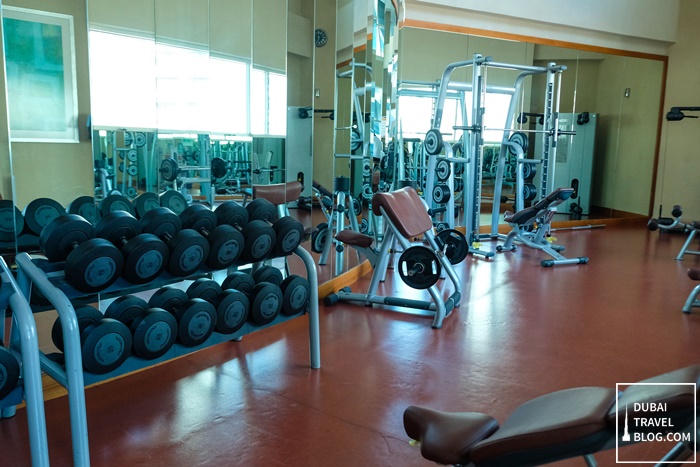 state-of-the-art gym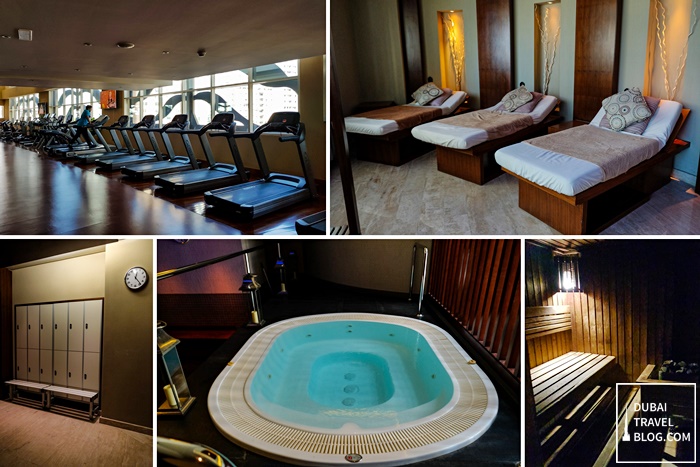 health club amenities
Our overall experience at Grand Millennium Al Wahda was a pleasant one. We didn't bother going out except maybe for 30 minutes when we needed to purchase a few items inside Al Wahda mall.
After realizing that it was rush hour and that there was an ongoing sale, we immediately retreated to our room to grab a few more snoozes before our drive back to Sharjah.
Grand Millennium Al Wahda hotel
Image Credit: Millennium Hotels
Worth noting upon our checkout the next day. There were a few people in the queue checking in, that one of the staff immediately collected our key cards and then informed us that we could already proceed to the valet to get into our car. Although we didn't mind waiting in the queue at the reception, what the team did was worth commending.
Contact Information
Address: Hazza Bin Zayed Street Al Wahda Complex – Abu Dhabi – United Arab Emirates
Phone: +971 2 443 9999
Website: https://www.millenniumhotels.com/en/abu-dhabi/grand-millennium-al-wahda/
Facebook: facebook.com/grandmillalwahda/
Instagram: @grandmillalwahda
Twiiter: @grandmilalwahda
Google Map Location
To get to Grand Millenium Al Wahda, below is a map to guide you when you drive to Abu Dhabi. In case you will travel via public transport, the hotel is just behind the Al Wahda Mall which is just in front of the public bus station where Dubai-Abu Dhabi bound buses stop.