In between our trips out of the country, my wife and I had an overnight staycation experience at Radisson Blu Hotel, Dubai Waterfront. This five-star property is located in Dubai Water Canal district, one of the biggest waterfront developments in Business Bay, Downtown Dubai.
Also Read: Hotel Review: Radisson Blu Hotel Dubai Media City
The Dubai Water Canal is becoming increasingly popular as a business and leisure spot. Tourists may appreciate the proximity to prominent tourist attractions such as the Dubai Mall, with more than 1,200 shopping centers, and the world's tallest building, Burj Khalifa.
On the other hand, business travellers will find that the hotel is located only 15 kilometers from Dubai International Financial Centre, Dubai World Trade Centre, and Dubai International Airport.
hotel lobby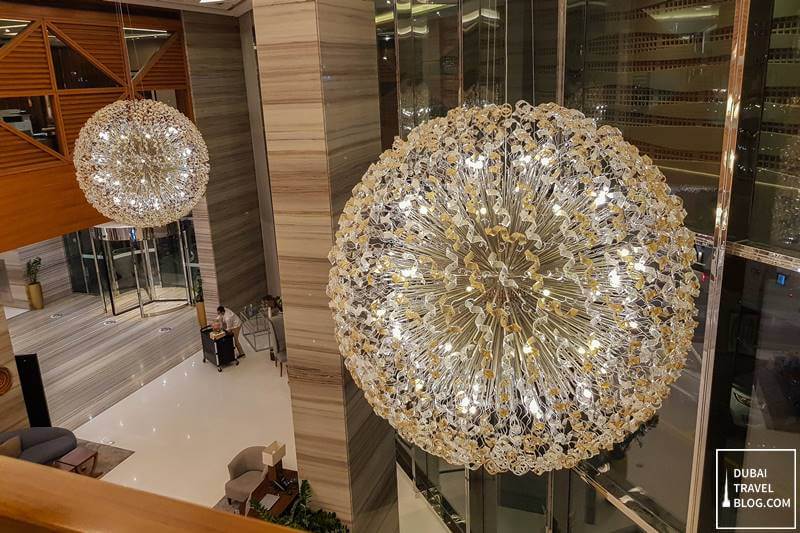 Radisson Blu Dubai Waterfront lobby
Staycation at Radisson Blu Dubai Media City
This is a new hotel and we were impressed upon entering the grand lobby. Check-in was quick and we got into our room quickly.
Premium Room
Premium Room with Balcony and Burj Khalifa View
The premium rooms are on the higher floors and provide views of Burj Khalifa and the Business Bay area. At 42 sqm, the room was very clean and spacious, with a comfortable bed and plenty of pillows. The view from our room was amazing, overlooking the water and the city skyline.
It also features a comfortable king-size bed, flat screen TV, coffee and tea facilities, office desk, lounge chairs, and in-room espresso machine.
king-size bed
inside the room
Bathroom
The bathroom features a large bathtub, walk-in shower with a rain shower head, and toilet and bidet. It's very spacious and has plenty of storage space for your toiletries.
bathroom toiletries
inside the bathroom
WiFi Internet
The WiFi was good at 7.5 Mbps download speed and 4.6 Mbps upload speed with a strong signal throughout the room and lobby.
Burj Khalifa skyline from Radisson Blu Dubai Waterfront
view from the balcony
Restaurants
Radisson Blu Hotel, Dubai Waterfront features a number of restaurants, including:
FireLake Grill House & Cocktail Bar – The FireLake Grill House & Cocktail Bar features the finest midwestern traditions of open-fire cooking and cocktail mixing. We had a late lunch in this restaurant with its stunning terrace, refreshing beats, and spectacular views of the Burj Khalifa and Canal!
Makar – Makar is a Scottish bar that exudes style and class. It's all about the typical Scottish bar, whisky, and cigars. You may unwind in a comfy seat while having delectable meals and beverages to your heart's content. We had our dinner during our overnight stay here in makar.
The Larder – We had breakfast at Larder restaurant, where local produce is at the heart of every dish. We were pleasantly surprised because there were plenty of options at the breakfast buffet. You may select to dine in a modern and elegant atmosphere, or outside with spectacular views of the Dubai Canal.
Abraj Café – Abraj is a place where you can a quick bite and drinks at the hotel lobby.
In-Room Dining – The hotel also feature in-room dining so you can enjoy a meal in the comfort of your own room.
breakfast at Larder restaurant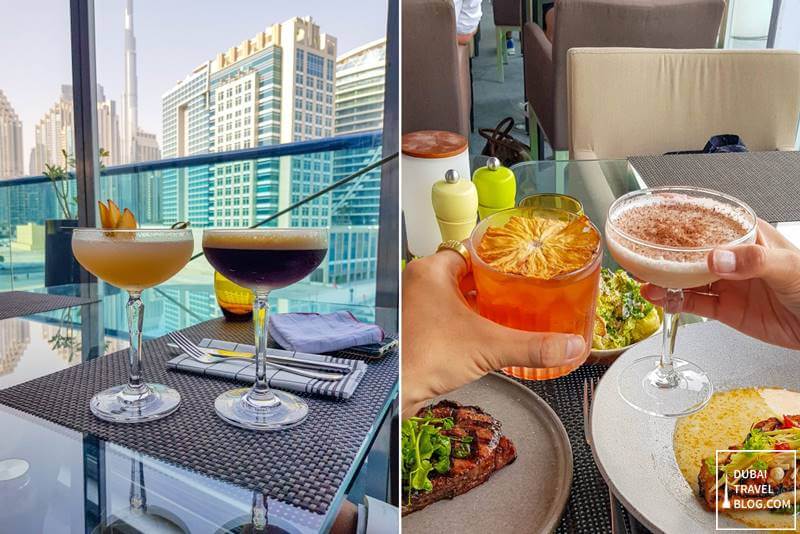 lunch and drinks at FireLake Dubai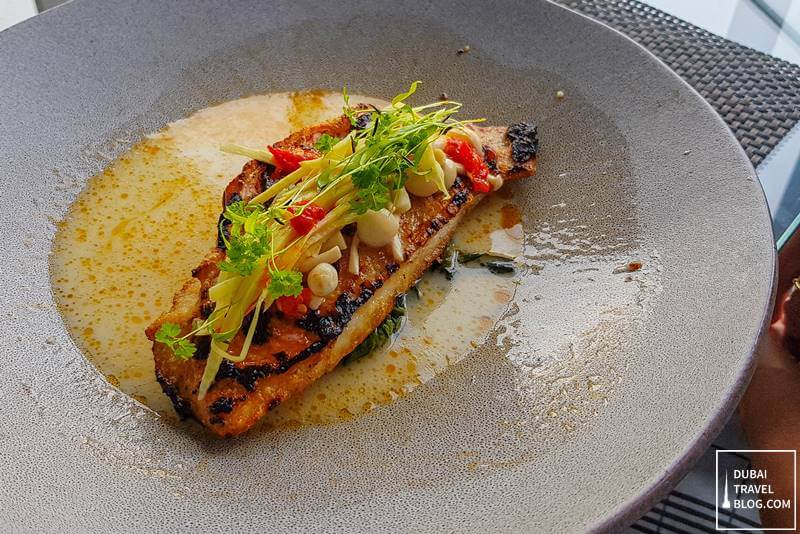 Chargrilled Red Snapper at FireLake Dubai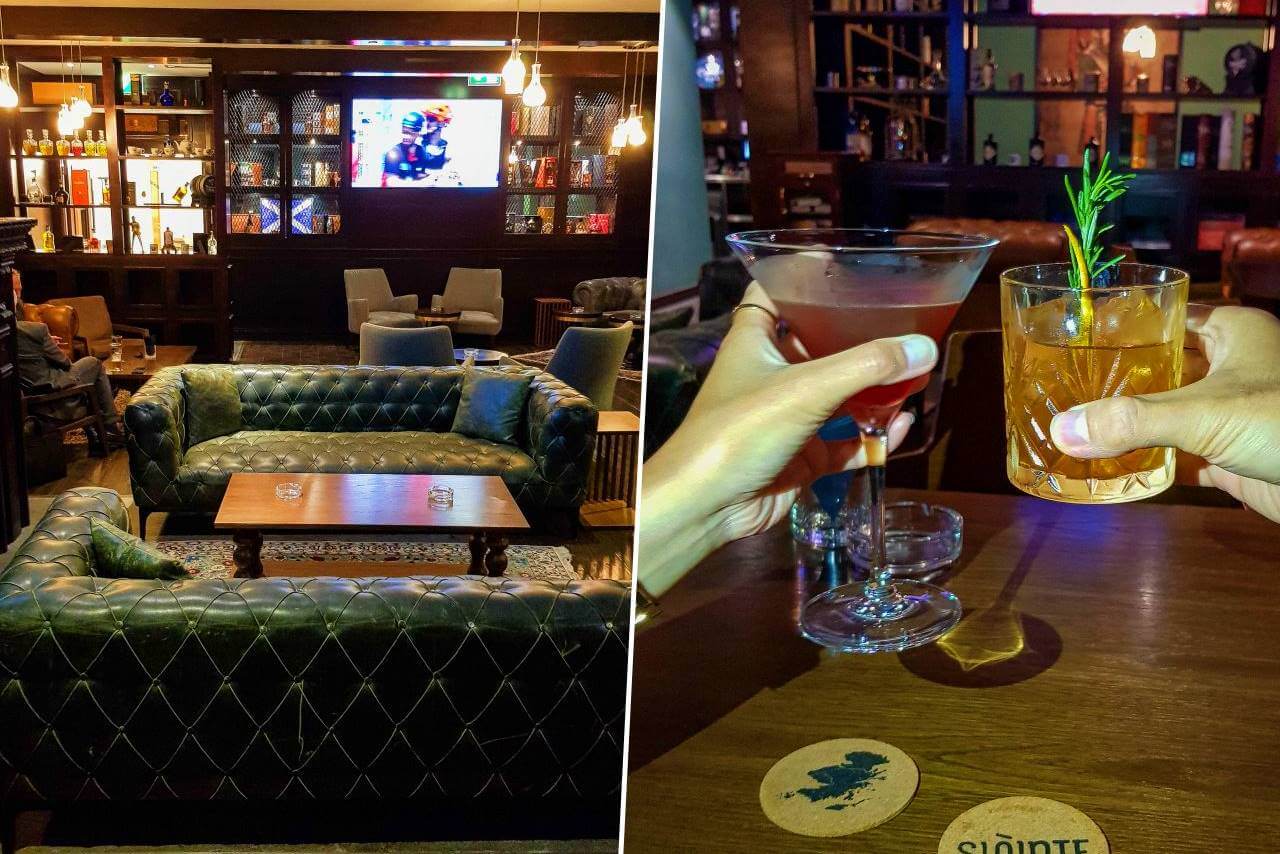 Makar Scottish Bar night
Swimming Pool
Located on P3 Level, the pool at Radisson Blu Hotel, Dubai Waterfront is one of the facilities we wanted to check out. The pool size was a great way to cool off in the Dubai summer heat. They also have a pool bar where you can order some refreshments. We ordered a couple of cocktails during that afternoon.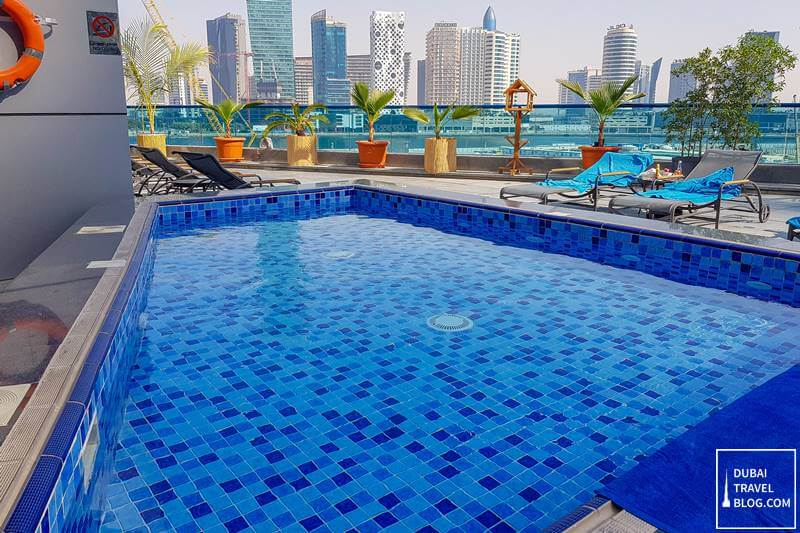 pool area with a view of Business Bay
enjoying the pool at P3 Level
Gym & Fitness Center
The hotel also has a gym that guests can use for free. The gym is well-equipped and has everything you need for a good workout. There is also a separate steam room and sauna for male and female guests.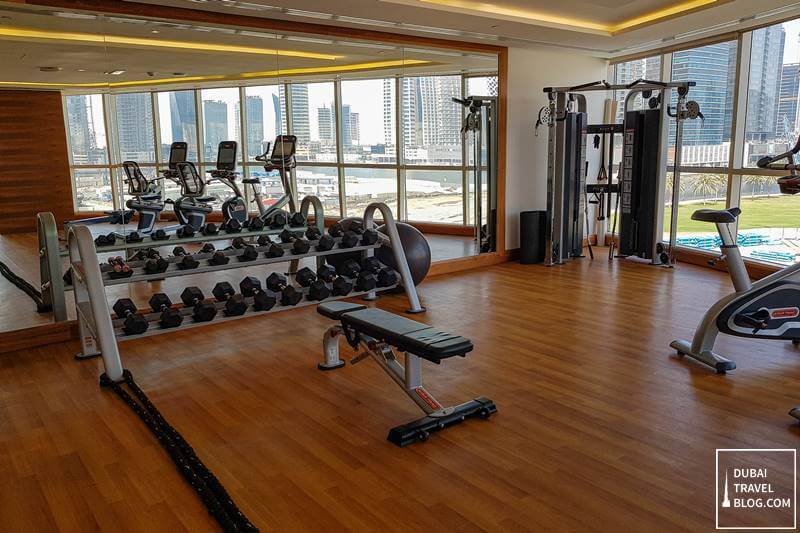 fitness center
gym equipment
Dreamworks Spa
There's also a third-party spa managed by Dreamworks Spa. The spa offers a variety of treatments and services. We didn't get to try the spa as we didn't have much time. But I remember that Dreamworks Spa is one of the best experiences we've had recently. They're on Entertainer Dubai App too 🙂
Dreamworks Spa
separate steam and sauna rooms for male and female
90 Photos of Radisson Blu Dubai Waterfront Staycation
Check out this photo album of images during our staycation experience below:
Video: Staycation at Radisson Blu Dubai Waterfront Staycation
Check out this video clip of our staycation experience to give you an idea of what to expect when you check into this hotel:
Summary
The Radisson Blu Hotel, Dubai Waterfront is a luxurious hotel located in the heart of Dubai. It offers its guests a variety of services and amenities, including an outdoor pool, spa, fitness center, and several restaurants. The rooms are spacious and well-appointed with all of the modern conveniences one would expect from a five-star hotel.
We had a wonderful time in this hotel which has been regarded as a top business hotel in Dubai. The staff were professional and courteous at all times, and the room was clean and comfortable. The breakfast buffet was excellent, with a wide variety of food on offer. We would definitely recommend this hotel to anyone looking for a luxurious and relaxing experience in Dubai.
lobby
Radisson Blu brand
Premium room with balcony and view of Burj Khalifa
Contact Information
Radisson Blu Hotel, Dubai Waterfront
Address: P.O. Box 16021 Marasi Drive, Business Bay, Dubai, United Arab Emirates
Telephone Number: +971 (0) 4 249 7800
Email: info.waterfront.dubai@radissonblu.com
Website: https://www.radissonhotels.com/en-us/hotels/radisson-blu-dubai-waterfront
Facebook: @radissonbluhoteldubaiwaterfront
Instagram: @radissonbludubaiwaterfront
Google Map Location
Please see the map guide below which directs you to the location of the Radisson Blu Hotel, Dubai Waterfront: