After checking out at Radisson Blu Hotel, Dubai Waterfront, we proceeded to the FireLake Grill House & Cocktail Bar for lunch. Located at the P3 Level of the five-star property, the restaurant features a relaxed and comfortable atmosphere with delectable cuisine and handcrafted beverages prepared to order.
Also Read: Makar Scottish Bar in Radisson Blu Hotel, Dubai Waterfront
The restaurant honors the US Midwest's tradition of charcoal, wood oven, and open flame cooking, so they use smoke and fire to enhance their homegrown dishes.
Their food is cooked to delicious perfection and with just the right amount of local flavor, thanks to their skilled chefs. From succulent steaks to sizzling seafood, they prepare all of the dishes on the grill or barbeque.
Alcohol: YES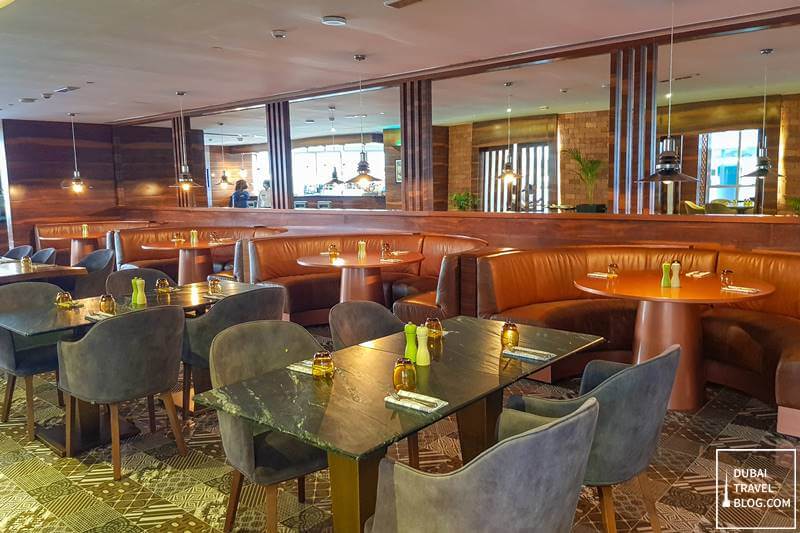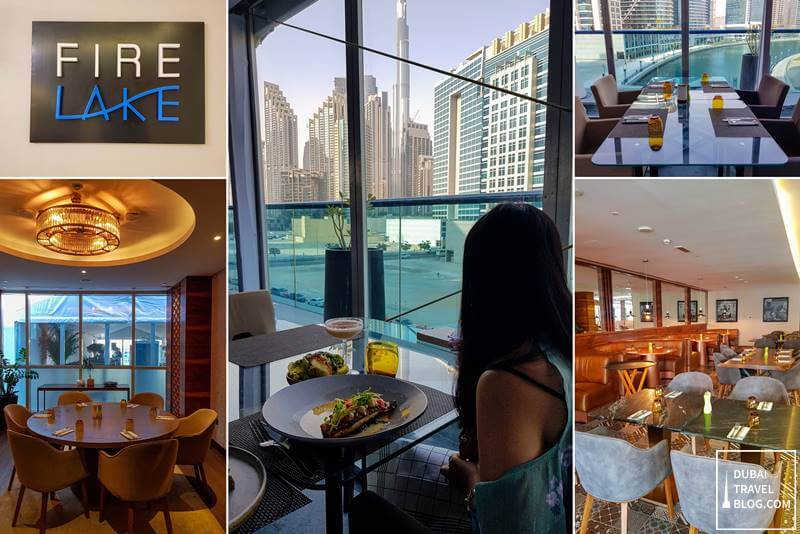 Restaurant Review: FireLake Dubai at Radisson Blu Hotel, Dubai Waterfront in Business Bay
FireLake's terrace offers a great view of Burj Khalifa so guests can dine while enjoying the stunning vista of the tallest building in the world. The indoor seating area is also cozy and perfect for a romantic dinner.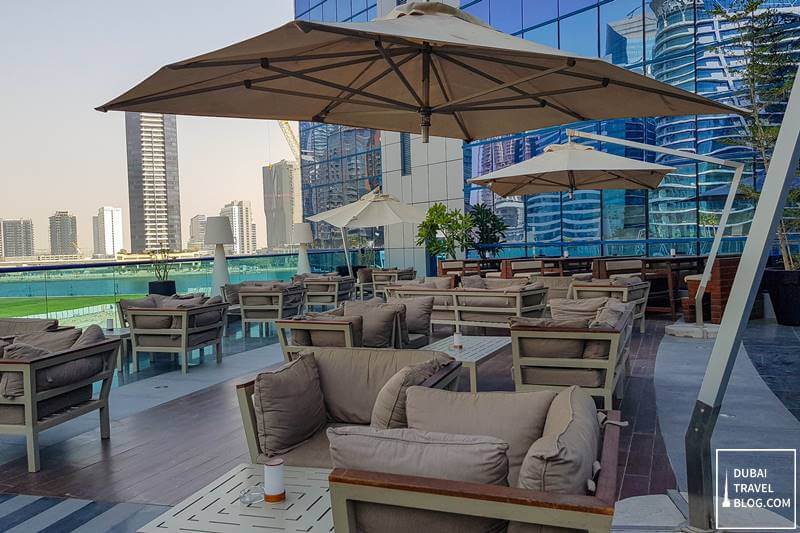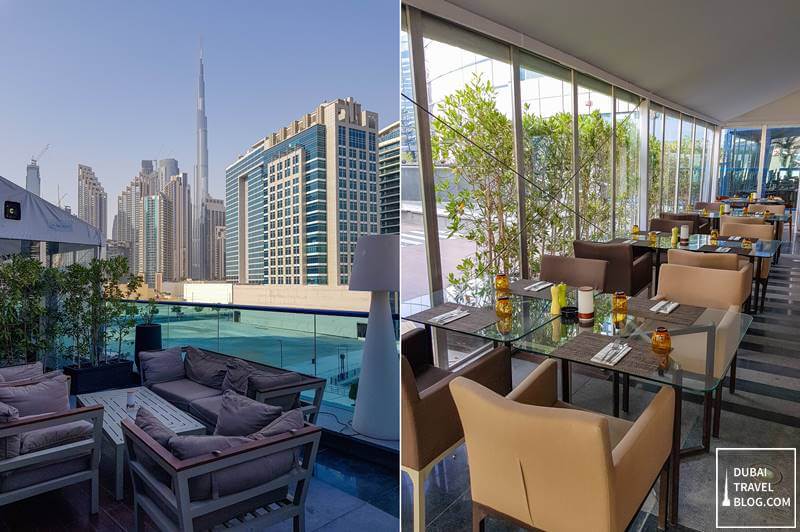 Appetizers / Starters
For starters, we had the tuna ceviche and the chicken gyoza. The gyoza was really good! Would like to come back just to eat it again.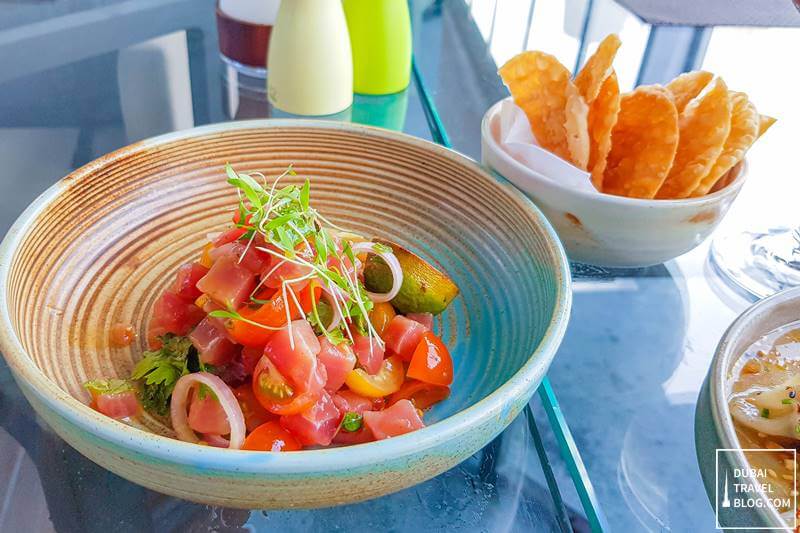 Yellowtail Tuna Ceviche – AED 90
Aji Amarillo, White Soy, Yuzu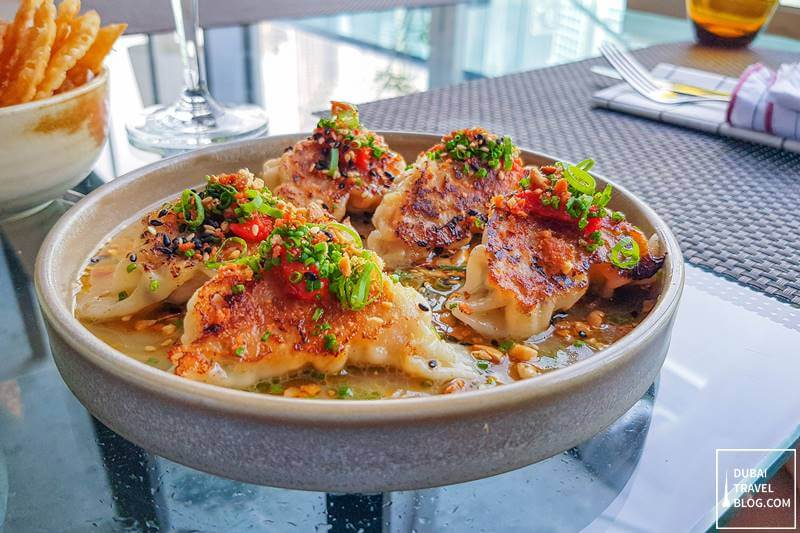 Chicken & Shiitake Gyoza – AED 65
Blackened Chili, Yuzu Dashi, Sesame
Main Course
For the main course, we opted for their New York Strip steak and their Charred Red Snapper. The steak was good, but the red snapper was so flavourful especially with its fresh ingredients.
Additionally, the side dish extras were also great, especially the coal-roasted cauliflower.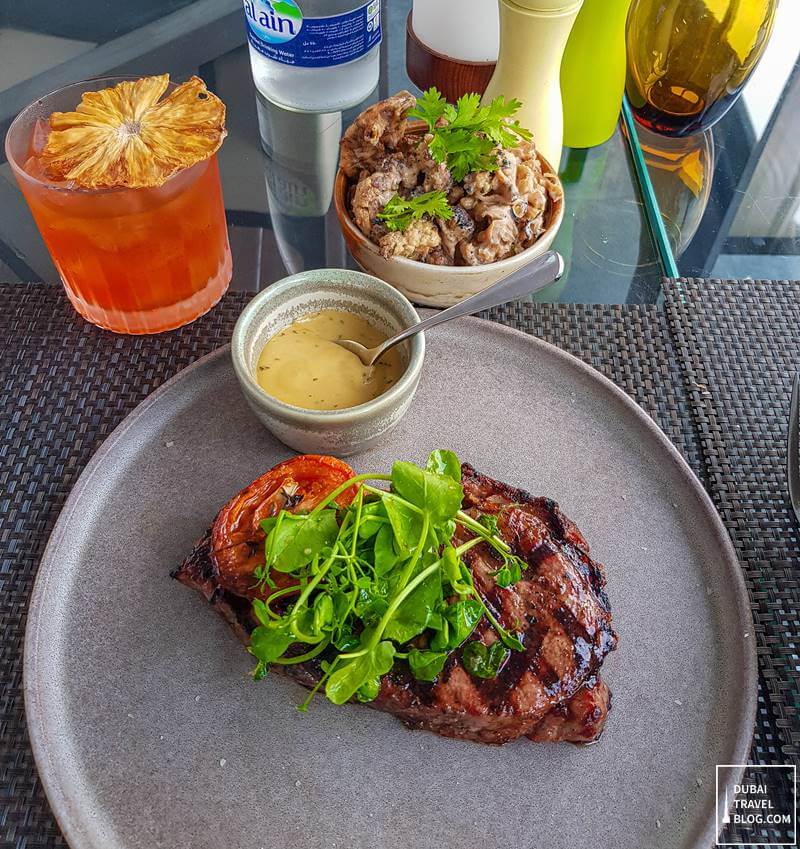 New York Strip Steak – AED 220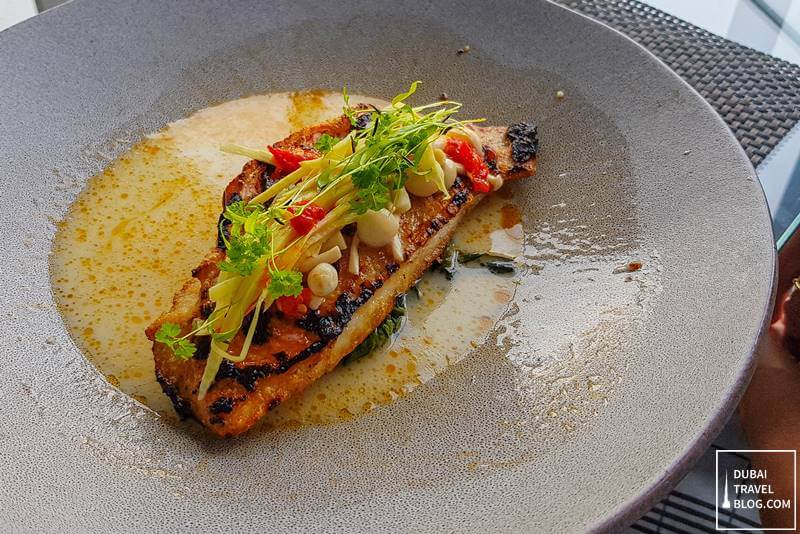 Charred Red Snapper – AED 140
Coconut Lime Broth, Shimeji Mushroom, Cmoked Chili Oil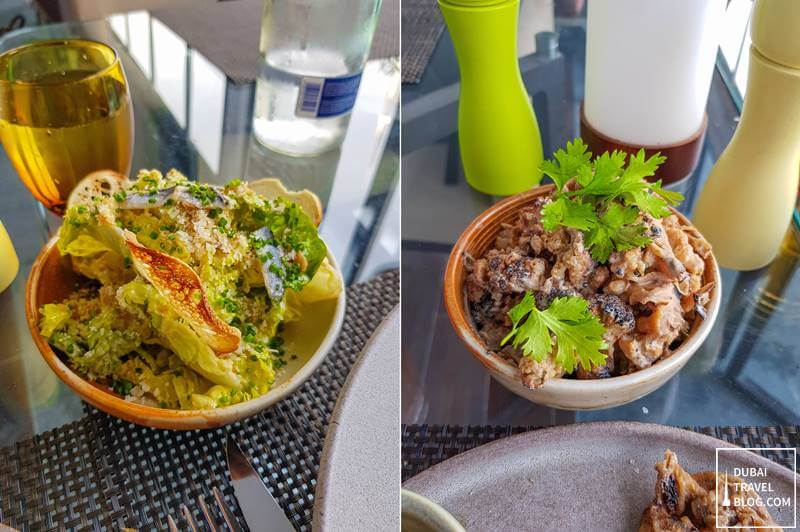 A Proper Mini Ceasar Salad – AED 25
Coal-Roasted Cauliflower – AED 30
Desserts
For desserts, we had a cheesecake and mille-feuille. We preferred the latter over the former.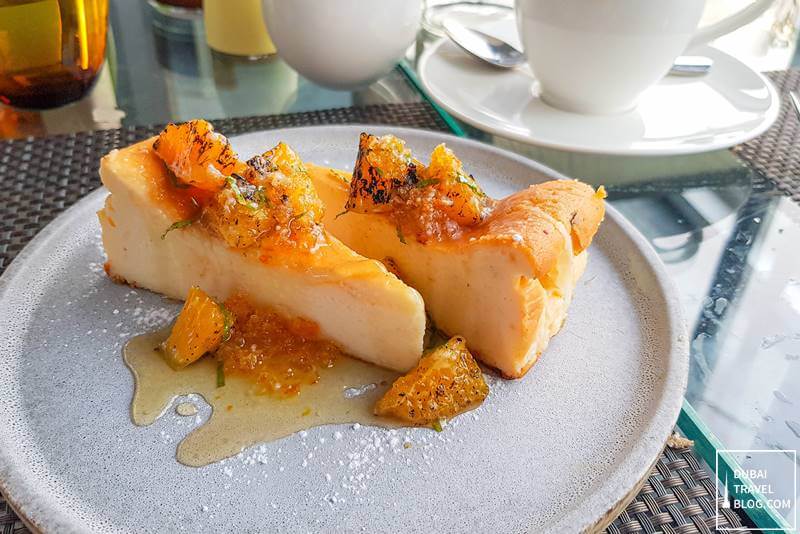 Basque Cheesecake – AED 50
Charred Orange Salad, Orange Marmalade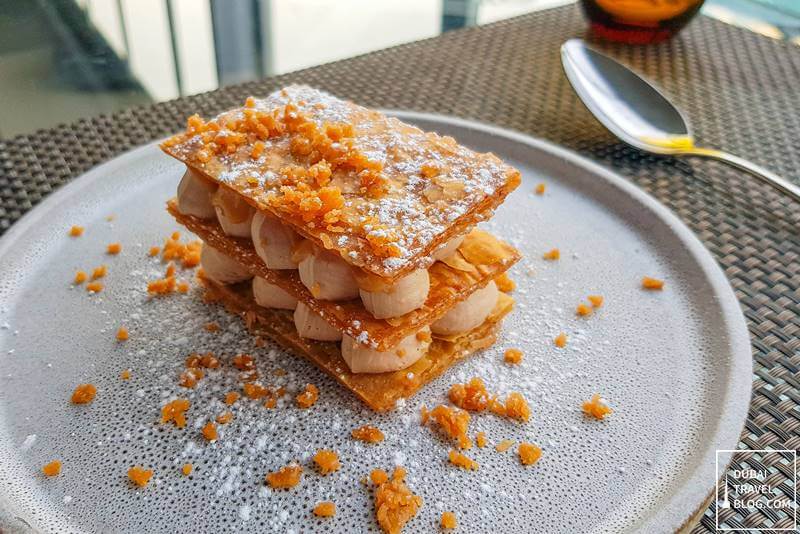 Mille-Feuille – AED 55
Milk Chocolate, Salted Caramel, Sesame Crunch
Drinks
For the drinks, they have a variety of cocktails and mocktails, all of which are sure to tantalize your taste buds. The bartenders are also very passionate about their drinks and are always willing to make something special for you.
We ordered a couple of cocktails that complemented our food.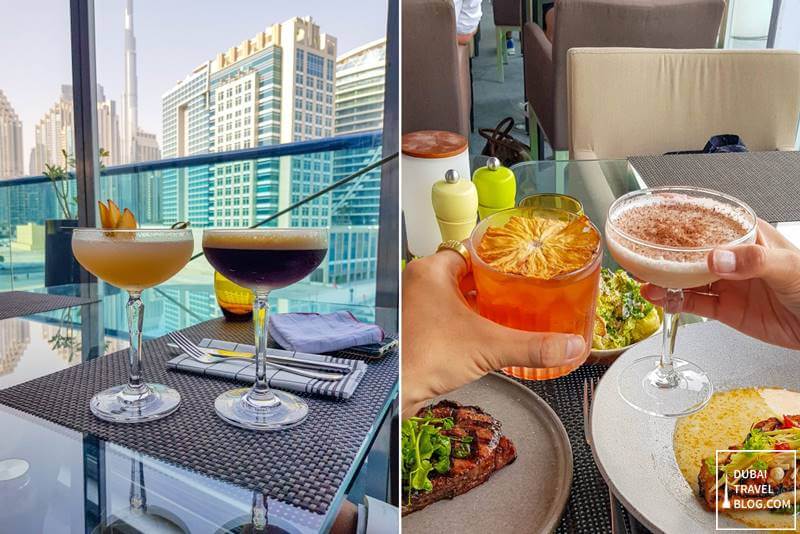 Peach Cosmo – AED 75
Ketel One, Peach Schnapps, Peach Puree, Lemon, Orange Bitters
Espresso Martini – AED 65
Stolichnaya Vodka, Cafe Liqueuer, Espresso, Vanilla Syrup
Spiced Rum Old Fashioned – AED 75
Takamaka Spiced Rum, Pineapple Syrup, Angostura Bitters, Dehydrated Pineapple
The Troublemaker – AED75
Amarula, Stolichnaya Vodka, Creme de Cacao, Vanilla, Shaved Chocolate
27 Photos of Firelake Grill House Dubai
Check out these pictures of our experience in this restaurant during lunch time here:
Summary
The FireLake Grill House is a stylish seafood restaurant located in the Radisson Blu Hotel Dubai Waterfront. The restaurant offers a wide range of seafood dishes, as well as a variety of steaks and grilled meats.
The menu includes both traditional and modern dishes, and the chef is always happy to prepare a custom meal if you have specific dietary requirements.
The restaurant has an extensive wine list, and the knowledgeable staff can help you choose the perfect bottle to accompany your meal. The FireLake Grill House is the perfect place to enjoy a romantic dinner or a celebration with family and friends.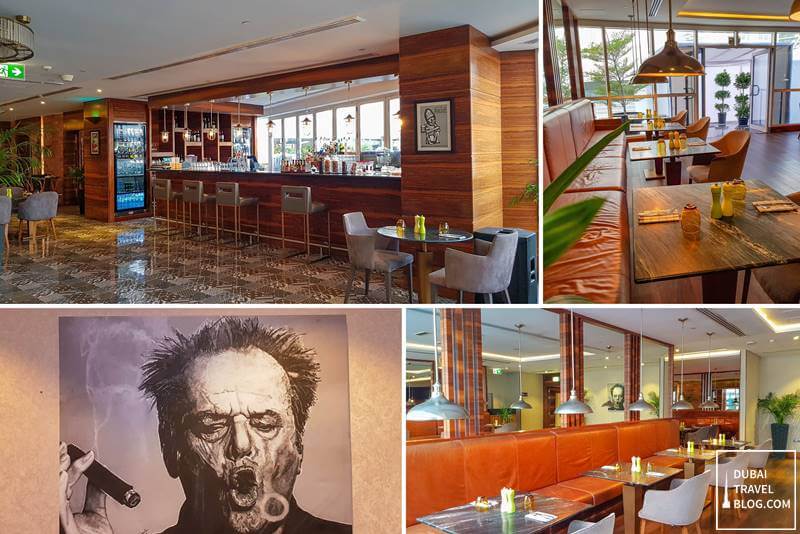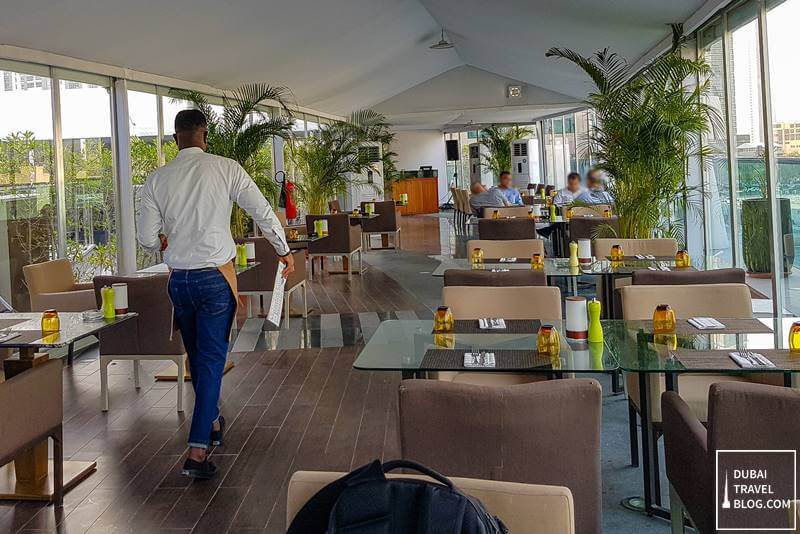 Contact Information
FireLake Dubai
Address: Business Bay, Dubai, United Arab Emirates
Telephone Number:
Email: firelake.waterfront.dubai@radissonblu.com
Website: https://firelake.ae/
Instagram: @firelake_dubai
Facebook: @FireLakeGrillHouseAndCocktailBarDubai
Google Map Location
Here's the map guide to the location of FireLake Grillhouse and Cocktail Bar Dubai: