The Sky High Brunch at the Observatory Bar & Grill is one of Dubai's well-known brunches that feature one of the best 360 panoramic views of Dubai Marina and Palm Jumeirah.
Located on the 52nd floor of the Dubai Marriott Harbour Hotel & Suites, this flight-themed brunch has been re-designed to feature a 4-course set that is delivered to your table. The restaurant team has carefully crafted a delicious menu with a variety of dishes to suit all tastes.
It's still an unlimited serving of food and drinks so if there's something from their menu that you fancy, you can go for a second or third serving. But a word of caution, the food servings they prepare in every course are more than enough. Pace yourself as you indulge in each course and enjoy the atmosphere.
Alcohol: YES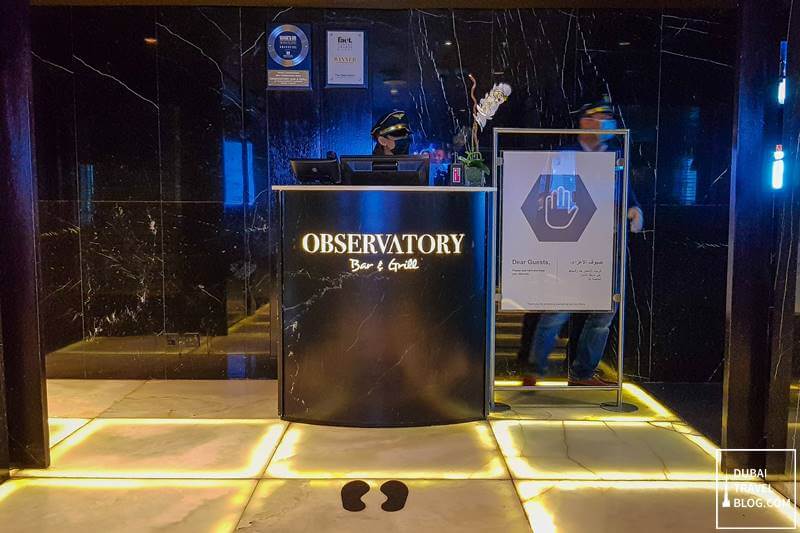 entrance
Observatory Bar & Grill
Observatory Bar & Grill Brunch at Dubai Marriott Harbour Hotel & Suites
It's been a while since my wife and I last went out for brunch in Dubai. Due to our work schedules, we don't get the usual weekends off. That's why when the opportunity to sample the Saturday Brunch at the Observatory Bar & Grill, we didn't hesitate to reserve a spot.
After Dubai updated its workweek and changed weekends to Saturdays and Sundays, hotels and restaurants have also switched from Friday Brunch experiences to Saturdays. The Sky High brunch has also modified its menu and we find it better than the food is served straight to your table.
Upon arrival, we were greeted by the host with a pilot cap and we were escorted to our table. The view from the restaurant is amazing – 360 degrees of Dubai Marina and Palm Jumeirah. It's definitely worth going for this alone!
starting the brunch!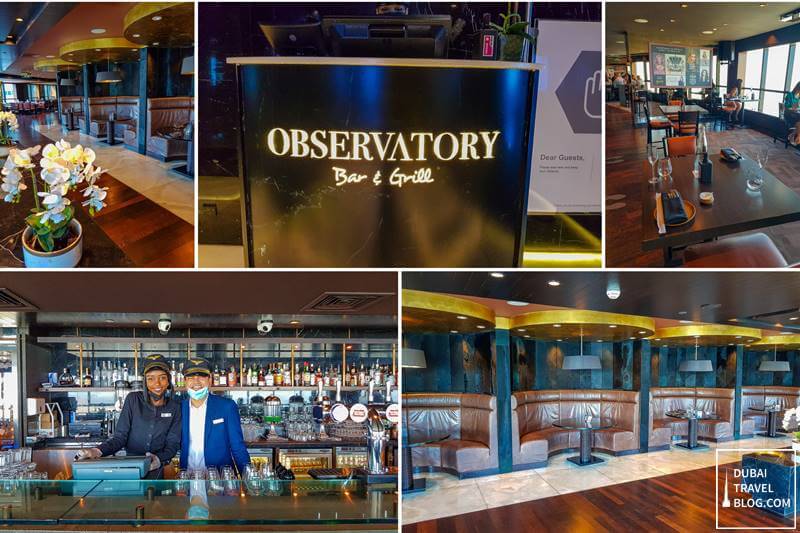 located on the 52nd floor of Dubai Marriott Harbour
Sky High Brunch Menu
The brunch is categorized into 4 courses, with each course having its own signature theme name – All Aboard, Buckle Up, Cruising Altitude, and Descend to Final Destination. Instead of going to a buffet spread, the drinks and food are served to your table. We're so spoiled in Dubai. 😉
Below are your menu options from the 4 courses:
First Course – All Aboard
The first course featured a couple of salads and a charcuterie board. Paired these with our welcome sparkling wine and cocktails, it was a great way to start the brunch experience.
Charcuterie – a selection of pork cuts, meat cold cuts, pickles, and olives, with Bried and Cheddar
Pesto Ricotta and Dried Tomato with Caramelized Onion, Spinach, Pesto Sauce
Beluga Lentil Salad with Roasted Golden Beet, Rocket Lettuce
appetizers – charcuterie and salads
first course
2nd Course – Buckle Up
The 2nd course features some Asian items. We liked the eggplant lettuce cup, pulled beef bao, and the dim sum basket.
Eggplant Lettuce Cup with Hoisin Sauce, Crispy Noodles
Pulled Beef Bao with Asian Slaw, Miso Venerate
Dim Sum Basket – Prawn Har Gow, BBQ Chicken Bun, Vegetable Dumpling, Seafood Fried Curry Dumpling
Assorted Sushi Rolls
Asian dimsum, bao, sushi, and eggplant lettuce cup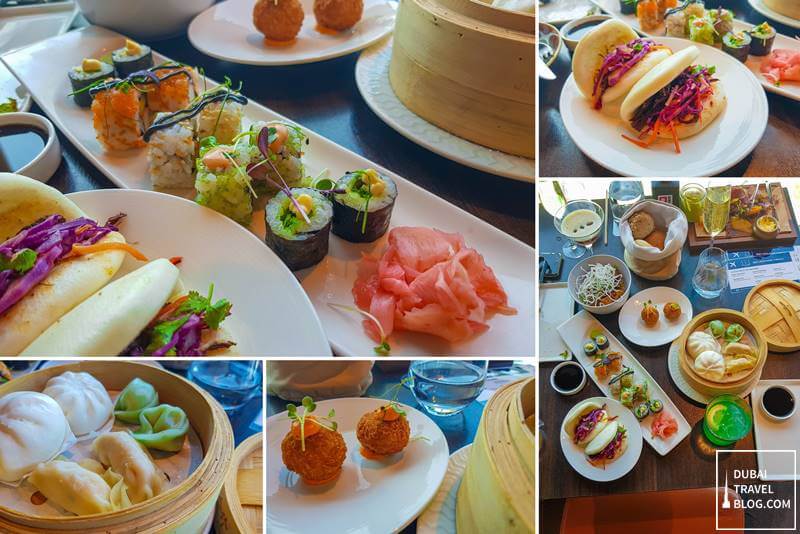 Sky High Brunch at Observatory Dubai
Main Course – Cruising Altitude
I found the main course particularly satisfying, especially the pork meat platter. Guests who have specific dietary requirements need not worry as the team can adjust the menu accordingly. They will ask you if you have any specific requirements to cater to your preferences.
Pork Platter – Succulent Pork Belly, Pork Schnitzel, Chipolata Sausage, Korean BBQ Ribs
Mixed Grill Platter – Satay Prawns, Pan Seared Salmon, Lamb Rump, Beef Anticuchera, Chicken Cordon Bleu
Pumpkin Tortellini
Potatoes au Gratin
Roasted Vegetables
main course items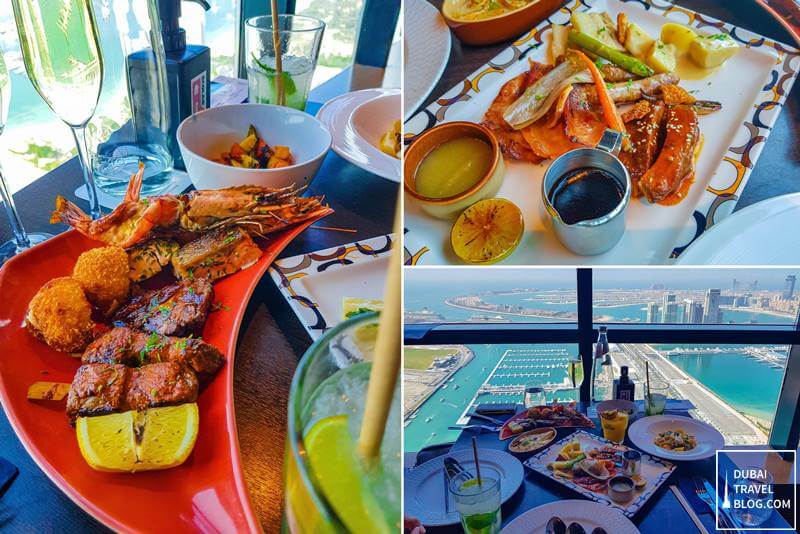 main course at Sky High Brunch
Desserts – Descend to Final Destination
Save room for desserts as they feature a trio of them. Must-try is the coffee chocolate crokine and cheesecake.
Coffee Chocolate Crokine with Toasted marshmallow, cookie crumble
Dulce de Leche Cheesecake with Oreo Crust, Banana Cream, Pecan Tuile
Pear Frangipane Tart with White Chocolate Ice Cream, Roasted Almond Flakes
dulce de leche cheesecake, pear frangipane tarte, and coffee chocolate crokine
Drinks
The drinks include a selection of finely crafted cocktails. We especially enjoyed the Cockpit, Window Seat, Exotic Destinations, and Landing Gear.
Exotic Destinations – Vodka, Passion Fruit, Raspberry
Boarding Gate – Aperol, Soda, Sparkling Wine
Customs Clearance – Whisky, Bitters, Lemon
Window Seat – Rum, Orange, Pineapple, Bitters
Cockpit – Tequila, Passion Fruit, Vanilla
Turbulence – Vodka, Cranberry, Orange, Lychee
Landing Gear – Gin, Mixed Berries, Rose Water, Elderflower
Wines – Sparkling, White, Rose, Red
Spirits – Vodka, Gin, Rum, Whisky, Tequila
House Bottled Beer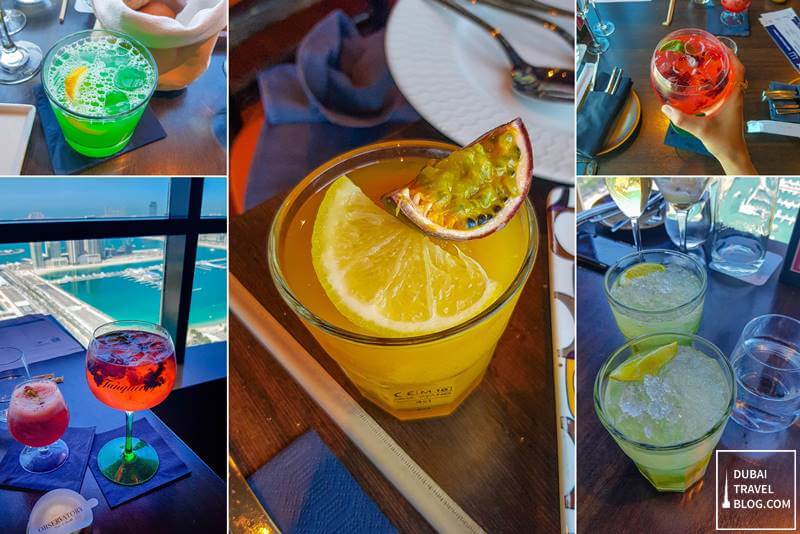 variety of drinks – unlimited during brunch!
register for Marriott Bonvoy and get a some free perks like this Espresso Martini 🙂
Landing Gear cocktail
360-View from the 52nd Floor
As mentioned, one of the main highlights of this brunch experience is the panoramic view of Dubai Marina and Palm Jumeirah. The restaurant is located on the topmost floor and this makes for a great backdrop as you enjoy your meal with friends or family.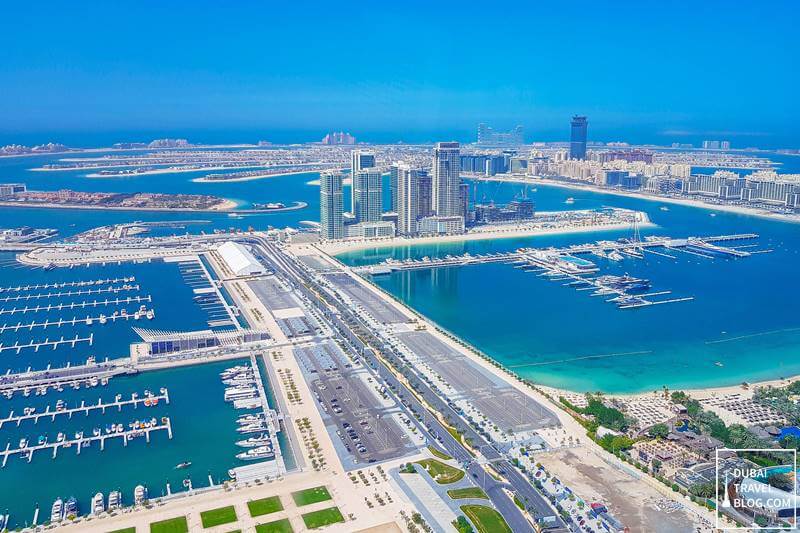 Palm Jumeirah
beautiful view of Dubai
Dubai Marina view
Photos of Sky High Brunch at Observatory Bar & Grill Dubai
Check out these pictures we've taken during our brunch experience in this restaurant:
Video: Observatory Bar & Grill Brunch
Here's a quick video recap of what you can expect in this brunch experience:
Summary
Aside from their Sky High Brunch, the restaurant is open everyday for lunch, happy hour, and dinner with a la carte menu items. Plus points as there's a Buy 1 Get 1 offer via Entertainer Dubai App!
It was a memorable experience for us due to the variety of food and drinks, combined with the exceptional view.
So if you're looking for a unique brunch experience with fantastic views, be sure to check out the Sky High Brunch at Observatory Bar & Grill! It's definitely one not to be missed.
Contact Information
Observatory Bar & Grill
Opening Hours: Sunday to Friday: 12:00 PM – 12:00 AM, Saturday: 12:30 PM – 12:00 AM
Address: 52nd Floor, Dubai Marriott Harbour Hotel & Suites, King Salman Bin Abdulaziz Al Saud Street, Dubai Marina, Dubai
Telephone Number: +971 4 319 4000
Email: eatatharbour@marriott.com
Website: https://www.marriott.com/en-us/hotels/dxbhr-dubai-marriott-harbour-hotel-and-suites/overview/
Facebook: facebook.com/DubaiMarriottHarbour
Instagram: @ObservatoryDubai, @MarriottHarbour
Google Map Location
Below is a map guide to the location of Dubai Marriott Harbour Hotel & Suites. The Observatory Bar & Grill is located on the 52nd floor. Valet parking is available in the hotel. Arrive early as it can get busy waiting in the elevator.