There's a Thai restaurant in JBR that we just came across and it's called Mango Tree Thai Bistro located at the Hilton Hotel The Walk. We went there on a Wednesday evening and sampled their tasty a la carte menu.
Mango Tree Thai Bistro promises a creative style of dining to classic Thai food. My wife and I were looking forward to our experience especially when we were craving for meals that include rice. Plus points that they this is a licensed restaurant so we get to enjoy some drinks in our meals. 😉
Alcohol: YES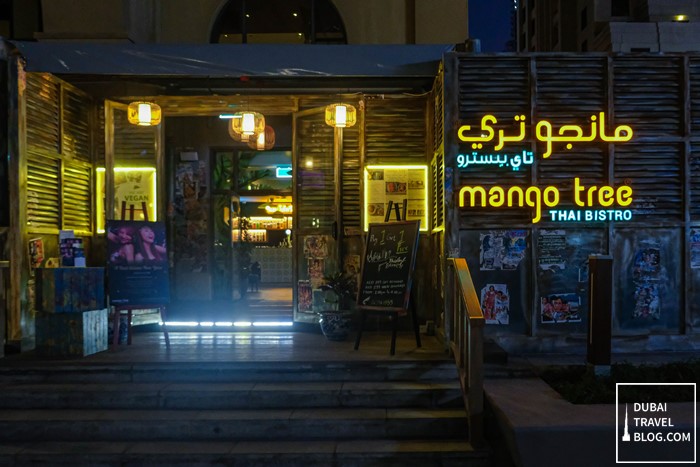 Mango Tree Thai Bistro entrance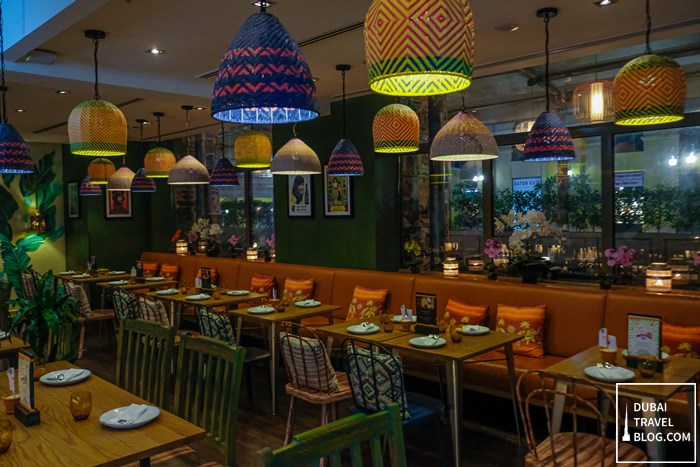 interior
Restaurant Review: Thai Restaurant Mango Tree Thai at Hilton JBR The Walk
The design of the outdoor area is inspired from the streets of Thailand, with Thai posters plastered on the walls and lovely Asian lamps adorning the ceiling. The interior has colorful comfortable chairs and a relaxed vibe overall.
As we are enjoying the winter season climate in Dubai, we chose to dine outdoors.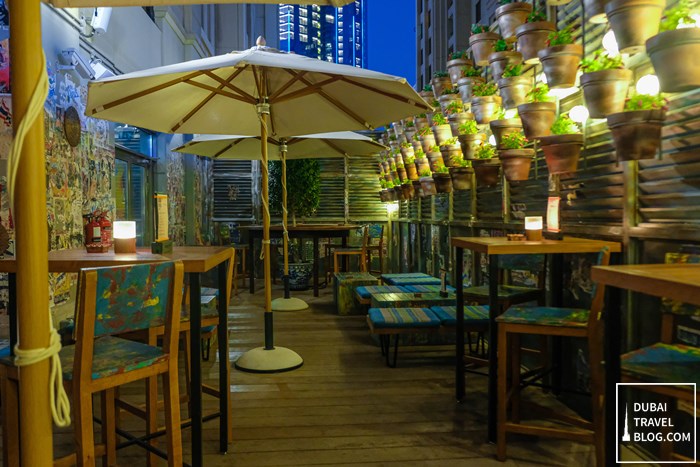 outdoor area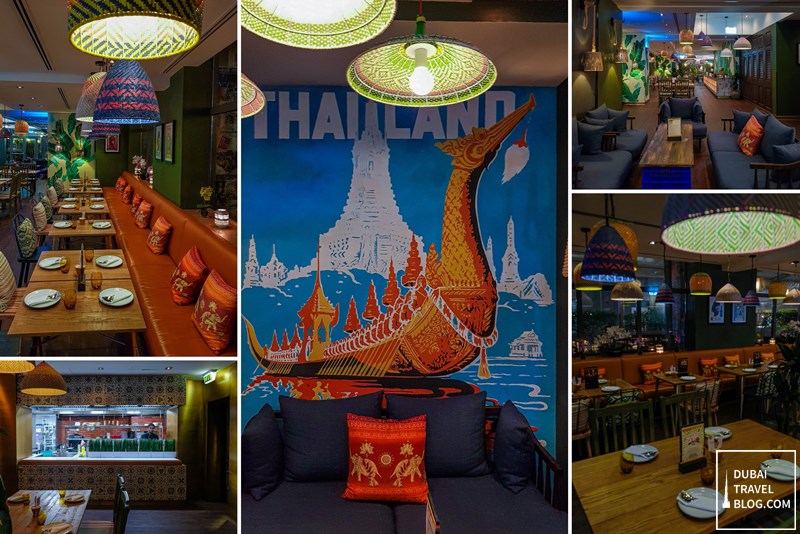 colorful interior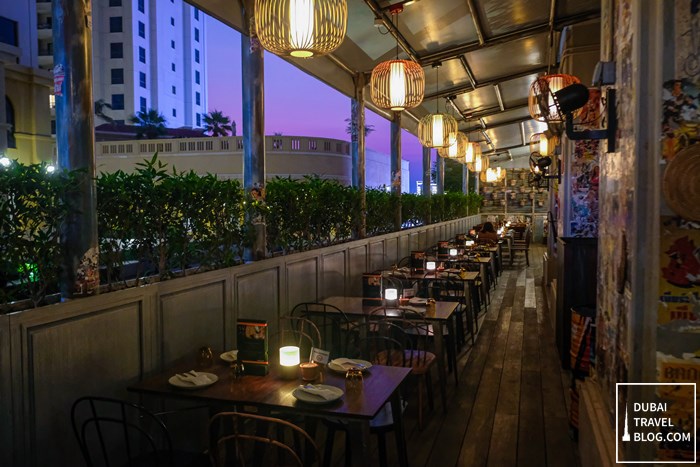 outdoor
Starters / Appetizers
There were so many small plates to choose from. We settled for Garlic Prawns with Peppercorn, Crab Cake, Spring Rolls, and Watermelon Salad with Dried Shrimp.
The Watermelon salad was something I haven't seen before that's why upon checking out the photo from their menu, I immediately ordered it. It's a refreshing salad with a nice kick to it when mixed with the dried shrimp. My wife and I also enjoyed the rest of the appetizers, especially the spring rolls and the crab cake. The ingredients are fresh and home-made, as what we were told by their resident Thai chef, Chef Atip.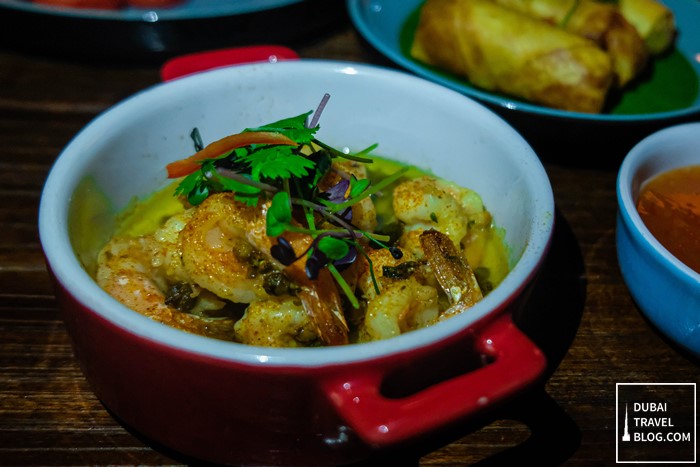 Sauteed Garlic Prawns with young Peppercorn – AED 50
(Goon Phad Naey Gra Tiem)
Sauteed prawns, garlic and young peppercorn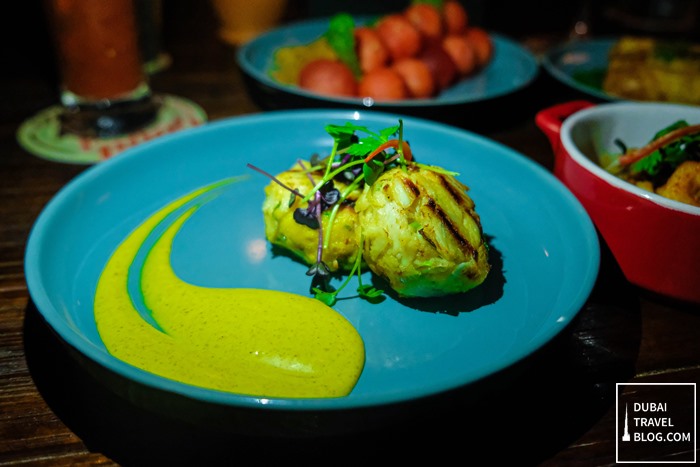 Hua Hin Crab Cake – AED 49
(Thod Mun Poo Hua Hin)
House-made crab cakes with yellow curry Mayo dipping sauce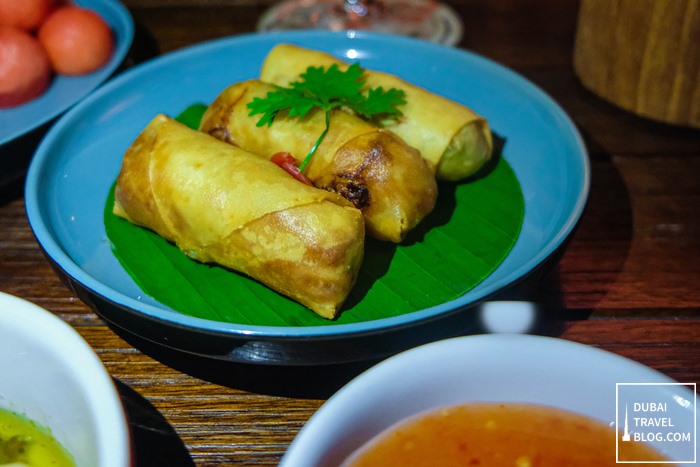 Crispy Phad Thai Spring Rolls (Por Pia Phad Thai) – AED 35
A vegetarian twist to traditional spring rolls, infused with Phad Thai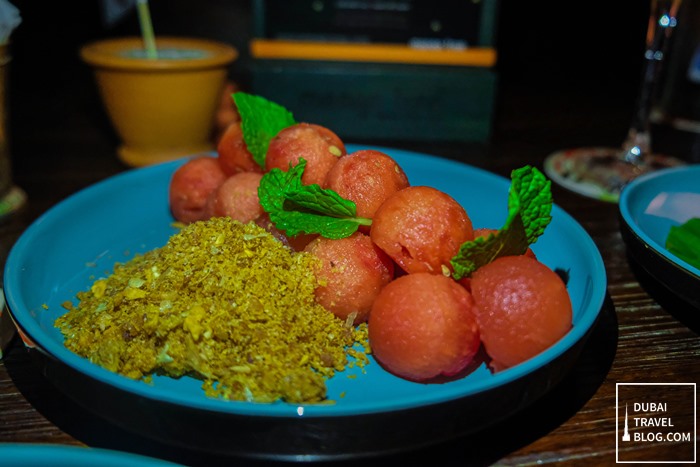 Watermelon Salad with Dried Shrimp – AED 45
(Yum Tangmo Goong Haeng)
Lightly chilled watermelon balls with dried shrimp – a great refreshing dish – must try
Main Course
For the main course, we had the Jungle Curry with lamb chops, Deep-fried Seabass, and Phad Thai Shrimp Noodles.
The Jungle Curry proved to be very flavoursome with plenty of ingredients in the dish. We wanted to adjust the spiciness of the dish but the staff mentioned that this cannot be adjusted as it would make the overall taste different. True enough, the spiciness required us to order a few more drinks, but it's very tasty and would be something I recommend to those who enjoy spicy food.
My wife thoroughly enjoyed the Phad Thai noodles, too.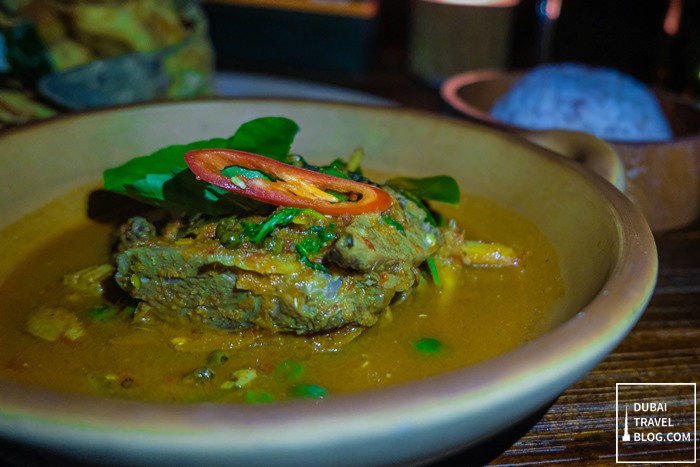 Jungle Curry Short Ribs / Lamb Chops – AED 85
(Gaeng Pa Nua)
From the mountains of Thailand, a spicy red curry reduction without coconut milk, fingerroot, baby peppercorns, kaffir lime leaves with beef short ribs / lamb chops – if you like spicy – test your will on this one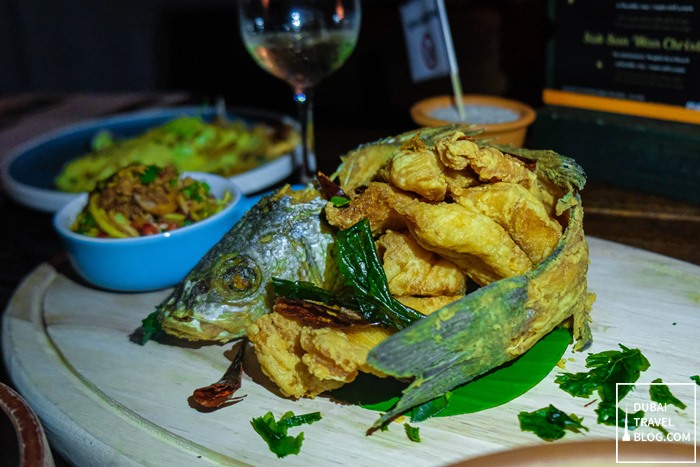 Deep-Fried Sea Bass with Thai Herbs & Spicy Chilli Jam Sauce – AED 169
(Pia Lui Suan)
Fried sea bass fillet tossed with Thai herbs & spicy tamarind sauce, served over whole fish bone
Phad Thai Shrimp – AED 60
World Famous Thai noodle dish with Chan noodles, yellow tofu, fermented radish and a slightly sweet & spicy tamarind sauce
Dessert
Given how spicy our main dishes were, and knack for cold sweets, we ordered two servings of their Thai desserts. We had the Mango Sticky Rice and their Chatuchak Street Style Ice Cream topped with red ruby, nuts, jackfruit, topped on sticky rice.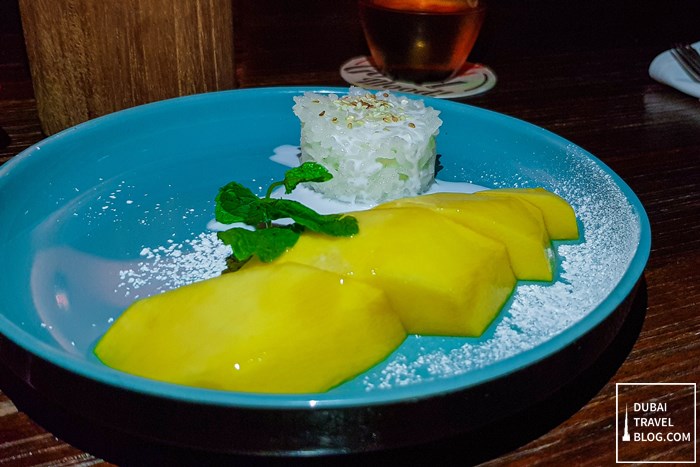 Sweet Mango Sticky Rice – AED 40
(Khao Niew Mamuang)
We couldn't be living up to our name if we didn't have this dish – Thai sweet ripe mango, served with coconut sticky rice, topped with thickened coconut milk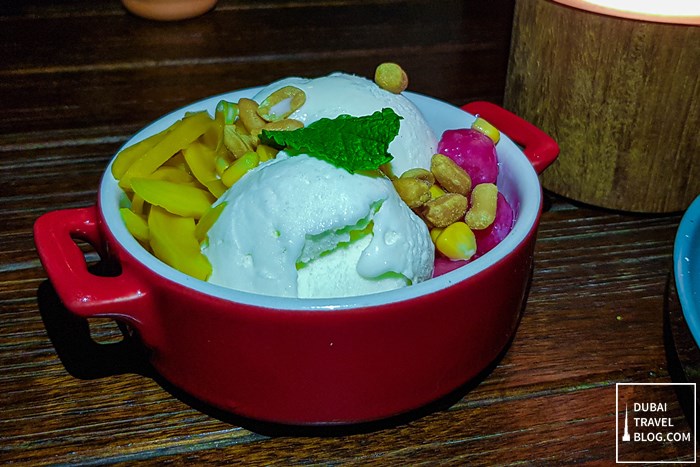 Thai Street Ice Cream – AED 40
(Chatuchak Street Style Ice Cream)
House-made vanilla or coconut ice cream, served with corn, jackfruit, red ruby and peanuts. SO you can top just the way you like it
Drinks
For drinks, they have a number of wines, spirits, cocktails, and beverages. I ordered a Thai cocktail called Frozen Mango Bellini which is vodka-based drink. My wife had a Bloody Mary.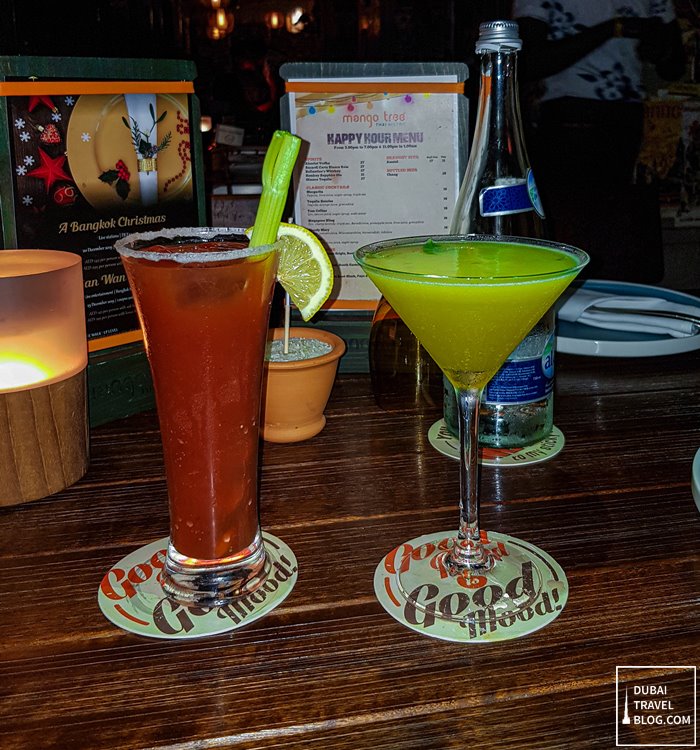 Frozen Mango Bellini – AED 59
vodka, fresh mango, orange juice, peach schnapps, topped with red wine
Bloody Mary – AED 55
Vodka, tomato juice, Worcestershire, horse radish, Tabasco, soda water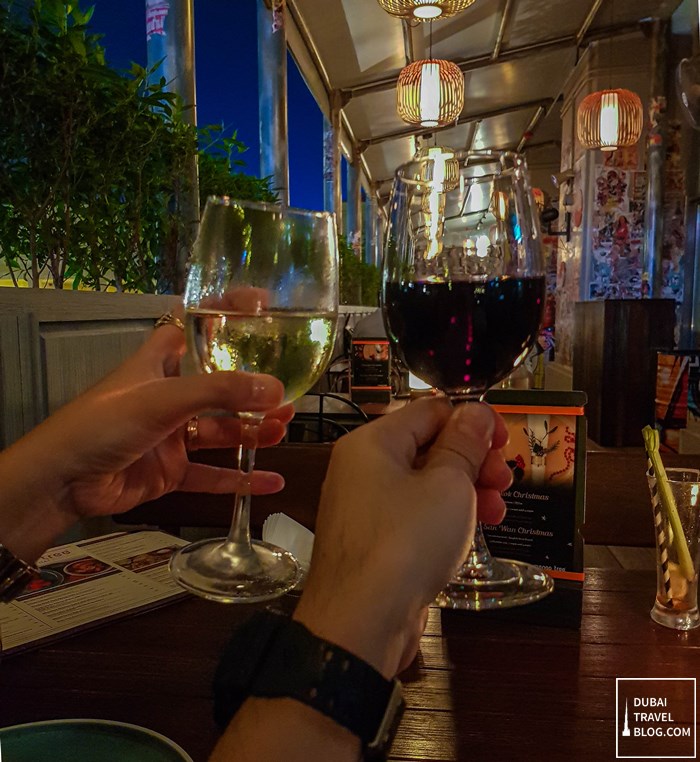 white wine, red wine
We really enjoyed the evening with plenty of dishes available. Ingredients are fresh and home made so we really loved the quality of the food.
Chef Atip also mentioned that they can customize a Thai dish according to your request. If you've prefer something that's not on the menu, you can talk the resident Chef and they'll whip up something that would suit your taste.
We were very full that evening and thanked the team for the wonderful service and Chef Atip for the deliciously-prepared meals.
Video: Mango Tree Thai Bistro Restaurant
Here's a quick video clip of our experience on what you can expect from this restaurant serving delicious Thai food:
Mango Tree Thai Bistro brings a creative style of Thai dining to Dubai, adding a new twist to classic cuisine. The menu highlights the cuisine of southern Thailand, which blends perfectly with local tastes. Enjoy an array of seafood dishes, signature curries, Thai BBQ grills, famous noodles, and rice in the heart of JBR.
Sunday to Thursday: 5:00 pm until 1:00 am
Friday & Saturday: 12:00 pm until 1:00 am
Contact Information
Address: The Walk – Dubai
Telephone Number: 04 374 7555
Website: https://www3.hilton.com/en/hotels/uae/hilton-dubai-the-walk-DXBBRHI/dining/index.html
Facebook: @MangoTreeJBR
Instagram: @mangotreejbr
Google Map Location
Below is a map guide to the location of Mango Tree Thai Bistro. The restaurant is located at Hilton Hotel in JBR. You can have a valet service at the hotel.