If you're looking for something different to do, you may want to head out to Infinity Des Lumieres, Dubai's newest attraction in The Dubai Mall. Located at the 2nd level of The Dubai Mall facing Galeries Lafayette, this is the biggest digital art center in the region.
Also Read: 4 Tours to Understand Emirati Culture as Offered by SMCCU
Infinity Des Lumieres is a digital art museum that currently features 3 exhibitions – the Van Gogh exhibit, Dreamed Japan exhibit, and the Verse exhibit. In the future, Infinity des Lumieres plans to host more exhibits with the same immersive experience. They aim to become a platform where artists can create and present their output.
What to Expect at the Infinity Des Lumieres in The Dubai Mall
So what can people expect when they enter this place? Visitors can enjoy a fully immersive artwork experience with lights, sounds, and visuals. Art moves in every direction and you can sit, walk, and explore the huge gallery.
The museum has an area of over 2,700 square meters. It is equipped with over 130 projectors, 58 speakers, and 3000 high-definition images all pieced together in this digital masterpiece.
The museum staff was very accommodating. Upon our entry, they walked us to an area featuring the exhibit so we would know what's in store for us.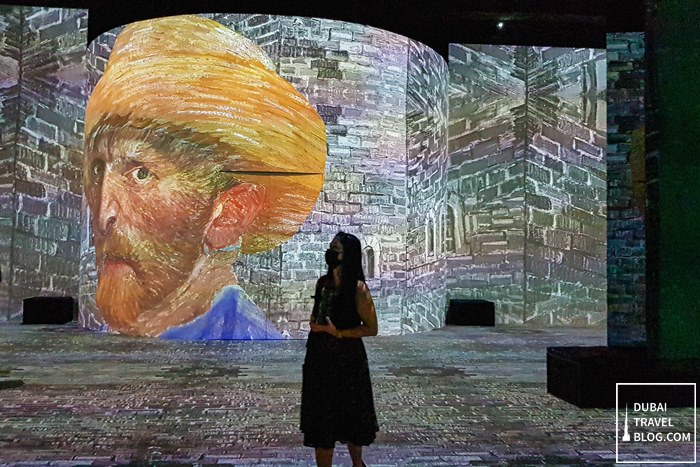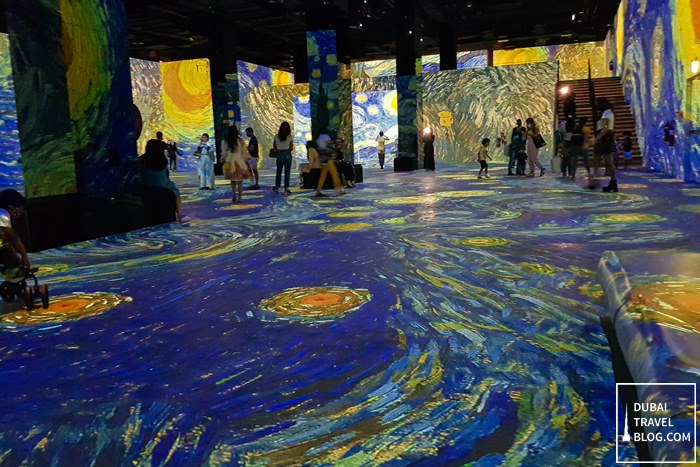 Vincent Van Gogh Exhibit in Dubai
Vincent Van Gogh's exhibit features an exciting movement of Vincent Van Gogh's famous masterpieces. The artwork is displayed all around the center and you get to explore, move around, and embrace the evolution of Van Gogh's art and life.
It's really cool to witness classic art pieces in this digital format and you get to sense the artist's vision and feeling when you witness his art in this medium.
Here are some pictures of the Van Gogh digital art exhibit.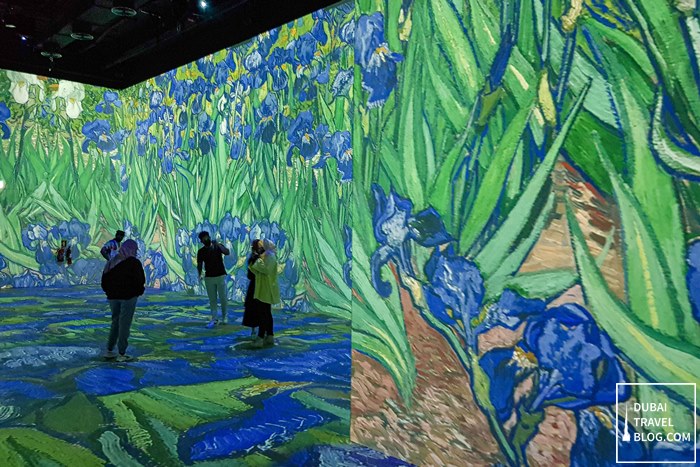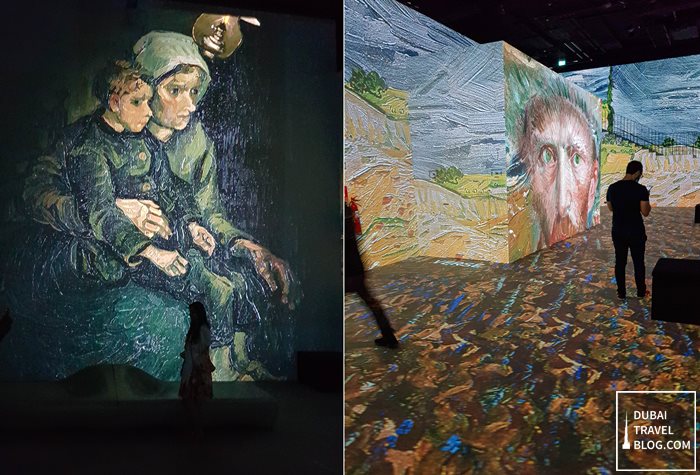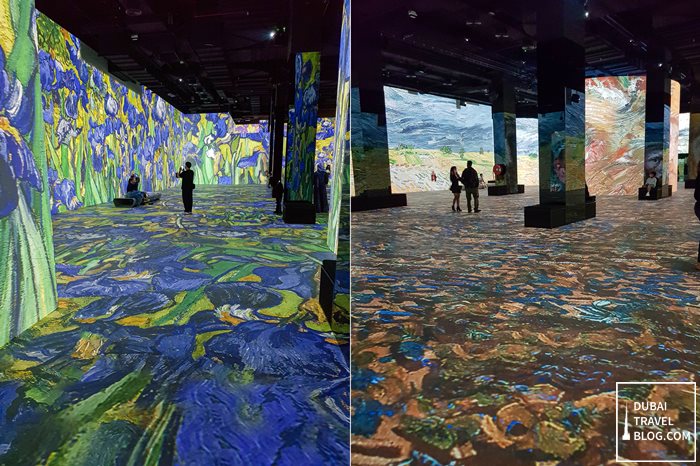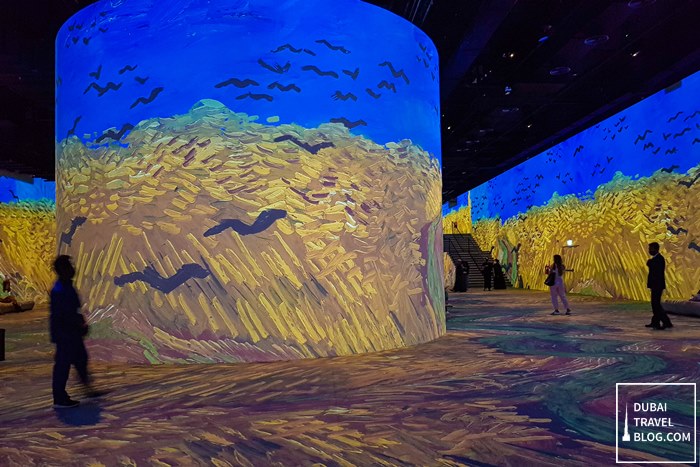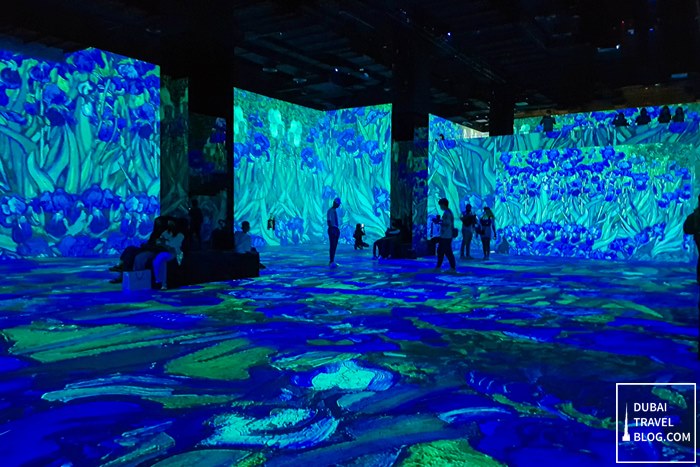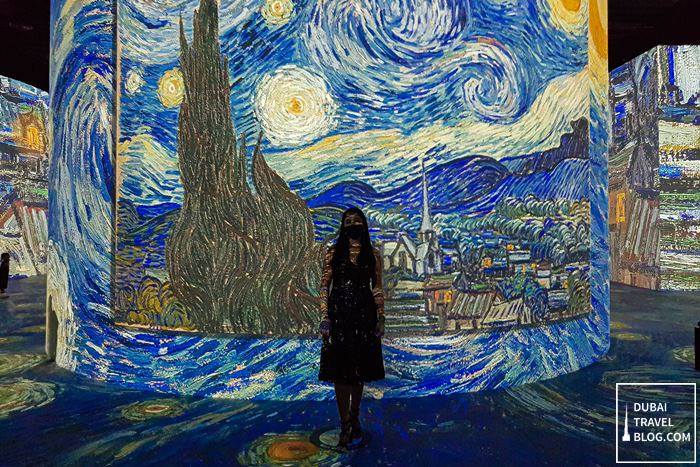 Dreamed Japan Exhibit in Dubai
Dreamed Japan exhibit is shorter compare to Van Gogh, but it's very colorful. This is an imaginative art immersion where you can witness the world of Japan during the 19th century. There are Japanese portraits, landscapes, and seascapes in a dreamlike sequence.
It's a world of floating images featuring samurais and geishas, sea creatures, flying lanterns, falling Cherry Blossoms, and the iconic Japan waves (really recommended!). The presentation is powerful and vivid. This was my favorite among the exhibits.
Here are some pictures of the Dreamed Japan digital art exhibit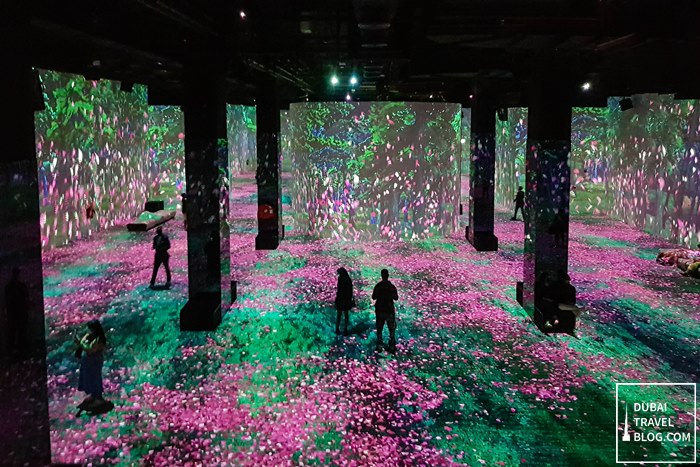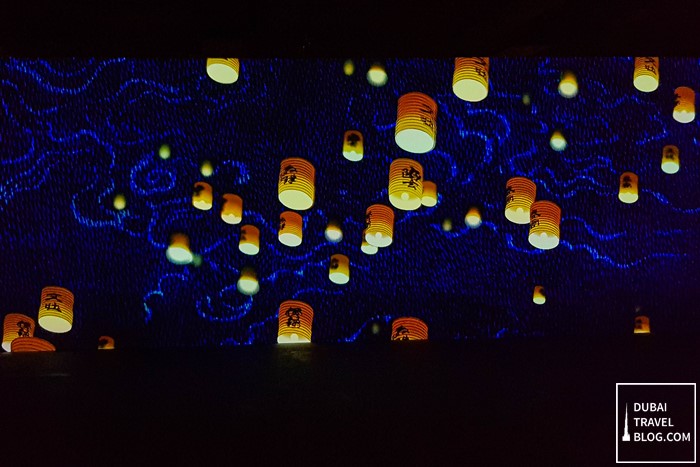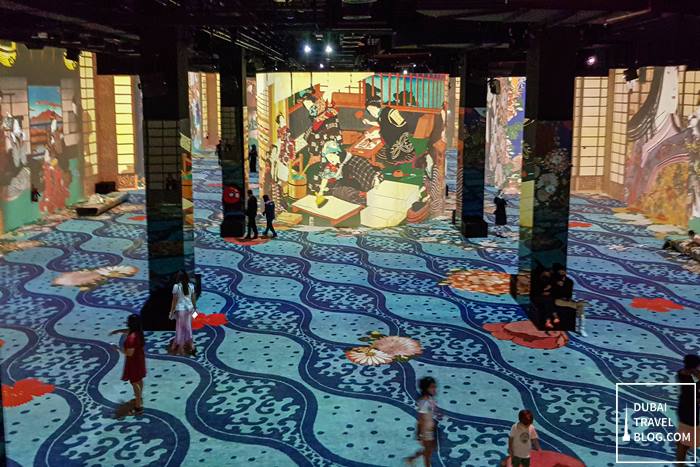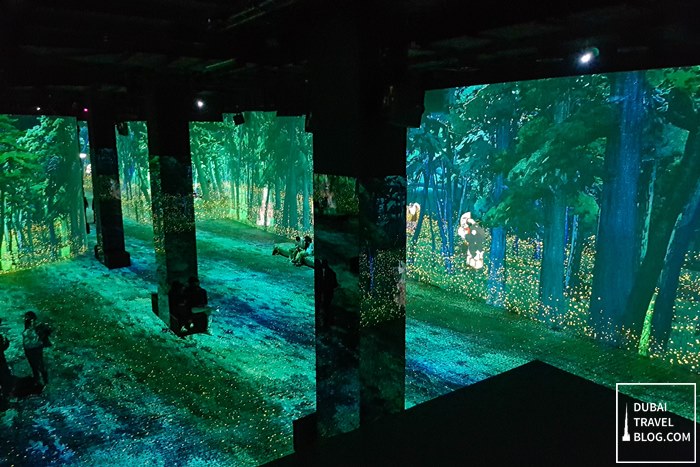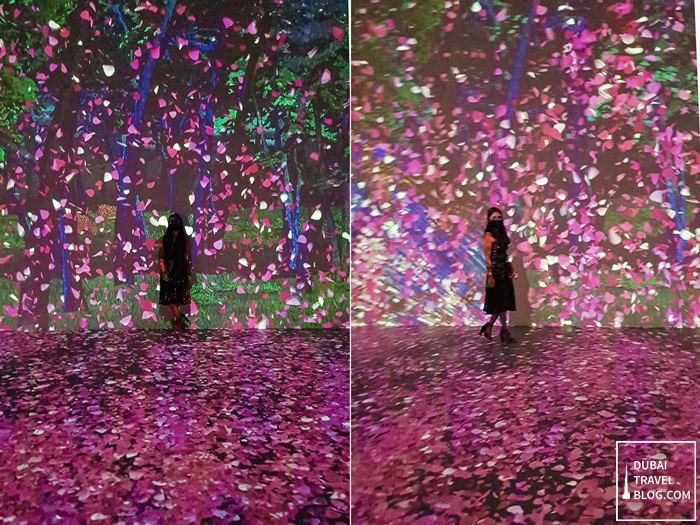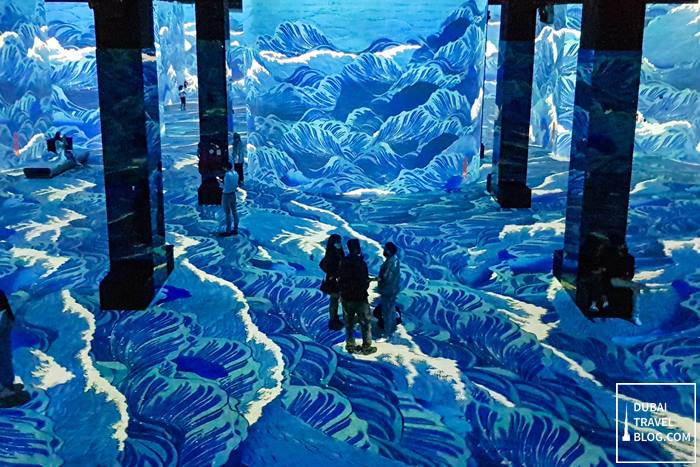 Verse Exhibit in Dubai
This Verse exhibit is located in another room inside the art museum. It features an interesting journey to a different universe. Your sit down as you explore a different universe showcasing the movement of cosmos accompanied by complementing music.
Here are some pictures of the Verse digital art exhibit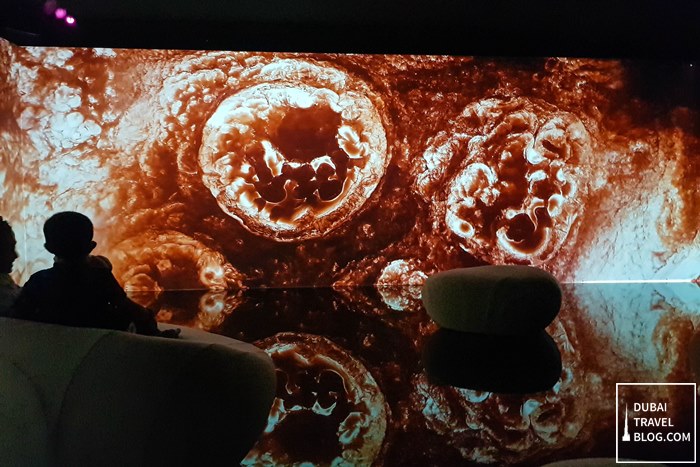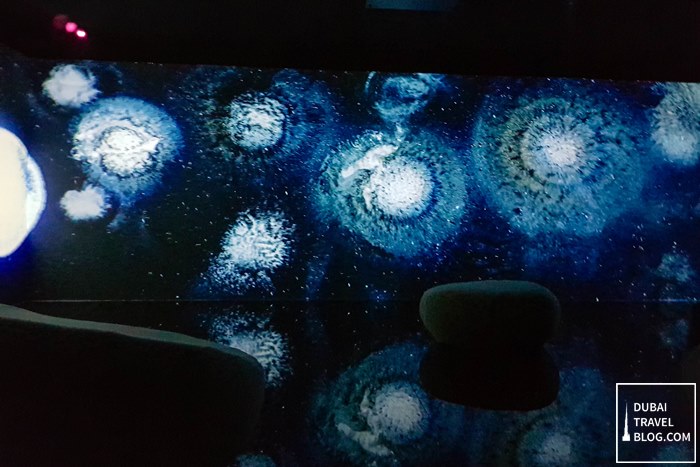 28 Photos of Inifinti Des Lumieres Dubai
Here's a photo album showcasing the pictures of this digital art museum based on our visit so you have a better idea of what to expect. Take note that while the photos may give you an insight, it is totally different when you see and experience the art museum up close.
Video: Infinity Des Lumieres Dubai
Check out this video I made based on our visit to the Infinity des Lumieres:
Entry Tickets: Infinity des Lumieres
Currently, we could only find entrance tickets via their official website and if you walk-in. Maybe soon they will have 3rd party online partners so visitors can order online through other online tour operators as well.
Ticket prices cost AED 125 per person. My wife and I missed out on the Early Bird deal at AED 100.
Prices as per Booking Site:
Adult prices at AED 125.
Children 3 years old to 13 years old are AED 75.
Infants under 3 years old are FREE entry
Check Ticket Prices Online via Infinity des Lumieres Website Here
Opening Hours
Based on their booking page, Infinity des Lumieres opens during mall hours 10am to 10pm (or 12am). The last booking time slot is 1-2 hours before the mall closes. Please check the booking slots via their website.
Weekdays: Sunday to Wednesday 10am to 9pm
Weekends: Thursday to Saturday 10am to 11pm
Rules and Guidelines
Below are some rules, do's and dont's when inside the museum as posted on their guidelines:
No Re-Entry
No Eating / No Drinking
No Flash photography
No smoking
No pets allowed
No running
Take your time
Enjoy your visit
Capture the moment
Share on Instagram
Visit the Boutique
Please come back
Accompany children (under 12)
Strollers allowed
People of determination
Free Wi-Fi
Lockers available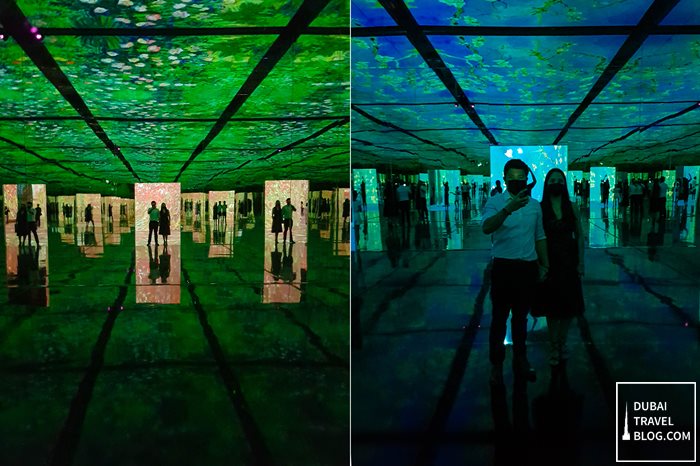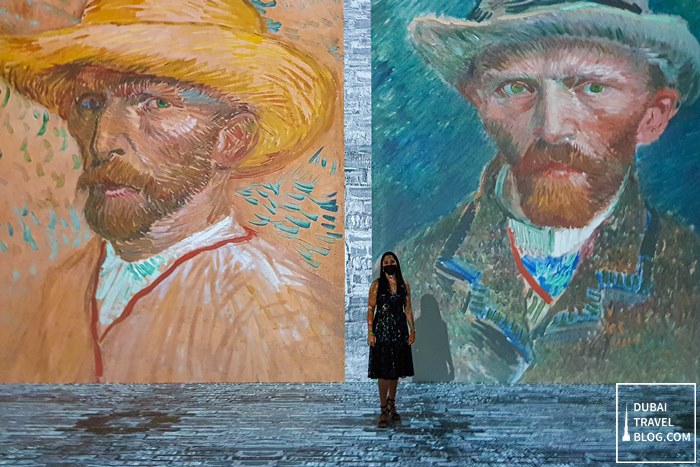 Frequently Asked Questions
Below are some FAQs and answers and tips when visiting this art museum:
1. How long can I stay in the venue?
It is advised that you allot 90 minutes so you can fully experience the 3 artworks.
2. How many people are allowed in the museum? Is it crowded?
Due to COVID health and safety precautions, there is a limit to the number of people allowed in each time slot. So the number of people varies.
3. How much are ticket prices for children?
Based on their website, children 3 years old to 13 years old are AED 75. Infants under 3 years old are FREE entry. Note that these prices may change without prior notice. Please their website for more details.
4. Are there are other exhibits in the museum?
Currently, there are 3 exhibits inside the museum. In the future, we hope there will be more exhibits and presentations.
5. Can I bring food inside?
No, snacks are not allowed inside the digital art center. There are lockers available in case you have luggage as well.
Summary
I am still learning to appreciate paintings and art. The team behind Infinity Des Lumieres made this experience enjoyable because of their creative imagination and presentation.
I also like the idea that this art exhibit is located right in the mall as it makes art very accessible and convenient for visitors to drop by. The place is very spacious and you can take your time here, much like a museum. So in our case, we spent at least 2 hours inside (the overall exhibit runs for 1 hour).
Be advised that the time duration may vary depending on the number of people inside. Due to safety precautions, the number of visitors entering the exhibit is controlled. During our visit, there was ample space available so we were not asked to leave after our 1 hour was up.
Overall, I would recommend this for a memorable sensory experience admiring art and the modern way it is being brought to us.
Contact Information
Infinity Des Lumieres Dubai
Address: 2nd Level (Facing Galeries Lafayette), The Dubai Mall, Downtown Dubai, UAE
Phone: NA
Website: https://www.infinitylumieres.com/
Instagram: @InfinityLumieres
Facebook: Infinity Des Lumieres
Twitter: @InfinityLumiere
Google Map Location
Below is a map guide to the location of The Dubai Mall. Mall parking slots are plenty. The museum is located on the 2nd level: