If you're looking for some healthy snacks, you might want to check out some new offerings by Detox Delight, the first detox deliver service in the UAE. Their range of Snack Delight products have some new additions – the Pure Veggie Chips, Coco Choco Crisps and Apple Cinnamon Cracker. These healthy options still provide the same quality goodness to fitness and nutrition enthusiasts. Here's an overview of the new additions.
Detox Delight UAE Healthy Snack Options
NEW SNACKS ON THE BLOCK
The healthy alternative for snack lovers from Detox Delight
The Snack Delight family from Detox Delight has new additions: Pure Veggie Chips, Apple Cinnamon Cracker and Coco Choco Crisps give snack lovers – and all those who crave a small treat now and then, even when eating clean – a healthy alternative to industrial snacks and sweets like potato chips, etc. No matter if spicy-savory with sea salt and black pepper, fruity sweet with apple cinnamon and cranberries or a crispy, chocolatey cookie substitute: there is new Snack Delight variant to satisfy any craving – so good they're addictive!
All Snack Delight products are entirely untreated, free of artificial dyes, preservatives, flavour enhancers and sugar additives. Made from 100% organic ingredients, they are prepared fresh each by hand in the Detox Delight Dubai kitchen. Best of all: These snacks are the perfect accompaniment to a healthy, balanced diet!
PURE VEGGIE CHIPS (AED 29, 60g)
Our crispy Pure Veggie Chips with savoury sea salt and black pepper are the ideal alternative to their potato-based relatives. Not fried and brimming with all the nutrients in sweet potatoes, zucchini, parsnips and red beets, these are genuinely healthy snacks.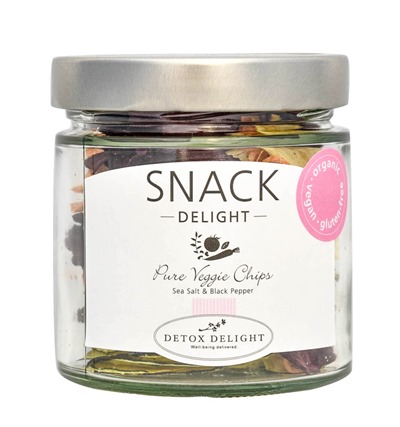 APPLE CINNAMON CRACKER (AED 29, 60g)
A sweet, fruity snack for at home or on the go: Apple Cinnamon Crackers made with flaxseed are the perfect treat for everyone craving something both fruity and sweet. Loaded with golden flaxseed, apple, dried cranberries and a pinch of cinnamon, they are a much healthier snacking choice than industrially produced wheat crackers. Best of all: Golden flaxseed also works to help support digestion.
CHOCO COCO CRISPS (AED 29, 60g)
Chocolate junkies can now bid their bad conscience adieu! Crispy, chocolatey flaxseed-based Choco Coco Crisps with coconut flakes and cacao satisfy even the strongest snack cravings and are genuinely good for you at the same time! Golden flaxseed helps to support good digestion.
All Detox Delight products are handmade and 100% natural, vegan, gluten-free, unpasteurized and without any artificial additives. Detox Delight Snack Delights have a minimum shelf life of 8 weeks.
————————
More than a juicing company, Detox Delight also offer Wedding Detox, Charcoal Beauty Shots, Flex Pack, Ramadan Delight and many other healthy options. For more information or to order your detox programme today call 04 338 3565 or visit www.detox-delight.ae.