Dubai offers some of the most amazing views of towering skyscrapers especially the buildings along Sheikh Zayed Road. There are numerous opportunities for you witness the city skyline and one way is to visit rooftop bars that highlight these high-rise structures.
The crew from The Rooftop Guide visited the best rooftop bars in Dubai in February 2017, and here's a list of the 5 best ones according to them.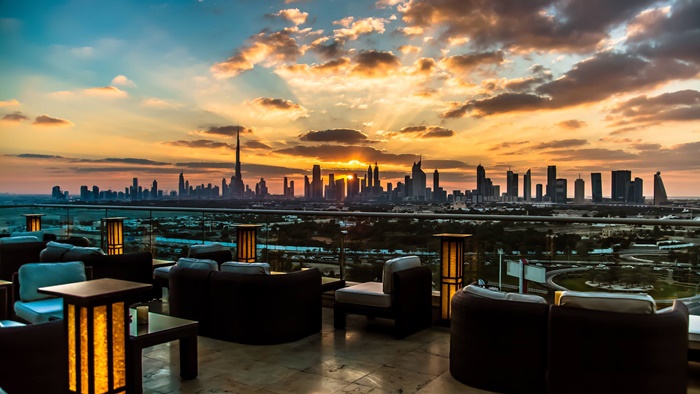 View of the Dubai skyscrapers along Sheikh Zayed Road from Tomo restaurant in Raffles Dubai
To visit rooftop bars is one of the most common things to do when visiting a big city. Compared to a regular bar, rooftop bars offer breathtaking views, a harmonious atmosphere and plenty of beautiful photos you can take.
1. CouCou Dubai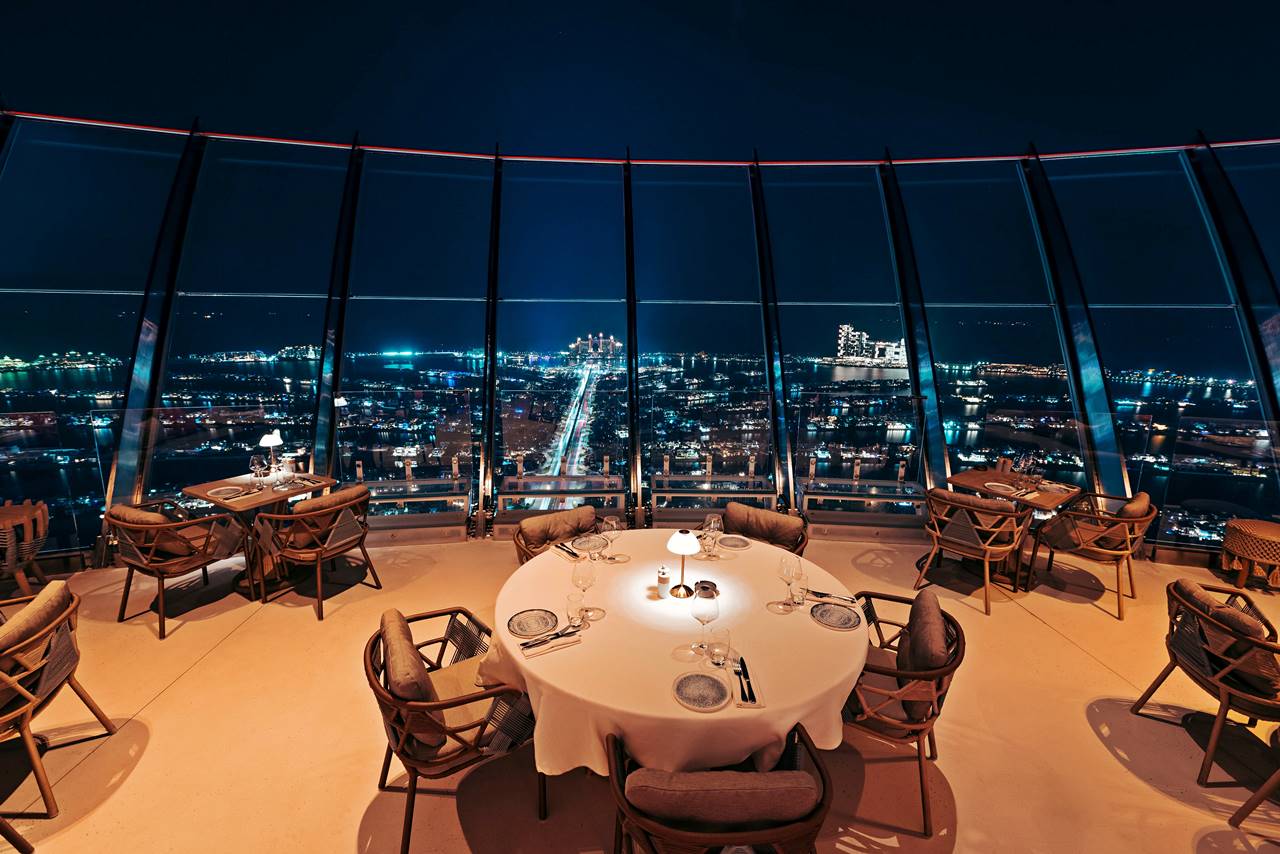 First up on our list is CouCou Dubai, an immersive nocturnal experience located 52 stories up offering a stunning 360-degree view of Palm Jumeirah, the Dubai coast and beyond. Combining sophisticated interiors, haute cuisine, unparalleled service, and an electrifying atmosphere, CouCou rooftop is both elegant and playful. It's the perfect destination for socializing and cocktail sampling with globally inspired flavors infused with eclectic ingredients. The View at the Palm offers a romantic date spot or family gathering place to come together while taking in the views while indulging in Mediterranean cuisine, signature cocktails, and shisha while witnessing outlandish acts!
2. Level 43 Sky Lounge at Four Points by Sheraton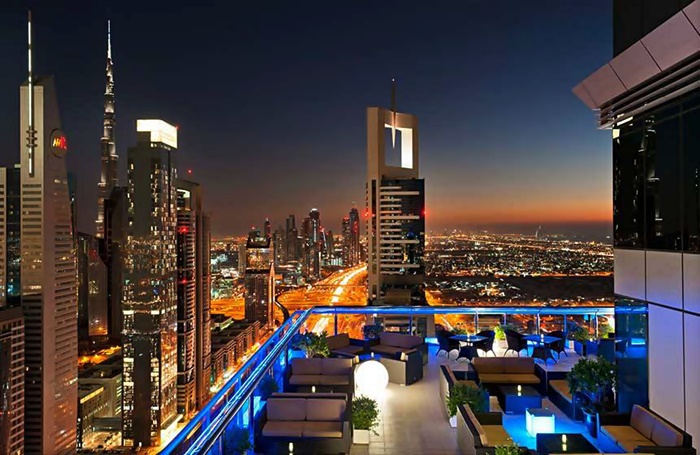 Level 43 Dubai at night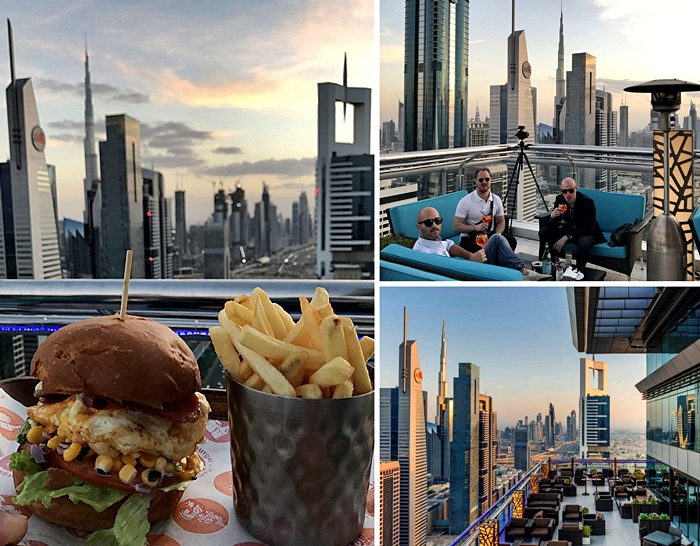 the team at Level 43 Sky Lounge
This terrace offers one of the best views in all of Dubai. In southwest you'll get a beautiful sunset view over the Arabian Gulf, in southeast the mighty skyline of Downtown Dubai emerges with Burj Khalifa as a mighty tower in the middle, and to the north the old area of Dubai. But this place is so much more than just the fantastic view, Level 43 Sky Lounge offers a large terrace with lots of comfy seating's and a cocktail list with lots of signature cocktails that are hard to find at other bars. The atmosphere is festive with a live DJ playing party tunes all night long. The best time to come here is around 6:00 PM, to get both daylight, sunset, and darkness.
Location: 43rd Floor – Four Points by Sheraton, Sheikh Zayed Road
Website: www.level43lounge.com
Contact Number: +971564142213
3. Shades at The Address Dubai Marina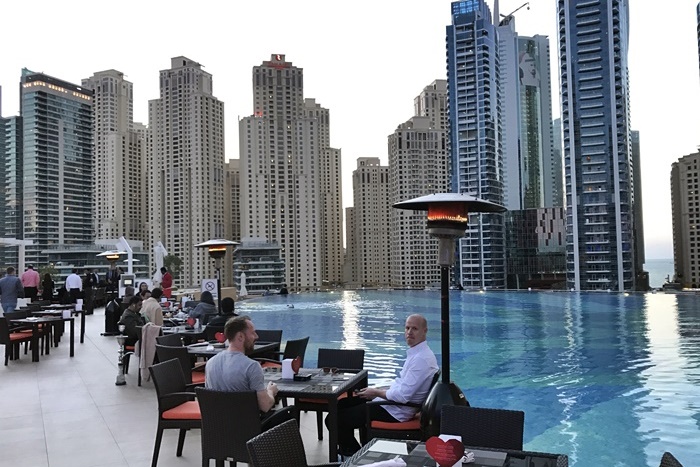 pool deck of the Address Dubai Marina
Shades – buildings in Marina area
If you like a good rooftop pool, this is the place to visit. Shades has one of the biggest and best rooftop infinity pools in all of Dubai. Despite the fact that the terrace is located at the 4th floor, the view among the skyscrapers in the Dubai Marina is fantastic. And for the food and drink lover there's plenty to be happy for here as well. The cocktails are amazing and the food top notch. The BBQ plate is something extra. Make sure to order something to eat when visiting this place. The rooftop at The Address Dubai Marina has it all – nice views, delicious food, tasty drinks, harmonious atmosphere, an infinity rooftop pool and fast service.
Location: 4th Floor, The Address Dubai Marina, Sheikh Zayed Road
Website: www.theaddress.com/en/hotels/the-address-dubai-marina/dining/shades.aspx
Contact Number: +971 4 436 7777
4. Tomo Restaurant at Raffles Dubai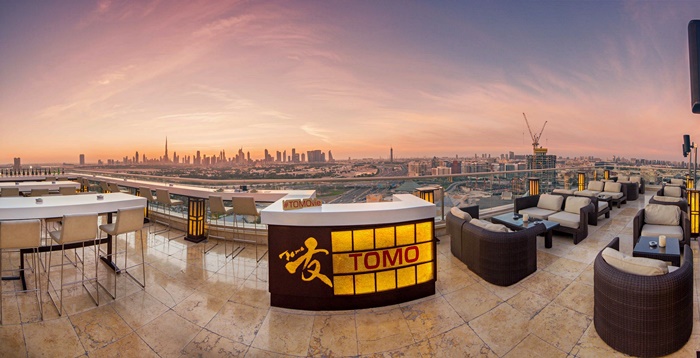 Tomo restaurant terrace view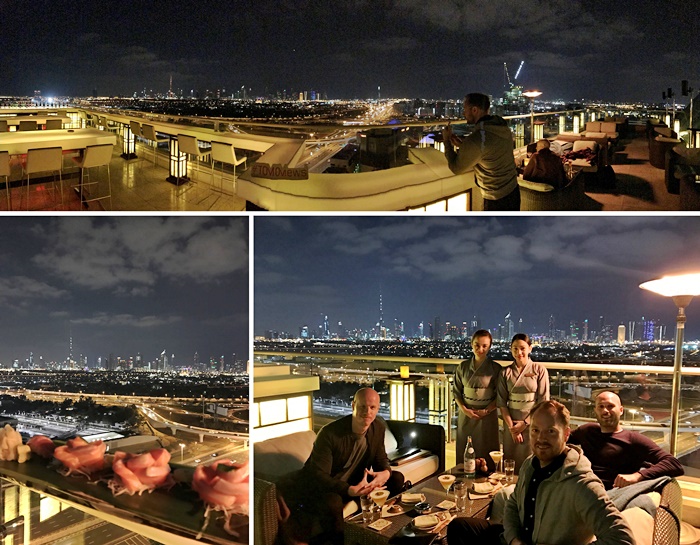 a night at Tomo restaurant
A roof terrace located a little bit outside of the busy streets of Dubai. Tomo is a superb Japanese restaurant with premium Japanese food in form of sushi, sashimi and other fantastic Asian flavors. If the food is good here, so is the view. Here you get one of the most iconic skyline vies in the world. During nightfall, when the city lights turns in to a colorful spectacle, it creates some very good photo opportunities. The luxurious setting, high quality food, attentive service along with the breathtaking skyline view, makes this one of the best rooftop bars to visit in Dubai. Make sure to book your table in advance, and dress for success to fit in among the trendy crowd.
Location: Raffles Dubai, Sheikh Rashid Road
Website: www.raffles.com/dubai/dining/tomo/
Contact Number: +971 4 357 7888
5. Pure Skylounge at Hilton Dubai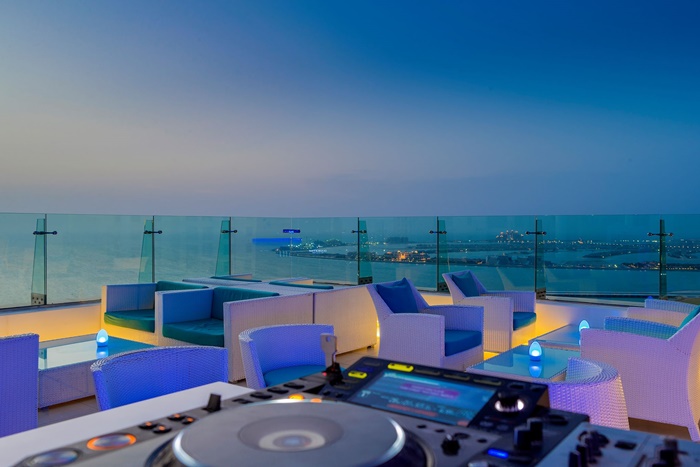 Pure sky lounge view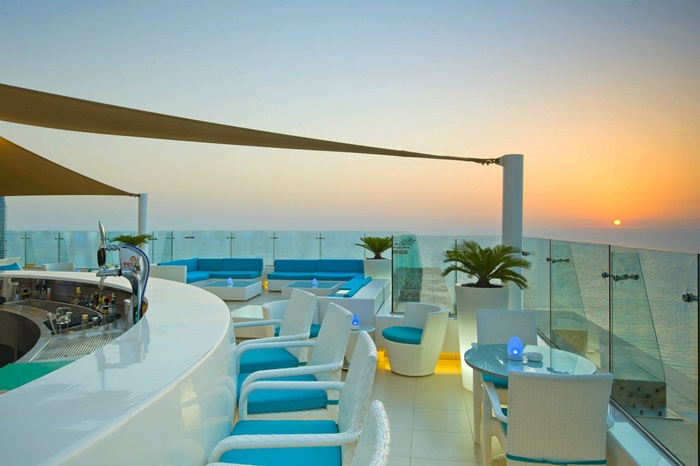 Pure Sky lounge sunset view
This rooftop bar has two terraces. One bigger for sitting dinner and one smaller for bar and lounge hangout. The lounge terrace has a great sunset view over the Arabian Gulf and the Palms. If you decide to Visit Pure Skylounge, you must come here during daylight right as the sun's about to set. Maybe the best place in Dubai for a sunset view. The dinner terrace is much bigger and can host up to 300 people at the same time. From here you get a view of both the Dubai Marina skyscrapers and the ocean. The Friday sunset brunch is sad to be something extra. Food, champagne, and cocktails in a festive atmosphere with one of the best sunset views in Dubai is a good receipt for a perfect party night.
Location: Level 35, Hilton Dubai, The Walk
Website: www3.hilton.com/en/hotels/uae/hilton-dubai-the-walk-DXBBRHI/dining/index.html
Contact Number: +971-4-3991111
6. Atelier M at Pier 7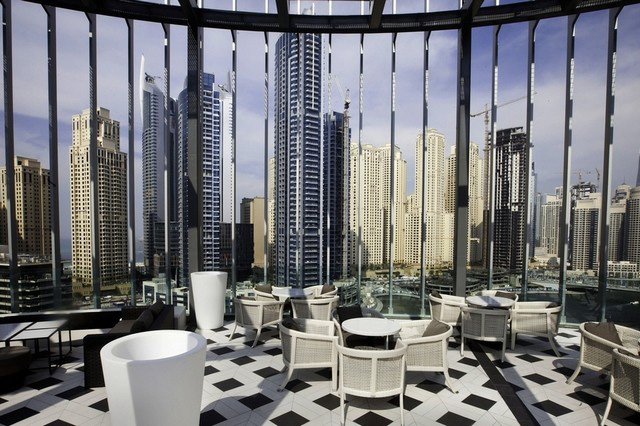 Atelier M at Pier 7
If you like to party at a rooftop, this is the place to visit. Like Pure Sky Lounge, Atelier M serves a fantastic sunset brunch on Fridays with drinks, food and party all night long. The food is amazing and the place is very popular, so make sure to book your table in advance. Trendy people from all over the world come here to party and enjoy the gorgeous view. And what a view it is. Located on the 7th floor right in the center of the Dubai Marina, you'll get a magical view among the skyscrapers overlooking the luxurious yachts in the water. If you're looking to party in a luxurious setting with premium food and drinks, Atelier M is a must-visit.
Location: Floor 7/7M, Pier 7, Dubai Marina (next to Marina Mall)
Website: www.atelierm.ae
Contact Number: +971 4 450 7766
7. Joe's Backyard in Holiday Inn Dubai Festival City
Another place we could easily add that offers an amazing view is Dubai Festival City's Joe's Backyard. Located on Holiday Inn's 19th floor, the restaurant has a lively and relaxed atmosphere for drinks and Barbecue. They offer some of the best barbecue items in Dubai.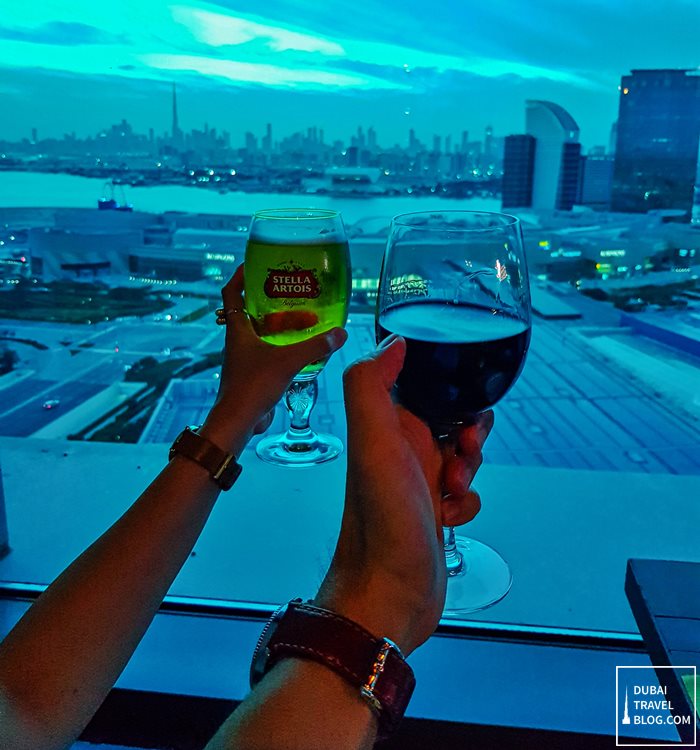 Location: 19th Floor Holiday Inn Dubai Festival City, Dubai
Website: joebackyard.com
Contact Number: +971 55 709 4509
---
Author Bio: The Rooftop Guide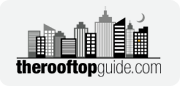 The Rooftop Guide was founded in 2015 by Hans Ebenman and Rikard Fredricson. Two Swedish guys in the early 30s. The Rooftop Guide is the biggest and most popular guide to the world's best rooftop bars. Every month they travel around the world to new cities, where they explore the best rooftops.