We dined at Level 43 Sky Lounge and Bar one evening while enjoying the great view of Dubai. Level 43 sky lounge is a rooftop bar that is located along Sheikh Zayed Road. From the 43rd level of Four Points by Sheraton Hotel, you can see the famous skyscrapers along SZR up close.
This rooftop bar is a popular choice and as it provides an amazing 360-degree panorama of Dubai. It was my wife's birthday and we decided that this was a great place to end the day and unwind with friends. We've never been here so the sight of the buildings in SZR were definitely a wonderful treat.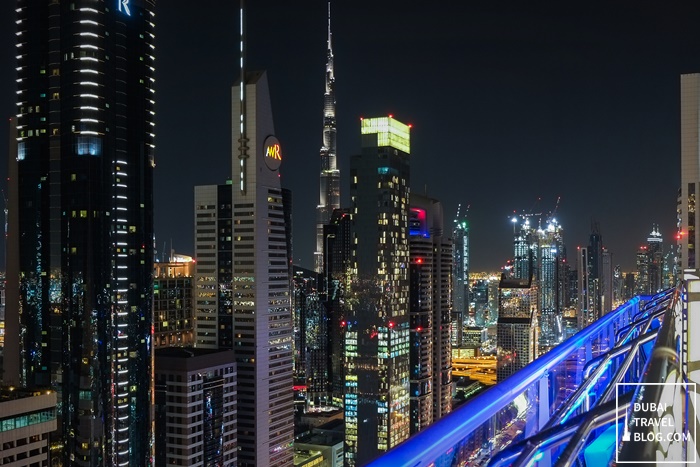 view of Dubai skyscrapers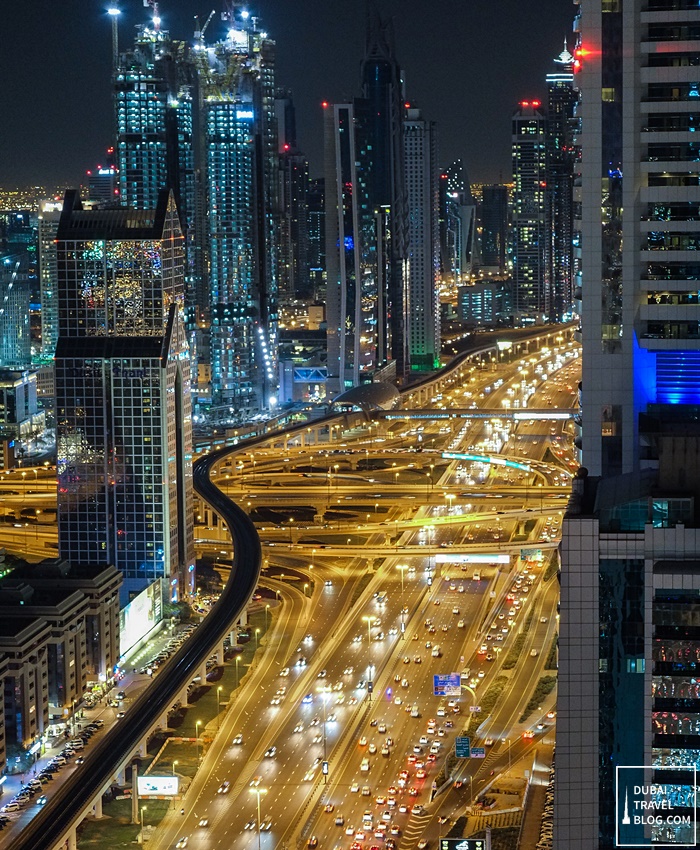 great way to see Dubai
Level 43 Lounge: Rooftop Sky Lounge and Bar in Sheikh Zayed Road
The environment is very relaxed and a lot of guests include Level 43 as a must-visit because of the view. In fact, during our visit, I noticed a few people dropping by the bar to have a photo taken with the background, and then just leave. lol.
For photographers who want to drop by Level 43 to specifically take photos, you must send a message to the staff to inform them ahead of your plans. For guests, you are more than welcome to take snapshots at the buildings.
It's advisable that if you bring a tripod, you should send an email to the hotel and inform them as during our visit, I wasn't allowed to use my tripod so this is another opportunity to drop by the rooftop terrace again.
highway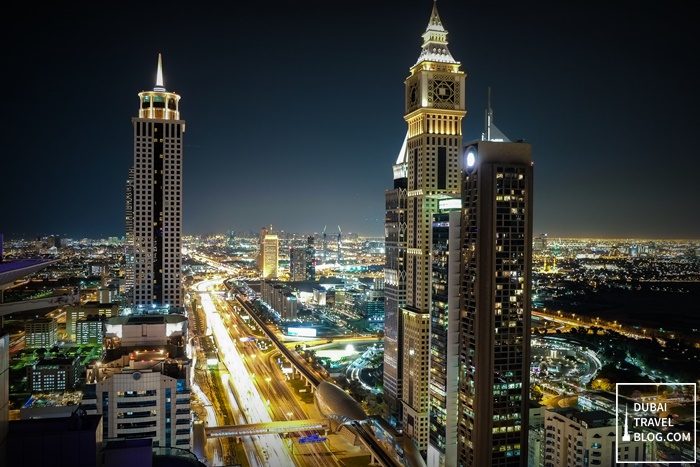 buildings in Financial Center area
Food Menu at Level 43 Sky Lounge
The food menu options were mostly finger food as this is a bar after all. But Level 43 Lounge does have a wide selection of tapas menu to have a full meal while lounging in the sky. We ordered appetizers, some burgers and steaks. They also have an array of drinks for you to enjoy the night.
As this was a cold winter night, the staff provided us thick blankets to keep ourselves warm. We spent at least 4 hours as we had a great time over food and chitchat.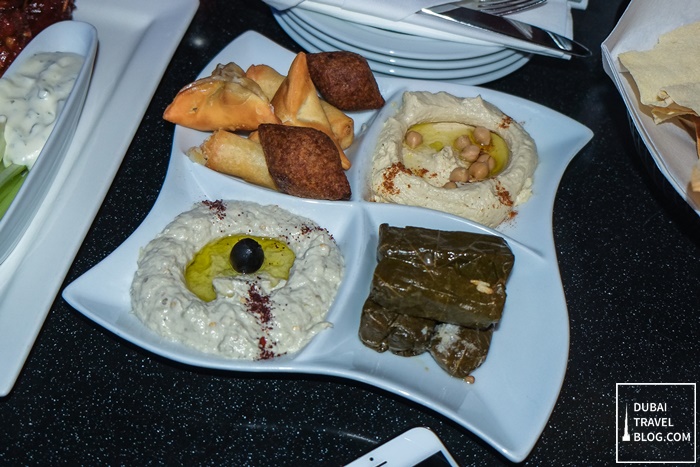 Hot and Cold Mezze – 78 AED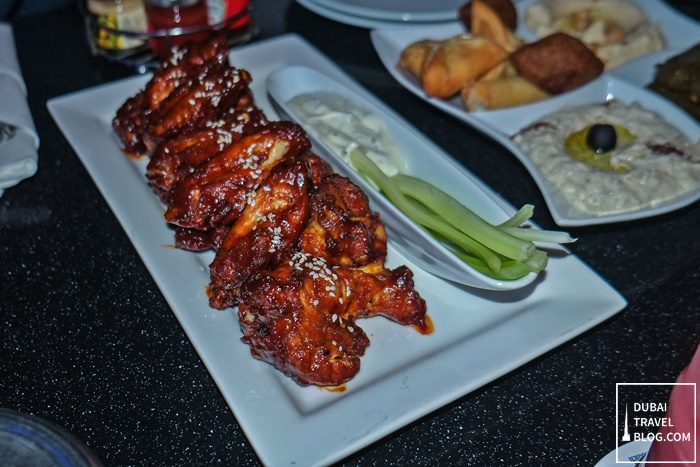 Hot Chicken Wings – 63 AED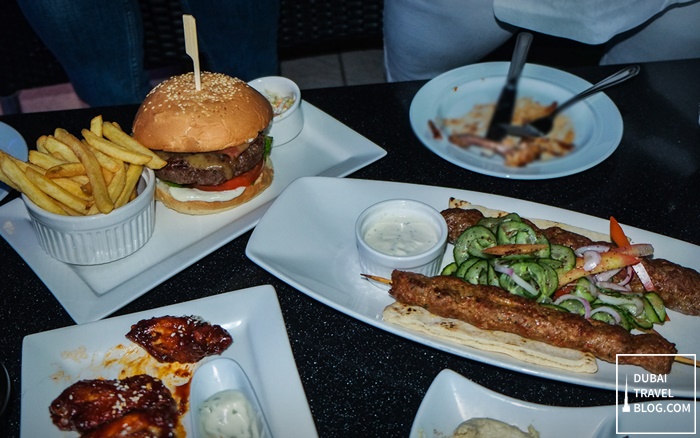 Beef Burger – 68 AED
Adana Kebab – 78 AED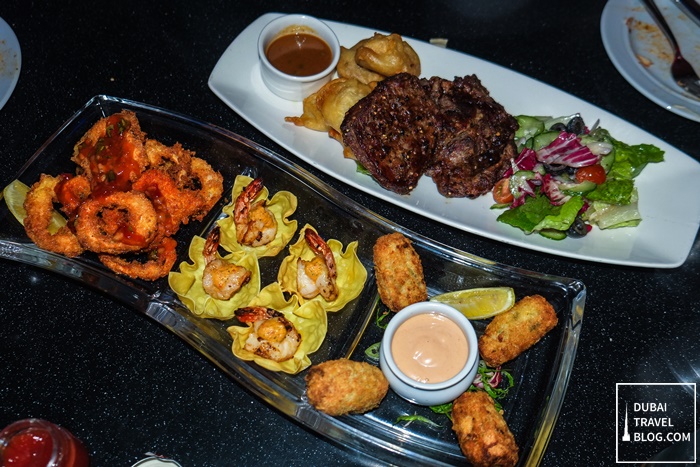 Rib Eye Steak – 130 AED
Fish and Seaood Platter – 128 AED
If you plan to include Level 43 lounge in your itinerary, I suggest you go there before sunset so you can witness the views while it's still daytime, and definitely watch the nightsky light up as you progress into the night.
The view is pretty impressive and without a doubt, this is the main highlight which plenty of visitors come back again and again for.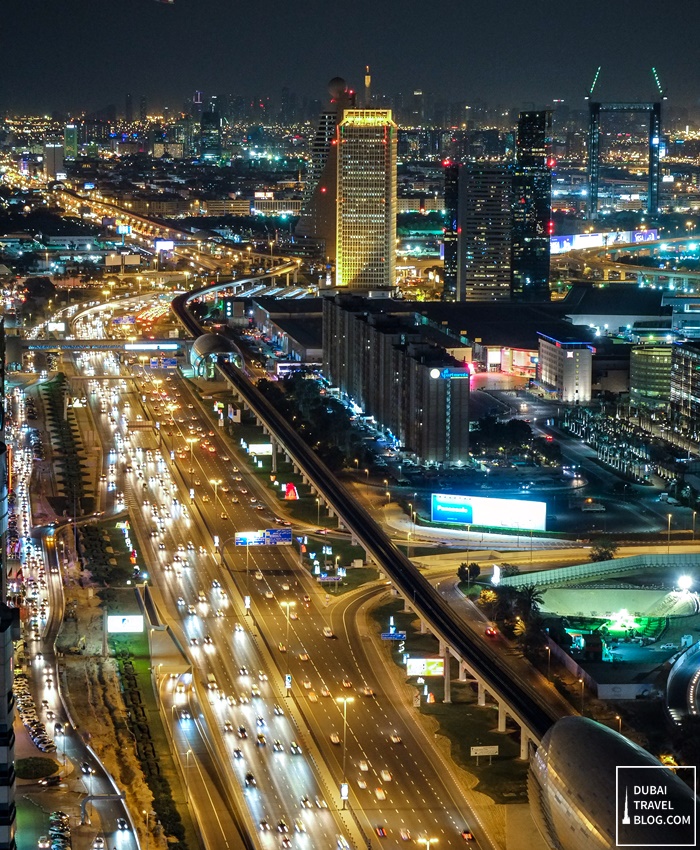 Sheikh Zayed Road at night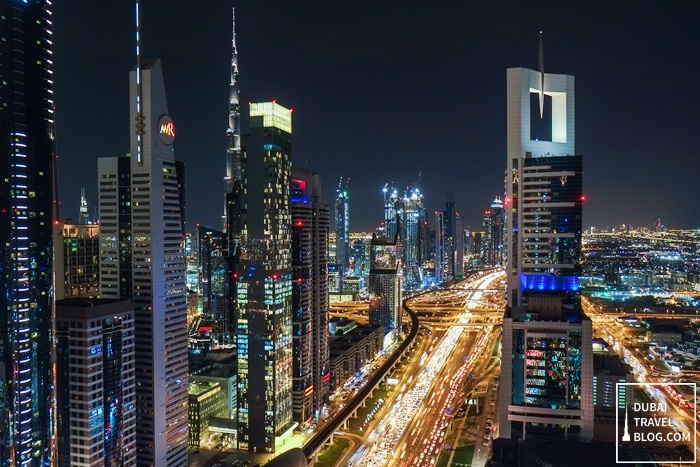 Dubai at night
Opening Hours: 2pm to 2am daily
For more information about Level 43 Sky Lounge, you may contact:
Website: www.level43lounge.com
Address: P.O. Box 116162, Dubai, UAE
Phone: +971 56 414 2213
Email: SZR.Level43@fourpoints.com
Google Map Location
Below is a map showing the location of the Level 43 Sky Lounge. This is in the 43rd level of Four Points by Sheraton in Sheikh Zayed Road.