We had a delightful barbecue dinner at Joe's Backyard one Thursday evening. Located on the 19th floor (rooftop floor) of Holiday Inn Dubai Festival City, this restaurant specializes in flame-grilled flavors from around the world. It's a great spot that aims to be your barbecue hangout in the city.
Aside from the relaxed ambiance, Joe's Backyard also offers stunning 360-degree views of the Dubai skyline. This restaurant easily adds to one of the best rooftop views in Dubai.
Alcohol: YES
Shisha: YES
Your BBQ Hangout in Dubai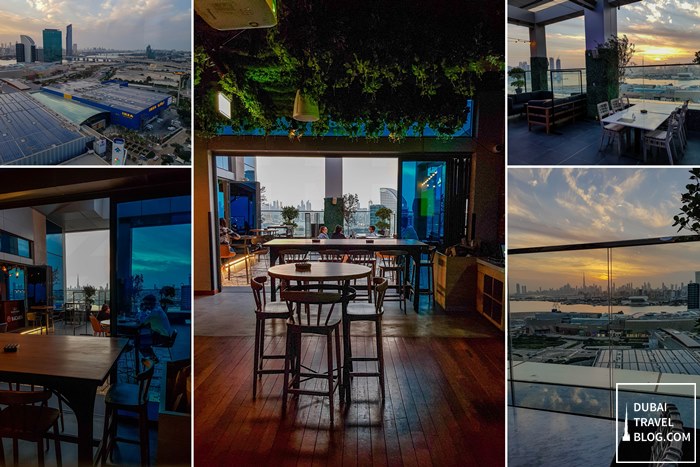 Joe's Backyard in Holiday Inn DFC
Joe's Backyard BBQ Restaurant Hotspot in Dubai
The last two weeks were quite long and busy for me and my wife. We've been doing a lot of errands that we usually got home tired and ready to hit the sack. So this dining experience was a much-needed break.
Our reservation at Joe's Backyard was at 7pm but I wanted to go there earlier (they open at 5pm) as I wanted to view the sunset from the rooftop. The view from this place is quite spectacular and if you love skyline views, this is a spot you'd definitely want to check out.
sunset in Dubai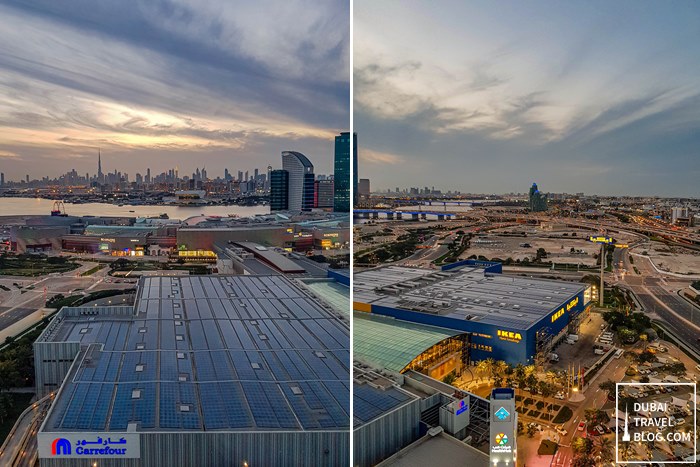 view from the outdoor rooftop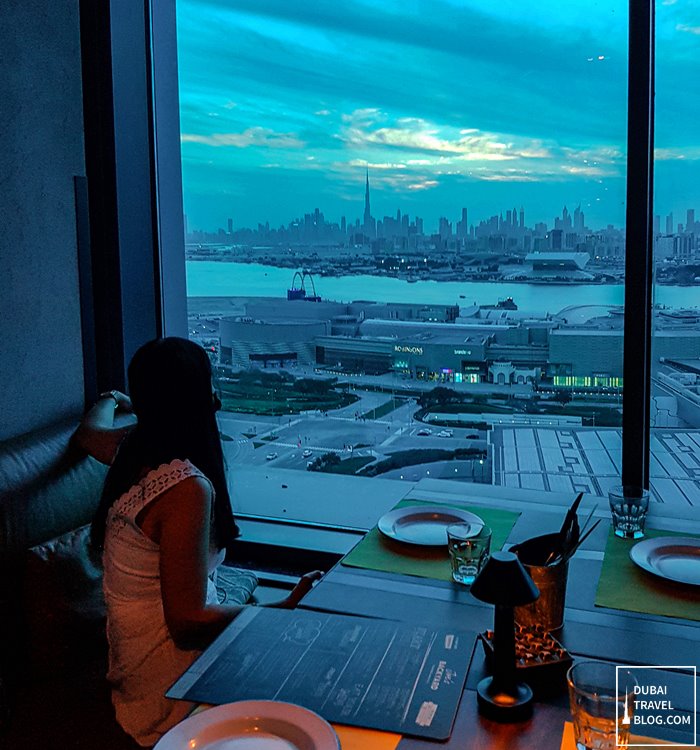 view as you dine indoor
As it was quite windy, we opted to dine indoors. The  ambiance in Joe's Backyard is unpretentious and very relaxed. They offer a laidback environment to chill out and enjoy some food and drinks.
There's a huge TV screen if you want to watch live sports, and you can choose to dine indoors or outdoors with areas offering a view of Dubai.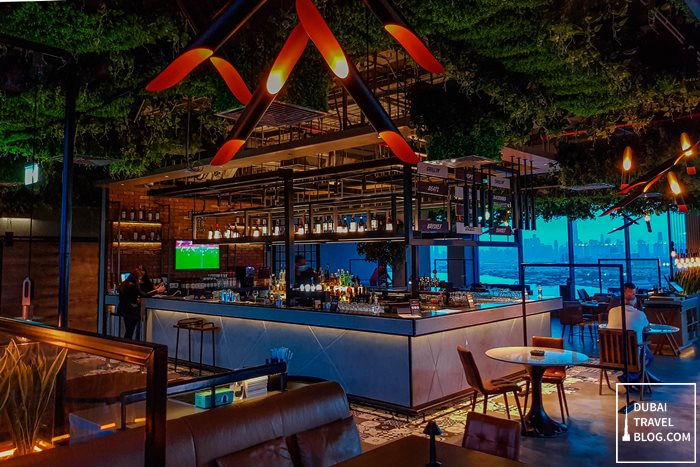 full bar area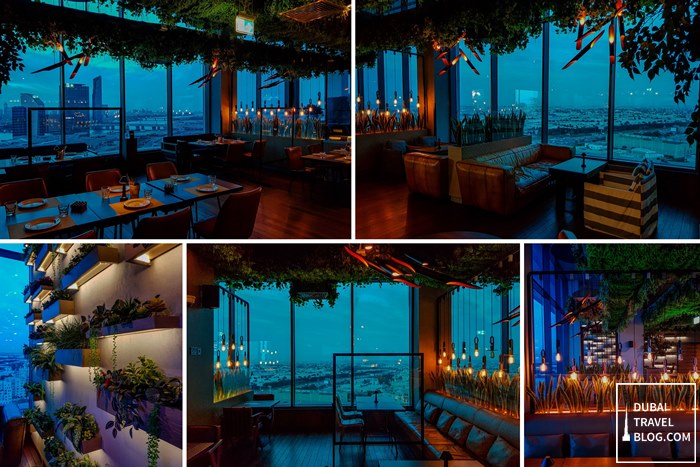 indoor views also feature views of Dubai
Starters
For starters, we had Joe's Chicken Wings and opted for the Chipotle (sweet and spicy) sauce. We also had the fried calamari which was soft and had a rich texture. We enjoyed both dishes.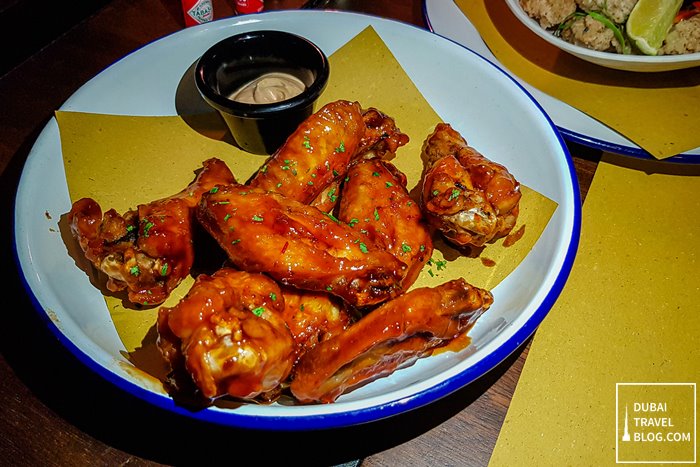 Joe's Wings (Chipotle) – AED 65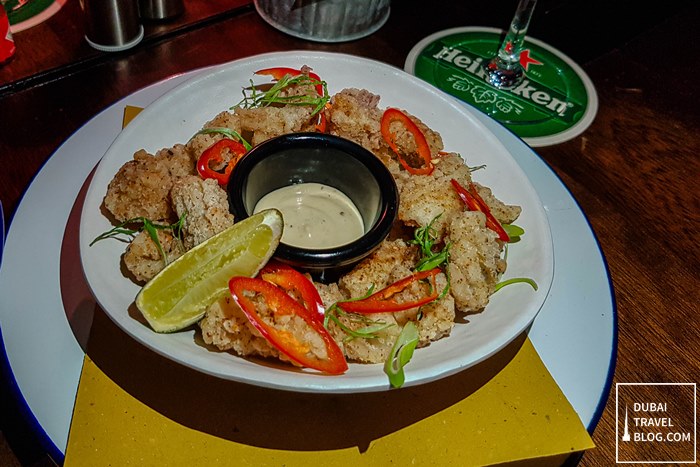 Fried Calamari – AED 69
Baby squid rings served with roasted garlic aioli
Main Course
For the main course, we ordered their Angus Ribeye Steak and Lamb Cutlets. The meat of these two dishes were so juicy and the quality was so good. I can still recall the succulent Lamb chops (the best I've tried in Dubai) with its sweet and flavorful sauce.
The people behind Joe's Backyard really take their barbecue items seriously and I would recommend you sample their grills if you ever drop by. We paired these two meat dishes with a side of Joe's Coleslaw and Classic Mashed potato.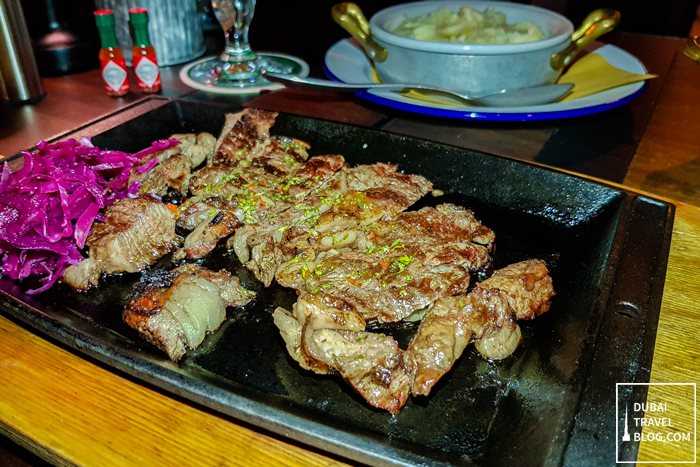 300g Black Angus Rib-Eye – AED 195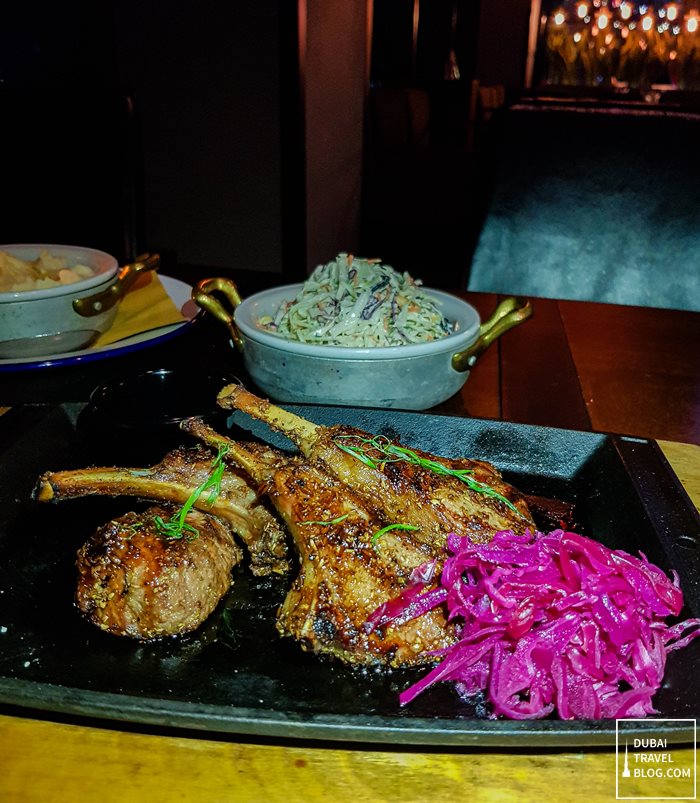 200g Grilled Lamb Cutlet – AED 150
Dessert
As we were quite full, we just ordered one dessert item, the Apple Crumble which was served with vanilla ice cream.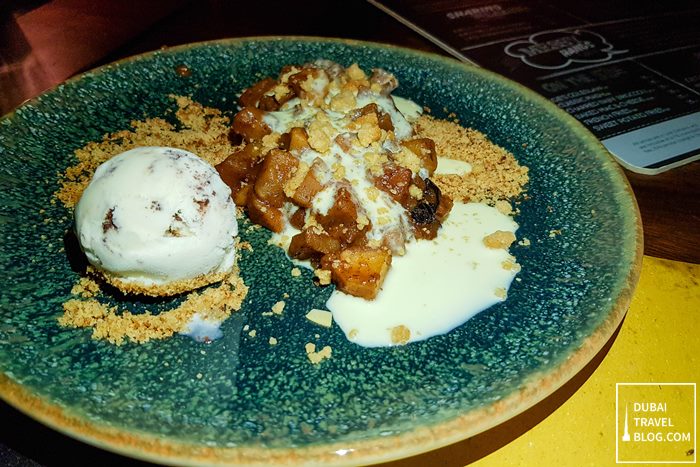 Apple Crumble – AED 55
Signature Cocktails & Drinks
Joe's Backyard serves a variety of drinks including bubbles, wines, cocktails, beers, spirits, as well as non-alcoholic beverages.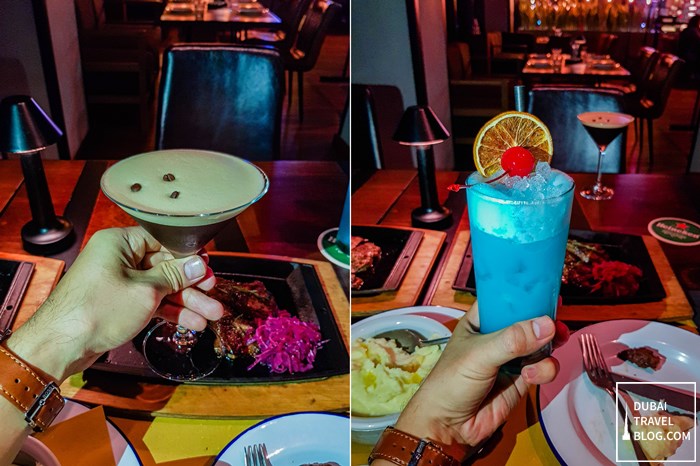 The Joe's Lady – AED 60 
Backyard Breezee – AED 60
Enjoy cold breezee with blue Caribbean coconut flavor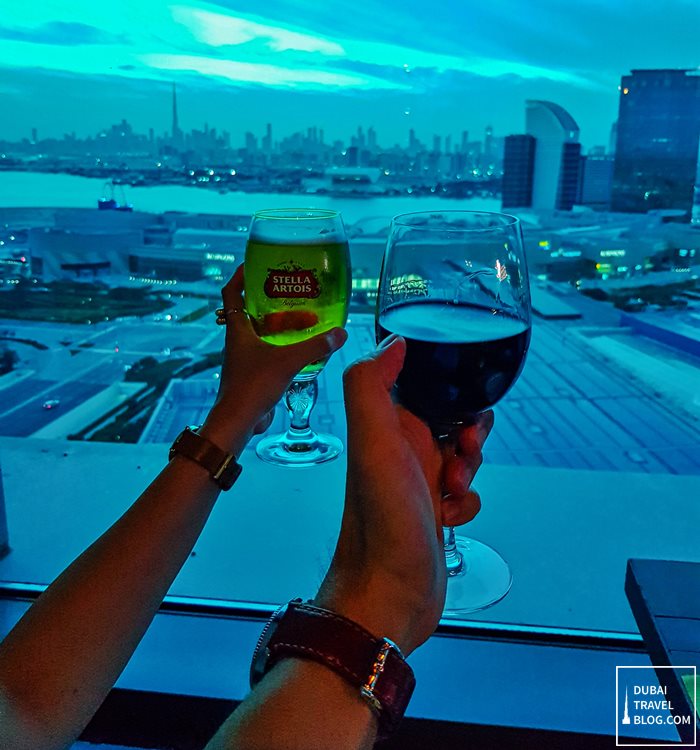 beer and red wine with a view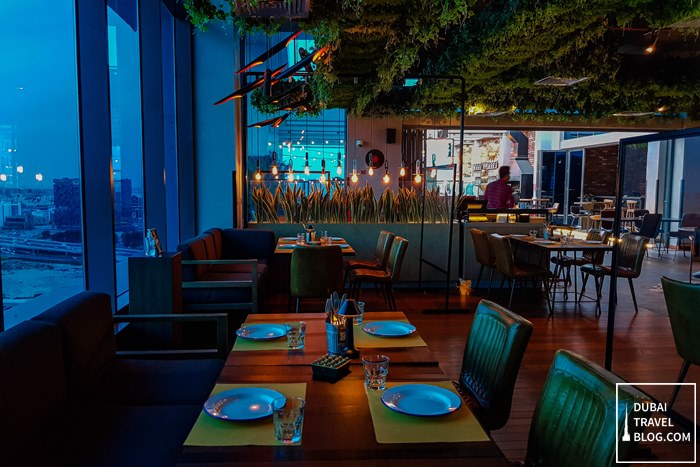 dining indoor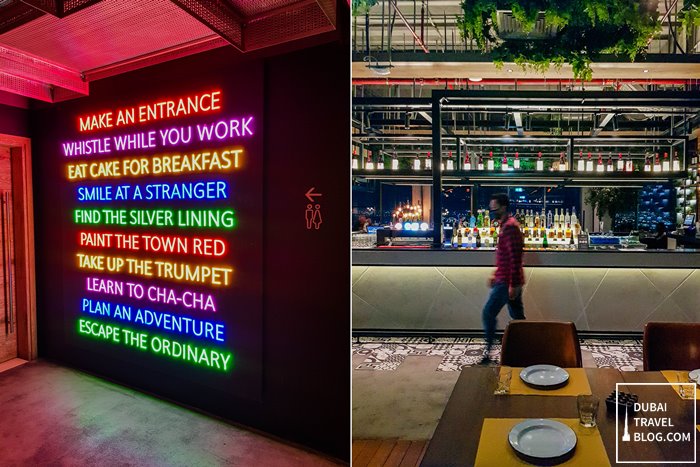 pick your slogan
Joe's Backyard is Dubai's latest hotspot bringing people together for the love of BBQ. Located on the 19th floor of the Holiday Inn Dubai Festival City boasting views over the Dubai skyline and the Burj Khalifa with a laidback day-to-night, unpretentious vibe. A backyard like no other, Joe's takes the dining experience to a whole new level. With a menu of flame-grilled flavors from around the world, the pièce de résistance is the 2.5 metre grill on the terrace – the biggest braai in the region. Serving specialties such as braised and slow cooked meat using locally sourced top quality ingredients. With engaging events, entertainment nights and live sports streaming, Joe's is much more than a restaurant or a simple destination for food.
Opening Hours:
Sunday to Thursday 5pm till late
Friday to Saturday 1pm till late
Contact Information
Joe's Backyard
Website: joebackyard.com
Address: 19th Floor Holiday Inn Dubai Festival City, Dubai
Contact Number: +971 55 709 4509
Instagram: instagram.com/joesbackyard
Facebook: facebook.com/joesbackyarddubai
Google Map Location
Here's the map location of Holiday Inn Dubai Festival City. Joe's Backyard is on the 19th floor: