Dubai Gamers, if you're looking for a Virtual Reality adventure in the city, head over to Arena Games in DIFC! We recently visited this new attraction and had a blast! This is probably one (or the only) place where you can enjoy a full simulation of a VR game. Just like the movie, Ready Player One.
Also Read: Pistol and Rifle Shooting Range at Sharjah Golf and Shooting Club
We've had experiences in the past where we played a VR game, but not this high-tech. The difference why Arena Games stands out? You wear a VR suit over your back, you wear a VR headset and VR goggles, plus you get to use a VR gun too. Oh did I mention you can roam around a 128-square-meter space? There are no cables attached to you so you and you have so much room to walk. This was one of the best experiences in Dubai that we've had in such a while.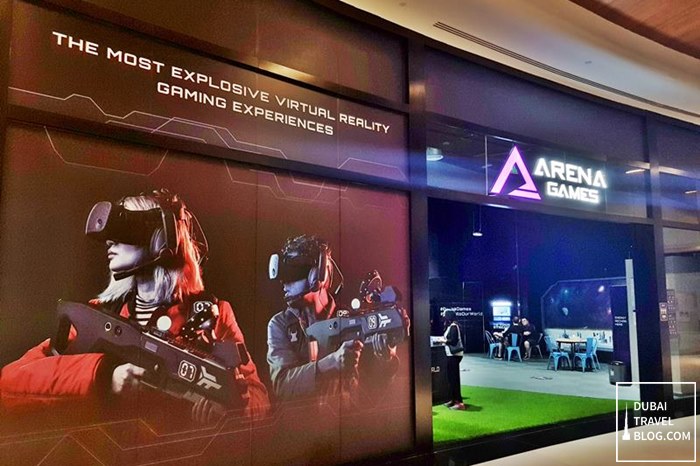 VR Gaming Zone in Dubai: Blast Zombies at Arena Games in DIFC
Arena Games uses the most advanced tech in the world of VR, and it's right here in Dubai. You get to fully immerse yourself in the game with your gear. The experience is quite intense as it really feels like you're in the game's virtual world.
We had a good time before when Hub Zero in Citywalk was still open. While that gaming zone transferred to a new location (and probably with only arcade game options), we've been wondering where we could get our VR gaming fix while in Dubai. We are so glad that Arena Games is here!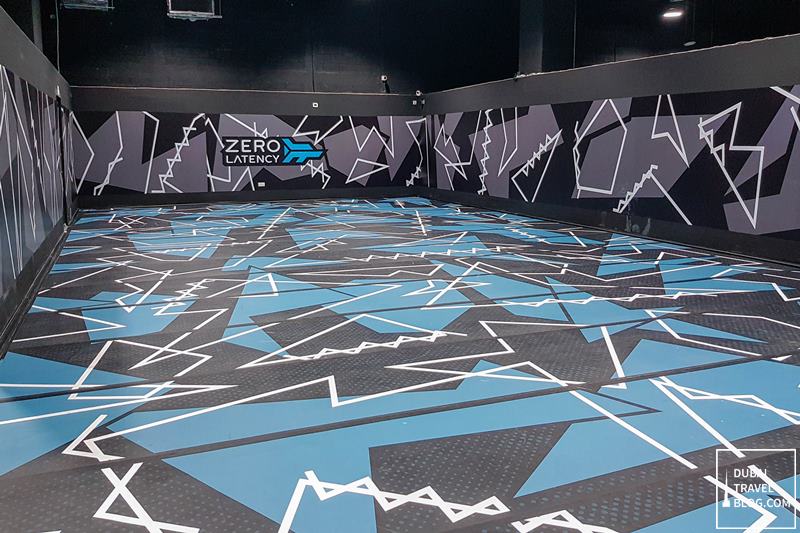 inside the spacious indoor venue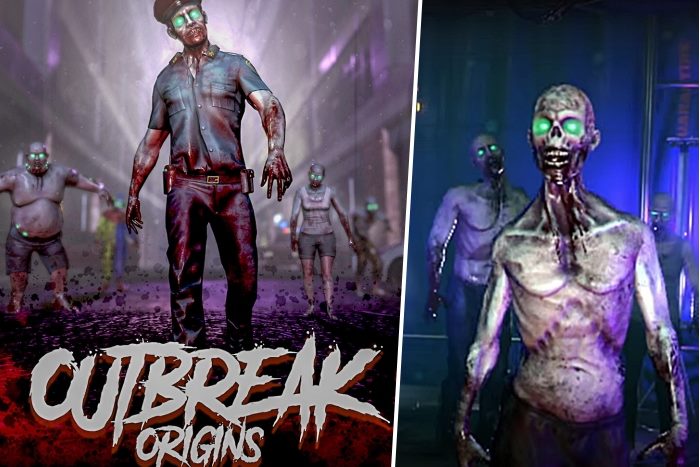 Outbreak Origins – the game that we played
Note: there are other games you and the whole family can enjoy in this place!
Outbreak Origins – Zero Latency
During our visit, we played Outbreak Origins, a zombie-shooter game where we had to shoot and kill zombies. It's a 30-minute game (50 minutes in total, including the briefing) that will leave you out of breath cause it's quite intense.
The staff mentioned that we're going to sweat in this game as it feels like you're in the actual zombie world itself. It's a full-body experience immersed in a different world. This was a fun workout session we did not totally expect!
Gaming enthusiasts in Dubai can enjoy a Virtual Reality game with zero latency!
How to Play at Arena Games DIFC
Playing at Arena Games is easy with these 3 steps:
Choose your Game – Book online via their website (thearenagames.com)
Briefing – on the day of your game, you will go through a short briefing
Gear Up – wear the VR gear and enjoy the game!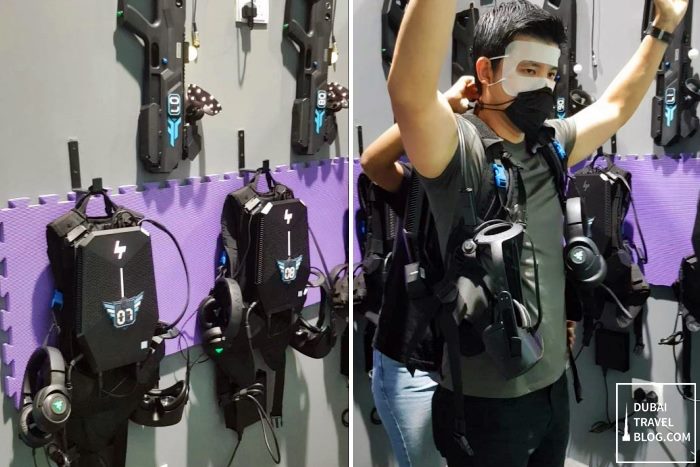 trying on the high-tech VR backpack
there are no cables guys! this is wireless state-of-the-art VR game
quick briefing about the game by Arena Games Master Chamodi
List of Games
Arena Games hosts a variety of games in different themes. Whether you wish to fight zombies, go back to the '80s, become an assassin, or play an action hero, there's plenty of options. Here's a list of games available:
Far Cry VR (15+ ages) – a battle game for survival set on a tropical island. This is an open-world shooter game with a cool storyline too.
Outbreak Origins – this is an intense classic zombie shooting game and the game that we played.
Undead Arena CR – it's a reality show in a post-apocalyptic world where you are unluckily the star of the game and your mission to fight off zombies
Zombie Survival – stay alive as you shoot hordes of zombies coming at you from different directions!
Singularity – board a military space ship and fight off space robots in this combat-themed VR game.
Engineerium – a puzzle game set forth in an alien ocean where rules of gravity do not apply. You are to perform different tasks and complete your mission to rejoin your clan.
Sol Raiders – go through three futuristic maps and complete the game objectives. This is a player versus player (PVP) combat action game.
Space Pirate Trainer – pick up your space blasters as you fight off droids hovering towards you. This is alike a classic space shooter arcade game, only now you get to shoot them in action.
Arizona Sunshine – blast your way through hordes of zombies who come at you in this battle-for-survival game.
Scarygirl Misson Maybee – an adventure game where you explore toxic caverns and enchanted forests. It's a bizarre land where you have to take down Dr. Maybee who plans to destroy the planet.
Beat Saber – a rhythm game where neon cubes come at you and you get to slice through them as cool pumping music plays.
Epic Roller Coasters – feel the excitement riding epic roller coasters in this thrilling game.
Fruit Ninja – the fruit-slashing game comes to life with this VR version.
John Wick Chronicles – an action-packed VR game based on Keannu Reeve's famous movie.
Richie's Plank Experience – a game where you overcome your fear of heights as you walk on a plank high above the ground.
enjoy the VR experience
Prices
Their VR games start from AED 90. Here's a full list of games with their corresponding prices
Far Cry VR: Dive Into Insanity (15+) – AED 115
Zombies – Undead Arena  AED 90
Outbreak Origins – AED 115
Singularity – AED 115
Zombie Survival – AED 90
Sol Raiders – Player vs Player – AED 115
Engineerium – AED 90
Scary Girl: Mission Maybee – AED 90
Add-on: Get a recording of the game – AED 50 with USB
The following HTC VIVE games are only available for booking in-venue.
Beat Saber
Fruit Ninja
Arizona Sunshine
John Wick Chronicles
Richie's Plank Experience
Epic Rollercoaster
Space Pirate Trainer
Tales of Escape
AED 60/30 MINS, AED 100/1 HR – In Venue Only
feel the action at Zero Latency in Arena Games DIFC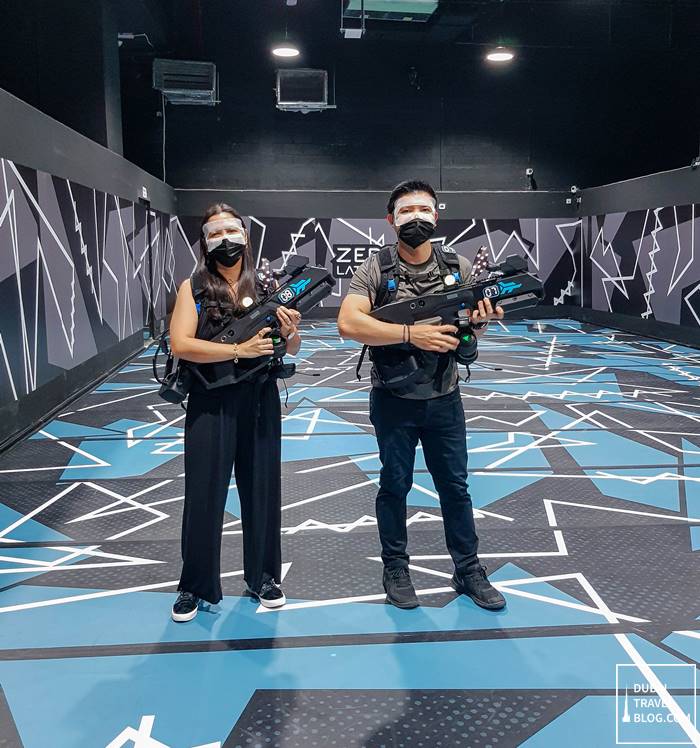 Arena Games Dubai Timings
The Arena Games is open from Sunday to Saturday (everyday) from 12:30pm to 10pm. It is best to make your booking online to reserve your spot. Weekdays are non-peak hours so better choose these schedules if you want more privacy.
Opening Hours: SUNDAY – SATURDAY 12:30 PM – 10:00 PM
VIDEOS: Arena Games DIFC
Check out this video of our experience. This was during our first visit and we will definitely be back here!
Check out these cool videos of the games at DIFC. They currently have 13 games so you have a lot to choose from!
Far Cry VR: Dive into Insanity
Outbreak Origins
Singularity Game Video
Summary
If you are somebody who wants to try a high-tech VR game, this is definitely for you. I really like that you are in on the action. It doesn't feel like you're just playing on a console, because you're there immersed in Virtual Reality. I never expected it to be this good, but I was blown away by the effects and how responsive the gear was in the game.
After all the challenges we all faced due to the health crisis, I'm glad that Dubai is open and businesses like these are following safety protocols while offering activities like this to residents and tourists. We are so glad to have visited this place and we will definitely come back!
Frequently Asked Questions
Below are some common questions you may have over at Arena Games in DIFC
1. How long do the games last?
There are games that run for 15 minutes, there are games that run for more. We played the Outbreak Origins zombie game, and the total experience (including the briefing) was 50 minutes. It's more than enough for a first-timer.
2. How much are the VR games at Arena Games DIFC?
Prices start at AED 90.
3. What's the best game to play as a first-time VR gamer?
We think the classic Zombie shooter game, Outbreak Origins, would be a good starting game for you to try. Please check also as the games may have minimum age requirements.
4. Can I stop while in the middle of the game because I'm having challenges with an obstacle?
Gaming masters are there to facilitate the game. They will communicate with you even while you are playing so if you have any concerns, you can address it to them. So yes, the game can be stopped if you're having problems.
5. Do I have to be fit/athletic to play these games?
No, you don't have to be athletic. Everyone is welcome to join. They will put a backpack gear on you and you can start playing. You are not advised to run in the gaming center.
But an additional note, for safety purposes, the following who have medical conditions are not able to play based on their website:
Epilepsy and similar seizure disorders

Severe vision impairment

Deaf or severe hearing loss

Broken leg or arm, or any other significant limb impairment


Wheelchair users.
Our experiences are not recommended for anyone with the following impairment/medical conditions:
Heart conditions

More than 7 months pregnant


People with vision in one eye are able to play.
6. Are there ladies-only timings?
You may request a ladies' session only from the staff.
7. I'm only one person, can I still play the games?
If you book for yourself, you may share a timeslot with other gamers. The total number of players in a game can go up to 8 players.
Contact Information
The Arena Games DIFC
Address: Gate Avenue, Zone D, Ground Level – DIFC – Dubai
Telephone Number: +971 4 546 7748
Email: info@thearenagames.com
Website: thearenagames.com
Instagram: @ArenaGamesUAE
Facebook: @ArenaGamesUAE
Google Map Location
Here is a map guide to the location of Arena Games Dubai. RTA Parking spaces are available outside the Gate Avenue Building: