When you go on a desert adventure in Dubai, one of the things that tour companies do is present a Tanoura dance and a belly dance, both are Middle Eastern dances but do not really showcase the true Emirati culture.
If you wish to understand the true UAE culture, you can check out the Sheikh Mohammed Centre for Cultural Understanding (SMCCU). In an interview with Mr.Nasif, SMCCU Manager, the current cultural scenario in the region was discussed. "Our dancers may not do as fine a job as Justin Beiber or Shakira but they educate as well as entertain while staying rooted to the UAE culture. People like to watch heritage dance, but they would enjoy it even more if they are familiar with the attached history", he said.
UAE Heritage: Al Ayala, Youlah, Saluki and Falconry
Al Ayala, Youlah, Saluki. If these sound like to Greek to you, then this article is for you. Here's a roundup of some of the popular heritage sports and dances and what you should know about the role of heritage centres in boosting regional culture and tradition.
Heritage Dances in the UAE
Al Ayala –  You've probably seen this around on festivities such as the National Day, for instance. Also recognised as the 'stick dance', the Ayala is characterized by its unique pattern of two rows of dancers facing each other and performing their dance, which is accompanied by drumming. The close positioning of the dancers symbolises a sense of community and togetherness. The Al Ayala dance went on to bring the region pride when it made its grand entry into the UNESCO heritage list of Intangible Cultural Heritage of Humanity. (The National, 2014)
Al Ayala Dance
Youlah –  This folk dance has made its way into the commercial aspect of culture while retaining the heritage value. The Youlah is a male only performance that is a regular activity in championships, especially for children. Organized by the Hamdan bin Mohammed Heritage Centre, the Fazza School Youlah Championship sees over 100 pupils participate in this performance. An unrealistic model of the traditional 'saktoun' rifle is thrown high in the air to express a sense of victory and triumph through this dance. (dubaiprnetwork, 2014)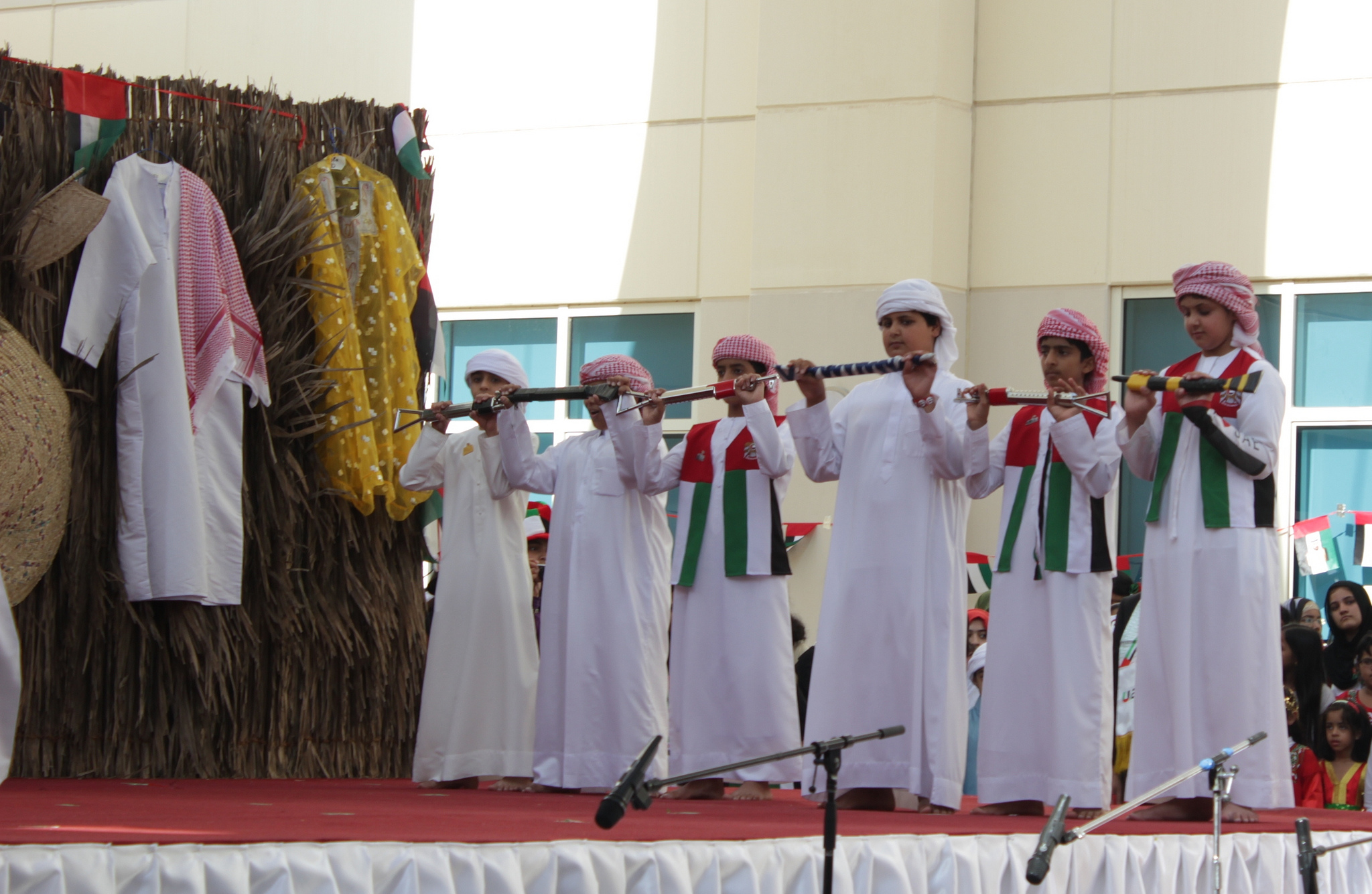 Youlah: The Youlah is a male only dance that is performed at championships and programs by mostly children of different ages with the use of the 'saktoun' rifle. Photo Credit: Sharon Harper
Heritage Sports in the UAE
Saluki – Dogs are known for their loyalty and sense of smell. But the Salukis, Arabian dogs, in addition to the above mentioned, are identified for their speed and precision. Hunting with saluki dogs is a common heritage sport in the region. Apart from sports, some other interesting events that involve the salukis are; Saluki shows and races and Saluki beauty contests. (abudhabi.ae, 2013)
Saluki Racing
Falconry –  Think falcon, think desert safari and malls, where falcon photography attracts many. There is a lot more to the elegant bird. Falconry, a heritage sport practiced in the region initially acted as a leisure activity or sport for the elite. Falconry calls for a great deal of patience. The sport also occupied a position on the UNESCO heritage list of Intangible Cultural Heritage of Humanity.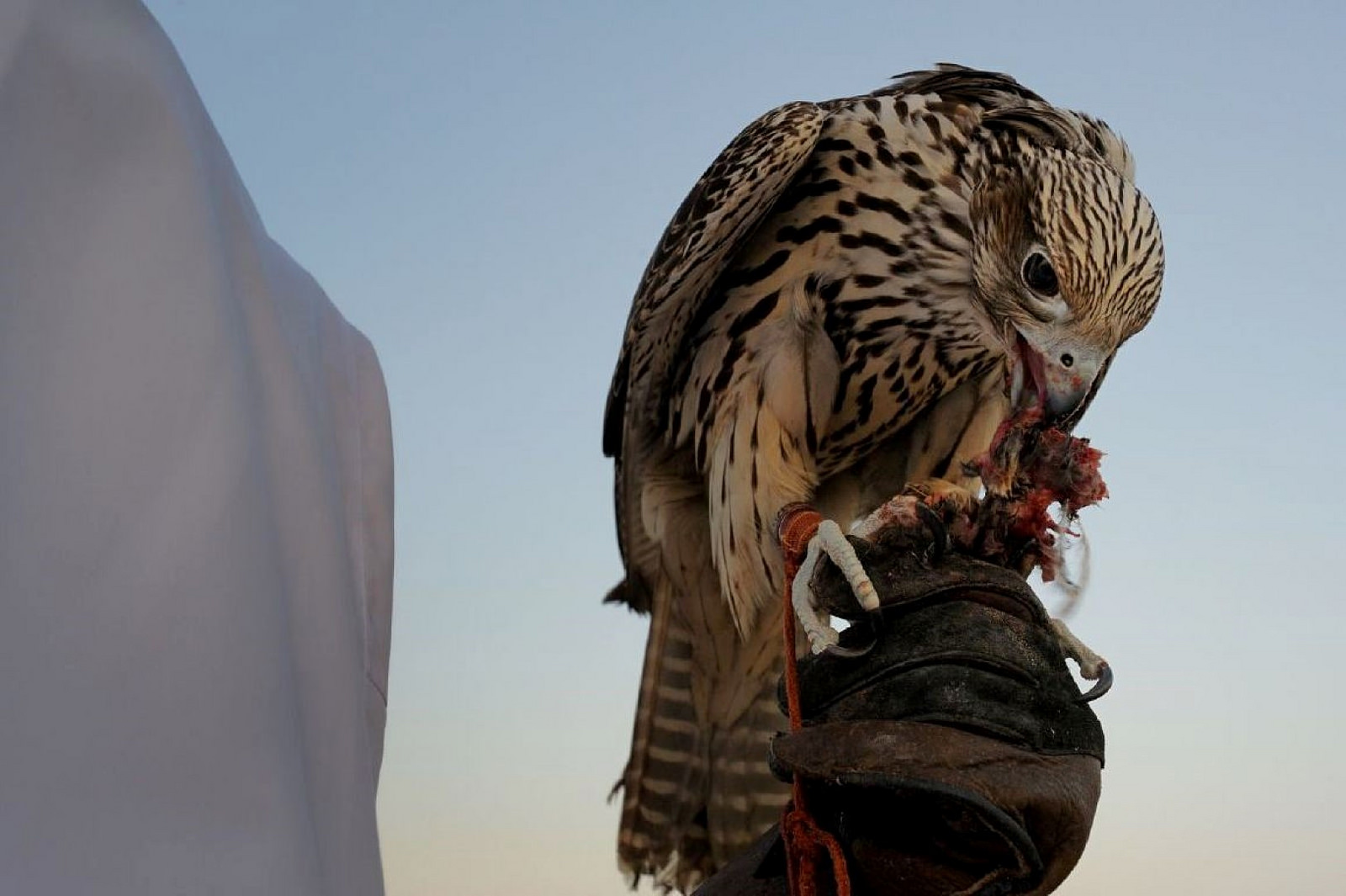 Falconry: An age old Emirati sport, falconry is a sport practiced by many even today to revive UAE culture and heritage. Photo credit: Stephan on Tour
Heritage centres of high repute, such as the Sheikh Mohammed Centre for Cultural Understanding, Hamdan bin Mohammed Heritage Centre and the Falcon Heritage and Sports Centre, among others play a key role in keeping culture alive and elevating it, thereby putting out the UAE heritage onto the global scene. These centres spread awareness among both, expats and locals, through tours, cultural breakfasts and dinners and cultural programs and championships.