When renting a car in Dubai, there are a few things you will need to keep in mind. The process of renting a car is relatively straightforward, but there are some important things to know before you go ahead and rent your vehicle. Here are the most important tips for renting a car in Dubai.
Also Read: 12 Types of Transport in Dubai: Getting Around the City
Depending on your vehicle needs, you can rent a regular vehicle, a van, or a pickup truck. For example, if you are in Dubai on business and only need to transport yourself around the city, you can rent a compact car. You can also rent a luxury car in Dubai if you feel like treating yourself, or a sports car if you are celebrating something.
For people who are interested in renting a car in Dubai, see the guide below to find out what you will need to know before renting a car and the benefits it provides.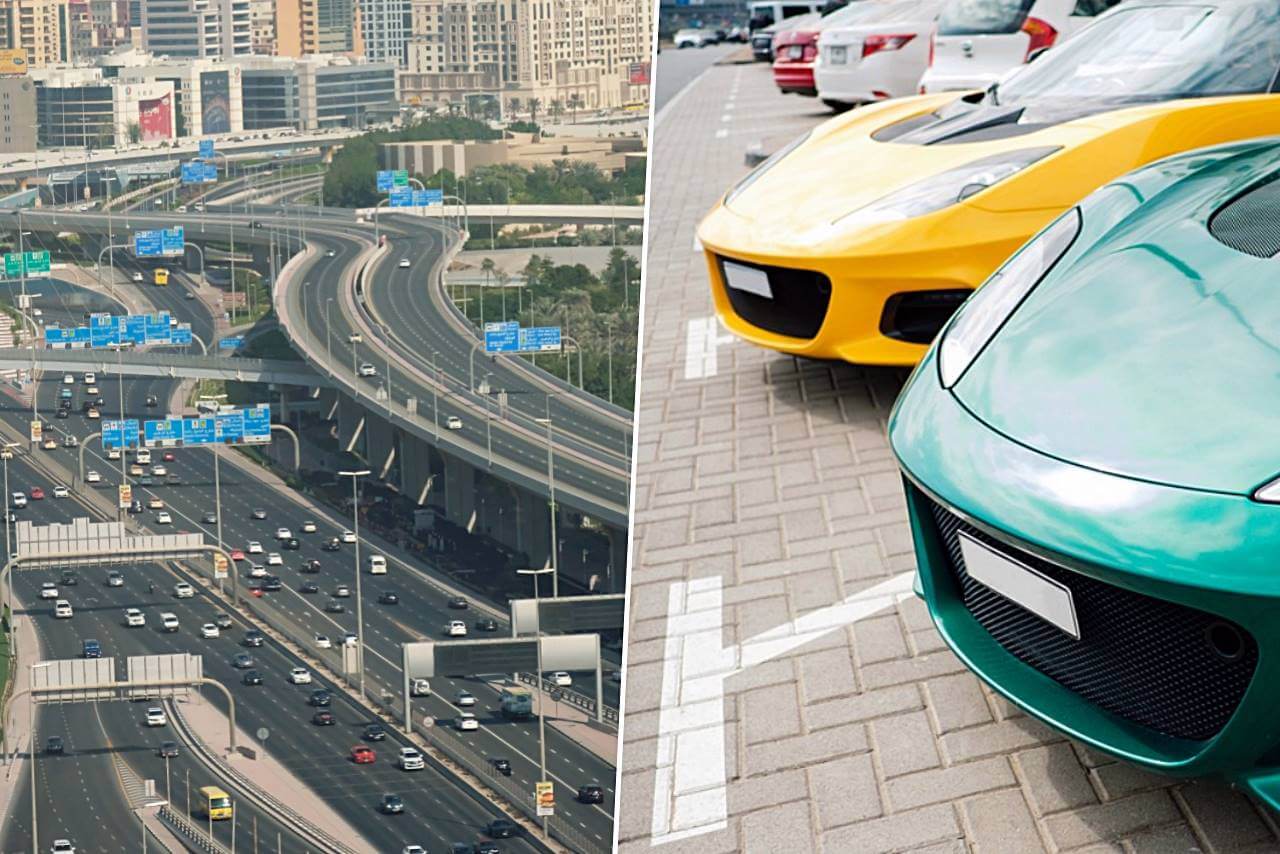 Requirements
For license holders from the Gulf Cooperation Council countries (GCC) or any of the following countries, you can freely drive without getting an international driving license.
Australia
Austria
Bahrain
Belgium
Canada
Cyprus
Czech Republic
Denmark

Finland
France
Germany
Greece
Iceland
Ireland
Italy
Japan
South Korea

Kuwait
Luxembourg
Netherlands
New Zealand
Norway
Oman
Poland
Portugal
Qatar

Saudi Arabia
Singapore
Slovakia
South Africa
Spain
Sweden
Switzerland
Turkey
United Kingdom
United States
People who are not from the listed countries above must acquire an international driving license.
Tips
UAE visitors are not allowed to drive a private vehicle without the proper documents; Such as a temporary driving license, passport, third-party party insurance, and a credit card, and other additional requirements if you plan to drive to other emirates.
Holders of UAE residence visas must obtain a UAE driving license instead of the international license.
Tips for finding a Car rental
There are a lot of car rentals available in the UAE, and canvassing prices is a smart way to save some money.
A car might have some damage from its previous owner; Therefore, it is important to check everything, telling this to the renting agent before getting the car is crucial to avoid getting charged for damage not caused by you.
Ask for the return timing and the fee for delay of return.
International car rental companies are costly compared to local companies; However, they provide more services and benefits, like a waiver for cancellation for failure to pick up cars, replacement in case of an accident and they also have a wider range of car choices.
Benefits
Here are some benefits of renting a car in Dubai.
It's easier to travel around the city
You can experience riding or driving a luxury car without actually buying one.
Public transportation doesn't cover all of the city's locations. Having a car that you maneuver on your own makes it easier to go around places no matter how far it is.
The insurance and police reports needed upon experiencing an accident while using the rented car would be shouldered by the renting company; Which is a plus, specifically if you're a tourist who is not familiar with the paper works in Dubai.
You won't face the same burdens car owners have like insurance, maintenance fee, and other miscellaneous things to keep the vehicle functioning.
Once you're done with all the paper works you can now use your rented car and travel with ease around UAE. Remember to drive safely to avoid paying for damages, and to return the car on time.
The best way to go about renting is through an established company. Look for companies online that have good reviews and check their prices alongside other competitors before deciding which is best suited for your needs. If possible, book the rental in advance.
This not only allows you to get the most out of your budget but also ensures that there will be a vehicle available for pick up when you arrive at the airport or nearby location where they are stored.
If you do not live in Dubai, make sure your international license is accepted there before you arrive to pick up your rented car. Some companies only accept licenses from certain countries; it does not hurt to call up and ask if they will accept yours ahead of time.
Depending on where you are staying while renting your vehicle, you may need to provide proof that you live (or at least stay) in that area; some companies will allow this via phone call while others require proof in person when picking up the car. Check with your rental company prior to visiting them so that there aren't any unexpected surprises.