We had dinner at Reem Al Bawadi restaurant in Downtown Dubai one Tuesday evening and had a delicious feast of Arabic cuisine while dining al fresco. Reem Al Bawadi has several branches in Dubai and the place where we ate was at located at Sheikh Mohammed Bin Rashid Boulevard.
The restaurant offers authentic Middle Eastern cuisine, warm Arabic hospitality and an inviting ambiance. The interior decor plus the lamps made the atmosphere very homey.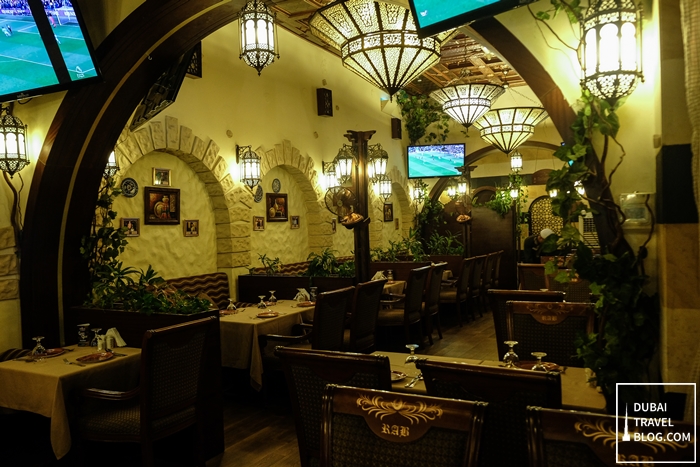 inside the restaurant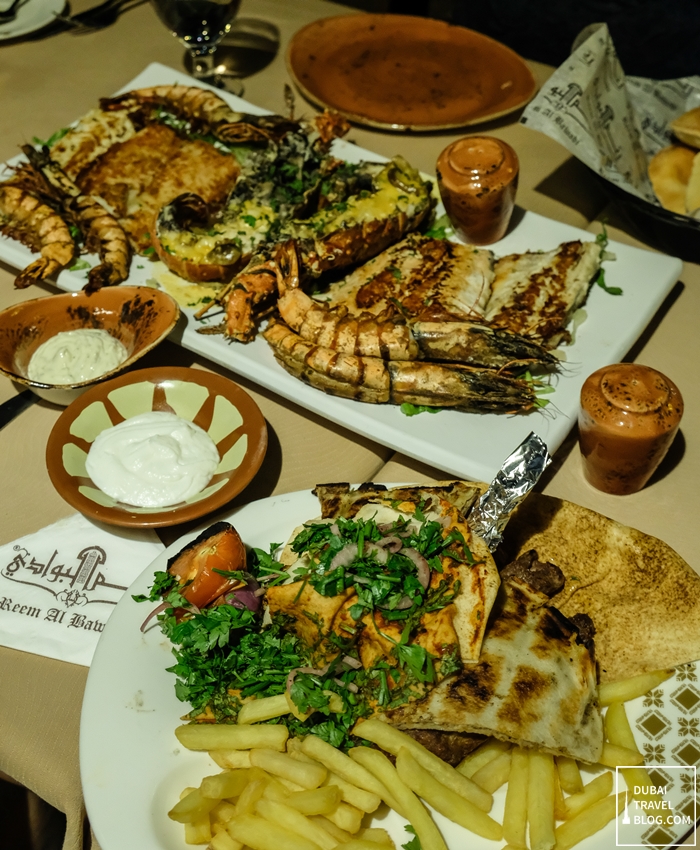 Middle Eastern food
dining areas are separated by smoking and non-smoking
Dinner at Reem Al Bawadi Restaurant at Sheikh Mohammed Bin Rashid Blvd
We arrived quarter to 8pm and found out that some areas outside the restaurant are undergoing some construction which somewhat covered the view of the road. However, you can see the Burj Khalifa and appreciate its full view so we didn't pass up the opportunity to sit outside. I took plenty of photos indoors though.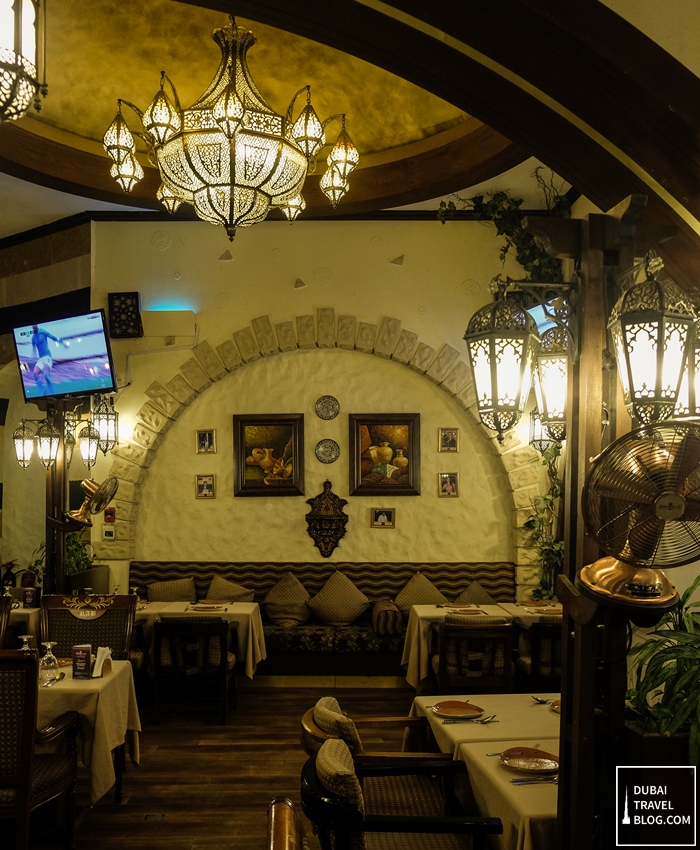 homey ambiance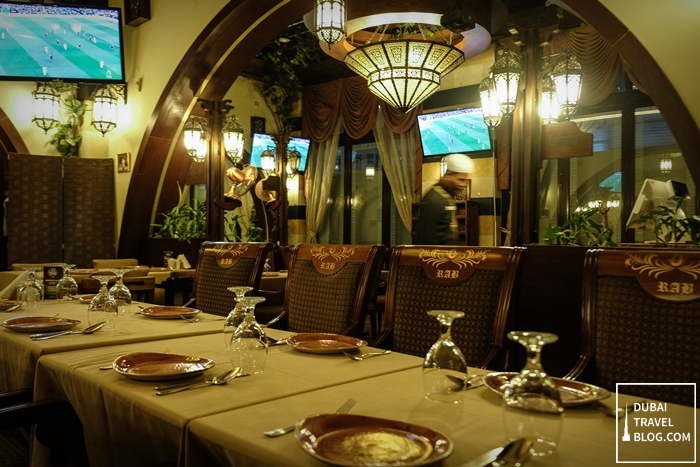 dining table
Reem Al Bawadi has been providing a 'home away from home' for over 16 years, welcoming guests to enjoy the best Middle Eastern cuisine in the UAE. From classic Hummus Beiruti and fresh Tabouleh, to tender Lamb Shuqaf and juicy Arayes Toshka, every dish is served with a generous side order of warm Arabic hospitality.
While Middle Eastern food is the restaurant's specialty, they also offer international flavors, pizza & pasta, and burgers & sandwiches and breads. They also have hot and cold drinks and shisha.
plenty of lamps!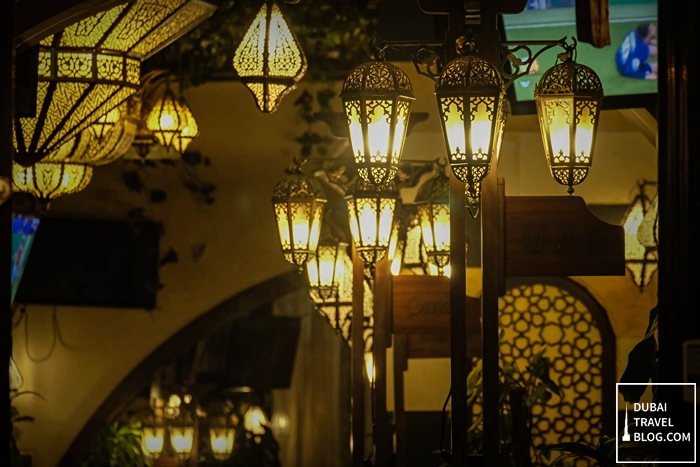 yellow lights
For starters, we ordered cold mezzehs like moutabal, mohammarah and hummus. The hummus tasted really good. When you eat Arabic food, the mezzehs are actually enough to feast on and make you full. However, we had to pace ourselves and leave room for the main course.
We also had a couple of soups as recommended by the staff.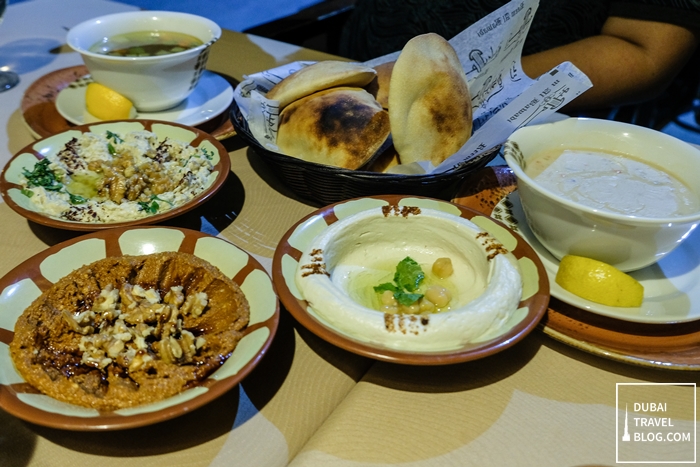 Vegetable Soup – 25 AED – Diced mixed vegetables slow cooked in vegetable stock and served with fresh coriander leaves
Seafood Soup – 30 AED – A selection of fresh seafood cooked in special cream sauce
Walnut Moutabal – 30 AED – Grilled eggplant, tahineh, olive oil, a splash of tangy lemon juice, garnished with walnuts
Mohammarah – 24 AED – exotically flavoured rich combination of chilli and walnuts, with texturising bread crumbs and a touch of pomegranate molasses to balance
Hummus – 26 AED – chickpeas blended with tahineh, olive oil and lemon juice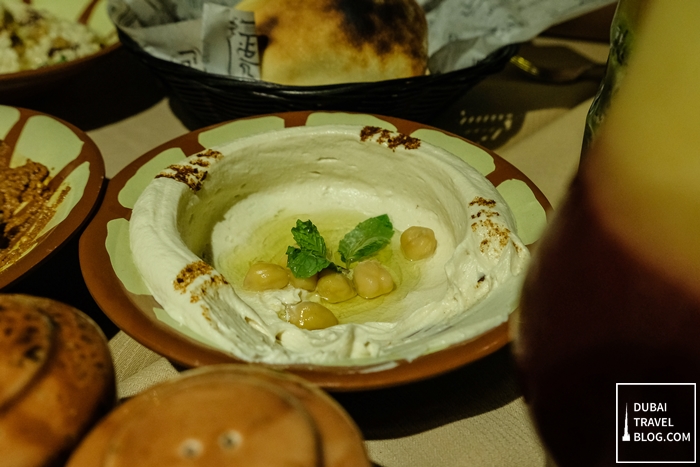 the hummus was really good!
For main course, we ordered mixed meat grill and the fresh seafood selection. We had to take our time eating the food as it was really a lot!
Arabic food is definitely meant to be shared with family/friends. We expressed delight over the lobsters and tiger prawns as well as the hamour and the grilled kafta and grilled chicken.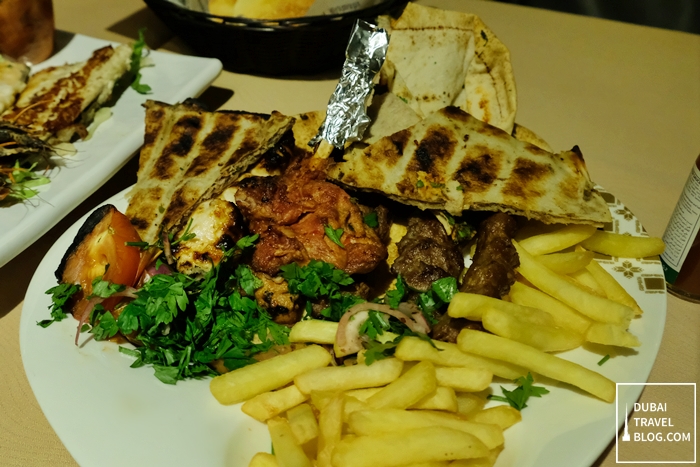 Reem Al Bawadi Mixed Grill – 85 AED
An assortment of lamb cubes, kabab halabi shish tawook, Lebanese kafta, meat arayess and lamb chops with grilled over hot coals for a smokey authentic taste of the Middle East, with grilled vegetables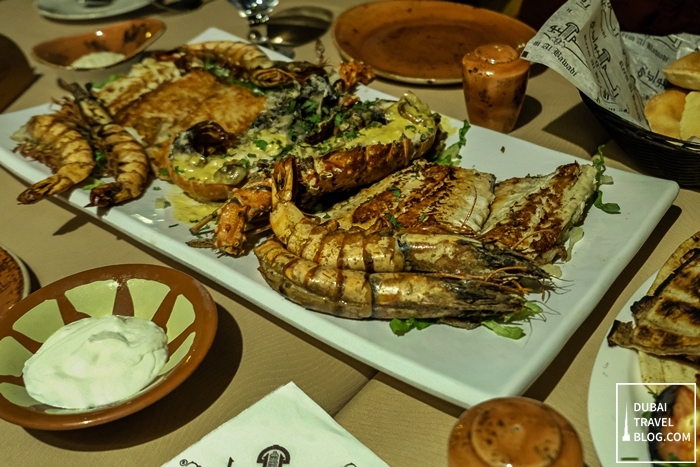 Chef's Fresh Seafood Selection – 380 AED
One for seafood lovers. A fresh selection of hamour fillet, lobster, sea bass, salmon fillet and prawns all grilled to perfection on our open coal grill. Served with tartar sauce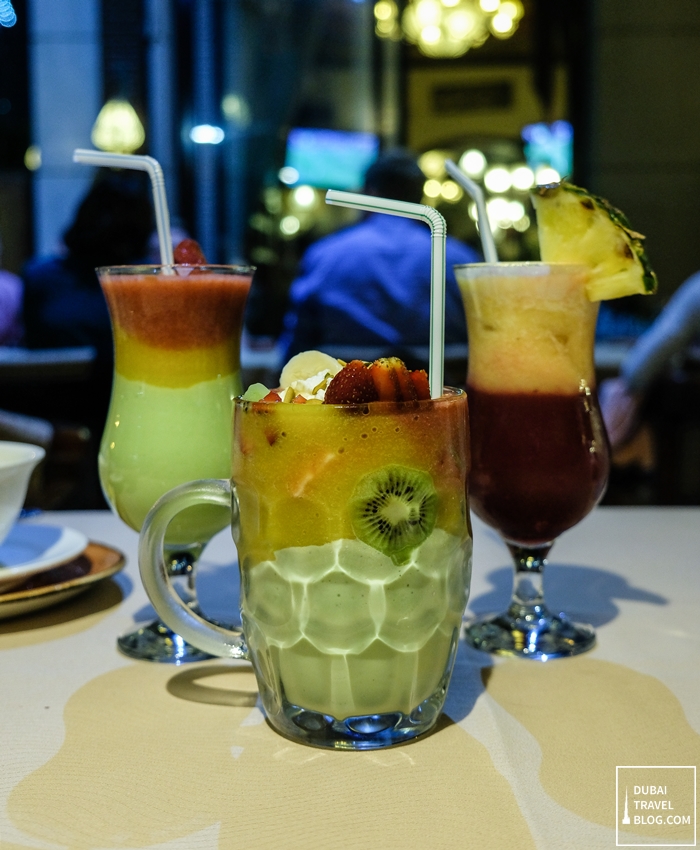 Fresh Cocktail – 30 AED – A zesty cocktail blending fresh mangoes, kiwi, avocado and strawberry
Reem Al Bawadi Cocktail – 48 AED – A refreshing mix of fresh fruit chunks and tropical fruit juice topped with fresh ashta cream, crushed pistachio and honey
Pomegranate & Pineapple Juice – 40 AED
Lastly for desserts, we had a selection of Arabic sweets and an Arabic ice cream. Their signature ice cream dessert was not available at the moment but the staff tried their best to give us some frozen delight as this was something that I really wanted to have. We partnered them with Moroccan tea.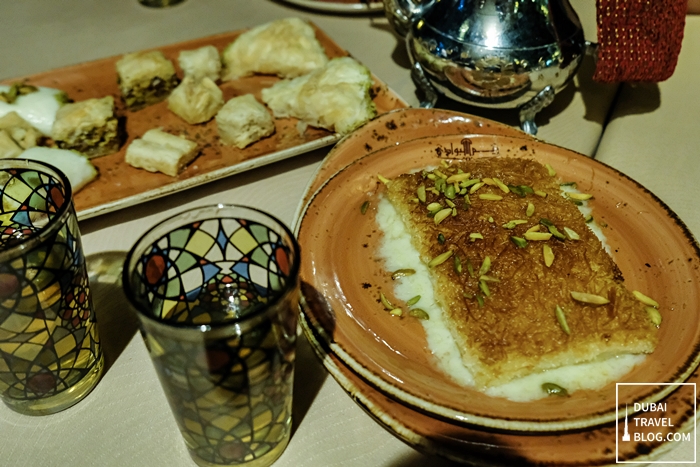 Mixed Arabic Sweets – 60 AED – baklava, kenafa and halawat al jiben
Kenafa Nabulsieh – 35 AED – fresh, homemade, mild, stretchy white cheese covered in a pastry and soaked in a sweet sugary syrup
Arabic Ice Cream – 35 AED
The service and hospitality were very good as the staff were very attentive, giving us recommendations on our orders and ensuring that we were happy.
We sampled Reem al Bawadi's authentic Middle East cuisine and were very satisfied with our experience. We would like to visit the place again even just for some appetizers and some shisha.
The view of the Burj Khalifa was also a plus to the overall setting. They mentioned that when the construction will be completed, there will be a fountain in front of the restaurant which will make the view even more attractive. It's been awhile since we last visited the downtown area (mostly Dubai Mall) so this was really a good night over food and company.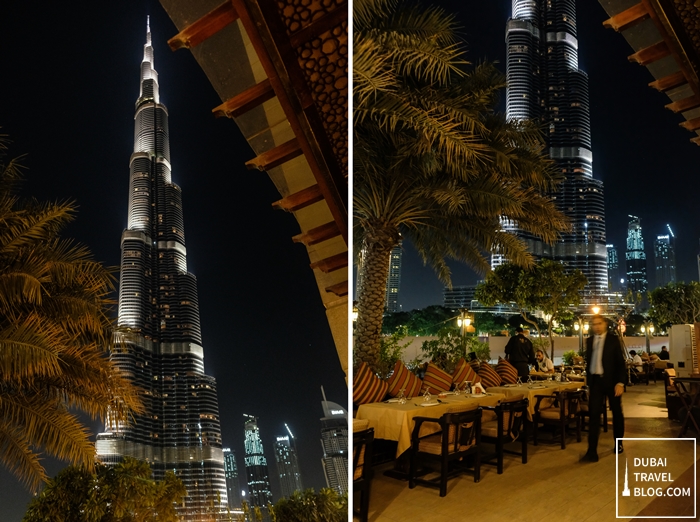 view of Burj Khalifa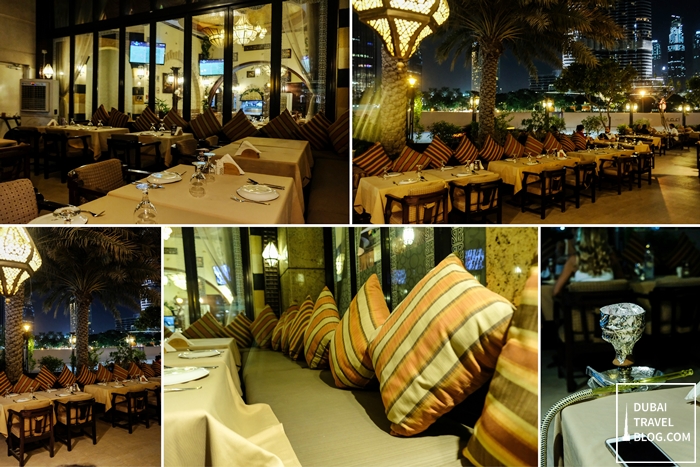 outside seating
lovely time to dine outside
Address: Stand Point B Tower, Sheikh Mohammed bin Rashid Blvd, Downtown Dubai – Dubai
Website: www.reemalbawadi.com
Email: info@reemalbawadi.com
Telephone Number: 04 443 9690
Other Reem Al Bawadi Branches in Dubai:
Dubai Marina
Sheikh Zayed Road
Jumeirah Beach Road
Deira
Motor City (coming soon)
Ras Al Khaimah
Al Ain
Dalma Mall (Abu Dhabi)
Sahara Centre (Sharjah)
Google Map Location: Reem Al Bawadi Downtown Dubai
Below is a map guide for you how to get to Reem Al Bawadi in Mohammed Bin Rashid Boulevard