The Red Hot Chili Peppers rocked the stage at The Arena in Yas Island during their concert as part of the Abu Dhabi Showdown Week. This event was held on September 4 and die-hard fans of the rock legends filled the venue in no time.
Having witnessed the concert first-hand, I was glad that the team did not disappoint as they really performed to the crowd and actually left us wanting for more. These guys were full of energy as they set foot on the stage to entertain. To think that they've been in the industry for more than 36 years!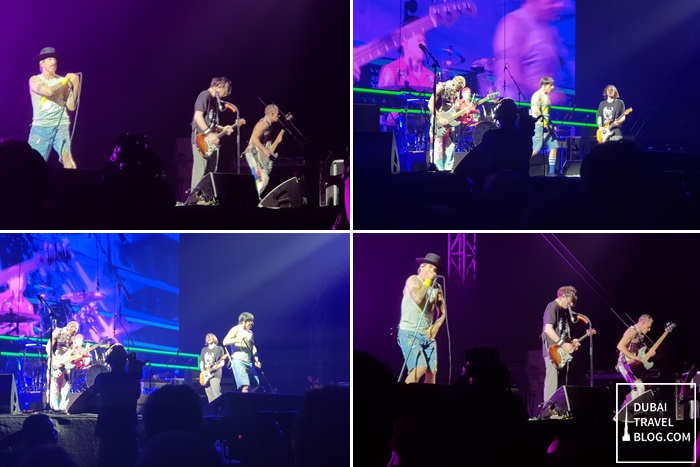 Red Hot Chili Peppers at The Arena in Yas Island, Abu Dhabi
American rock group Red Hot Chili Peppers wowed the crowds at The Arena on Wednesday night, in the first Yas Island mega concert held as part of the inaugural Abu Dhabi Showdown Week.
The Red Hot Chili Peppers thrilled fans during their first-ever UAE gig with a typically funky and energetic list of hit songs from their 36-year career at the summit of rock.
The four-piece band, whose line-up includes charismatic singer Anthony Kiedis, iconic bassist Flea, long-time drummer Chad Smith and guitarist Josh Klinghoffer, drew huge cheers from The Arena crowd when they opened with Can't Stop, before launching into classics Otherside, By The Way and Californication – the title track from the 1999 album, which is marking its 20th anniversary this year.
Organised by the Department of Culture and Tourism – Abu Dhabi (DCT Abu Dhabi), Abu Dhabi Showdown Week is a seven-day entertainment festival featuring a host of superstar concerts and mixed martial arts events, activities and promotions to complement the mega UFC 242: Khabib vs. Poirier event on September 7.
Red Hot Chili Peppers Concert Pictures
To find out the latest Abu Dhabi Showdown Week updates, visit www.ADShowdownWeek.ae or follow @ADShowdownWeek on Facebook, Instagram and Twitter.