Mr. and Mrs. Brunch rebrands their popular mobile app Lets brunch to Lets DXB, which focuses on finding the best city deals, reviews, and bookings not only on Dubai brunches, but also bars and restaurants too.
Lets DXB serves as a Dubai directory of food and drinks and allows users to search for venues, ladies' nights, happy hours, discounts, etc. in the city's top F&B scene. Recently, they held a launching event of this Mobile App upgrade at the Atelier M in Dubai Marina.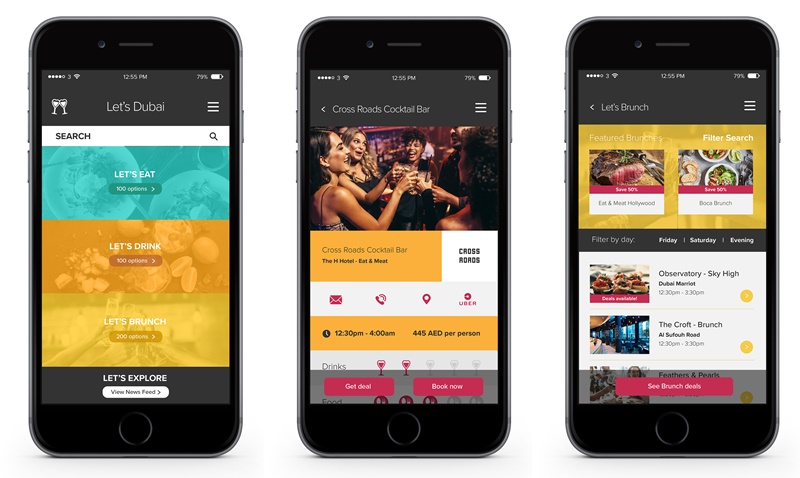 Lets DXB Mobile App for Weekly Deals on Restaurants, Bars, and Brunches
Lets Brunch, the hardcore Dubai bruncher's guide to what's hot in the F&B scene, has had a makeover. Back in action as Lets DXB, the upgraded free user-friendly app is now home to the city's best weekly deals and listings.
Let's DXB is decked with almost every brunch, restaurant and bar in Dubai, not just drawing the line at day brunches, but also featuring post-brunch drinks deals, and venues with free pool access. It will allow users to find Dubai's best family friendly venues, happy hours, ladies nights, meal discounts and much more – all completely free! It gets even better – none of the discounts featured on Lets DXB have an expiration date and can be reused every single week.
"We recently had a brunch stall at the Taste of Dubai Festival, where we spoke to thousands of people over three days. One overriding piece of feedback was that over half of the people we spoke to did not go to brunch regularly (shocking) and some had never been to a brunch at all", says Adrian John, co-founder of Lets DXB.
Lets DXB Mobile App Launch
He continues, "However a thing that was common amongst everyone that we spoke to, was that they had all been out to eat or drink at a restaurant or bar. This was our eureka moment, so the addition of these features and a timely facelift and server upgrade to an already popular platform seemed like the natural next step".
Formerly Lets Brunch, Lets DXB was launched after Mr. and Mrs. Brunch were hounded by friends and family for brunch and restaurant recommendations. Instead of typing up emails until their fingers fell off, they decided to pour their years of drinking and dining wisdom into a free-for-all app.
Lets DXB can be downloaded from the App Store on on Google Play. Check out more details here – letsdxb.com
Images: Supplied