A new lounge has opened which showcases Arabic hospitality with a modern twist. Layali Al Bustan Lounge is located at Movenpick Grand Al Bustan Dubai and offers its guests a place to chill out in a five-star setting right at the center of Al Garhoud area.
Also Read: Fusion Thai De Latino Night at Bambooda Dubai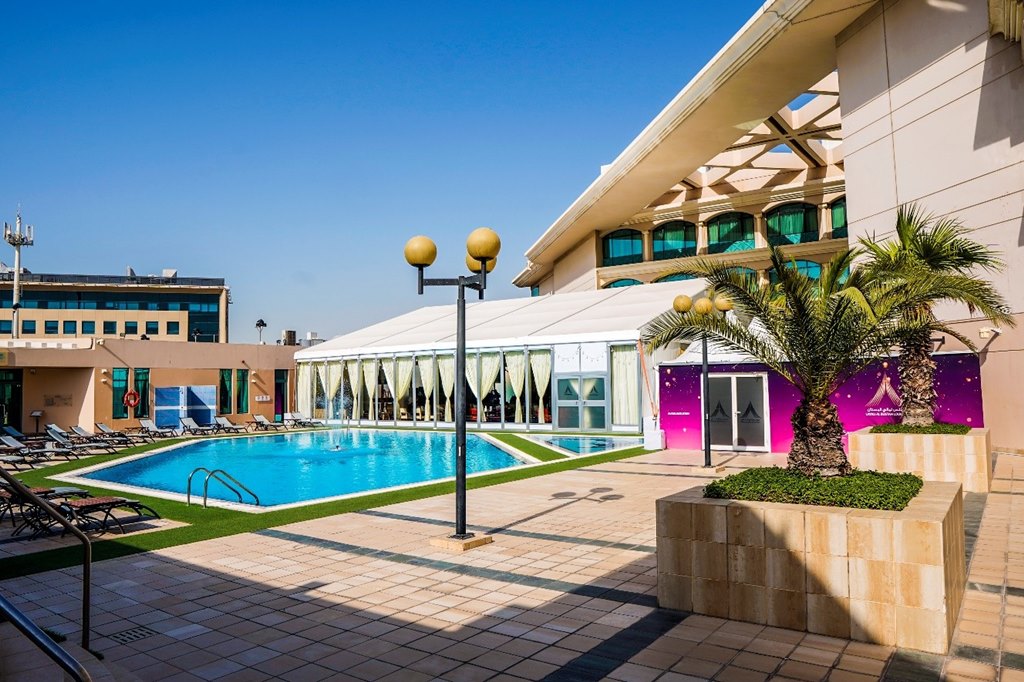 A spectacular lifestyle poolside chillout and dining venue has been opened at Mövenpick Grand Al Bustan Dubai, a five-star hotel located in the heart of Al Garhoud. Set on the first floor of the hotel, Layali Al Bustan Lounge is a venue that will operate as an extension of the hotel's dining outlets offering a daily à la carte menu, theme nights, special beverages promotions and shisha; deriving inspiration from Middle Eastern culture and international cuisine, 'a modern fusion of the East and the West'. Opening its doors from September 9 2020, the lounge will operate daily from 3.00 pm until 1.00 am.
Layali Al Bustan Lounge is set to be a unique hangout, boasting distinguished features such as floor to ceiling windows allowing in natural daylight and mesmerizing views of the swimming pool and the city, creating a chic ambience and a stylish spot to relax and enjoy alfresco dining during cooler months. The lounge can accommodate up to 80 guests and will be also open to host corporate gatherings and private events/parties.
'We have conceptualized the Layali Al Bustan Lounge exclusively for our guests to experience and enjoy a wide choice of culinary options and restore their confidence and trust to go out and enjoy dining with a peace of mind. Stringent hygiene protocols will be followed to ensure our guests' safety, thanks to the #ALLSAFE label and Dubai Municipality for accrediting us. Layali Al Bustan Lounge will restore the food and beverage legacy this iconic hotel has held for many years', said Mrad El Khoury, the Cluster General Manager of Mövenpick Grand Al Bustan Dubai.
Layali Al Bustan Lounge is set to push hospitality boundaries further and every day will have an exciting twist to it. The venue will feature a delicious and well-priced à la carte menu that doesn't break the bank and a colorful calendar brimming with theme nights and daily promotions starting this October.
Sunday Mashawi Nights will start the week with a family-style Middle Eastern-inspired BBQ evening under the stars offering a mouth-watering selection of deliciously marinated meats, seafood and a wide selection of desserts. Guests can enjoy the beautiful weather and live entertainment at AED 220 per person with soft beverages.
On Mondays, a special 50% off all dining and beverages will be offered to our guests throughout the day excluding flavored bubbles from 3.00 pm to 1.00 am.
Tuesdays will be a day for the ladies, as they will be treated to an exclusive 50% discount off the à la carte menu and complimentary flavoured bubbles.
Wednesday will bring to the table the most tantalizing seafood dinner buffet overflowing with the freshest catch of the week including; shrimps, oysters, prawns, langoustine, lobsters and more. Starting from AED 260 per person with soft beverages.
Hala Bil Khamis every Thursday will be the perfect way to end the week. Guests will be invited to gear up for the weekend with their loved ones on the rooftop, while they enjoy the sunset over the Dubai horizon. A selection of delicious snacks and a choice of a la carte menu will be served paired with a choice of hot beverages including Turkish coffee and refreshing soft beverages.
Trunch on Fridays will soon become the talk of the town, a vibrant evening featuring a delicious buffet, live entertainment and guests can also take a deep dip in the pool whilst enjoying the best Friday vibes.
Every Saturday, the Grand Saturday Brunch will end the week with an extraordinary set up of sushi, freshly marinated seafood, live cooking and BBQ stations, succulent roasts and a choice of refreshing drinks to set the mood right for a unique Saturday afternoon from just AED 240 per person.
Our little guests below 5 years will be treated to complimentary dining and those between 6 years and 12 years will receive 50% discount. A special kids' corner will be manned by a professional child carer and available during all theme nights, Friday Trunch and Saturday brunch offering lots of fun activities including face painting, bouncy castle and a mini buffet.