We had the opportunity to dine in Dubai's only revolving restaurant, Al Dawaar, on a Wednesday. Located on the 25th floor (rooftop floor) of Hyatt Regency Dubai, Al Dawaar offers an international menu, live kitchen, and the unique experience of dining while the restaurant floor moves slowly so you can enjoy a 360 degree view of the city.
I've read about this restaurant from other Dubai bloggers a few years back and now that there's an opportunity to sample a dinner buffet, I was excited to bring my wife here for a date night.
Alcohol: YES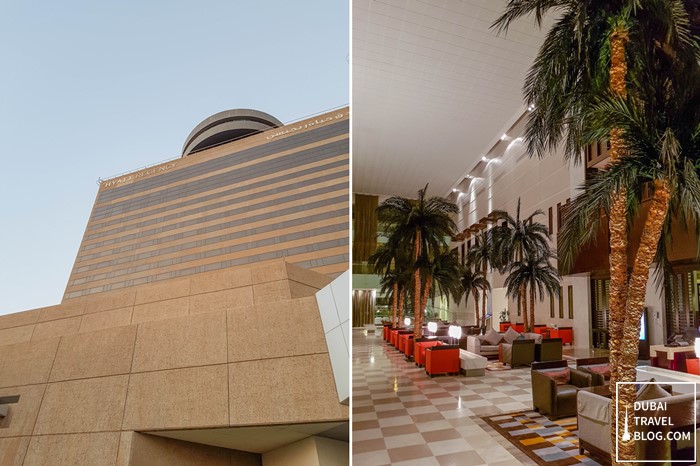 Hyatt Regency Dubai – Corniche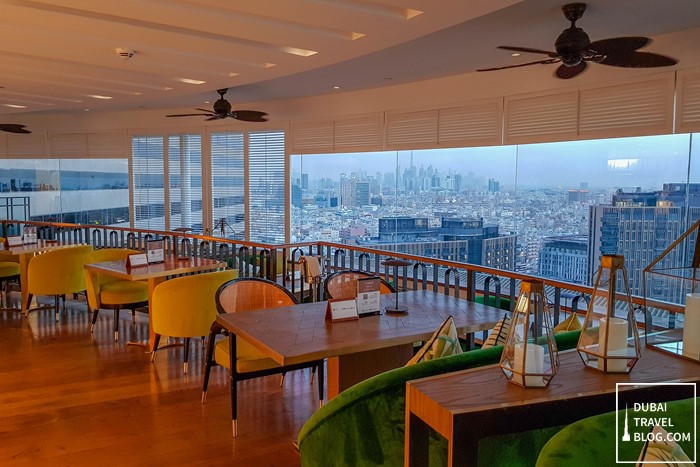 view of Dubai skyline
Restaurant Review: Al Dawaar Rooftop Revolving Restaurant in Hyatt Regency Dubai
The restaurant was closed for a few months due to the health crisis. Now that they have reopened, Al Dawaar has reintroduced its food stations while following safety guidelines.
As always, we try our best to arrive early as this allows me to take photos of the food untouched. The hostess took us to a table on the window side so my wife could sit comfortably while I go do blogging duties. 🙂
The interior features colonial design with white shutters and French windows, striking green velvet and rattan furniture, and wooden floor. During the day, the ambiance is bright. During the night, the restaurant exudes an intimate setting where the panoramic views of the city and its lights serve as a beautiful backdrop which makes for a memorable dinner.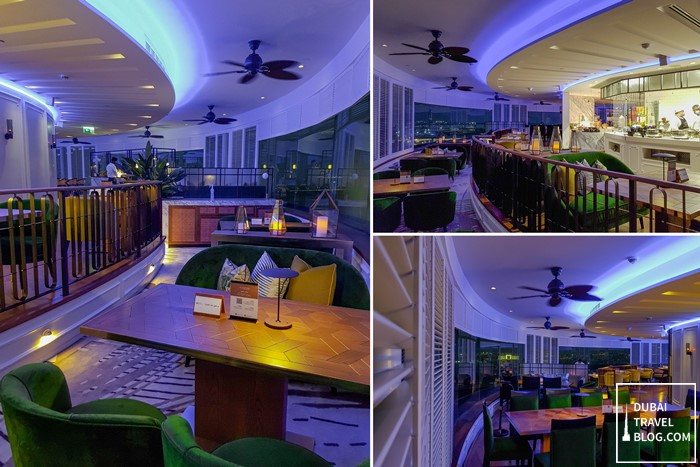 inside the restaurant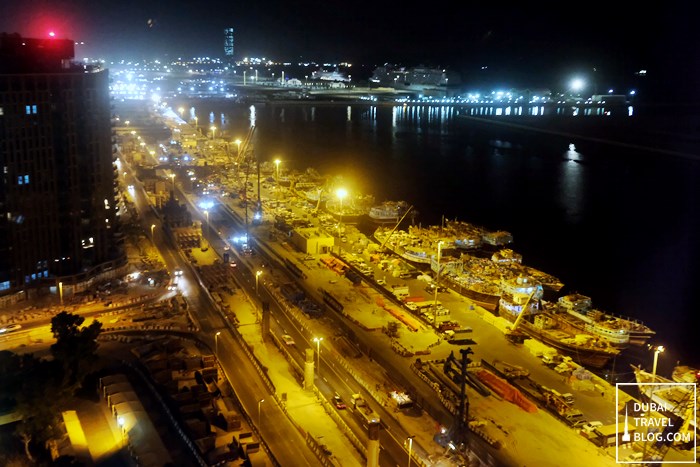 corniche area at night
Delicious Five-Star Dinner
The buffet dinner started at 7pm. There were a variety of options from tandoor, wok fry, rotisserie, steam pots and frying pans. We also had a serving of salads, sushi and sashimi, 'catch of the day', Arabic Mezze, smoked fish, cold cuts and seafood items.
This dinner experience comes with innovative, handcrafted cocktails, finest wines, and decadent desserts.
salads – sushi – dumplings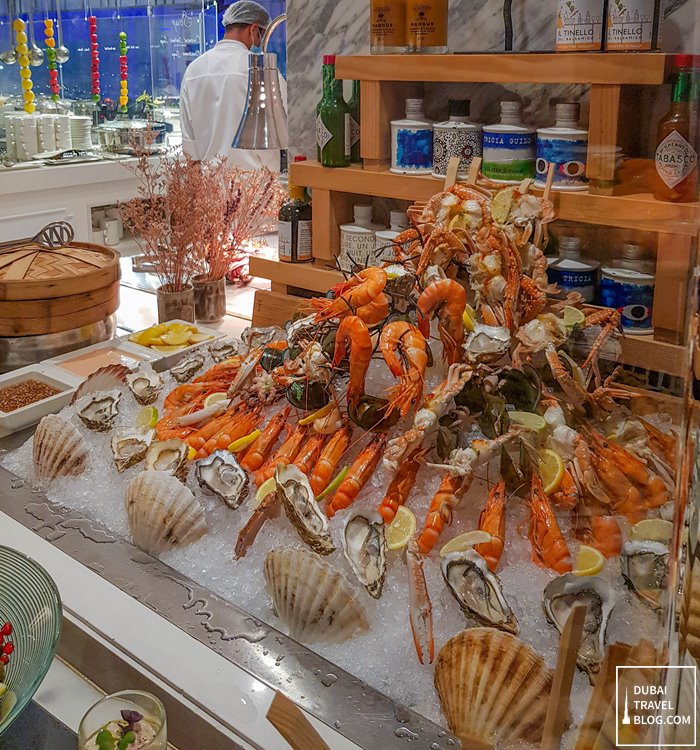 fresh seafood bar
salads, cold mezzes, bread
US Prime Rib – Seafood catch of the day (Seabream)
grilled meat, grilled chicken, seafood, etc.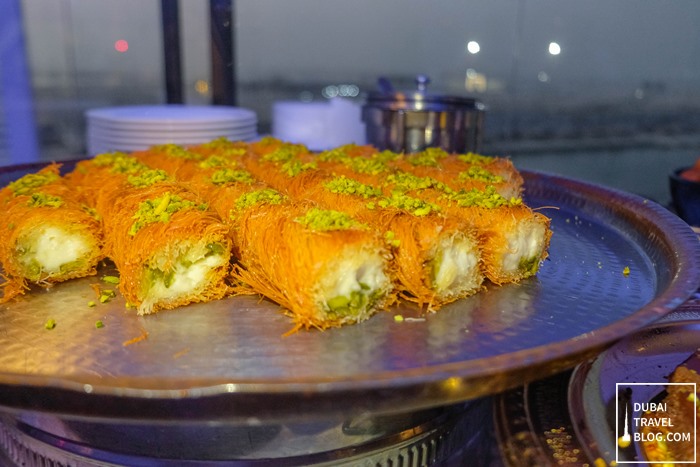 kunafa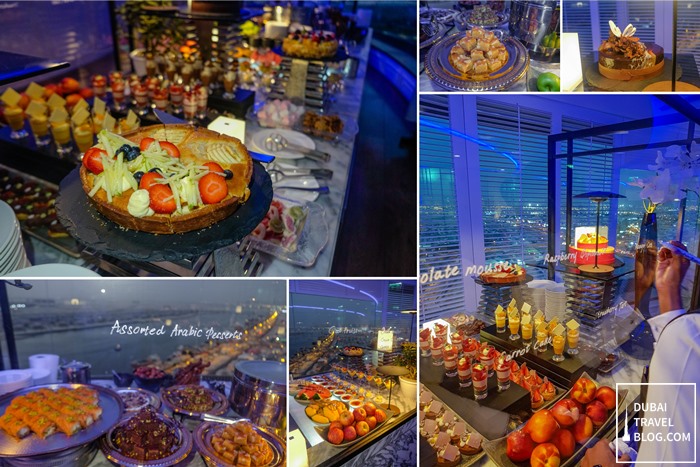 Assorted Arabic dessert and international sweets – they have ice cream too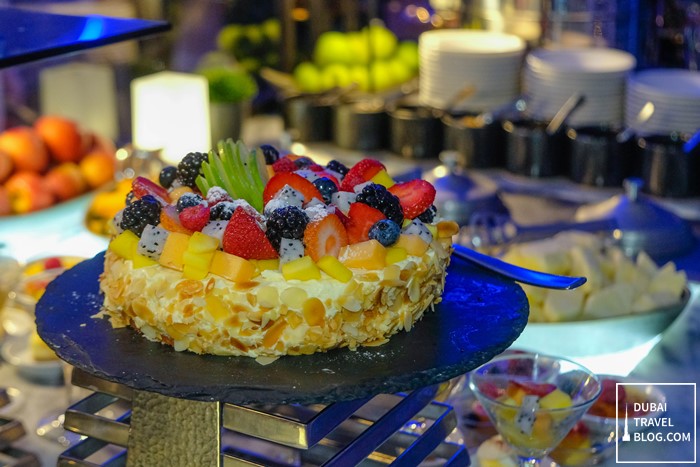 delicious sweets
View of Dubai from Al Dawaar
The revolving feature of the restaurant was something my wife and I were curious about. It was interesting to experience it ourselves and it's something you may want to try if you're looking for a distinctive and memorable dining affair.
You will be sitting in a moving platform and you get a different view of the city as the delicious offerings. Be advised though not to place your belongings on the side of the window as it may get left behind as your table moves.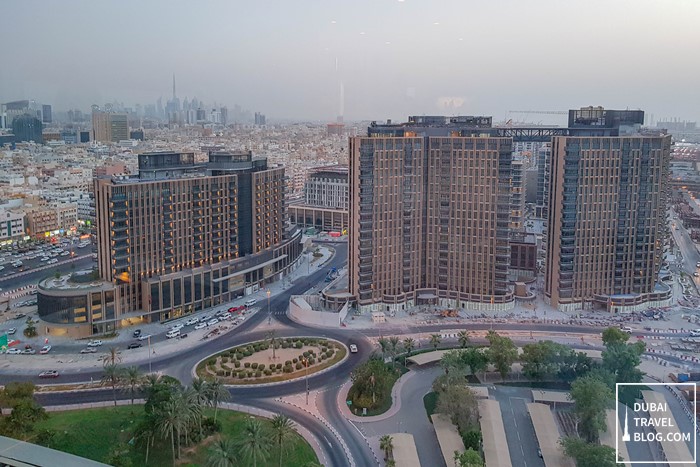 view of Dubai from Al Dawaar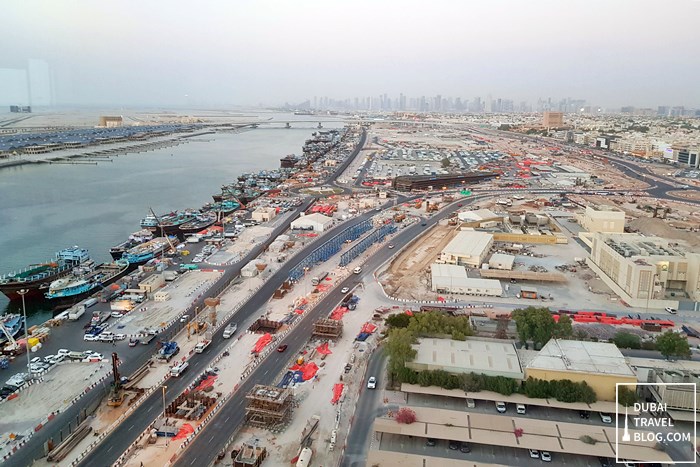 another view of the water and Old Dubai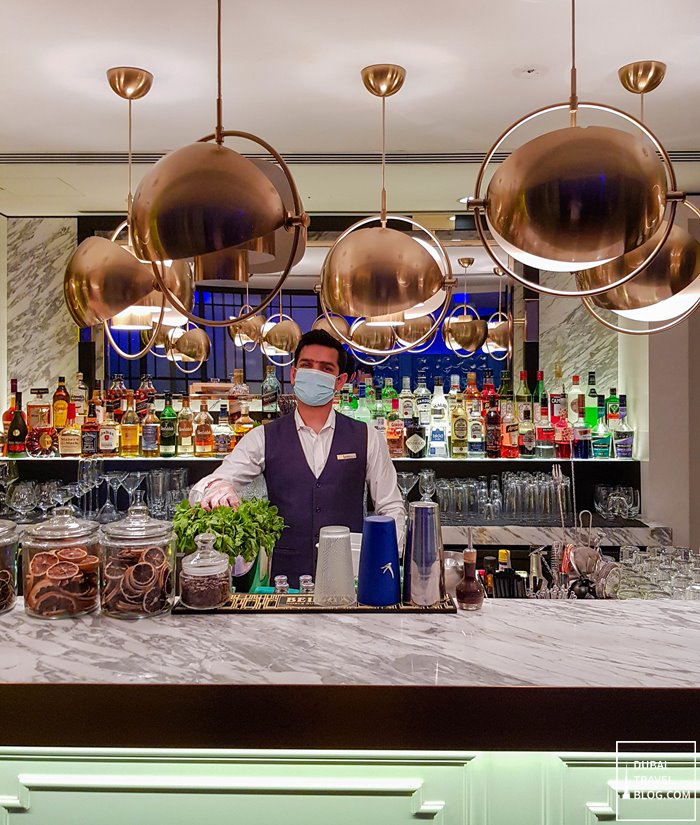 bar counter – order your drinks from your table by scanning a barcode for the drinks menu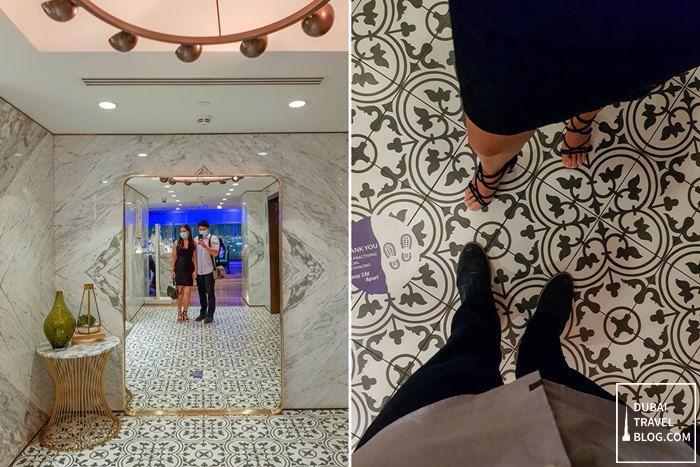 date night at Al Dewaar
If you're someone who likes to have a special dining experience, this is one of those restaurants that's worth trying. While the restaurant's revolving feature is an interesting experience in itself, the quality of the food is also very good.
Al Dawaar Restaurant, Dubai's only revolving restaurant has now reopened. It is open from Wednesday to Saturday for dinner and for Sky Brunch on Friday. For restaurant reservations, call +971 4 2096887
Dinner Every Wednesday to Saturday from 7:00pm to 11:00pm
AED 229 per person (excluding beverages)
AED 115 per child between 6 to 12 years (excluding beverages)
Children under 6 years eat for free
SkyBrunch Every Friday from 12:30pm to 4:00pm
AED 249 per person including soft beverages
AED 369 per person including house beverages
AED 569 per person including champagne
AED 125, child between 6 to 12 years
Children under 6 years eat for free
Video: Al Dawaar Restaurant Dubai
Check out this quick video from Hyatt Hotels about what you can expect from this restaurant:
Contact Information
Address: 25th Floor, Hyatt Regency Dubai – 25th – Al Khaleej Rd – Dubai
Telephone Number: +971 4 209 6887
Website: https://www.hyattrestaurants.com/en/dining/uae/dubai/international-restaurant-in-deira-corniche-al-dawaar-revolving-restaurant
Instagram: @aldawaar
Facebook: @AlDawaar, @HyattRegencyDubai
Google Map Location
Below is a map guide to the location of Hyatt Regency Dubai. Press the 25th floor on the elevator to get to Al Dawaar: