Dubai residents are going to be in for a treat at the end of August as the first aqua-based permanent show will finally open. La Perle by Dragone, to be staged at Al Habtoor City, will open its doors to the public to witness the wonders of this amazing and one-of-a-kind theatre in Dubai.
Think flying acrobats and performers in water, a ensemble of 130 cast and crew, all ready to showcase its talents and skills and a show that is aimed to introduce a new level of entertainment in Dubai, the La Perle show is definitely not something you should miss out. Check out some pictures of the said show to have a first look at one you can expect.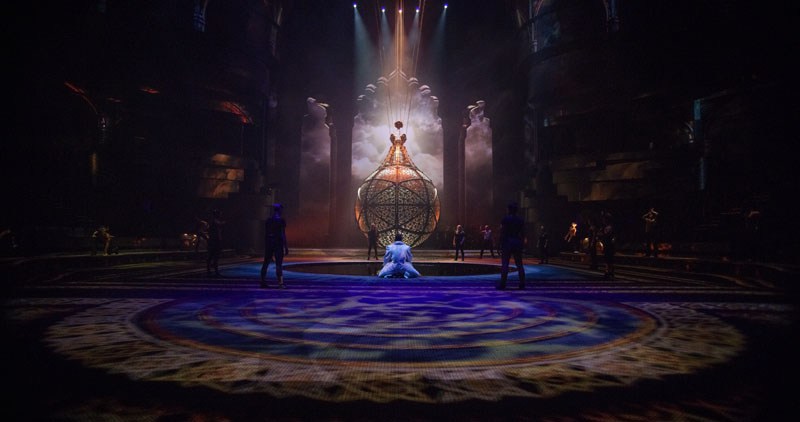 The first look inside La Perle
The new state-of the art aqua theatre is getting ready for its first live show

The wait is over! Here is the first look at Dubai's most anticipated opening of the year, the state-of-the-art aqua theatre, La Perle. Home to 130 cast and crew, the venue is the only theatre of its kind and calibre in the world. Opening in August 2017, the show, produced by cultural creative company Dragone, directed by legendary artistic director Franco Dragone and brought to Dubai by Al Habtoor Group, is set to raise the bar for entertainment in the region.

The new 1,300 seat theatre, located in the heart of Al Habtoor City, is purpose-built to host Dubai's first permanent show. A breathtaking fusion of artistic performance, creative imagery and ground-breaking technology, La Perle defines the future of global live entertainment while taking inspiration from Dubai's rich cultural past, vibrant present and aspirational future.

Guests begin their La Perle journey in the spacious and futuristic lobby where they collect their tickets, check out the high-quality merchandise or purchase mouthwatering snacks that can be taken inside the venue. Opening the doors to the main theatre, jaws will drop as they set sights on the one-of-a-kind theatre. With only 14 rows and seating 270 degrees around the aqua-stage, every seat offers an intimate and completely different perspective as the awe-inspiring action unfolds.

All is not as it appears, as the stage transforms, thanks to a visual feast of high-tech, 3D projections, transporting the audience to worlds they have never even dreamed of.

Khalaf Ahmad Al Habtoor, Founding Chairman,  Al Habtoor Group, commented, "A world-class theatre and show of this magnitude takes years to prepare for. It will set a new benchmark for the entertainment sector and put Dubai on the map as the go-to destination for first-class live theatre. We look forward to welcoming our first guests."

With an international cast of 65 skilled artists, each demonstrating their extraordinary set of superhuman aquatic and aerial stunts during a live 90-minute show, the theatre has been custom-built to provide a truly immersive and visually captivating entertainment experience.

Franco Dragone, Creative Director of La Perle, said: "It is a thrill to present the La Perle theatre to the public for the first time. An experience like no other, La Perle sets a new milestone in world-class entertainment with a show so spectacular that we had to build a theatre around it. We are extremely proud to present this unique project and can't wait to welcome the first guests to immerse them in the wonderful world of La Perle."

La Perle show is set to take place twice a night, five days a week. Performances run from Tuesday to Friday at 7:00pm and 9:30pm, and Saturday at 4pm and 7pm starting from August 31st. Tickets start from AED 400.

#LaPerleDXB

Ticket bookings: Please visit www.laperle.com, or go through the dedicated Box Office: 800 LAPERLE (800 517373)/+971 4 437 0123, boxoffice@laperle.com or via PlatinumList.com.
Book your tickets (starting 400 AED) and finally experience this much-awaited event that you can see and experience while in Dubai!
Here's a short video clip of the La Perle DXB.