Keri Hedrick is the blogger behind Our Globetrotters, a blog that focuses on Family Adventure Travel and Expat Life. What started out as a personal site has now become an online community for families who wish to continue travelling with their children. You can read a lot of practical tips, helpful travel advice, destination guides, expat experiences, and much more.
Based in Abu Dhabi, Keri is an Australian freelance writer and mother of three. I met her during the Arabian Travel Market and during a blog discussion event in DIFC. She was generous in sharing her knowledge and tips in the field of travel blogging.
One of the things to note about Keri's blog and Instagram feed are photos of her family in various countries. The captures are very natural and you can have a better idea of what it's like to enrich children through travel.
It can be challenging to travel with kids, but it's good to know that it's doable. If you are looking for some family travel inspiration, I would recommend you visit Our Globetrotters.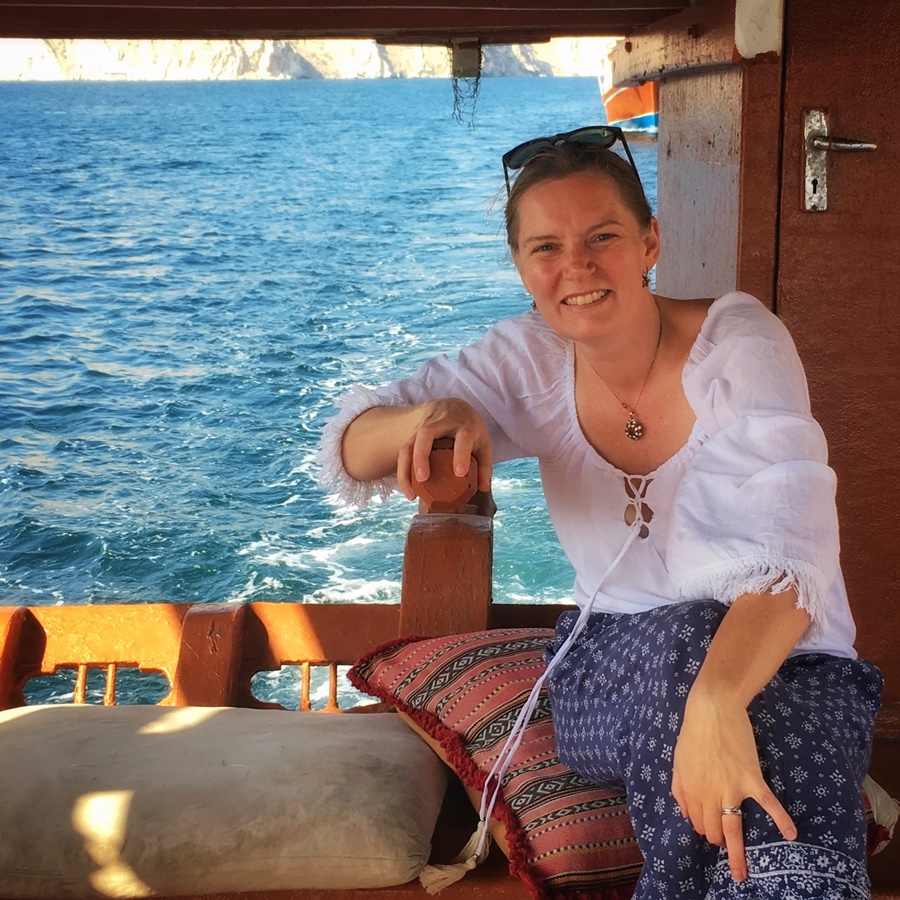 Blogger Interview with Keri Hedrick – OurGlobetrotters.com
In our feature, Keri shares the story of how she set up her blog and community websites. She also shares insights about living in the Middle East, blog personalities she recommends, and tips for those who are starting to build their own travel blogs. We hope you find some valuable lessons as she shares a LOT of in-depth information based on her experience. Check out our interview below:
1. Tell us a little about yourself.
I'm an Aussie travel writing, living in Abu Dhabi with my hubby and three kids. We had been working in London for a number of years before my husband was offered a job in the UAE in 2012. It was at a juncture in life when my husband needed a career move and I needed a career break (my previous life I was an insolvency accountant, working ridiculous hours throughout the GFC).
We had outgrown our inner London life with 2 kids in a tiny flat with daily tube commutes! We were ready for our next overseas adventure and Abu Dhabi saw us somewhat closer to Australia and near to a massive airline hub – win-win really!
View this post on Instagram
2. Can you tell our readers more about your blog and how it started?
I started blogging pretty soon after moving to the UAE, picking up my passion for writing and teaching. It became apparent I would not be returning to full-time work, and we found out there was another little Globetrotter on the way!
My blogging started in the personal finance field, specifically targeting investing for expat finances. I'll admit, I really knew nothing about social media and how to market a blog at the start!
The more I learnt, and the more I studied online behaviour, understood the demographic I wanted to target, I realised I was in the wrong niche. I started another blog "Baby Globetrotters", targeted at expat parents and frequent travellers and it really took off. I cover a small amount of expat money topics still, but really the focus is on family destinations, hotels and attractions.
There was a huge need at the time for more information for family travellers along with first-hand reviews, and it was a pleasure to work in this area. Even over the last 5 years it has evolved so much. Social platforms all have their varying moments of glory, but still nothing beats having your own website to tell your story, your way.
I rebranded back in 2016 as I realised I wouldn't be blogging about baby's forever, and my audience was maturing with me, they wanted to know more about adventure! At this point the blog and social channels became known as "Our Globetrotters" making the story much more personal. Parents want to connect with other parents, not generic guides.
I've also started a second regional blog Family Travel in the Middle East – does what it says on the tin really! It started as a discussion group for family travellers, but I have now curated a number of articles about the region and given it it's own website so families can easily find the regional travel information they're looking for.
It's important to recognise your own boundaries. Yes, you can travel almost anywhere with your kids if you put your mind to it, but there are so many more details you need to pay attention to – younger children especially when nap times and routine are still so important.
We used to love spur of the moment travel but with kids, a little more planning can go a long way. Particularly if you're flying anywhere, getting good flight times and good seats can make a world of difference to the journey. Knowing you have accommodation in a good, central location for city travel is essential, and being prepared for meal times, knowing when restaurants will be open and having snacks on hand prevents those hangry meltdowns!
We have school aged kids now, so scheduling down time and play park stops is ever so important. And always pack wet wipes, loads and loads of wet wipes!!
4. What's a common misconception you had about Dubai or the UAE that's been dispelled after you got here?
I don't think we had too many misconceptions. We had visited Dubai on several occasions over the previous decade before actually moving to the UAE. Certainly, one of the most common tourist misconceptions I hear is that Dubai is all concrete and very fake.
Sure, if you do a stop over and only make it as far as the malls and the fancy beach front developments, you could probably make that assessment. Get beyond the cities! There is so much more to see in this country. It may not feel as immediately accessible, but it's there. Get out of your comfort zone, 'embrace the sand', there is so much more on offer if you look for it.
View this post on Instagram
5. What are your top places to visit/attractions in the UAE?
Now having said get out of the city, there's still plenty I would recommend people see and do in town!
Seeing the nightly spectacular of the Dubai Fountain Show, the Mall and the Burj Khalifa is kind of a rite of passage when you arrive! We also love taking our visitors to Souk Madinat for views of the Burj al Arab – touristy, but iconic. For families, we love the Dubai Parks & Resorts theme parks, slightly out of town but set around Riverland, it's really a beautiful setting and the parks aren't too busy so most of the time there's no crazy long queues (avoid public holidays!).
In Abu Dhabi you can't beat seeing the Sheikh Zayed Grand Mosque, and even if you're not a huge arts and history fan, its hard not to be blown away by the new Louvre museum. I usually recommend families stay on Yas Island, between the theme parks and beautiful marina, it's a great setting. Warner Bros World is an outstanding theme park – but pricey.
Get out in to the desert, it doesn't matter too much which Emirate. We like Arabian Nights Village less than an hour outside of Abu Dhabi and Platinum Heritage who operate from Dubai Conservation Reserve, a popular alternative to the traditional dune-bashing style safaris. And anyone with an interest in the country's history should make sure they spend time in Al Ain.
Our favourite short break was to the Musandam Peninsular (ok, technically that's Oman!) But it is a simply stunning part of the world and a beautiful place to escape the hustle and bustle of Dubai.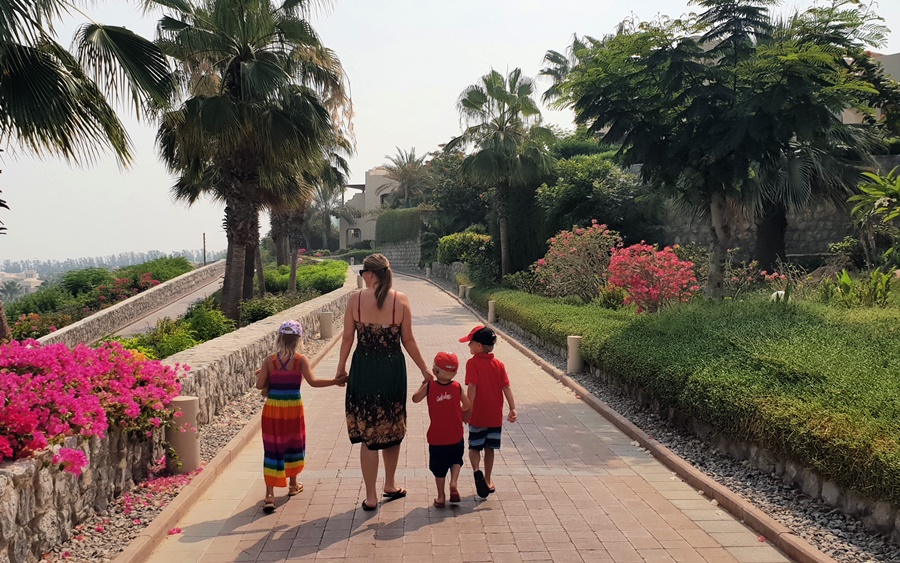 6. What are the top restaurants that you recommend in the UAE?
I will confess, I so rarely get to eat out! What we do love though is Friday Brunch, it's a great opportunity to catch up with family and friends in a relaxed setting where children are entertained too.
Our top foodie pick Brunches in Abu Dhabi are The Terrace at St Regis Abu Dhabi and Giornotte at the Ritz Carlton – both have the most sensational desert selections and a huge range of dishes to suit all tastes so work well with a family group.
For family entertainment, Crust Brunch at the Four Season in the summer, or Emirates Palace al fresco market-style brunch for winter outside by the pool is just amazing.
We've got more family-friendly Brunch ideas for Abu Dhabi here
View this post on Instagram
7. What are some of your most successful blog posts and what are they about?
The topics that seem to do best on my blog are advice posts on flying with kids. Never mind the fascinating destinations we cover, parents primarily still seem concerned about the practical issues of getting there! For years, my aeroplane baby bassinet post has been a top performer, and most recently flying business class with infants and kids has moved to top spot.
My top performing UAE post is the Best UAE Desert Resorts – with & Without Kids; it's something that's really unique about the region and everyone wants to try one at least once (spoiler alert, our favourite is Qasr al Sarab!). In the summer, my Abu Dhabi Indoor Activities with Kids post always goes crazy – and I can tell it must be winter again suddenly my Ultimate Guide to Camping in the UAE and Oman has shot up again!!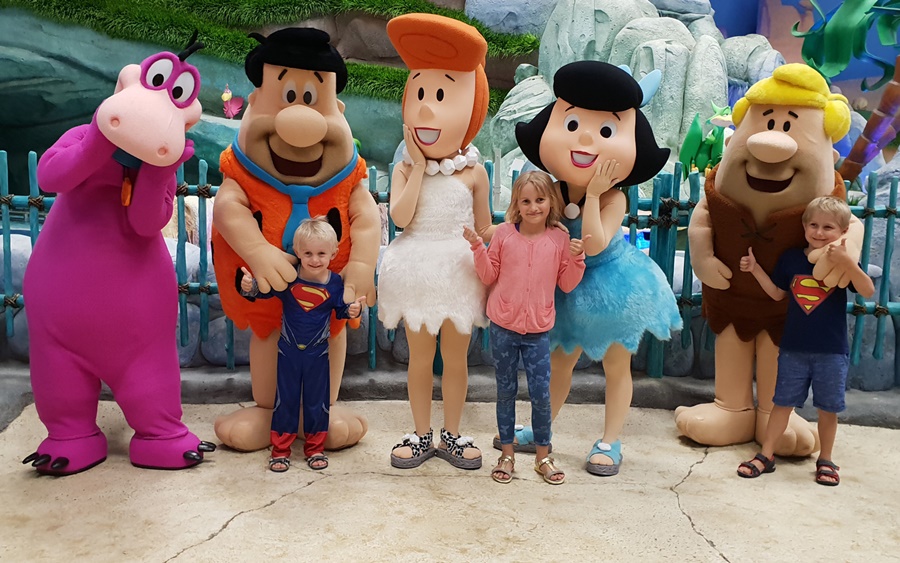 8. Name some of the bloggers/personalities whom you look up to and why?
Internationally, the family travel bloggers I really respect for their work ethic include Caz & Craig at yTravel, Sharon (formerly Where's Sharon?) she now teaches others on blogging, and Eric at Travel Babbo. He has a beautiful aesthetic and been to some amazing places, he is happy to break the mould of what is expected of family travel bloggers.
In Dubai, the likes of Sally Prosser at My Custard Pie, she is just extraordinary in her knowledge on all things blogging and wonderful to learn from. Louise from Mum of Boys & Mabel has now relocated to the UK, but she was a master of the mummy-blog field in Dubai with a superb way with words and effectively using social media.
When it comes to learning about the actual art of blogging, Darren Rowse at ProBlogger is the master, I've followed him for years! Solid, practical, actionable advice.
The UAE market has become challenging for new entrants in the last 12 months due to the changes in digital media laws. Many people set up their blog with a view to monetising but there are now barriers to this which can be off putting – but in some ways, it makes sure people are getting into blogging for the right reasons.
Take a step back; forget monetisation, forget freebies to begin with. You need a passion for your topic. The best blogs build an audience first. Have something unique to say and really work out who you are talking to and what they are attracted to.
Work out your "why?" what problems are you helping people solve, what solutions are you offering.
Some blogs are very visual so honing your photography skills is important, where as other (like ours) are very much more informational and storytelling with words, so learn your SEO. Find like minded bloggers to join discussion groups, invest in yourself if you have areas you need to upskill in – and just keep trying to be UNIQUE!
View this post on Instagram
10. Do you have any projects on the works?
My own blogging journey over five years has been an amazing learning curve. While I still have not returned to full time work, it has allowed me to gain a vast new skill set doing what I love. I continue to work on Our Globetrotters sharing reviews, product recommendations and destination stories but I have a few other projects I'm working on too.
My next priority is getting Family Travel in the Middle East more firmly established as a new and exciting platform for parents in the region. I want it to be a collaborative platform – a bit cliché but "getting beyond the guidebook" – parents exploring the region with their kids in a way they may not have imagined. I'd love people to get in touch with me if they have a personal experience in the Middle East to share.
I'm also one of the co-editors of city travel planning website Little City Trips. We have an international team of family travel bloggers working on this collaborative site sharing the best of city-based travel around the world – with kids, of course! We've got a great range of hand-selected hotel recommendations and activities that are family-friendly and achievable in short city breaks.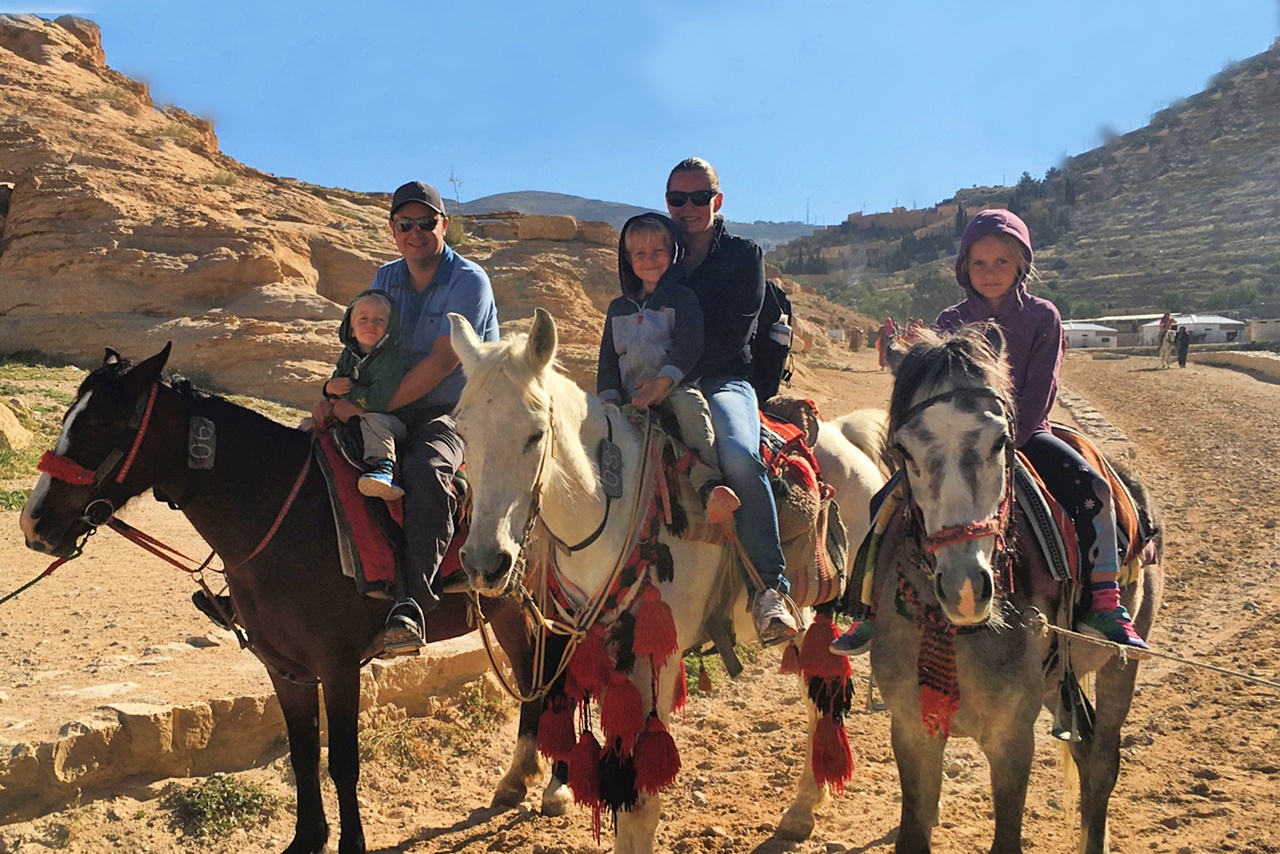 Connect with Keri on Social Media
Instagram: @ourglobetrotters
Facebook: @ourglobetrotters
Twitter: @ourglobetrotter
Instagram: @familytravel_middleeast
Facebook: @familytravelmiddleeast
Twitter: @familytravelme
*Images Provided by Keri.