My wife and I visited Mall of the Emirates and dropped by Doce Nata shop. Located at the Ground Floor of the mall (just in front of Minutes repair shop), this is a pastry shop that specializes in preparing freshly baked Portuguese tarts in Dubai.
We first came across Doce Nata last Christmas season when they put up a stall in MOE's  Indoor Festive Market which was managed by people behind Ripe Market. Now they have set up their very own permanent stand inside the mall so guests can visit them 7 days a week during mall hours.
So in case you drop by MOE one of these days, do try and check their shop out.

Story of Doce Nata, Pastéis de Nata in Dubai
Doce Nata produces freshly baked Portuguese tarts every 4 hours so you can expect a rich, custard cream and a soft bite with a nice crunch as you devour each piece.
I was able to have a quick chat online with Sara from Doce Nata on how they conceptualized their product. Read more about their humble story below.
How did Doce Nata start?
So our story is simple. We started baking them a year ago in our local shop. We noticed our regular customers loved them so much so we kept improving and working around with the recipe, which in this case is 70 years old (from the grand grand mother of the chef). We adjusted a bit some of the ingredients since quality-wise, it's completely different from the ingredients back in Portugal.
Once we curated what we found to be our perfect recipe, we relaunched the brand. We  set it up for deliveries, and a few weeks later, we got into the Ripe Market. Afterwards they invited us to the Christmas Market into MOE and now we got a permanent stand inside the mall!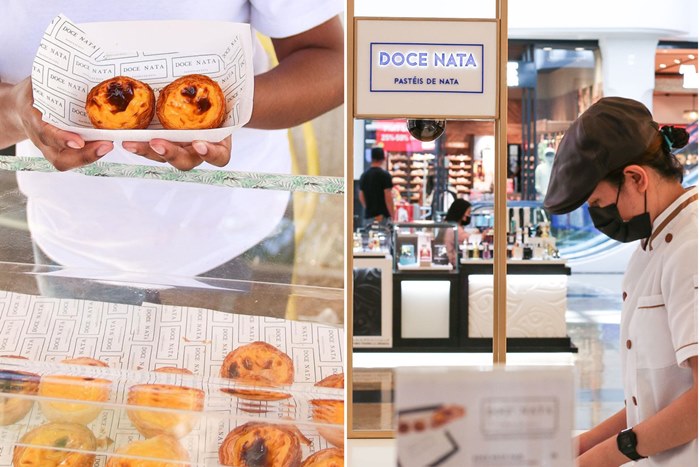 How did you come up with the name Doce Nata?
For the brand itself, we named it Doce Nata. Doçe means sweet in Portuguese and Nata is the name of the pastry. So we thought there is no better name for it 🙂
My wife and I have sampled these pastries, what makes them so good?
We use premium ingredients as the best eggs and the best butter to give it to that luxurious touch. Everything is made in the old artisanal way and with lots of love. That's our secret ingredient 🙈
We keep working everyday into making our pastries better, developing our service, and growing our company since each one of ours customers love them 🙂
Your package colours are simple and elegant, how did you conceptualize the packaging?
We went for the navy blue honoring the traditional Portuguese Tile found in most of the old houses in Lisbon or in Porto or simple in every single village in Portugal ☺️ where the actual grand grand mother lived. So we could not chose any other colour.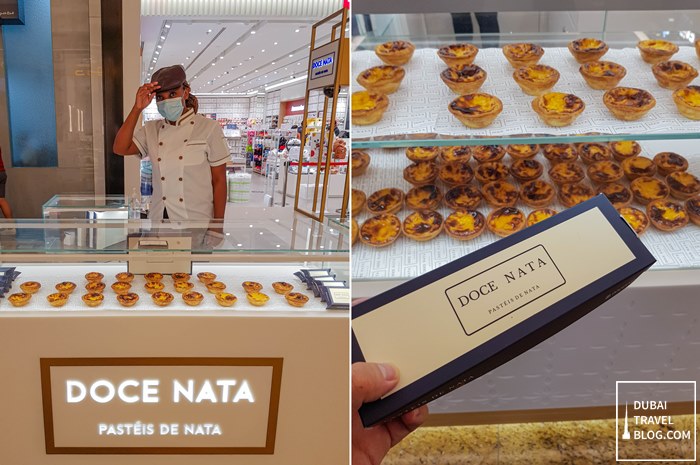 Contact Information
Doce Nata – MOE
Address: Ground Floor (in front of Minutes shop) Mall of The Emirates – Al Barsha, Dubai
Instagram: @docenata.ae
Google Map Location
Below is a map guide to the location of Doce Nata in Mall of the Emirates: