I had dinner with friends at The Garden Grille restaurant in Hilton Garden Inn Dubai Mall of the Emirates. This restaurant offers an international menu with pasta, Arabic & Indian specialties, salads, seafood, etc. They also serve spirits like sparkling wine, champagne, cocktails, red, white and rose wines, and liquor.
Head Chef Gautam Sethi welcomed us and recommended the specialties of the restaurant which surely did not disappoint.
Note: Be advised that the restaurant is located outside the Mall of the Emirates, not in the mall.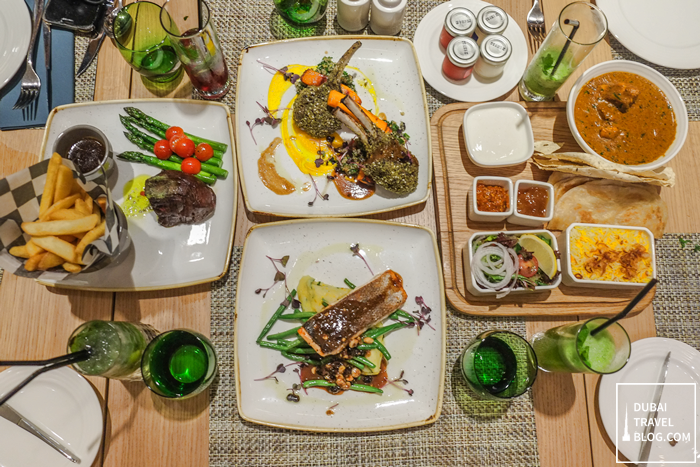 flat-lay shot – our food at The Garden Grille Dubai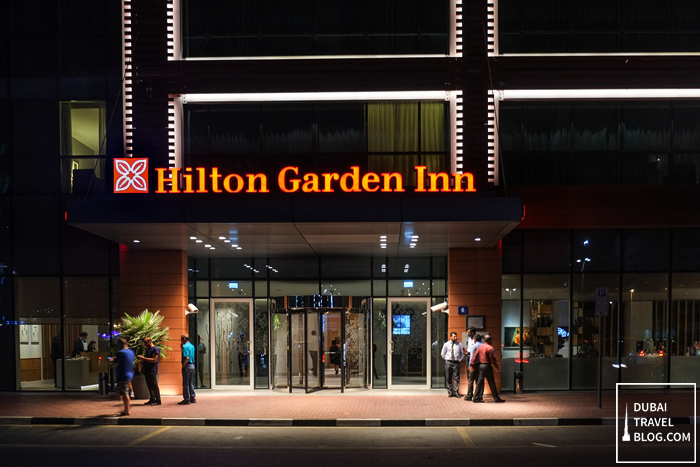 Hilton Garden Inn lobby
Garden Grille Restaurant at Hilton Garden Inn Dubai Mall of the Emirates
We arrived at the restaurant which is just at the lobby of the hotel. It is very modern and spacious with high ceilings. The set-up is a garden theme with earthy colors of wood and green. The colors make it a pleasing sight to the eyes.
I didn't expect the restaurant to be well-lit because I saw some photos online and the place looked a bit dim, but I was wrong.
The Garden Grille serves breakfast, lunch and dinner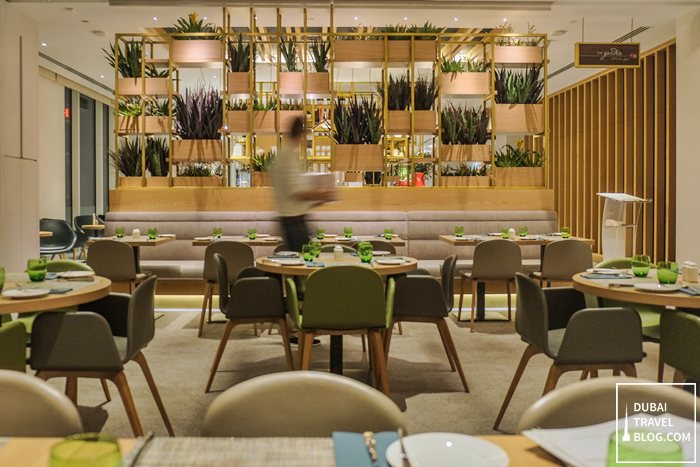 green garden theme – earth colors – very relaxing to the eyes.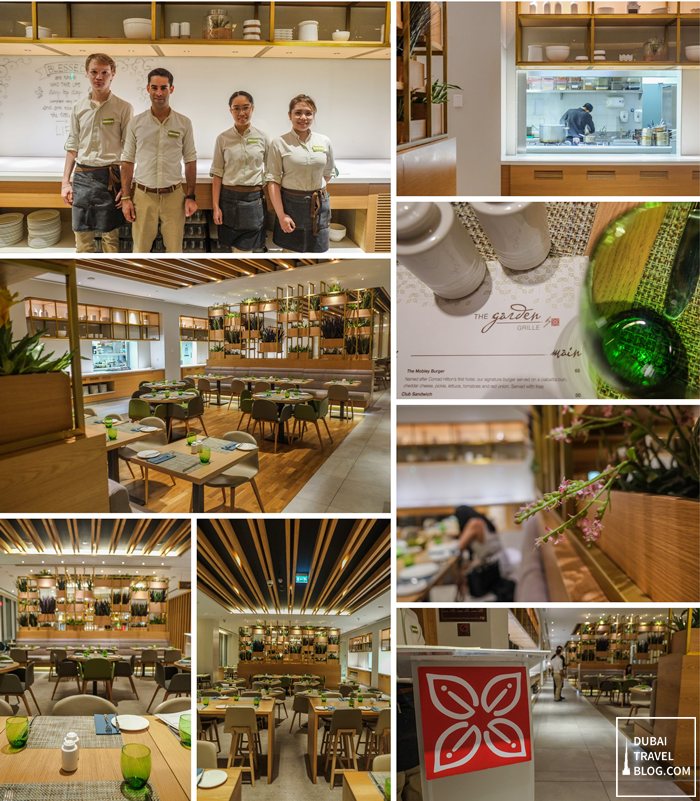 inside the restaurant
The Hilton Garden Inn Dubai Mall of the Emirates offers an upscale experience for the modern traveler. It is in a unique location that boasts of superior products and service standards in a competitive rate.
Starters / Appetizers
We started our meal with appetizers – hot and cold mezzehs, caprese and crab cakes. The Caprese was really good and is a good and light meal for health-conscious individuals. The crab cakes were also a best-seller.
Caprese – 65 AED
Buffalo mozzarella, roma tomato, arugula, basil, olive oil and balsamic cream
Levant Mezzehs
Cold Mezzeh – 40 AED
Tabouleh, hommous, moutable, fatoush, warakenab
Hot Mezzeh – 45 AED
Kibbeh, sinach fatayer, cheese rukak, meat sambousak
Chef's Special – Asian Stye Crab Cakes – 75 AED
with Asian slaw, tomato jam
Main Course
For the main meals, we had lamb chops, rib eye steak, butter chicken and salmon steak. Each main item had its special quality. We have to mention the quality and the presentation of the food is really good.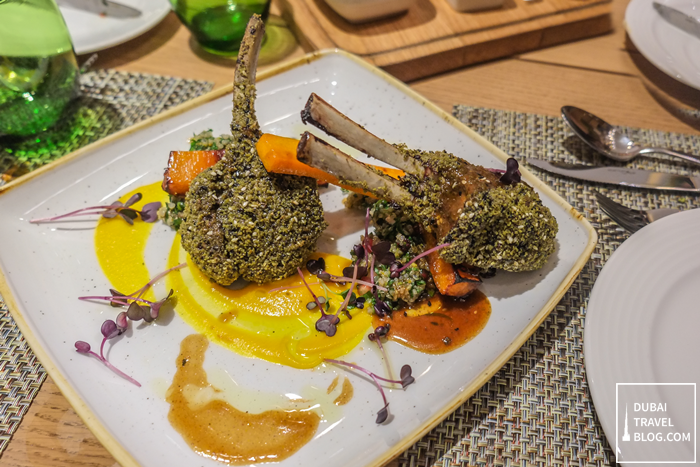 Lamb Chops – 125 AED
Spice and nut lamb chop, pumpkin, pomegrenate quinoa
Butter Chicken Curry – 85 AED
Chicken tikka cooked in rich tomato makhani gravy, flavored with fenugreek and finished with with butter and cream
Rib Eye Steak (200gms) – 130 AED
with steak fries and peppercorn sauce
Salmon Steak – 115 AED
Flavored with Arabic spice, green beans, hazelnut, black currants
Drinks
As for our drinks, we ordered glasses of lemon mint drinks, virgin mojito, and berry. The lemon mint is a must-try. They also serve alcohol and they have a bar on the same floor.
drinks: berry, lemon mint and virgin mojito
Desserts
Lastly, we finished our meals with tea and an oreo cheesecake taken from their hotel cafe which is just beside the restaurant. We also had the pistachio ice cream with brownie.
cheesecake and pistachio ice cream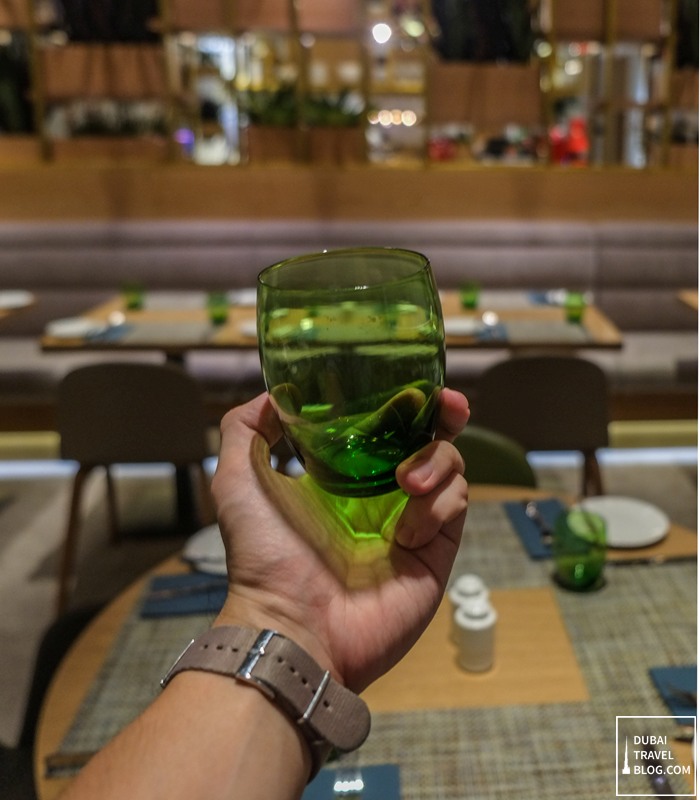 green glass keeping up with the theme of the restaurant
restaurant area of The Garden Grille
It was a great experience dining at this restaurant with healthy options. You might want to check it out when you drop by the hotel.
Restaurants/Lounges A freshly prepared breakfast as well as lunch and dinner is offered daily in The Garden Grille restaurant. The pavilion Pantry® convenience mart offers sundries, an assortment of beverages and ready-to-cook meals bound for the in-room microwave oven or refrigerator. Beverages are served in the cozy The Garden Bar at this Hilton Garden Inn Dubai Mall of the Emirates hotel.

Hilton Garden Inn MOE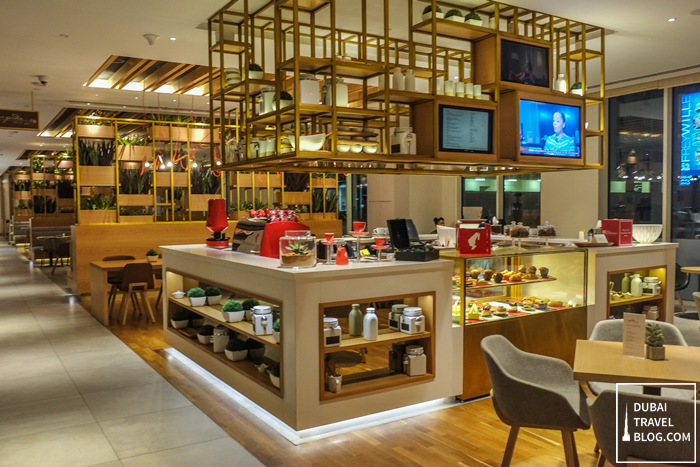 cafe area for hot beverages and some quick desserts!
Also has some spaces great for working.
The Garden Grille restaurant
How to Get There:
Via public transport, you can take the metro and stop at Mall of the Emirates station (Red Line.
You can take the bus F33 or 93 and stop at Mall of Emirates, Saleh Bin Lahej Building 2 bus stop. 5 minutes
Walk towards Hilton Garden Inn Dubai MOE. 2 minutes
Otherwise, you can just do a 10-minute walk from the MOE station to the hotel.
Contact Details
Website: http://hiltongardeninn3.hilton.com/en/hotels/uae/hilton-garden-inn-dubai-mall-of-the-emirates-DXBMEGI/index.html
Address: 6A Street,P.O. Box 39 39 71 Al Barsha, Dubai, U.A.E
Telephone Number: +971-4-307 0707
Email: info_hgimoe@hilton.com
Facebook: facebook.com/HiltonGardenInnDubaiMalloftheEmirates
Instagram: instagram.com/hiltongardeninndubaimoe
Google Location Map of Hilton Garden Inn Dubai Mall of the Emirates
Below is a location map from Google showing the directions of this restaurant. Please be guided.