We had the opportunity to dine at Sizzling Wok restaurant in Citymax Hotel Business Bay. Located at the ground floor, this is the signature restaurant of the 4-star property which features Asian-inspired dishes.
Also Read: Desert Fox Dune Buggy Adventure at Mleiha Desert
I'm happy that more and more Asian food places are opening in Dubai. Sizzling Wok features an eclectic menu with handpicked flavours across the Asian continent. From Singaporean street food to spicy, rich Thai curries, Korean Beef Bulgogi and Gochujang lamb chops to Calcutta tangra-style chilli chicken, Burmese Khao Suey and Japanese Ramen, Sizzling Wok takes you on an interesting culinary journey.
Alcohol: YES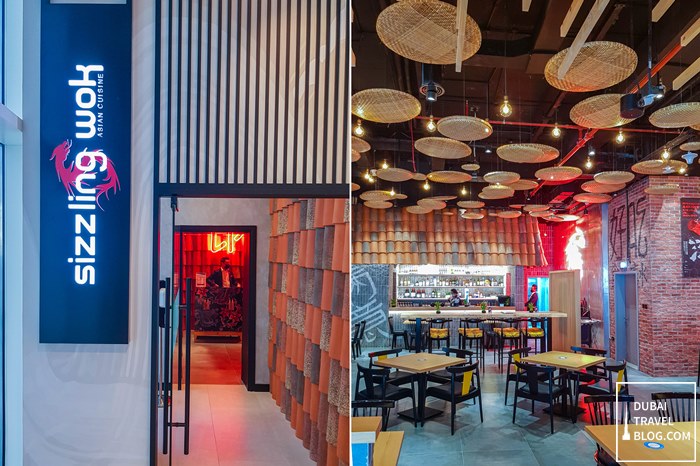 Sizzling Wok in Business Bay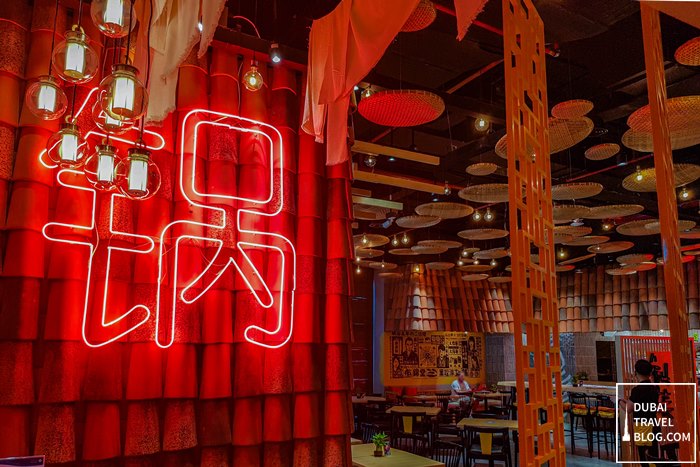 Asian Street Food in Citymax Business Bay
Sizzling Wok Restaurant at Citymax Hotel Business Bay
When you step inside the restaurant, you will immediately be greeted by a vibrant neon sign which helps set the mood for the dining experience. Its modern interiors are also Asian inspired with baskets hovering over the ceiling, Japanese Geisha paintings on the walls, and wooden tables creating a cool Asian street atmosphere.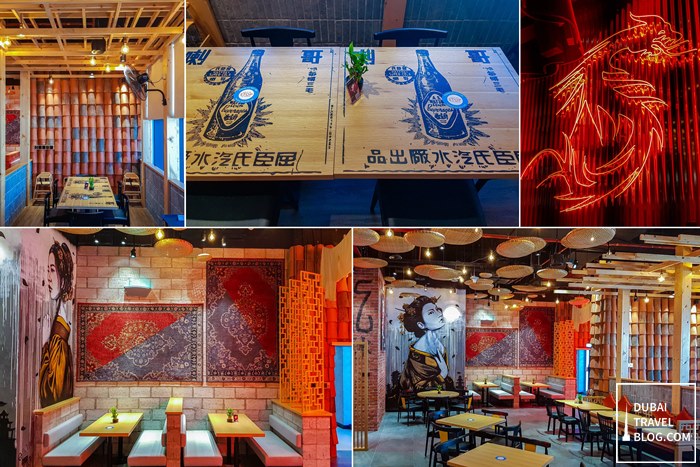 striking interior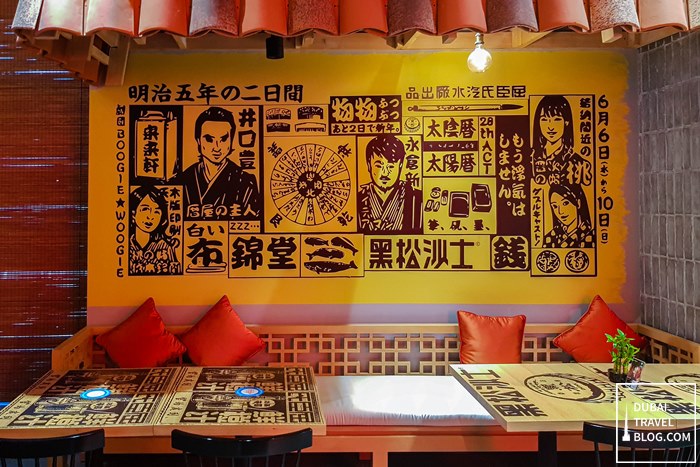 Street decor
geisha paintings
Starters / Salad /Soup
We started off with complimentary prawn crackers, salad, and soup. The Yasai Salad was quite refreshing especially with its home-made apple dressing. We also had a small bowl of Miso soup.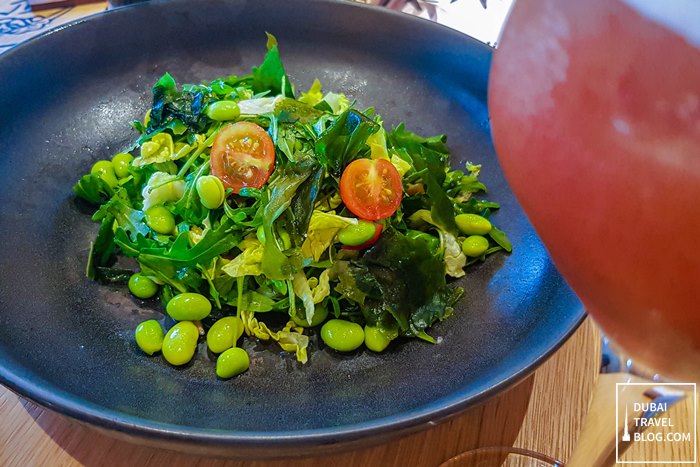 Yasai Salad – AED 26
Mixed Asian Greens, Edamame, Seaweed and Cherry Tomatoes tossed with Homemade Apple Dressing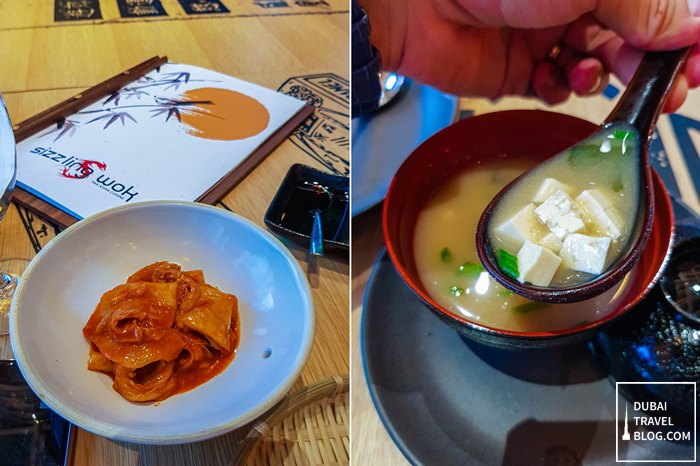 Miso Soup – AED 25
Traditional dashi broth, soften soya bean, tofu, seaweed and spring onions
For the appetizers, we had Katsu Bao (steamed bun) and Ebi Lime Wasabi (prawn tempura). The crunchy chicken adds a nice bite after you taste the soft bun. The flavor in the prawn tempura was also very good and I enjoyed added texture from the ebi topped on the fried prawns. I enjoyed both dishes.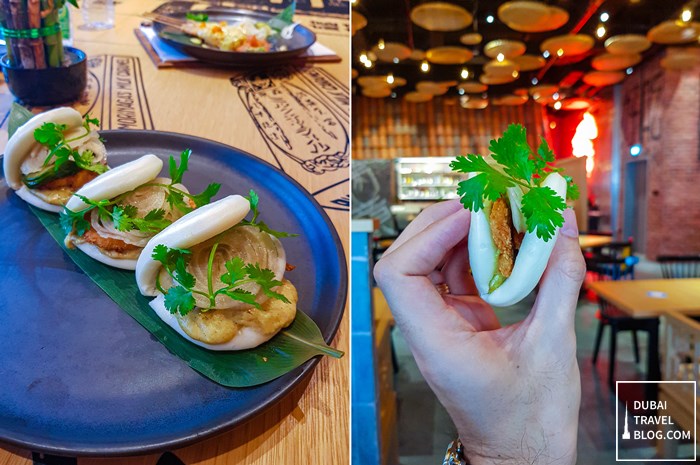 Katsu Bao (Steamed Bun) – AED 40
Choice of Breaded Tofu or Chicken Supreme and Asian mix with coconut curry mayonnaise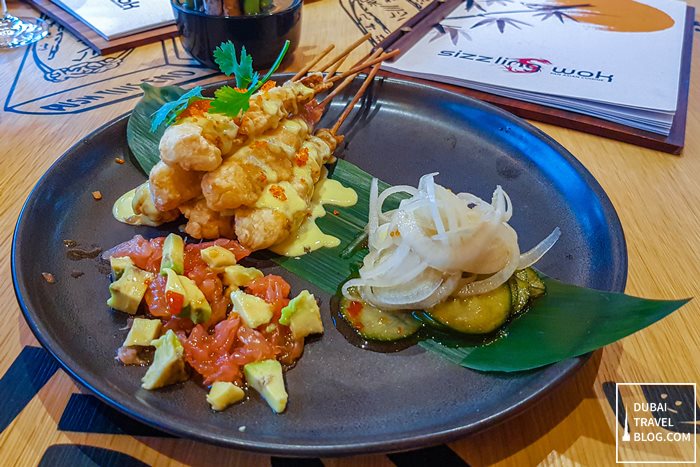 Ebi Lime Wasabi – AED 42
Prawn Tempura, Spicy Wasabi Mayo, Pomelo, Avocado and Tobiko with Cucumber Relish
Main Courses
For the main course, we had Beef Teriyaki Noodles and Korean Beef Ribs. We were pleasantly surprised by the portions of the main dishes, especially the noodles as it could fit two people already.
The beef ribs was slow-cooked for 10 hours so it was very soft and tender. I could also sense its wooden smoky flavour which I was starting to get used to.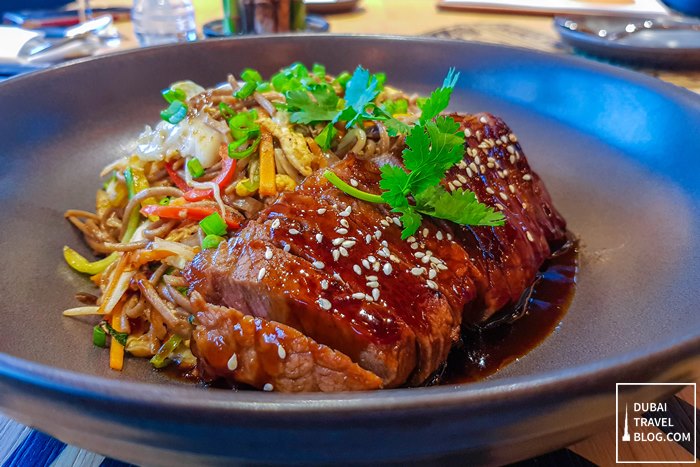 Beef Teriyaki Noodles – AED 35
Soba Noodles, Grilled Beef, Baby Pak Choy, Beansprouts, Snow Peas, Chillies, Soya and Teriyaki Sauce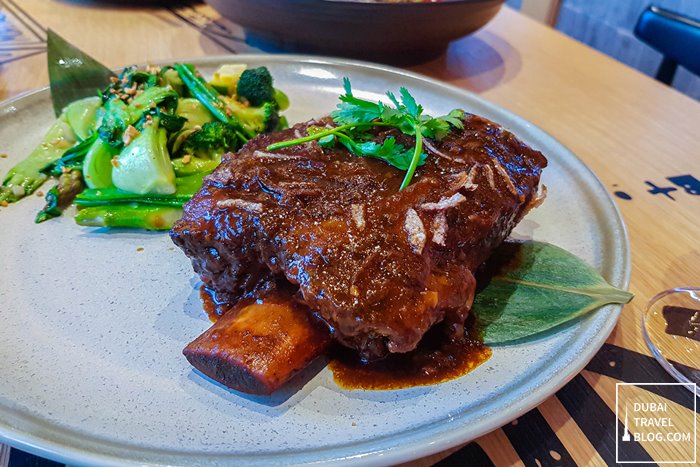 Korean Beef Ribs – AED 105
Korean spice glazed slow-cooked beef ribs with mixed Asian greens
Desserts
For desserts, we had the Pandan Creme Brulee which is an Asian twist to the classic creme brulee. We also had the Panko Banana dessert. I devoured these 2 desserts right away.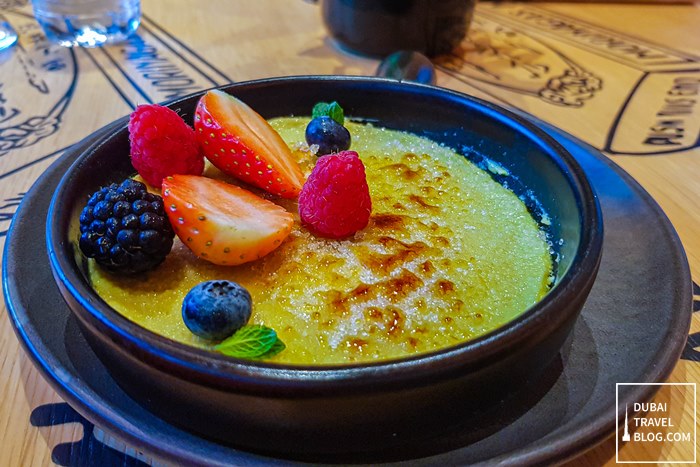 Pandan Creme Brulee – AED 30
Asian Twist on a classic creme brulee
Panko Banana, Caramel Ice Cream and Cashew Nougat – AED 30
Crumb Fried Ripe Banana with cashew nut crush
Drinks
As Sizzling Wok is a licensed restaurant, you can order drinks from their full bar. I tried the rum and fruit based Shanghai Swizzle drink. The restaurant also gives you a complimentary Jasmine tea as you end your meal.
The Shanghai Swizzle – AED 45
Captain Morgan Spiced Rum, Green Tea infused cherry liqueur, mango juice, grenadine syrup, angostura bitter, lime and mint.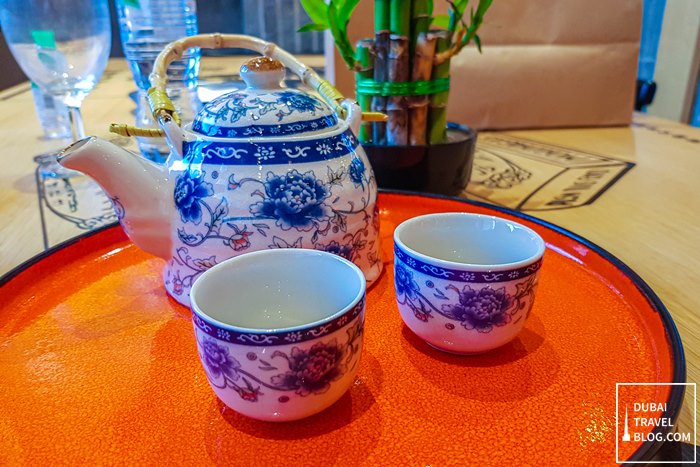 Jasmine Tea is complimentary in Sizzling Wok
Offers at Sizzling Wok
The restaurant is launching with some great offers including a daily lunch set menu which fits well with diners in the busy Business Bay hub. The lunch set includes a Soup, Starter, Main Course and Dessert for just AED 49! And if you'd like to quench your thirst whilst enjoying the lunch all beverages are at a 25 percent discount between 12 pm and 3 pm.
On Valentine's Day, Sizzling Wok is pulling out all the stops with a delightful 5-course set menu for just AED 149 that includes signature dishes such as the Lobster Bao, Teriyaki Salmon, Gochujang Lamb Chops and Korean Beef Ribs. Not to mention a delectable dessert platter for 2, with Sake Cheesecake, Strawberry Mochi, Pandan Brule and Rose Petal Infused Tiramisu. On the night, enjoy Sizzling Wok signature cocktails or a house beverage for just AED 25 from 7 pm to 11 pm.
Sizzling Wok is open daily from 12pm – 3pm for lunch and 7pm – Midnight for dinner. All social distancing and safety protocols are always adhered to.
For reservations call 0563162245 or visit @sizzlingwokae on Instagram
Contact Information
Sizzling Wok – Business Bay
Address: Al Amal Street, Plot no. 3460148 Opposite Safeer Tower 2 Behind Empower – Dubai
Telephone Number: +971 4 571 3300
Website: https://www.citymaxhotels.com/dining/sizzling-wok
Instagram: @sizzlingwokae
Facebook: @sizzlingwokae
Google Map Location
Below is a map guide to the location of Citymax Hotel Business Bay. Sizzling Wok restaurant is located in the lobby of the hotel: