The cravings to eat tasty, scrumptious and luscious candies are something everyone experiences during their dull work routines and same days. If you have a sweet tooth or if you want to eat tart candies, there are enough candy stores all around the world to serve your cravings. Dubai is another great place to look for candy stores and there are even international tart treats here if you have the time to explore.
We've gathered a few places where you can shop for candy (and much more). So, here is a list of the best candy stores you can find in Dubai to visit and pack all those special juicy candies all for yourselves. 😉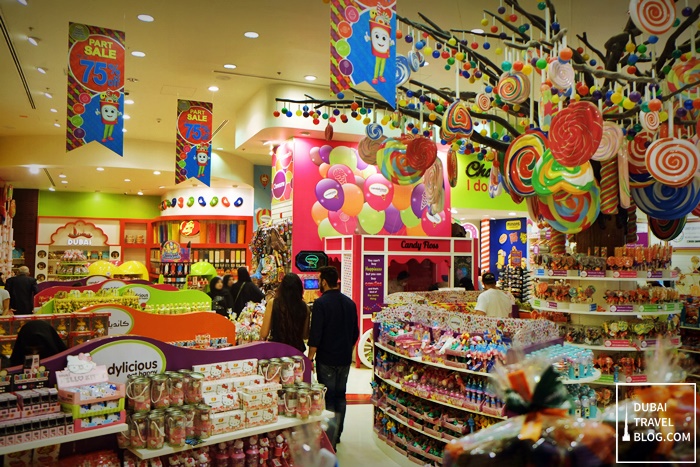 Where to Shop for Candy in Dubai
1. Candylicious
Photo credit: @candyliciousworld on IG
One of the candy shops that we definitely have to mention is Candylicious located opposite the Dubai Aquarium in The Dubai Mall. This is known to be the world's largest sweet shop which spans over 10,000 sq ft. You can enjoy a stack of sweets, chocolates, lollipops, jelly beans, etc. in various colors and sizes and if there are also novelty branded items for certain brands.
2. Atayeb Chocolate
Photo credit: @atayebchocolate
If you are someone who loves to indulge in international chocolates then Atayeb Chocolate is an amazing paradise for you! There are chocolates found from all around the world including, Lebanon, Belgium, United Kingdom and various other countries and once you enter this candy store, the stakes for leaving it without shopping all types of chocolate are very high! The candies here are absolutely irresistible and tempting and you don't have to set any limit for yourself while immersing in chocolate heaven here.
3. Vivel Patisserie
Photo credit: @vivelpatisserie on IG
From the sweetest candies to the heavenly chocolate cakes and truffles, everything sweet and luscious is here at the Vivel Patisserie! The must try ones are especially Scandavinian candies, Swedish treats like Djungelvral and Finland's Tyrkisk Peber. Moreover, there are European sweet cakes, French truffles, Arabian and Persian sweets, you can find anything sugary to satisfy your sweet tooth and cravings at Vivel Patisserie while making sure that you won't regret a single one!
4. ChoCo'a
Photo credit: @chocoadxb on IG
ChoCo'a is a special one in this list of Dubai's Candy stores as at this place you will find dry fruits and nuts dipped in chocolate and the varieties, well too much to refuse! Further, if you are looking to take back gifts for your family and friends, the chocolates here are organized in beautiful wrappings and baskets making them ideal for those who love gifts! And for those thinking of having souvenirs, chocolates might not last as a memory of your trip to Dubai but will surely entice you back to this candy store again in the future!
5. Papabubble
Photo credit: @papabubble_dubai on IG
For all candy lovers who binge upon the spiciest candies and the saccharine treats, Papabubble is a unique place to check out in Dubai. It is kind of like a laboratory of candies, where anyone can come to see how they are made, shaped and then packed. The skilled makers of candies welcome every visitor and you can see your favorite sweets' process on how they are made and then designed to suit and let people experience the charm of their cravings. Amazing, right?
6. Al Baba Sweets
Photo credit: @albabasweets on IG
Al Baba Sweets is a store opened by Lebanese sweet creators and is another sugar hub in the town! After treating yourself on baklava, mammoul and other enticing cakes and truffles, it may happen that you get a sugar rush or start worrying about the calories. But whenever you feel like this, just go back to the flashbacks of those wonderfully stunning and scrumptious cakes that were too much tempting and you will surely get a déjà vu taste of those treats in your mouth! So, while tripping on sweets, worry less and eat more!
Hence, these amazing candy places should be a must visit destination for all candy lovers and foodies! These stores in Dubai are world famous and their candies are super luscious to tempt anyone! Thus, the next time you are visiting Dubai; don't forget to check out these stores and their wonder candies that can make anyone's day special and delicious! Have fun exploring!