After checking in at the Radisson Blu Yas Island, we immediately headed to Belgian Cafe to have our lunch. Located just in the hotel lobby of the hotel, we were excited to try their tasty menu.
Also Read: Asian Street Food Buffet at Jing Asia in Crowne Plaza Yas Island
Belgian Cafe Restaurant in Yas Island, Abu Dhabi is a charming restaurant with a classic appeal and cheerful staff. This charming pub offers both indoor and outdoor seating, giving its guests the perfect opportunity to enjoy the laid-back atmosphere and nice breeze of the area
Alcohol: YES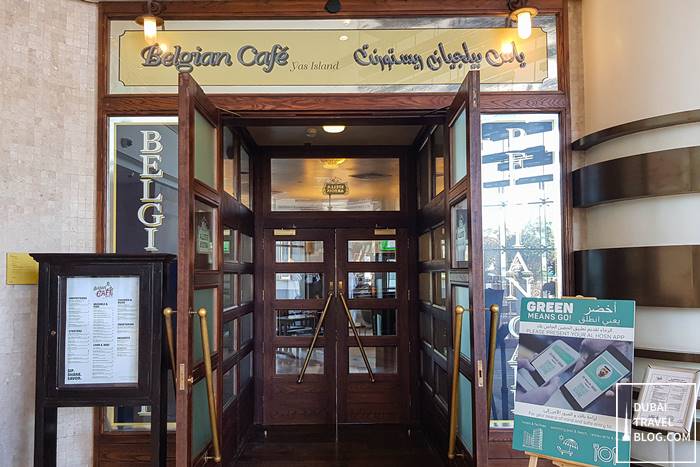 inside Belgian Cafe Yas Island
classic pub
Lunch at Belgian Beer Cafe in Radisson Blu Yas Island Abu Dhabi
At the Belgian café, you can order a wide range of dishes. You can find mussels and fries, Belgian burgers, fish and chips, and much more to keep your taste buds happy. They also have a variety of draft beers including Hoegaarden, Leffe Blonde, and Stella Artois.
We passed by Belgian Cafe on our way to a different restaurant in another hotel. We saw that they featured live music on a Thursday evening. Having cool live music is something my wife really enjoys when dining out. So you can look forward to evening entertainment when you decide to dine at this place.
inside Belgian Cafe
draught beer
complimentary bread
our chosen drinks – Daiquiri and Bloody Mary
Food at Belgian Cafe
The place to go if you want to try Belgian specialties is a Belgian cafe. They serve you with the greatest of Belgium in terms of cuisine and beverages on Yas Island. This pub was recognized as Abu Dhabi's Best Pub Grub at the Time Out Abu Dhabi Awards for our traditional food and artisan drinks.
crispy calamari
Fish and Chips
Mussels with White Wine and Cream
pub and sports bar
enjoying our first meal during that day
13 Photos of Belgian Beer Cafe Yas Island
Check out these pictures during our lunch at the Belgian Beer Cafe in Yas Island, Abu Dhabi below:
Contact Information
Belgian Beer Cafe Yas Island
Hours: 12:00 PM-3:00 AM
Address: Ground Floor, Radisson Blu Yas Island Abu Dhabi
Email: bbc.yasisland@radissonblu.com
Telephone Number: +971 2 656 2000
Website: https://www.radissonhotels.com/en-us/hotels/radisson-blu-abu-dhabi-yas-island/restaurant-bar/belgian-cafe
Instagram: https://www.instagram.com/bbcyasisland/
Facebook: https://www.facebook.com/RadissonBluHotelAbuDhabiYasIsland/
Google Map Location
Below is a map guide to the location of Belgian Cafe Yas Island . The restaurant is located at the Ground level of Radisson Blu Hotel Yas Island Abu Dhabi.