During the first night of our staycation at Radisson Blu Yas Island, we had a late dinner at Barouk Lebanese restaurant and bar. Located at the next hotel (Crowne Plaza Yas Island), it was just a 2-minute walk to get to this restaurant.
Also Read: Mussels and Fish & Chips at Belgian Cafe at Yas Island Abu Dhabi
Barouk offers authentic Arabic cuisines at its finest. It is a place to enjoy a variety of mezze and grills. With fine dining options or lighter meals for dinner, guests are sure not to leave without tasting these mouthwatering dishes.
Alcohol: YES
Shisha: YES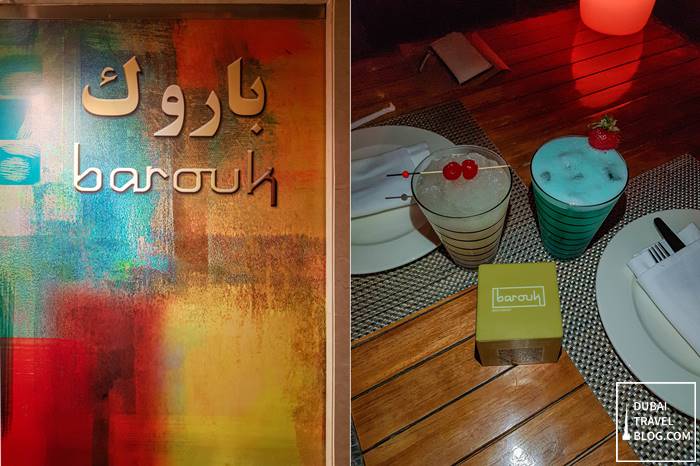 Barouk Lebanese restaurant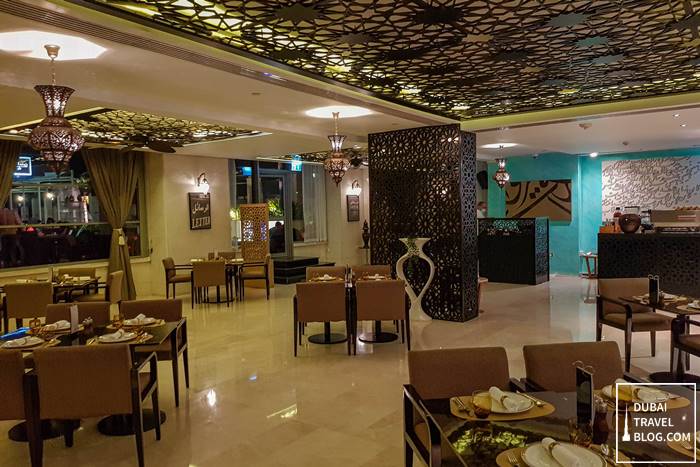 inside the restaurant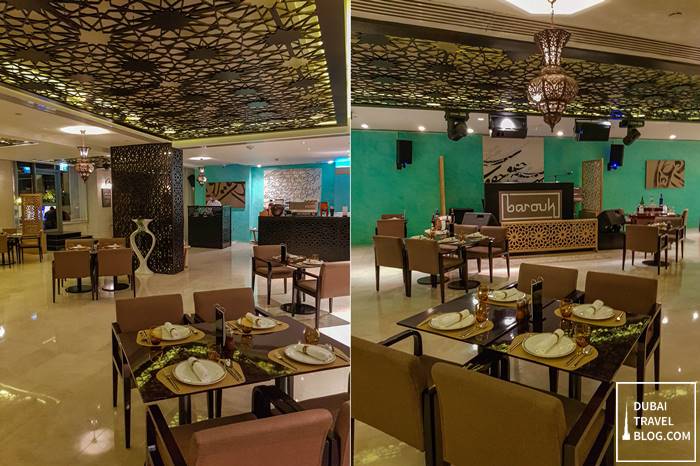 Barouk restaurant interior (though we opted to dine outdoors)
Barouk Lebanese Restaurant in Crowne Plaza Yas Island Abu Dhabi
We were excited to dine in this place as it's been a while since we had Arabic food in the UAE. Barouk features traditional Lebanese cuisine with an Intercontinental twist, this restaurant is a place to enjoy authentic Lebanese food at its very best.
Menu items include soups, appetizers (mezze), grills, and desserts. From fine dining to lighter meals, guests can enjoy a variety of food and drink options for dinner. The atmosphere exudes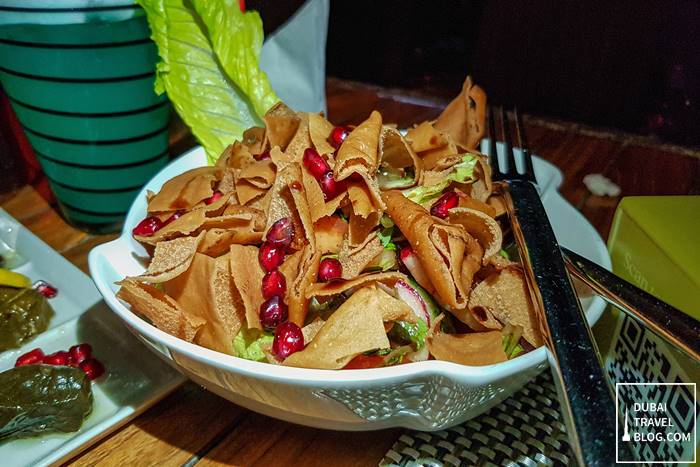 fatoush salad
hummus and moutabal
stuffed grape leaves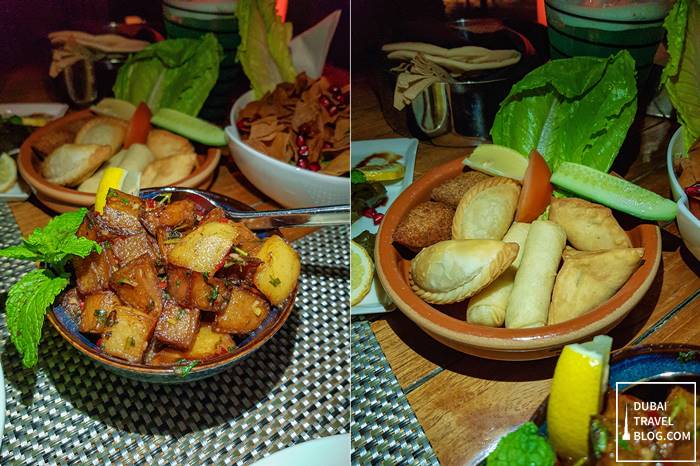 hot mezze
Guests can enjoy a variety of cuisine and drink choices for dinner, from fine dining to lighter meals. We enjoyed the atmosphere here cause it's quiet and relaxing.
One thing to note when you eat Arabic food is that you can actually be full with just their mezze/appetizers especially when they come with complimentary bread. In our case, they also offered us a mixed grill platter for the main course.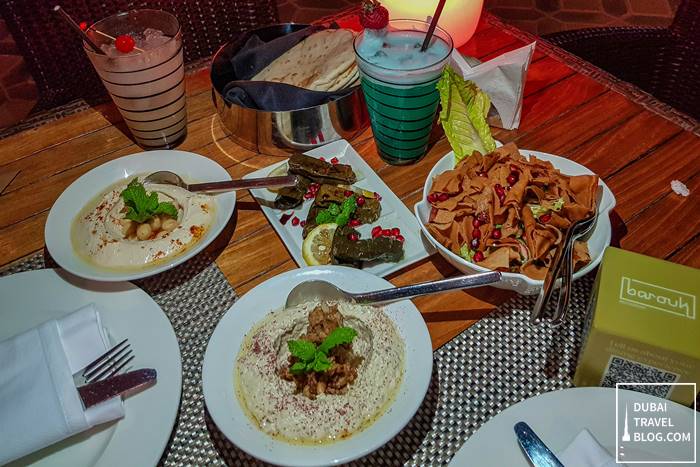 enjoying our late dinner
mixed grills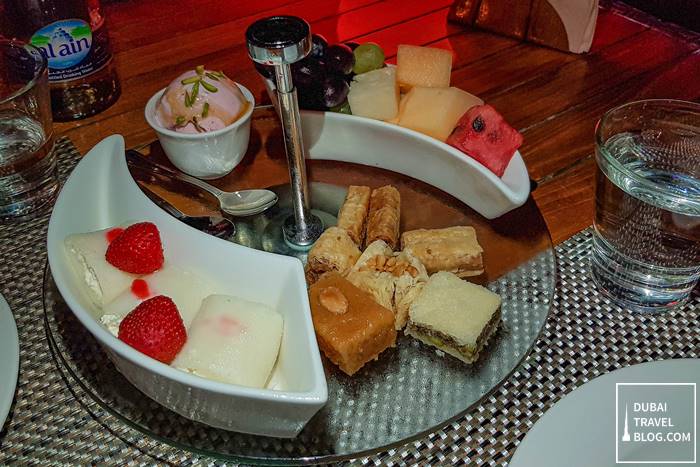 Arabic sweets and fruits
Shisha Experience
It's been quite a while since we last had shisha after all the pandemic crisis. We're thankful that we could be outdoors and bask in the cool weather. We opted to dine outside and we also enjoyed having shisha outdoors.
alcoholic drinks
Barouk is in Crowne Plaza Abu Dhabi Yas Island
If you're looking for authentic Lebanese cuisines, whether you want to enjoy a filling dinner or a lighter meal, there's something for everyone at this restaurant.
Barouk also provides an ambient setting with live Oud music to liven up your dining experience. You can find Barouk in Crowne Plaza Yas Island in Abu Dhabi.
21 Photos of Barouk Restaurant Yas Island
Check out these pictures of our foodie experience at Barouk Restaurant in Yas Island. We really enjoyed the authentic Lebanese food feast!
Contact Information
Barouk Restaurant
Hours: 5:00pm to 2:00 AM (Wednesday to Saturday)
Address: Lower Ground Floor, Crowne Plaza Yas Island Abu Dhabi
Telephone Number: +971 2 656 3064
Website: https://www.ihg.com/crowneplaza/hotels/us/en/abu-dhabi/auhyi/hoteldetail
Facebook: https://www.facebook.com/BaroukCPYas
Google Map Location
Below is a map guide to the location of Barouk Restaurant. The restaurant is located at the Lower Ground level (pool area) of Crowne Plaza Yas Island Abu Dhabi.