We checked in at Al Ponte del Papa B&B (book here) during our stay in Rome, Italy. We came from a 5-day tour in Paris and Rome was our next and final stop of our trip. We had such a lovely time in the hotel that this is worth recommending to our readers.
After our Schengen visa was approved, we immediately made sure that our booked hotels and itinerary were complete. After searching for hotel reviews online, Al Ponte was the best option as this place is just within walking distance from the Vatican, plus they have high reviews from other travellers.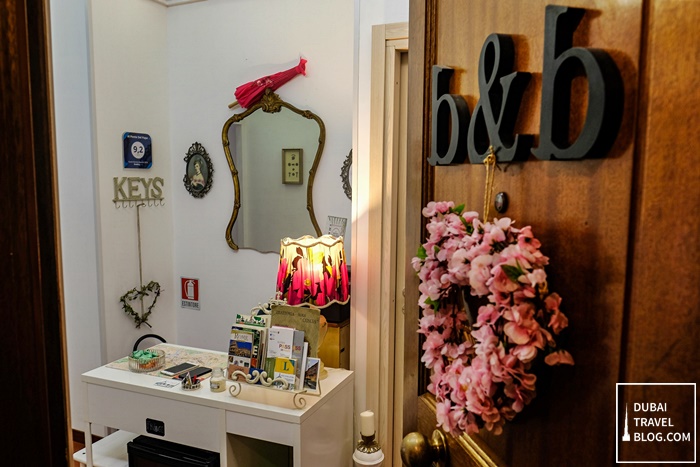 Al Ponte del Papa
outside the B&B
Al Ponte Del Papa in Rome, Italy – Bed and Breakfast
Al Ponte del Papa is a quaint bed and breakfast hotel in Rome. Situated in a prime location, it is merely a short stroll away from some of the most popular sights in this beautiful city.
The hotel is within walking distance from St. Peter's Square, bringing you closer to the world-famous basilica itself. Walk a little further, and you'll find the Sistine Chapel, Vatican Museum, Castel Sant' Angelo, the Colosseum, and many other historic attractions.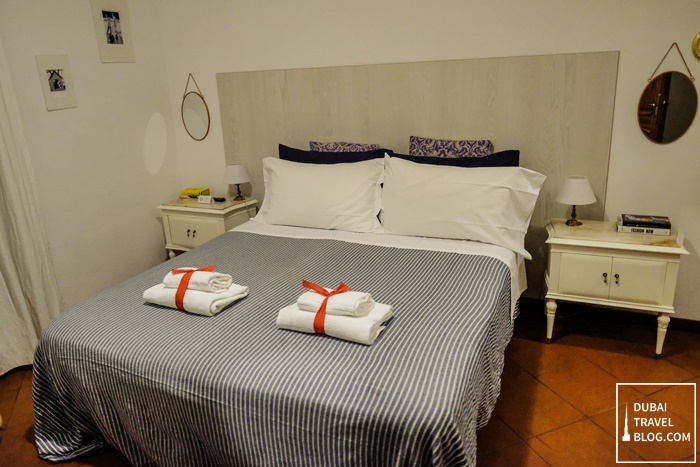 bedroom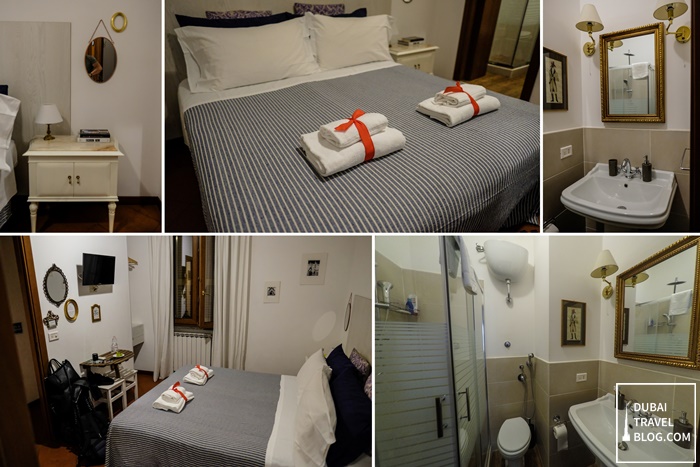 our room good for two
Al Ponte del Papa offers 3 rooms. We really glad that two of them were available during our trip. Each room offers:
Color television
Bed linen and fresh towels
Fully-equipped bathrooms
Complimentary breakfast
Free WiFi: Yes (around 4.5 Mbps via speedtest check)
Guests may check in anytime between 11 am and 7 pm, while check out times are between 8 am and 10 am. Prices start at EUR 60, depending on the season, type of room, and length of stay. Meanwhile, children below 2 years old are welcome free of charge!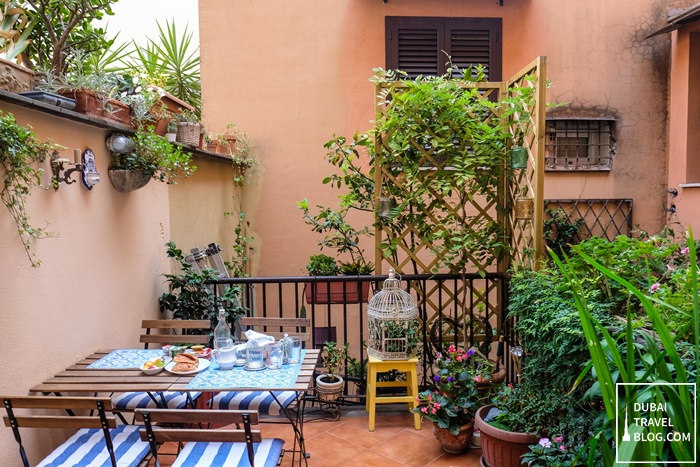 terrace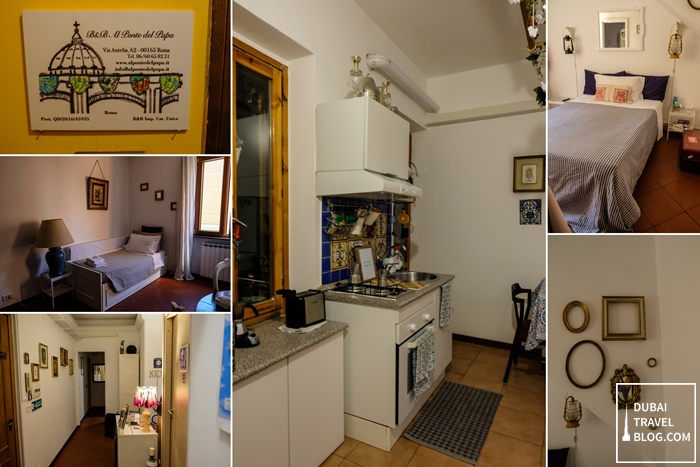 kitchen and other rooms
Wonderful Hosts: Danilo & Giulia
Al Ponte del Papa is managed by Danilo and Giulia and the couple are very hands-on in making sure that their guests feel very welcomed. It's not just a regular temporary house to rest, but a warm place to feel at home.
They come to the hotel early in the morning to prepare your meal and tidy your room. They put in the effort to make your stay as comfortable and homey as possible. So it's not really difficult to understand why they have a high rating on booking.com sites.
map with messages from guests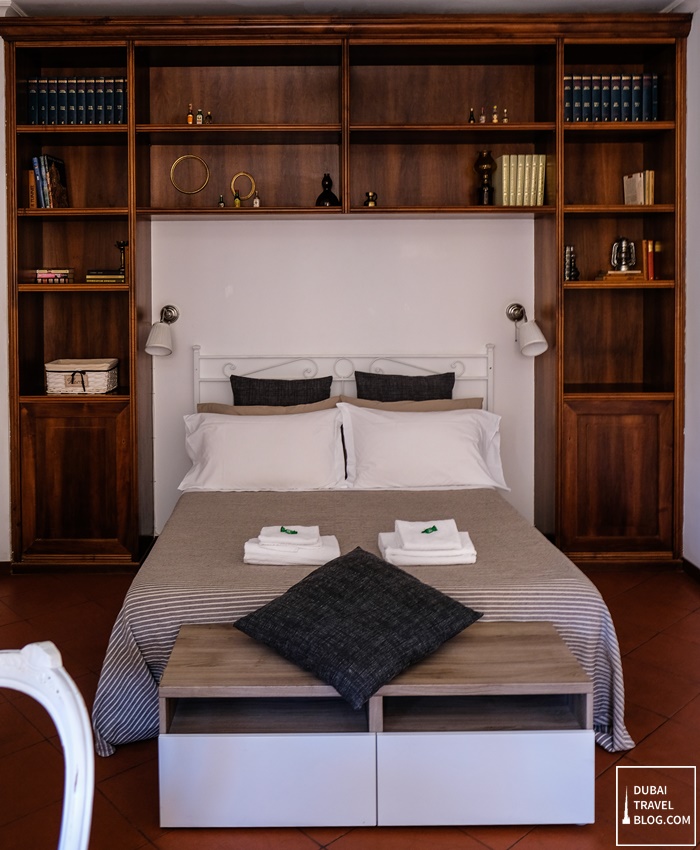 the bigger bedroom
Breakfast at Al Ponte del Papa
Another thing to highlight is the breakfast which comes free when you book a night. This is something we looked forward to everyday. Simple every day meals of eggs, bread and ham/sausage/etc. are made interesting with the way they prepare food for us.
You can sense how they really try to make your food extra special. With fruits, croissants, bread, juice, coffee, and so on, breakfast is always lively and full, not to mention colorful. 🙂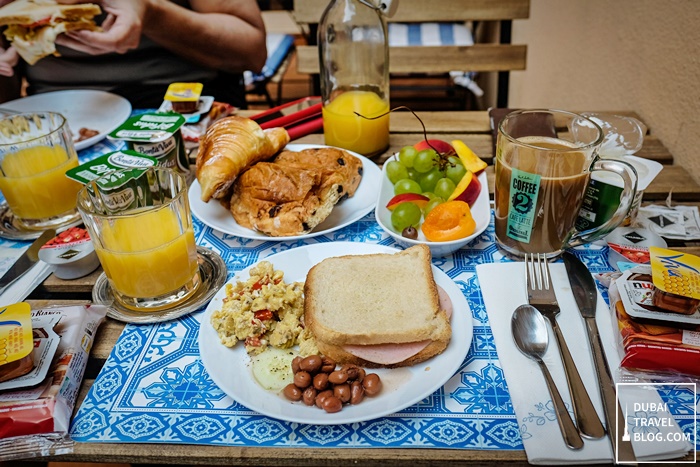 juice, yoghurt, jams, bread, croissants, coffee, fruits, eggs, etc.
colorful breakfast always 🙂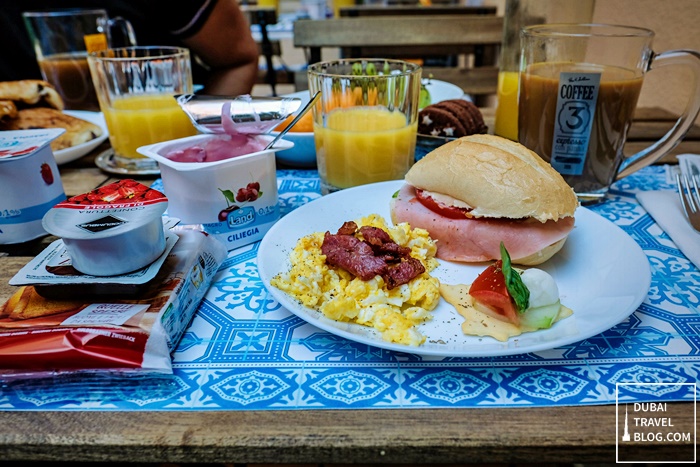 breakfast!
Highlights
Guests at Al Ponte del Papa can:
Enjoy a safe, and pleasant stay in the hotel.
Shop and dine in the nearby establishments.
See the cultural and historic attractions within the vicinity.
Nearby Attractions
The hotel is within walking distance from the following places:
Sistine Chapel (500 meters)
Vatican Museum (500 meters)
Saint Peter's Basilica (800 meters)
Castel Sant' Angelo (900 meters)
Piazza Navona (2000 meters)
Victor Emmanuel Monument (2400 meters)
Piazza di Spagna (2500 meters)
A visit to Rome would not be complete without seeing Saint Peter's Basilica, Sistine Chapel, the Colosseum, and other cultural attractions. Checking into Al Ponte del Papa brings you close to these places, guaranteeing you an exciting and memorable stay.

Via Aurelia Street in Rome, Italy
There are restaurants nearby as well.
Overall, our stay at Al Ponte del Papa, was really an amazing experience especially with the hospitality that Danilo and Giulia provided. For value for your money and the extra comfort, we recommend you check out this bed and breakfast in Rome, Italy.
Al Ponte del Papa Contact Info
Hotel: Al Ponte del Papa (Book Here via Booking.com)
Type: Bed & Breakfast
Address: Via Aurelia 62 (Saint Peter's area) 00165 Rome
Telephone: +39 0660658231
Mobile: +39 3491318436
Facebook Page: facebook.com/alpontedelpapa.62/
Instagram: @alpontedelpapa
Google Map Location
Below is a map location to guide you and direct you how to get to Al Ponte del Papa